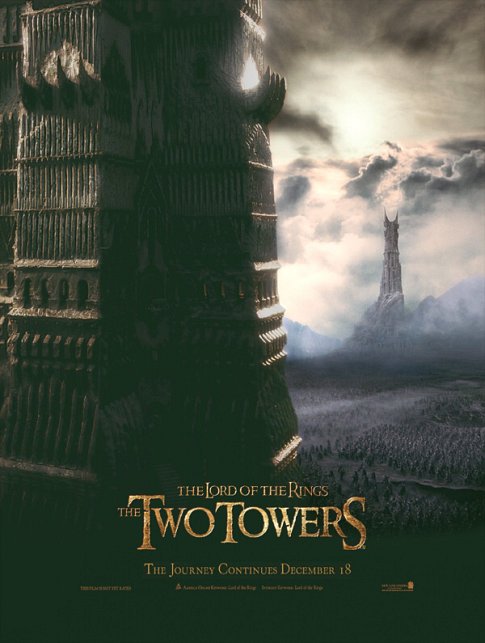 Lord of the Rings: The Two Towers
Beyond Dull
JLFM - wrote on 08/21/12
After a strong, if somewhat wobbly first film, The Lord Of The Rings trilogy goes significantly downhill with it's inferior sequel. The Two Towers has all the strengths and flaws of the first, though the strengths have diminished slightly, and the flaws have an even bigger presence.

The Two Towers is a continuation of the original film, in which a young hobbit named Frodo Baggins, as well as some friends, attempt to destroy a mystical ring, though dark forces oppose them.

At the end of the first film, the main characters are split up, which unfortunately, makes the film extremely complicated. Various plot lines are juggled and if the audience doesn't keep track of them all, things can get extremely confusing.

One plot line, involving Frodo and Sam attempting to destroy the ring on their own meet the Gollum. The Gollum is truly the most interesting character in the Lord of the Rings trilogy. His conflicted nature splits him into two personalities, one who wants the ring, and will kill to get it, the other that truly cares about Frodo and Sam.

The most uninteresting plot line involves Pippin and Merry being taken by walking trees and forced to do....nothing. We scarcely ever see the duo, and when we do, it's often dull. The primary source of comic relief in the first film is gone, making The Two Towers especially hard to watch.

There's less action and more talking. The length has actually been increased by a quarter hour, which makes the film even more tedious than the original. Even the dramatic battle at the end of epic scale is little compensation, as it doesn't feel very exciting.

At times, it feels like The Two Towers is repeating itself over and over again. You can count on the fact that every hour or so, someone almost dies, only to be saved an arrow to the offender's head. It's the primary source of escape in this film.

The acting, at the minimum, has not been hurt. Elijah Wood, Ian McKellen and the rest of the cast are as strong as ever. Christopher Lee's role, however, is significantly smaller, which is unfortunate.

Special effects also have not been affected in a negative way, and they are just as grand and marvelous as ever.

The score, by Howard Shore, feels a bit weaker than that of the original. The main theme is used less frequently, and the usage of lighter pieces are almost completely gone, due to the film's darker nature. It's still a good score, but it's weaker than it's predecessor's.

Dull to the point of hair pulling, The Two Towers fails to entertain. Even with the addition of Gollum, The Two Towers is boring beyond belief, and the action scenes are minimal. With little to excite viewers, it's a marvel that this tedious sequel actually has a positive reputation.