1/4

2/4

2.5/4

2.5/4

4/4

3/4

4/4

2.5/4

2.5/4

2/4

4/4

3.5/4

4/4

3.5/4

3/4

2.5/4

3/4

3.5/4

2/4

4/4

3/4

3/4

3/4

4/4

4/4

Next 25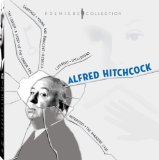 Notorious (1946)
Interesting but sometimes very annoying
2.5/4 stars
Yes Hitchcock did it again. However screenplay writers didnt.
This film includes some moment that are annoying. I was thinking are these people real spies or maybe just stupid hollywood actors. Second one won, and that was terrible for film.
Setting is interesting, ww2 and spying and they had hitchcock to direct it. As in all his films most of film is nice looking and than you have some great moments. And those are reasons why to watch his films. Of course sometimes screenplay is good and than we have masterpiece, wich this one is not.
All in all well directed, interesting but poorly written film. Hitchcock should have made much better films, he had talent. And Bergman is bad actress.