1/4

2/4

2.5/4

2.5/4

4/4

3/4

4/4

2.5/4

2.5/4

2/4

4/4

3.5/4

4/4

3.5/4

3/4

2.5/4

3/4

3.5/4

2/4

4/4

3/4

3/4

3/4

4/4

4/4

Next 25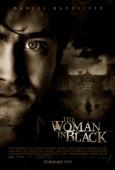 Woman in Black, The (2012)
Atmosphere and silliness
2/4 stars
Starts well, promising, not to be great but very good. Well shot with atmosphere that works very well. Plot also could be good.
But...
then we have monotinous Harry Potters search for dead woman who is by the way when we get to know her character not so good(i mean well made character). And than ending that is beyond bizzare, and not in good way. Harry dies together with his son and... He is in heaven, brought by Woman in black in this beyond silly ending. Of course everything is good in heaven, they meet mother and happily walk away. Is this ending more than it looks? For me even if it is it cant be because from silliness of this movie you cant run away.
But...
There is atmosphere, its nice to look at it and one big plus is that it made me laugh so much.

It was fun, but it also was bad.