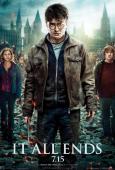 Harry Potter and the Deathly Hallows: Part 2
Poor
0.5/4 stars
This movie had the lowest budget of the last three, and it really showed. While the acting skills of those such as Dame Maggie Smith and Alan Rickman were impeccable as always, this did not save the movie from the watered down cheapness that was a flavour throughout.
Perhaps I'm being a little harsh, but I had high hopes for this movie. If you've red the book then this should go without saying: prepare for a big let down.