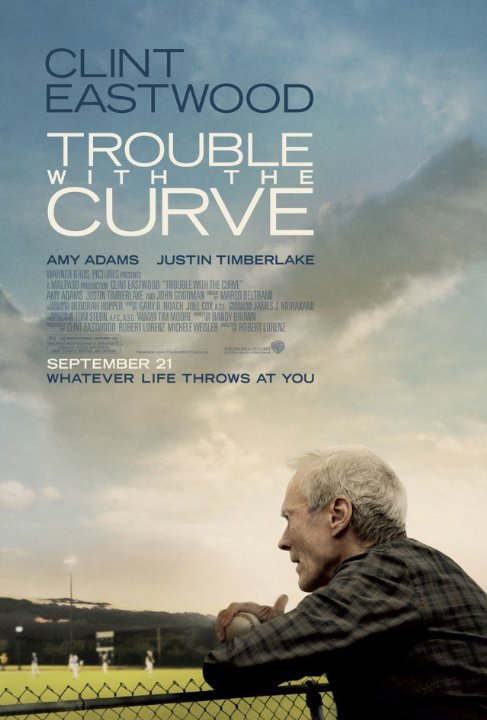 Trouble with the Curve
A feel good movie for any person sports fan or not
MovieAddict - wrote on 06/22/13
Clint Eastwood plays Gus Lobel, a veteran baseball talent scout for the Atlanta Braves who refuses to rely on computer stats to judge new talent relying instead on good old fashioned gut work, such as hearing the sound of a ball hitting a glove and a ball hitting a bat. Unfortunately his eyesight is failing and this is Gus' last chance to scout a hotshot prospect before the team offers him retirement.

Gus's friend and boss, played by John Goodman, realizing that something's up with Gus, recruits his daughter Mickey (Amy Adams), a career oriented attorney with eyes on a promotion to partner, to accompany Gus on the trip. (For those wondering, Gus named his daughter after Mickey Mantle.) Mickey has her own personal issues and wants closure from a rocky past stemming from her dad sending her away to temporarily live with relatives after her mother's death to figuring out what makes her happy in her life.

Throw Justin Timberlake into the mix as a former baseball player Johnny "Flame" who's is a scout for the Red Sox with an eye for a broadcasting career who forms a spark with Mickey. Matthew Lillard plays the cocky and tech-savvy young scout named Phillip Sanderson who believes that using computer technology to scout great players is the future of baseball. It's a clash of old vs new.

Eastwood could obviously play the cranky old man without any trouble but he also manages to really shine in some of the more tender scenes while Adams is also extremely good in her role as the daughter and I thought she and Eastwood shared great chemistry together. A nice family drama filled with cranky one liners and the growl we all have come to love from the great Eastwood. As always he is brilliant in his ability to project toughness with vulnerability. Even if you are not into baseball, you'll still love this movie.