2/4

2/4

2.5/4

2/4

3.5/4

2.5/4

2/4

2.5/4

2/4

2/4

2/4

3/4

3/4

3/4

2.5/4

2.5/4

2.5/4

2.5/4

2/4

2.5/4

2/4

2.5/4

3/4

3/4

2.5/4

Next 25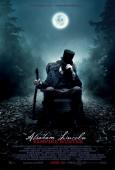 Abraham Lincoln: Vampire Hunter
Abraham Lincoln's other job!
2.5/4 stars
"A man only drinks too much, if he either has to kiss a girl or kill a man………What are you going to do, young man?"

The film opens with Abraham Lincoln on a voice-over talking about how History prefers legends to men, then flashes back to his childhood when young Abe witnesses his mother being killed by what seemed to be a vampire. Now in his twenties the desire to seek vengeance on the ghoulish murderer has never diminished. After a botched attempt our spirited yet naïve hero meets a vampire-killer named Henry Sturgess (Dominic Cooper) who trains him in the killing craft using his weapon of choice, the axe. Lincoln begins slaying the vampires that Henry directs him to.

I was a bit apprehensive about seeing this film and felt that it would be a major slight to the president who dared to unite the union by abolishing slavery. But I will admit that it was interesting how the vampire tale was woven into history. As the romantic lead, Mary Elizabeth Winstead is adequate giving Mary Todd Lincoln plenty of charm and Rufus Sewell plays the head vampire, Adam, a New Orleans-based slave owner.

There was enough tension to grip my attention throughout. The vampires appeared powerful and the affects of speed, invisibility and other qualities were great. There were lots of decapitations and yet they found as many different ways to kill a vampire which stopped it from getting repetitive. A good old fashioned popcorn chomping movie with a sweet ending!