2/4

2/4

2.5/4

2/4

3.5/4

2.5/4

2/4

2.5/4

2/4

2/4

2/4

3/4

3/4

3/4

2.5/4

2.5/4

2.5/4

2.5/4

2/4

2.5/4

2/4

2.5/4

3/4

3/4

2.5/4

Next 25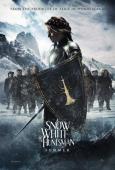 Snow White and the Huntsman
MIRROR, MIRROR, WHO IS THE FAIREST OF THEM ALL?
2/4 stars
Although I love fairy tales I wasn't too enamored about seeing Kristen Stewart as Snow White but when I saw the trailer I thought this movie might be worth seeing because of Charlize Theron as the evil Queen Ravena and Chris Hemsworth as the titular Huntsman whose physique is most definitely worth a look or two, The story of Snow White is well known except this one has a darker tone and a bigger emphasis on the queen and the huntsman so I would spare you the trouble of reading yet another summary.

Charlize Theron is awesome playing her part with passion and conviction so as to be absolutely captivating and believably evil but beneath the obvious nastiness, Theron gives us a character deeply troubled, riddled by insecurity and teetering along a fraying tightrope of sanity. Iíve forgotten how beautiful she really is. Meanwhile Chris Hemsworth is smokiní hot as always even when scruffy

(***spoiler ahead so I was absolutely over the moon that the Huntsman's kiss was the one that woke her up, not the one from the rather bland and boring WilliamÖ..spoiler ends***)

I really enjoyed the visual effects and loved how they served to enhance the story, the scenery was beautiful and so were the effects of the darkly enchanted forest which is an absolute delight in its cruelty as was the queen's evil black glass-like soldiers. The mirror effect alone is worthy of accolades. It slithers beautifully, in a smooth, evolving progression of liquid to solid.

Decent but in no universe or imagination could Kristen Stewert possibly be considered fairer than Charlize Theron as she lacks any emotion in her face and eyes, except for the constant appearance of pain.