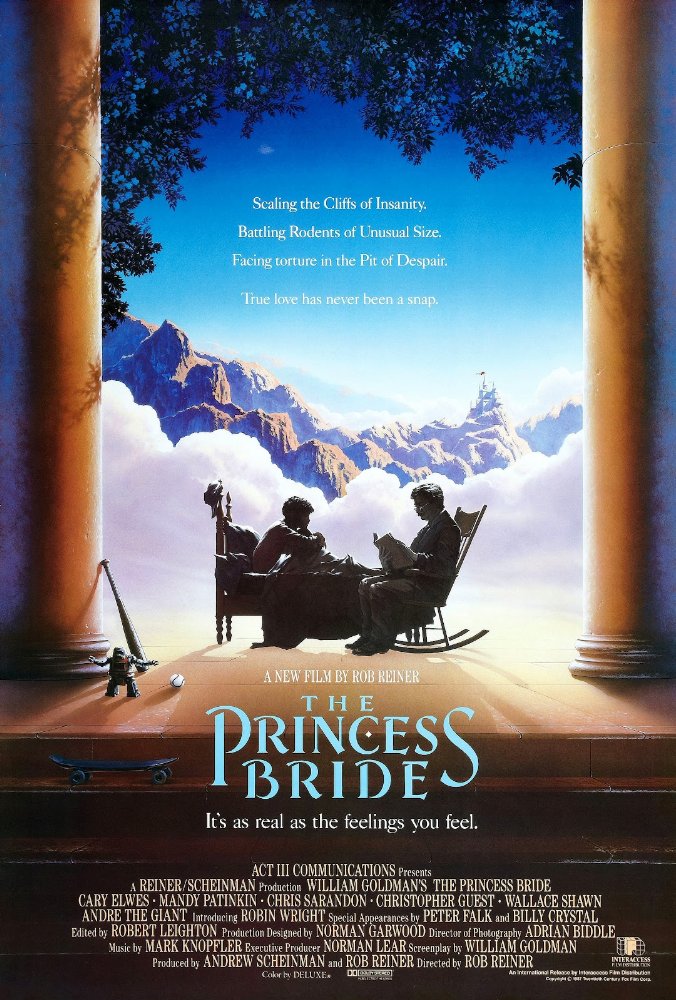 The Princess Bride
"As you wish",
MovieAddict - wrote on 04/07/12
When you mix pirates, sword wielding Spaniards, good-natured giants, evil masterminds, six-fingered counts, and the Cliffs of Despair what do you get?

The main story is in fact a story within a story; a grandfather, played by Peter 'Columbo' Falk, visits his sick grandson Fred Savage and reads him a tale about a young princess, Buttercup (Robin Wright) and her servant Wesley, played to perfection by Cary Elwes. We see her treating him quite heartlessly but as time goes on, we see her fall in love with the handsome young farmhand who has loved her from the beginning.

Wesley decides he must leave Buttercup to pursue his fortune so he may provide a life for her. He leaves and is not heard from again, and is believed to be killed at the hands of the infamous Dread Pirate Roberts. Buttercup, broken-hearted, is then betrothed to Prince Humperdink (Chris Sarandon) who is not as kind as Wesley.

One day, while riding her horse, she is kidnapped by an evil mastermind (Wallace Shawn) and his henchmen; a Spaniard (Mandy Patinkin) bent on the revenge of his murdered father, and a giant (Andre the Giant) who just wants to do things right. As they take her they find themselves pursued by a masked man in black… a man who claims to be none other than the dreaded Pirate Roberts! What follows is a delightful sequence of adventure, and witty, dialogue-driven, action film with its heart and soul in the right place.

You've got to love the wit and charm of this movie, and if you don't, then I have only one question for you. "What's your problem?"