3/4

1/4

2.5/4

4/4

2.5/4

0.5/4

0.5/4

4/4

3/4

3/4

1/4

1/4

3/4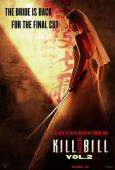 Kill Bill: Volume 2
Bill II Kills Volume I
3/4 stars
Her weapons of choice: whatever is around—a lamp, a television antennae, a skillfully crafted samurai sword even her creepy, super long man hands. Her torture endured: painful—a shotgun blast full of rock salt, years of training, being buried alive. Uma Thurman's character (who's name is unknown until late in the movie) dishes out as much pain as she suffers in Quinten Tarrantino's sequel to last year's bloodbath Kill Bill Volume I.

"Bill" II opens by filling in the gaps in Volume I's story line. We get to see why Bill's crew massacres Thurman and her friends on her wedding day. In Volume II we are introduced to the Bill (Kung Fu's David Caradine) and the living members of the DiVAS (Deadly Venom Assassins Squad.)

This movie is deeper, flows better and has dialogue that is far superior to the first. Tarrantino is able to go back to his roots in this film-conversation. The dialogue between Thurman and Caradine, prior to their big scrap is absolutely amazing as well is the banter between Michael Madesn's character, Budd, and Bill. The fighting is also impressive.

Even though Volume II is far superior to the first installment it is not without its flaws. The movie is shot on a mixture of black and white and color. The B/W is too flushed and the color is the grainiest stock this side of Saving Private Ryan. The final battle is also a little anticlimactic, but original nonetheless.

If you've seen Volume I it is essential that you see how the story ends.