2.5/4

3/4

2.5/4

2/4

3/4

1.5/4

2/4

2.5/4

2.5/4

2.5/4

1.5/4

N/A

1.5/4

2.5/4

2/4

2.5/4

2.5/4

2.5/4

2/4

2.5/4

2.5/4

1.5/4

3/4

2.5/4

2.5/4

Prev 25 | Next 25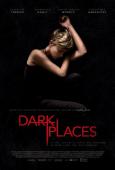 Dark Places (2015)
"Dark Places" by Yojimbo
2.5/4 stars
When approached by a cabal of amateur detectives determined to reopen the case, the sole survivor of a family murdered in their home begins to question the guilt of the man imprisoned for the crime: her own misfit teenage brother.

Another adaptation of a novel by Gillian Flynn - the author of Gone Girl - Dark Places is a murder mystery with the familiar premise that all may not necessarily be how it seems; false memory, circumstantial evidence and perceptions formed by prejudice and external manipulation can lead to gross miscarriages of justice. The story is told in parallel between current and past events - rather like John Sayles' Lone Star - and features another strong central performance by the ever-watchable Charlize Theron. In fact, technically there is little to fault; the major flaw lying in the fact that the script insists on signposting the vital clue as to the culprit in flashing neon, right at the beginning of the film. It's one of those plots for which I spent the whole film thinking "It can't be that obvious!", and yet - almost inevitably - it was. This obvious ruins the big reveal and therefore diminishes the entire film.

Dark Places is still a perfectly watchable mystery, unfortunately let down by its writer's unwillingness to trust in the curiosity and intelligence of his own audience.