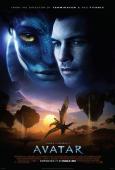 I loved Avatar.. As soon as i saw the trailer of this movie i was hooked...
The story line and the graphics where unbelievable and i couldn't wait to go see it..
Told my Boy friend i wanted to go see it in the theaters but alas both my B-friend and I never got around to going...
But when i saw the dvd in the shops i bought it...
Can't wait for Avatar 2 to come out and believe you me, this time! were going to the movie theater....