1/4

4/4

3/4

2.5/4

3.5/4

4/4

3/4

3.5/4

4/4

4/4

1.5/4

2/4

3/4

4/4

2.5/4

3/4

4/4

3/4

4/4

3/4

1/4

1.5/4

3/4

3.5/4

2.5/4

Next 25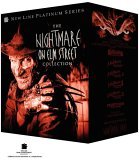 A Nightmare on Elm Street Part 2: Freddy's Revenge
I Guess There Has to be at least One
1/4 stars
Wow...this movie was a horrible way to follow the first. I would have thought this movie would be the 5th or 6th in the series by how bad it was.

I can't even begin to describe exactly how many things I had problems with.

Freddy possesses a boy's body to start killing for him. I understand they want a little different idea from the first one....but this one bordered on confusing.

The lead character gets possessed by Freddy. Towards the end of the movie it's Freddy doing all the killing....but you're left in your mind to be thinking "Are all of these people seeing Freddy or are they seeing Jessie, the lead?"

When on screen we are seeing the Freddy skin people are still approaching him as if they are seeing Jessie. They are trying to talk him down and hesitating on doing anything.

Honestly. If I saw someone who was burnt up like Freddy with giant blades on his hands....I wouldn't go up to him saying "It's okay. I'm not going to hurt you. I'm here to help." WHAT?!?!?! I'd be running the other direction and throwing other people between me and him. Are you kidding me?