1.5/4

4/4

4/4

3.5/4

3.5/4

4/4

3/4

3.5/4

4/4

3/4

2.5/4

3/4

3/4

3.5/4

3.5/4

4/4

4/4

4/4

4/4

4/4

4/4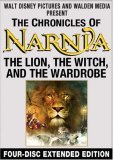 The Chronicles of Narnia: The Lion, the Witch and the Wardrobe
Lame, Boring, sucked!
1.5/4 stars
They could have trimmed 30 minutes out of it without even noticing. It took 30 minutes just to GET to Narnia. Although the character development is acceptable up to that point, WOW is it slow.
The plot is so incredibly shallow. For example, why is there a war? Why was Narnia frozen for 100 years, why can peter become a swordmaster in a day? Why are white tigers bad and rhinos good? Why does the Wardrobe sometimes work and sometimes not? What does the professor know about the Wardrobe and what is his role? There is no method to Lewis' madness whatsover.The cryptic references to the prophecy does nothing to explain when and where it was created and why.
Please! Lord of the Rings does this in the first 15 minutes of the movie by explaining the rings, and then showing the first battle against Sauron. So, basically, it sucked!