4/4

1.5/4

3/4

3/4

2.5/4

3/4

4/4

2.5/4

1.5/4

2/4

3/4

3/4

2.5/4

4/4

3/4

2/4

2.5/4

0.5/4

3/4

4/4

3/4

3/4

2.5/4

1.5/4

4/4

Next 25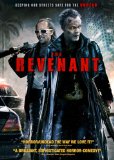 Revenant, The (2009)
It's not easy to be a nice zombie.
4/4 stars
I found this movie by pure chance, and I am very happy that I did. This is one of the funniest movies I have seen in quite a while. I caught myself laughing out loud in several occations, something that I usually never do when I watch movies alone.

This movie got a decent plot and the actors are excellent. Especially the dynamics between the two lead actors works well. The story is well written, and since Brad is a revenant, and not just a normal zombie alot of absurd situations occours as he is clearly conflicted about what he needs to do not to rot away.

I had a very good time watching this movie, and I can recommend this to you all. As I am the only one that have reviewed or rated it I assume you have missed it. That's a mistake you have to correct. because this is a movie that you you simply have to watch.