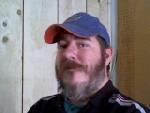 FilmCrave Points
| Activity | Points |
| --- | --- |
| Total Ratings | 0 |
| Total Reviews | 0 |
| Total Lists | 4 |
| Total Plots | 0 |
| Total Points | 10 |
Latest Friends
Alex
Movie God
DarthKarl's Information
Ranking Status: Aspiring Actor
Name: Karl Moles
Gender: Male
Current Area: Morehead, KY
Home Town: South Shore, KY
Education: I have a BA Degree in Geography and Geoscience and a Masters in Meteorology from Morehead State University and The University Of Kentucky Respectively.
Employer: The Defense Intelligence Agency
Position: Satellite Photographic Analysis Interpreter - I'm shy, lol.
About Me: Former U.S. Army Ranger, Combat Veteran of Desert Storm. Married 17 Years, one Son aged 21.
Interests: Music, both making it and listening to it. Movies. Gun Collecting. Military History. The Interwebz.
Movie Profile
Favorite Genre: Sci-Fi
Recent Comments