FilmCrave Points
| Activity | Points |
| --- | --- |
| Total Ratings | 111 |
| Total Reviews | 8 |
| Total Lists | 8 |
| Total Plots | 24 |
| Total Points | 208 |
Latest Friends
Nick
Producer
mellyboi1's Information
Ranking Status: Rising Star
Name: Marvin Hollon
Gender: Male
Current Area: Campton, KY
Home Town: Rogers, KY
Education: I am a high school graduate and I have done a year in and entertainment college before dropping out. Their credits weren't nationally accredited, so lesson learned and don't go to Full Sail; it costs a but ton of money and the degree counts for nothing.
Position: Writer - I am just an normal guy. I like all kinds of movies, I don't watch just main stream and I don't watch just indies; I keep a steady diet of both kinds of films. I am known as the movie man where I live and not because I am a film snob, but because I love nearly every movie I have seen. I say nearly, because I watched I Spit On Your Grave and it was awful.
About Me: I am a writer, with two published books so far. Homopsycho and Mushroom Kingdom (Discontinued). I also love movies, horror, comedies and romances are my preferences. I like some actions, but only if they're done right.
Interests: I like to write, anything really. I blog constantly and am very good at it. I've only had complaints for going farther than I had any right to go. It was still a good story, but I have distanced myself from it. I also like reading, my favorite book is Wicked by Gregory McGuire and I also like Bliss by Lauren Mryical.
Movie Profile
Film I Love: Behind The Mask: The Rise of Leslie Vernon
Film I Hate: I Spit On Your Grave
Guilty Pleasure: Twilight (the first one)
Favorite Genre: Horror
Least Favorite Genre: Romance
Favorite Actors: Emma Stone, Jason Segel, Phillip Seymour Hoffman, Alyson Hannigan
Favorite Director: Steven Spielberg
Movie Quotes: "Come and try it, you cracked brain Slave driver!" -Bigwig (Watership Down)
Latest Movie Review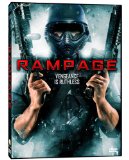 Rampage (2009)
Pretty Good.

Uwe Boll is a popular man to hate, and I get that, what with Bloodrayne and his making bad movies based off of random games...I can really see how people could grow to not like his films...and when I saw this I just couldn't believe he was the man behind it all. He wrote, directed and produced this amazing film. I know people will be inclined to hate it, because of the director, but if you can look past the superficial you'll probably end up liking it. It didn't come up short in any catagories for me, the graphics were great, the acting was good...mostly...a cop did seem like he totally sucked at acting, but shy of that I didn't see any serious problems and the story was good enough to even rangle my father into watching. My dad never …
Recent Comments