New on DVD and Blu-ray Week of September 30-October 6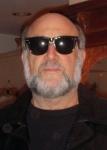 By Harley Lond - 09/30/14 at 04:08 AM CT
THIS WEEK'S THEATRICAL RELEASES:

After helming one giga-budget film after another (the first two "Iron Man" outings and the bomb "Cowboys & Aliens") writer-director-producer Jon Favreau returned to his indie roots ("Made," "Swingers") with "Chef," the surprise indie hit of 2014. The low-budget film (but with a cast of A-list actors -- Scarlett Johansson, Sofia Vergara, John Leguizamo, Robert Downey Jr., Dustin Hoffman, Oliver Platt, Bobby Cannavale, Amy Sedaris, Garry Shandling)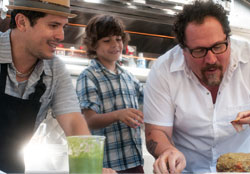 centers around a top-tier Los Angeles Chef
(Favreau) who loses his restaurant job and starts up a food truck in an effort to reclaim his creative juices, while piecing back together his estranged family. The gentle film is loaded with laughs and tantalizing food (the centerpiece Cubano sandwiches that put the chief back in the spotlights as he travels from Miami to Los Angeles with his best friend and estranged son) and a wonderful Latin Jazz soundtrack. Extras include commentary with writer-director Jon Favreau and chef/co-producer Roy Choi (the Los Angeles food truck pioneer who served as technical adviser for the film). From Universal.

Not being a big fan of films spun off from comic books or toys, I was pleasantly surprised with "Transformers: Age of Extinction
," the next chapter in the never-ending Michael Bay special effects franchise. This one picks up five years after "Transformers: Dark of the Moon," with Autobots and Decepticons all but vanished from the face of the planet ... but not for long. Spurred on by an intergalactic Transformer bounty hunter and one of the original Decepticons, a secret agency is hunting down and killing the Autobots. When a Texas small-time mechanic and inventor (Mark Wahlberg) saves Optimus Prime, he teams with his daughter, her boyfriend and the Autobots to rescue the world from destruction. The appealing nature of Wahlberg (can he do no wrong?) and the spectacular special effects make up for a bumbling and basically lame storyline riddled with silly dialogue and weak supporting actors. Extras include a bevy of behind-the-scenes featurettes and an in-depth interview with Bay. From Paramount.


THIS WEEK'S HIGHLIGHTS:

Hollywood is rife with horror tales of producers and studios yanking a film from a director's hands and destroying it; the 1980s seemed to be a decade in which top directors saw their heartfelt projects edited into oblivion (though some were quickly resurrected). Among them: Michael Cimino's "Heaven's Gate" (1980), Ridley Scott's "Blade Runner" (1982) and Terry Gilliam's "Brazil" (1985). One of the most egregious hack jobs was the U.S. theatrical release of Sergio Leone's "Once Upon a Time in America in 1984. Leone's original cut ran some 4 and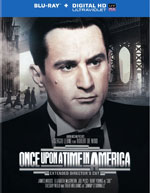 a half hours; it premiered at Cannes that May in a trimmed 3 hours-49 minute version. When it was released in the U.S., the film was cut to 139 minutes -- almost two hours shorter than Leone's original cut and 90 minutes short than the Cannes version. Not only that, but the flashback format of the film was edited away so that the story was told in chronological order, destroying the impact of the film. Since then, of course, restored versions have been shown on the big screen and ported to home video, but until now, the director's original vision has not been available on DVD. Warner has remedied that with the release of "Once Upon a Time in America
Extended Edition," a 251-minute cut -- with 22-minutes of restored footage -- funded by The Film Foundation, the film preservation organization founded by Martin Scorsese, and its partner Gucci. The film -- which starred Robert De Niro, James Woods, Elizabeth McGovern, Joe Pesci, Burt Young, Tuesday Weld, Treat Williams, Danny Aiello, William Forsythe and Darlanne Fluegel -- will also be available on DVD. The Blu-ray extras include a new 32-page book with rare photos and insightful notes that chronicle the movie's production history; the book also includes a letter written by Martin Scorsese. Other special features (available on all the editions) include commentary by film historian and critic Richard Schickel, and a making-of documentary "Once Upon a Time: Sergio Leone."

There's two spectacular releases from The Criterion Collection this week: First is the Blu-ray debut of "Ali: Fear Eats the Soul
" (1974) in which the wildly prolific German filmmaker Rainer Werner Fassbinder paid homage to his cinematic hero Douglas Sirk with an "update" of that filmmaker's 1955 "All That Heaven Allows." A lonely widow (Brigitte Mira) meets a much younger Arab worker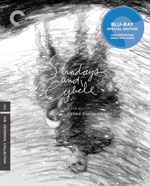 (El Hedi ben Salem) in a bar during a rainstorm. They fall in love, to their own surprise -- and to the outright shock of their families, colleagues, and drinking buddies. In "Ali: Fear Eats the Soul," Fassbinder expertly uses the emotional power of classic Hollywood melodrama to expose the racial tensions underlying contemporary German culture. In a new 4K digital restoration, with uncompressed monaural soundtrack. Next up is "Sundays and Cybčle
" (1962), a provocative Academy Award winner from French director Serge Bourguignon. A psychologically damaged war veteran and a neglected child begin a startlingly intimate friendship -- one that ultimately ignites the suspicion and anger of his friends and neighbors in suburban Paris. Bourguignon's film makes thoughtful, humane drama out of potentially incendiary subject matter, and with the help of the sensitive cinematography of Henri Decae and a delicate score by Maurice Jarre, "Sundays and Cybele" becomes a stirring contemplation of an alliance between two troubled souls. New 2K digital restoration, with uncompressed monaural soundtrack on the Blu-ray.

Seems like every couple of years Warner Home Video trots out a "newer" version of classic films in their library ("Casablanca," "The Wizard of Oz") with extra added features and packaging aimed at enticing you to buy the film "one more time." It was only five years ago that Warners gave us a 70th anniversary Blu-ray edition of "Gone With the Wind" (David O. Selznick's monumental 1939 production of Margaret Mitchell's Pulitzer Prize-winning book) and now they've released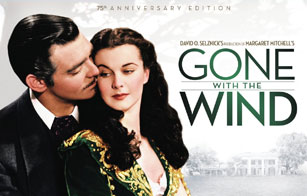 "Gone With the Wind
75th Anniversary Ultimate Collector's Edition" which, thankfully, is well-worth the price ($49.99). Not only do you get a high-def version of the film, you also get new memorabilia and new special features that include a replica of Rhett Butler's handkerchief and a music box paperweight playing Tara's theme with an image on top of the Rhett-Scarlett kiss. Also included is a 36-page companion booklet featuring a look at the immortal style of "Gone with the Wind," written by New York fashion designer and "Project Runway" finalist Austin Scarlett. New special features include footage of Clark Gable and Vivien Leigh attending the original movie premiere in Atlanta and "Old South/New South," a journey through today's South, revisiting the real-life locations depicted to see how the world of the Old South continues to inform life in the New South's cosmopolitan world. The set is limited and numbered, with new collectible packaging.

Warner also has on hand this week the "Audrey Hepburn Collection
," a nifty set with three of Hepburn's most endearing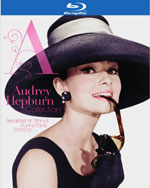 films on Blu-ray for the first time: "Funny Face," "Sabrina" and "Breakfast at Tiffany's." The latter two account for two of Hepburn's five Best Actress Academy Award nominations (The other Best Actress nominations were "Wait Until Dark," "The Nun's Story," and "Roman Holiday," for which she took home the statue. She was also honored posthumously by the Academy with the Jean Hersholt Humanitarian Award in 1993). Born in 1929 in Brussels, Hepburn spent part of her youth at an English boarding school and studied at The Netherlands' Arnhem Conservatory. After World War II, she studied ballet in Amsterdam and London and made her stage debut in 1948 in the chorus of "High Button Shoes." Additional small parts on the British stage were followed by appearances in English films, including the Alec Guinness classic "The Lavender Hill Mob." Soon after, she came to America to take on the title role in the Broadway production "Gigi" and her career took off. All three discs are loaded with bonus features. $29.99.

Another impressive set is "Motown 25
:Yesterday -- Today -- Forever" (2014). "Motown 25" was an iconic TV concert event -- airing on NBC on May 16, 1983 -- for so many reasons: It celebrated one of the most influential labels in music history, put all of its biggest stars -- from Michael Jackson and Marvin Gaye to Diana Ross, Smokey Robinson, Stevie Wonder and many more -- on a single stage for one incredible night and introduced the world to the moonwalk in six seconds that would change the world. It was a true water cooler event in the era before social media. "Motown 25" was taped before a live audience and showcased virtually every Motown artist from the company's inception, including Jackson, Gaye, Robinson, Wonder, Ross, The Supremes, The Jackson 5, The Miracles, The
Temptations, Four Tops and many others. The show also featured many guests outside the Motown Records sphere who had been influenced by Motown artists, including Linda Ronstadt, who performed a memorable duet with Smokey Robinson, Billy Dee Williams, Jose Feliciano and British new wave star Adam Ant, who was riding a wave of popularity from MTV exposure. As an added highlight, the historic evening was hosted by Richard Pryor, who was arguably the hottest comedian in the world at the time. A seminal event in pop culture history, this concert event would establish the gold standard for all future televised concert events and go on to provide the backstory for the Tony-nominated Broadway play, "Motown the Musical." There are three configurations for the release: A deluxe six-DVD Set ($79.95) featuring the Extended version of the original broadcast with new 5.1 surround sound and hours of bonuses including nine specially-produced featurettes, Marvin Gaye and Stevie Wonder's rehearsal footage, a "Motown 25" performers roundtable, interviews with Smokey Robinson, Martha Reeves, Otis Williams and many more, an exclusive collector's book and a copy of the "Motown 25" program; available direct from MOTOWN25DVDS.COM. Also available at retail on September 30 will be a three-DVD set ($39.95) and a single ($19.95). From StarVista Entertainment/Time Life.

Lastly, there's "Ghost in the Shell
25th Anniversary Edition Blu-ray" (1995). Mamoru Oshii's cyberpunk thriller gets an all new HD transfer. 2029 - A female government cyber agent and the Internal Bureau of Investigations are hot on the trail of a "The Puppet Master" - a computer virus capable of invading cybernetic brains and altering its victim's memory. Created by the Ministry of Foreign Affairs and codenamed "Project 2501", this "hacker" is actually a prototype virtual agent which has now defied its makers by seeking asylum within a new host body outside of the electronic net. Now the two agencies must maneuver against each another in a violent, high-tech race to capture the omnipresent entity. From Anchor Bay.


BUZZIN' THE 'B'S:
"Decoding Annie Parker
" (2014), starring Samantha Morton, Helen Hunt, Aaron Paul, Maggie Grace, Rashida Jones, Alice Eve, Corey Stoll and Marley Shelton, is the incredible true story of how the paths of cancer survivor Annie Parker (Samantha Morton) and geneticist Mary-Claire King (Helen Hunt) intersect, resulting in one of the most significant genetic discoveries of the 20th century: a link between DNA and cancer. Being Released in time for National
Breast Cancer Awareness Month (October). On DVD and Blu-ray Disc from Entertainment One ... "Cold in July
" (2013) stars Michael C. Hall, Don Johnson, Sam Shepard and Vinessa Shaw in a failed modern-noir thriller. While investigating noises in his house one balmy Texas night in 1989, Richard Dane (Michael C. Hall) puts a bullet in the brain of lowlife burglar Freddy. Although he's hailed as a small-town hero, Richard soon finds himself fearing for his family's safety when Freddy's ex-con father, Ben (Sam Shepard), rolls into town, hell-bent on revenge. But not all is as it seems in this seemingly peaceful community, and soon Richard's life begins to unravel into a dark underworld of corruption and violence that will pit him against the most unlikely of foes. On DVD, Blu-ray Disc from IFC Films/MPI Media Group ... When a young couple agrees to document their first pregnancy for a new reality show, things begin to unravel when the cameras capture a series of unexplained events, leading the young wife to believe that a malicious spirit has possessed their unborn child in "Delivery: The Beast Within
" (2013), starring Laurel Vail and Danny Barclay. From Cinedigm ... "Third Person
" (2014) is a "Crash"-like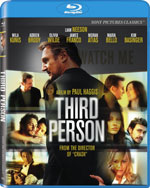 interlaced storyline film by writer-director Paul Haggis, with Liam Neeson, Mila Kunis, Adrien Brody, Olivia Wilde, James Franco, Moran Atias, Maria Bello, Kim Basinger. A collection of multi-strand stories of love, relationships and betrayal weaves together the stories of three couples, in three different cities, who appear to have nothing related -- but share deep commonalities: lovers and estranged spouses, children lost and found. The tales play out Paris, where a Pulitzer Prize-winning author (Neeson) who recently left his wife (Basinger) is having a tempestuous affair with an ambitious young journalist (Wilde); in Rome, where a shady American businessman (Brody) meets a mysterious woman (Atias); and in New York, where a lawyer (Bello) is helping a young mother (Kunis) in a custody battle with her famous ex-husband (Franco). From Sony ... After 10 years of hard time in prison, an ex-con's got 24 hours to exact his brutal revenge on every person who had a hand in wrongfully sending him there in "American Muscle
" (2014), starring Nick Principe, Robin Sydney and George P. Wilbur. From Well Go USA ... In "Grave Halloween" (2013), Maiko, a college student whose mother, years earlier, took her life in the "Suicide Forest" in Japan, on the northwest base of Mount Fuji, leads a student documentary film crew to shed light not only on this infamous cultural landmark but also bring some closure to her own inner demons. Soon the entire group realizes that their hunt for the truth is now coming after
them, in a fight for survival against those who may have died in the Suicide Forest, but never left it. Stars Kaitlyn Leeb, Cassi Thomson, Graham Wardle, Hiro Kanagawa. From Anchor Bay ... "Sniper: Legacy
" (2014), starring Tom Berenger, Chad Michael Collins and Dennis Haysbert, is the fifth in the sniper franchise; it brings back Berenger from the first film to join the sequels' star Collins as two generations of sharpshooter heroes team up to stop a rogue sniper targeting former U.S. military personnel. From Sony ... In the cult comedy "Sordid Lives" (2000), starring Olivia Newton-John, Beau Bridges, Delta Burke, Bonnie Bedelia, Beth Grant and Leslie Jordan, from writer-director Del Shores (and based on his long-running play), a gay West Hollywood actor returns home to his small Texas town for his grandmother's funeral, only to be confronted by the hilariously trashy truth of his dysfunctional family's "sordid lives." From Wolfe Video ... In "The Paranormal Diaries: Clophill
" (2013), starring Craig Stovin, Criselda Cabitac, Kevin Gates, Michael Bartlett, Mark Jeavons and Rob Whitaker, six investigators head to one of the world's most haunted places -- St. Mary's Church at Clophill -- to uncover the source of supernatural sightings and phenomena in the site known for centuries as a notorious magnet for grave robbers, body snatchers, Satanists and cultists. Over the course of three chilling nights, it becomes clear that they have unleashed something ancient and evil that has long been hungry to escape into this world. From Image Entertainment.


ON THE INDIE FRONT:

In "Hellion
" (2014), starring Aaron Paul, Juliette Lewis, Josh Wiggins and Deke Garner, hard-drinking single dad Hollis (Aaron Paul) struggles to raise his two boys, including rebellious 13-tear-old Jacob (Josh Wiggins), amid the haunting refineries of southeast Texas. Obsessed with heavy metal and seething with rebellious anger, Jacob finds release in the high-risk, white-knuckle world of motocross -- but his reckless behavior threatens to spin out of control. When the authorities catch wind of the volatile situation, the younger brother, Wes, is put in the custody of his Aunt Pam (Juliette Lewis), leaving Jacob and Hollis to fend for themselves. From IFC Films ... In "Lucky Them
" (2013), starring Toni Collette, Johnny Depp, Thomas Haden Church, Oliver Platt and Amy Seimetz, veteran rock journalist Ellie Klug (Toni Collette) -- more interested in partying and flirting with young musicians than work -- has one last chance to prove her value to her magazine's editor: a no-stone-unturned search to discover what really happened to long-lost rock god Matthew Smith (Johnny Depp), who also happens to be her ex-boyfriend. From IFC Films.


FOR THE FAMILY:

"My Little Pony: The Complete Series" (1985-87) is a four-disc set with all 65 Episodes of the original TV series that started the My Little Pony phenomenon. Return to Ponyland, the home of the favorite classic Little Ponies, including the Earth Ponies, Unicorns, Pegasus Ponies, Flutter Ponies, Sea Ponies, Baby Sea Ponies, their human friends Megan, Danny and Molly and, of course, their dragon friend, Spike! Together, they live a life of games, songs and harmony with allies like the Bushwoolies and Furbobs. But, occasionally, there are problems in Ponyland and the Little Ponies of Paradise Estate must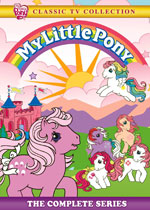 face evil witches, goblins, Stone Backs, Grundles and more. From (Shout! Factory Kids ... "My Little Pony: Escape From Catrina and Other Adventures" (1985) includes the title episode plus five others: When the evil, cat-like Catrina attempts to enslave the Little Ponies of Paradise Estates to create a Witchweed potion that will grant her control of the weather, it's up to Sundance and Baby Moondancer to save the day. $12.99 from Shout! Factory Kids ... "Monster High: Freaky Fusion" (2014) is the latest in the Monster High franchise. While attempting to help Frankie Stein learn more about her freakycool scaritage, the fashionably fierce ghoulfriends travel back in time to the first day ever of Monster High where they meet Sparky, a skullastic teen with an obsession for creating life. But when Sparky follows the ghouls through a killer time portal to modern-day Monster High, the event results in eight of them fusing together into four creeperiffic hybrid Monsters. On DVD, Blu-ray/DVD Combo from Universal ... "Team Hot Wheels: The Origin of Awesome" (2014) features the latest animated adventures of the toy franchise. On DVD, Blu-ray/DVD Combo from Universal ... "Thunder and the House of Magic" (2013) is a whimsical animated family adventure that tells the story of Thunder, an abandoned young cat who stumbles into a magical old mansion operated by a dazzling array of automatons and gizmos. Owned by a retired magician, the house is occupied by an assortment of his wacky assistants who don't all welcome the new houseguest. But when the magician lands in the hospital and his scheming nephew puts the mansion up for sale, the young hero and his new friends join forces to save their magical home. On DVD, 3D Blu-ray/DVD Combo -- available exclusively at Walmart -- from Shout! Factory ...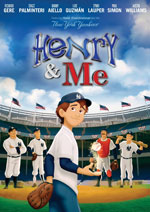 "Henry & Me" (2013) is the heart-warming story of Jack, an 11 year-old baseball fan with cancer who finds himself magically transported from his hospital bed to an amazing world where he meets Yankee legends old and new (including Babe Ruth, Lefty Gomez, Thurman Munson, and Mickey Mantle), and learns valuable lessons about baseball and the curveballs that life throws you. With the voices of Richard Gere, Cyndi Lauper, Chazz Palminteri, Lucie Arnaz, Danny Aiello, and Paul Simon, and Yankee greats Mariano Rivera, Reggie Jackson, Hideki Matsui, Yogi Berra, Jorge Posada, CC Sabathia, and Mark Teixeira. A portion of the proceeds from the DVD and digital sales will benefit a collection of participating charities including: Cyndi Lauper's True Colors Fund, St. Jude's, Lou Gehrig Society, Yogi Berra Museum and Learning Center, The New York Yankees Foundation, Jason Mraz Foundation, International Campaign for Tibet, Children's Health Fund, NIMBY, The Max Cure Foundation, CC Sabathia's Pitch In Foundation, Joe Girardi's Catch 25 Foundation, Harlem RBI, Leukemia Society, Curtis Granderson's Grand Kids Foundation, Sarah McLachlan's Sarah School of Music, Pitch for a Cure, American Cancer Society's Hope Lodge, and many more. From Henry & Me Productions.


FROM TV TO DVD:

Julia McKenzie stars in the final three episodes of "Agatha Christie's Marple, Series 6" (2014); the release coincides with their broadcast premiere on PBS on Masterpiece Mystery! In a three-disc set with three mysteries: "A Caribbean Mystery," "Greenshaw's Folly" and "Endless Night." $49.99 from Acorn Media ... "The Field of Blood, Set 1" (2011-13) is the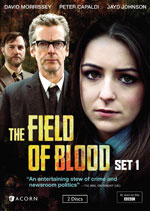 North American DVD debut of the mystery series about a gutsy young reporter-in-training in the gritty Glasgow of the early 1980s. At work, Paddy is up against hardened reporters who doubt her; at home, she's fighting her rigid Catholic family, who just wants her to get married. But Paddy's passion for digging into the darkest corners of the city comes first. The two-disc Set 1 contains two feature-length mysteries that comprise Series 1 (2011) and Series 2 (2013), $39.99 from Acorn Media ... "The Mentalist: The Complete Fifth Season" (2012-13) is a five-disc set with 22 episodes, $59.98 from Warner ... "Mike & Molly: The Complete Fourth Season" (2013-14) is a three-disc set with 22 episodes, $38.99 from Warner ... "Sherlock Holmes: The Complete Granada Television Series" makes its Blu-ray debut in a 12-disc set, $229.98. Jeremy Brett has been acclaimed as the greatest interpreter of Holmes, and commanded the role for role for 11 years, from 1984's series "The Adventures of Sherlock Holmes" until 1994's "The Memoirs of Sherlock
Holmes." Famous, baffling episodes in this mega-set include "The Red-Headed League," "The Final Problem," "Wisteria Lodge," "Silver Blaze," "The Master Blackmailer" and "The Cardboard Box," among many more. Also included are the full-length mysteries "The Hound of the Baskervilles" and "The Sign of Four." This is the definitive collection of Jeremy Brett's Holmes -- a longtime staple of PBS' Mystery! series. From MPI Home Video ... "24: Live Another Day" (2014) includes all 12 episodes of "Season Nine." Exiled in London for four years, former Counter Terrorist Unit agent Jack Bauer (Kiefer Sutherland) must spring into action to try to save U.S. President James Heller (William Devane). In retribution for a drone strike he ordered, Heller sits in the crosshairs of the widow of an al-Qaeda leader. From Fox ... "24: The Complete Series" (2001-10, 2014) contains all nine seasons, including "24: Live Another Day" and the TV movie "24: Redemption." $179.98 from Fox ... In "Walker, Texas Ranger: The Reunion" (1994) Walker is reunited with old colleagues at a shooting competition, and he gets involved in investigating a potential assassination attempt on a local senator. Available exclusively at Walmart from CBS/Paramount.

Check out other September 30-October 6 DVD releases and reviews at OnVideo.