New on DVD and Blu-ray Week of September 23-September 29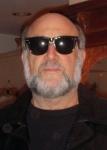 By Harley Lond - 09/22/14 at 10:04 PM CT
THIS WEEK'S THEATRICAL RELEASES:

"The Rover": This overlooked gem is a gritty and violent drama set 10 years after a global economic collapse where food and gasoline are expensive and life is cheap. The film follows hardened loner Eric (Guy Pearce) as he travels the desolate towns and roads of the Australian outback, causing no trouble until a gang of three thieves -- who have just robbed a dusty outpost and murdered the inhabitants -- steals his car, a Rover, to make their getaway. Eric takes off after them in another vehicle, along the way capturing -- and saving -- the wounded brother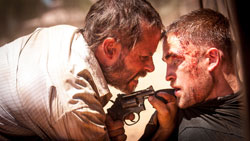 (Robert Pattinson) of one of the robbers, who was left behind in the escape. Eric forces him to help him track down the trio, along the way encountering a bevy of misfits, oddballs and miscreants as he seeks his beloved car, the one thing that still matters to him. Unlike other post-apocalyptic thrillers, there's no zombies, vampires or "Mad Max"-type villains, just the slow disintegration of society and human values as nihilism and the worst impulses of human nature come to the fore. Michod paints a balmy, sun-drenched wasteland with leisurely strokes punctuated by bursts of danger and violence. If you're used to a "Jack Irish," "The King's Speech" or a "Mildred Pierce"-Guy Pearce, you're in for a pleasant surprise here as the U.K.-born, Aussie-raised actor becomes a Down Under "Man With No Name." Also stars Tawanda Manyimo, David Field, Richard Green, Ben Armer and Gillian Jones. Extras include an interesting behind-the-scenes featurette, "Something Elemental: Making The Rover
." From Lionsgate.

Also due this week: "Neighbors
," a goofy comedy about new parents Mac (Seth Rogen) and Kelly Radner (Rose Byrne), who are living the American Dream -- complete with an adorable baby girl and a beautiful new starter home in the suburbs -- until their life is turned upside down when they discover that their new next-door neighbors are none other than dozens of Delta Psi Beta fraternity brothers led by charismatic president Teddy Sanders (Zac Efron) and whose epic parties get out of hand. Co-stars Dave Franco, Jake Johnson, Christopher Mintz-Plasse and Lisa Kudrow. Extras include featurettes and deleted/alternate scenes. From Universal.


THIS WEEK'S HIGHLIGHTS:

The folks at The Criterion Collection want to shock the heck out of you this week with two incredibly gorgeous and thought-provoking releases, both in Blu-ray and DVD. First up is "The Innocents
" (1961), a genuinely frightening, exquisitely made supernatural gothic that stars Deborah Kerr as an emotionally fragile governess who comes to suspect that there is something
very, very wrong with her precocious new charges. A psychosexually intensified adaptation of Henry James's classic "The Turn of the Screw," co-written by Truman Capote and directed by Jack Clayton, "The Innocents" is a triumph of narrative economy and technical expressiveness, from its chilling sound design to the Stygian depths of its widescreen cinematography by Freddie Francis. New 4K digital restoration, with uncompressed monaural soundtrack on the Blu-ray. Next up is maverick director Roman Polanski's "Macbeth
" (1971), his first film after his pregnant wife, Sharon Tate, was murdered by members of the Manson Family in 1969. Polanski imbued his unflinchingly violent adaptation of William Shakespeare's tragedy of ruthless ambition and murder in medieval Scotland with grit and dramatic intensity. Jon Finch and Francesca Annis are charged with fury and sex appeal as a decorated warrior rising in the ranks and his driven wife, scheming together to take the throne by any means. Co-adapted by Polanski and the great theater critic and dramaturge Kenneth Tynan, and shot against a series of stunning, stark British Isle landscapes, this version of Macbeth is among the most atmospheric and authentic of all Shakespeare films. The director-approved special edition features new 4K digital restoration, with uncompressed stereo soundtrack on the Blu-ray.

Get ready for another pre-Halloween avalanche of films: Anchor Bay and Scream Factory have collaborated to bring home two gigantic boxed sets of all the "Halloween" films for the first time, "Halloween
The Complete Collection Blu-ray." A Deluxe Edition boasts 15 discs and contains all the "Halloween" feature films -- "Halloween," "Halloween II," "Halloween III: Season of the Witch," "Halloween 4: The Return of Michael Myers," "Halloween 5: The Revenge of Michael Myers," "Halloween: The Curse of Michael Myers," "Halloween H20," "Halloween: Resurrection," "Rob Zombie's Halloween" and "Rob Zombie's Halloween II." The set includes the never-before-released
producers cut of "Halloween: The Curse of Michael Myers" as well as the ultra-rare network TV version of the original "Halloween," the network TV version of "Halloween II," plus the unrated versions of "Rob Zombie's Halloween and Halloween II." It's packed with hours of new bonus features including new interviews with cast and crew from the entire franchise. In response to years of fan feedback, the first "Halloween" will now also include the original mono audio track and the set will include both versions of the original "Halloween" -- the original Blu-ray release and the recently remastered 35th Anniversary version with the mono track added back in. It also comes with a limited edition 40-page book written by Michael Gingold of Fangoria Magazine. The collectible packaging will include a newly commissioned illustration on the outer case and each film will be in its own black Blu-ray case with the original theatrical one sheet as the key art. This deluxe set carries an SRP of $169.99. A 10-disc Edition includes the original theatrical versions of the "Halloween" films and will include select bonus features for $129.99.


BUZZIN' THE 'B'S:

In "The Calling
" (2014), starring Susan Sarandon, Ellen Burstyn, Gil Bellows, Topher Grace and Donald Sutherland, detective Inspector Hazel Micallef (Sarandon) leads a quiet life with her mother (Burstyn), her painkillers, and an occasional drink. But when she checks on an ill neighbor, she stumbles upon a gruesome murder that shatters her peaceful existence. With the help
of a fellow detective (Bellows) and a transfer cop (Grace), she unearths a series of similar killings across the country. When a local priest (Sutherland) suggests a link to an ancient ritual, Hazel focuses her search on a religious madman with a deadly higher calling. From Sony ... "The Signal
" (2014), starring Brenton Thwaites, Olivia Cooke, Beau Knapp and Laurence Fishburne, is a sci-fi mind-bender. On a road trip, Nic (Thwaites) and two friends are drawn to an isolated area by a computer genius. When everything suddenly goes dark, Nic regains consciousness -- only to find himself in a waking nightmare. On DVD, Blu-ray/DVD Combo from Universal ... In "Found
" (2013), starring Gavin Brown and Ethan Philbeck, a horror-obsessed boy discovers his older brother is a serial killer, from XLrator Media ... "Disaster L.A.: The Last Zombie Apocalypse Begins Here" (2014) is a sci-fi zombie thriller in which a group of friends desperately try to escape the toxic smoke that is the deadly result of a meteor shower strike in the middle of Los Angeles. In its wake, neither friends nor strangers are safe from each other as they try to reach the coast before it's too late. Stars Justin Ray and Jerod Meagher. On DVD, Blu-ray Disc from Warner ... In "Firestorm
"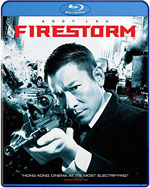 (2013 -- Hong Kong), a hard-boiled police inspector (Lau) must confront, and cross, moral lines in order to hunt down a crew of seasoned criminals who use the cover of a gigantic storm in Hong Kong to stage a series of armored car heists in broad daylight, showing no mercy to anyone who gets in their way. Stars Andy Lau, Michael Wong, Ray Lui, Ka Tung Lam, Jun Hu, Chen Yao. On DVD, Blu-ray Disc from Well Go USA ... In "Game of Assassins
" (2013), starring Dustin Nguyen, Bai Ling, Warren Kole and Jude Ciccolella, a group of misfits find themselves trapped in what they believe to be an underground incinerator and come together in the hopes of discovering a way out. They quickly realize that to get out alive they'll each be tested in ways that are specific to their past, but will leave their future changed forever. From Lionsgate ... in "Wer
" (2013), starring A.J. Cook, Sebastian Roche and Vik Sahay, a defense attorney begins to suspect that her client, who is charged with the murders of a vacationing family, might be more than meets the eye. From Universal ...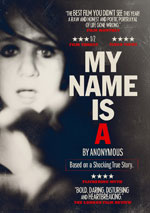 "My Name is A By Anonymous
" (2013), starring Katie Marsh, Demi Baumann, Alex Damiano, Kaliya Skye and Russian pop star Teona Dolnikova (formerly of the band Slot), is based on real-life teenage "Thrill Killer" Alyssa Bustamante, who gained instant worldwide fame when she murdered her younger neighbor in 2009 near Jefferson City, Missouri. The search for a missing girl exposes a dark world of lost and emotionally unstable teenagers who are responsible for the girl's disappearance and eventual murder. A disturbing, fascinating portrait of the alienation and despair found in teens who have been left to fend for their own purpose. The then 15-year-old Bustamante was convicted and is currently serving a life sentence for the choking and stabbing murder of nine-year-old Elizabeth Olten. From Wild Eye Releasing/MVD Entertainment Group ... In "Roger Corman's Operation Rogue" (2014), starring Mark Dacascos, Sofia Pernas and Treat Williams, an elite team of U.S. Marines must rescue a U.S. General's daughter after she is kidnapped by a Southeast Asian terrorist cell in retaliation when their shipment of chemical weapons is intercepted. From Sony ... In "Come Morning
" (2012), starring Michael Ray Davis, Thor Wahlestedt, Elise Rovinsky and Blake Logan, a young boy and his grandfather accidentally shoot a trespassing neighbor in rural Arkansas in 1973 while hunting deer. Since there had been a history of land disputes between the men, the grandfather assures the boy that the only option is to hide the body deep in the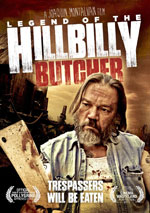 woods, blurring the lines between good and evil. From Monarch Home Entertainment ... "Double Feature From Hell" features two of Italian director Massimiliano Cerchi's direct-to-video sacrilegious horror films: "Hellinger" (1997), in which a fallen man of the cloth forever bound to the fires of Hell by a pact made with Satan is unleashed to torment humankind; and "Holy Terror" (2002), in which a malevolent nun, possessed by a demon in life and forced to spend eternity doing the devils bidding in death, returns to life to torment a young couple and their terrified friends. From SGL Entertainment/MVD Entertainment ... In a lonely backwoods shack, Carl Henry Jessup spends his time in twisted contemplation and hazy reverie of the good old days with only his half sister, Rae Lynn, and his friend, Billy Wayne, to keep him company. Now he has plenty of time to keep watch for trespassers ... forcing him to becomes the "Hillbilly Butcher" in "Legend of the Hillbilly Butcher" (2012), starring Paul E. Respass, Theresa Holly and Allen East. From Whacked Movies/MVD Entertainment.


ON THE INDIE FRONT:

Set in the winter of 2002 in chilly upstate New York, the indie film "After
" (2014) tells the story of a middle-class family struggling with the financial consequences of a failing business and a series of intergenerational conflicts and rivalries. But what truly threatens to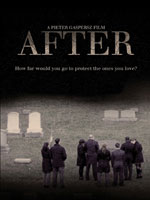 upset their delicate balance -- and shatter the emotionally fragile family matriarch -- is an intricately buried secret that, if revealed, could alter their lives irrevocably. Stars Kathleen Quinlan, John Doman, Pablo Schreiber, Sabrina Gennarino, Adam Scrimbolo, Diane Neal, Bruno Gunn, Darrin Dewitt Henson and Mandy Gonzalez. From Virgil Films ... In "Hero of the Day" (2012), starring Mo Anouti and Paul Dietz, a down-and-out former professional football player plans to redeem himself in a reckless way, unbeknownst to a documentary filmmaker -- who scores the interview of a lifetime
when his former childhood hero agrees to be followed in a "where are they now?" piece -- in this gritty, found footage drama. From Cinema Libre Studio ... Two New York City girls -- one from a conservative family, one from a liberal -- make a pact to lose their virginity during their first summer out of high school in "Very Good Girls
" (2013). When they both fall for the same street artist, the friends find their connection tested for the first time. Stars Dakota Fanning, Elizabeth Olsen, Boyd Holbrook, Ellen Barkin, Clark Gregg, Peter Sarsgaard, Richard Dreyfuss and Demi Moore. From Well Go USA ... "Rise Up Black Man" (2013), starring Freddie Tate, is a Christian themed urban tale about friendship and the absurdity of racism. Two twenty-something best friends and recent college graduates search for direction in life in different ways: one is enticed into a world of corruption by a charismatic black minister who uses his power to keep his own race down while the other struggles with personal demons of a different nature. From KJ Productions.


FOREIGN:

In "Paris-Manhattan
" (2012 -- France), Alice is a Parisian pharmacist who has a fixation on Woody Allen and his films. She has a huge portrait of him hanging in her bedroom, with which she tends to converse, seeking his wise counsel about life. She even hands out DVDs of his films to her customers as medicine for their ailments. Her parents have a sense of urgency for her to find a man, but none can match Woody Allen, not even the alarm specialist Victor who services the
pharmacy. But there is one thing a man could do to impress her -- introduce her to Woody Allen. Stars Alice Taglioni, Patrick Bruel. From Strand Releasing ... In "That Girl in Yellow Boots
" (2010 -- India), after the passing of her mother and the suicide of her 15-year old sister, Britain-based Ruth (Kalki Koechlin) travels across half the world, driven to find her missing father -- the last remaining link to her tragically broken family. Lost and alone in the sprawling chaos of Mumbai, trapped in a metropolis erupting with a million screaming dreams and fears, she survives by serving men's desires at an unlicensed massage parlor and clinging to the hope that there is a good man at the end of her search. Stars Kalki Koechlin, Gulshan Devaiah, Naseeruddin Shah, Prashant Prakas. From Indiepix Films ... "We Are the Best!
" (2013 -- Sweden), starring Mira Barkhammar, Mira Grosin and Liv LeMoyne, revolves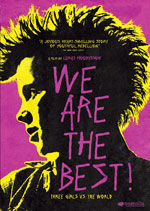 around three girls in 1980's Stockholm who decide to form a punk band -- despite not having any instruments and being told by everyone that punk is dead. Based on the graphic novel of the same name that is a tribute to DIY culture and the power of rebellion. From Magnolia Home Entertainment's Magnet Label ... In "Ida
" (2013 -- Poland), 18-year old Anna (Agata Trzebuchowska), a sheltered orphan raised in a convent in 1960s Poland, is preparing to become a nun when the Mother Superior insists she first visit her sole living relative. Naive, innocent Anna soon finds herself in the presence of her aunt Wanda (Agata Kulesza), a worldly and cynical Communist Party insider, who shocks her with the declaration that her real name is Ida and her Jewish parents were murdered during the Nazi occupation. This revelation triggers a heart-wrenching journey into the countryside, to the family house and into the secrets of the repressed past, evoking the haunting legacy of the Holocaust and the realities of postwar Communism. Stars Agata Trzebuchowska, Agata Kulesza, Halina Skoczynska. On DVD, Blu-ray Disc from Music Box Film.


FOR THE FAMILY:

In the Disney Junior series "Guess How Much I Love You: Autumn's Here" (2014), inspired by Sam McBratney's best-selling children's book, Little Nutbrown Hare, his father and their forest friends explore the wonders and magic that the change of season brings to the meadow as summer turns to fall. This single disc release features seven complete episodes: "Autumn's Here," "Pumpkin Patch," "Four Seasons," "Chestnut," "The Big Apple," "Surprise" and "I Want to Fly." $12.98 from Entertainment One.


SPECIAL INTEREST: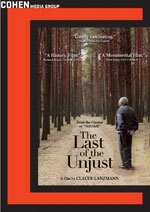 "The Last of the Unjust
" (2013 -- France/Austria): Three decades after his cinematic milestone "Shoah," Claude Lanzmann once again reorients our understanding of the Holocaust. This documentary centers on Benjamin Murmelstein, the last Jewish elder of Theresienstadt ghetto in Czechoslovakia (the so-called "model ghetto," a ghetto of deceit chosen by Adolf Eichmann to dupe the world), a figure despised by many of the concentration camp's survivors. A rabbi in Vienna, following the annexation of Austria by Germany in 1938, Murmelstein fought bitterly with Eichmann, week after week for seven years, managing to help around 121,000 Jews leave the country, and preventing the liquidation of the ghetto. Intercut with footage of Lanzmann himself revisiting key sites in the Czech Republic and elsewhere, the brilliant Murmelstein -- sometimes excitedly but more often calmly -- explains his actions and defines his paradoxical role in history.On DVD, Blu-ray Disc from Cohen Media Group.


FROM TV TO DVD:

"Brooklyn Nine-Nine: Season One" (2013-14) is a three-disc set with 22 episodes, $44.98 from Universal ... "Daniel Boone the Complete Series" (1964-70) is a 36-disc set with all 165 episodes, $114.95 from Fox ... "Defiance: Season Two" (2013) is a three-disc set with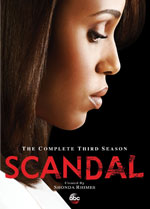 13 episodes; DVD: $59.98, Blu-ray: $69.98, from Universal ... "How I Met Your Mother Season Nine"(2013-14) is a three-disc set with 24 episodes, $39.98 from Fox ... "How I Met Your Mother – The Whole Story " (2005-14) is a 28 disc-set that contains all nine seasons, 208 episodes, $179.98 from Fox ... "Law & Order: Special Victims Unit - The Fifteenth Year" (2013-14) is a five-disc set with 24 episodes, from Universal ... "Modern Family Season Five" (2013-14) is a three-disc set with 24 episodes, $39.98 from Fox ... "Nashville: The Complete Second Season" (2014) is a five-disc set with 22 episodes, $45.99 from Disney ... "Necessary Roughness: Season Three" (2013) is a two-disc set with 10 episodes, $34.98 from Universal ... "Royal Pains: Season Five" (2013) is a three-disc set with 13 episodes, $39.98 from Universal ... "Scandal: The Complete Third Season" (2014) is a five-disc set with 18 episodes, $45.99 from Disney.

Check out other September 23-September 29 DVD releases and reviews at OnVideo.