By Harley Lond - 09/09/14 at 05:12 AM CT
THIS WEEK'S THEATRICAL RELEASES:

"Captain America: The Winter Soldier":
"Marvel's The Avengers" is a tough act to follow, but "Captain America: The Winter Soldier" sure as heck gives that film a run for the money, upping the super-hero ante -- here with a strong story line, some fine acting, fabulous special effects, and a whole lot of political intrigue. The sequel to 2011's "Captain America: The First Avenger" finds Steve Rogers, a.k.a. Captain America, living in Washington, D.C., and trying to adjust to the modern world. But sooner than you can say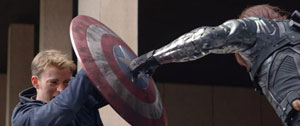 "S.H.I.E.L.D.," Rogers finds himself embroiled in a massive conspiracy spawned during the height of WWII and set into motion with the attempted assassination of S.H.I.E.L.D.'s Nick Fury (Samuel L. Jackson). Enlisting the aide of Natasha Romanoff/Black Widow (Scarlett Johansson), Rogers uncovers a nefarious plot for world domination. There's some nice touches here -- a scene with a now aged Peggy Carter (Hayley Atwell), witty banter between Romanoff and Rogers, the appearance of a new hero, The Falcon (Anthony Mackie), the appearance of a new enemy, The Winter Soldier
(Sebastian Stan), and a savvy distrust of government and political functionaries. Kudos to directors Anthony and Joe Russo for their use of hand-held cameras and real cars in the chase scenes. Co-stars Sebastian Stan, Robert Redford, Frank Grillo, Toby Jones, Dominic Cooper, Emily VanCamp, Cobie Smulders, Garry Shandling, Maximiliano Hernandez, Jenny Agutter and Alan Dale. The copious extras include deleted and extended scenes, bloopers, a lengthy making-of featurette, and a nifty documentary on the notebook Rogers keeps to list the things he needs to catch up on ("I Love Lucy," the moon landing, disco, etc). From Disney.

Also due this week: "Words and Pictures
," a romantic comedy about a flamboyant English teacher (Clive Owen) and a new, stoic art teacher (Juliette Binoche) who collide at an upscale prep school and enter into a high-spirited courtship, from Lionsgate; and "Brick Mansions
," a thriller set in a dystopian Detroit starring Paul Walker as an undercover cop who teams up with an ex-con (David Belle) to thwart a sinister plot by drug kingpin Tremaine (RZA)to devastate the entire city; it's kind of a weak remake of the cult-hit " District B13." From Fox.


THIS WEEK'S HIGHLIGHTS:
The closer we get to Halloween, expect more and more scary movies to arrive on DVD and Blu-ray. This week's offerings are impressive:
First up is the
"Prom Night
Special Edition"
(1980), the celebrated "slasher" horror classic. Four Hamilton High seniors are hiding a terrible secret. What happened to Robin Hammond six years ago was a game that turned into a horrible tragedy, and someone saw what they did ...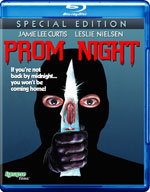 someone waiting for gruesome revenge. Wearing a black hood and wielding an axe, a killer brutally slaughters the teenagers one by one at their high school prom. As the spotlight falls on the newly crowned prom king and queen, the psychopath will show everyone his new favorite game to play. Remastered and restored in 2K from the original 35mm camera negative with an all-new 5.1 surround mix. (Original 2.0 mono included). Directed by Paul Lynch and starring scream-queen Jamie Lee Curtis, Leslie Nielsen and Eddie Benton. On DVD and Blu-ray Disc. Extras include commentary with director Paul Lynch and screenwriter William Gray, "The Horrors of Hamilton High: The Making of "Prom Night" featurette, collection of additional scenes added for television broadcast, original theatrical trailer and television spots. The Blu-ray adds never-before-seen outtakes, motion still gallery. From Synapse Films/CAV Distributing.
Next up is another high school horror outing:
"Graduation Day
"
(1981), starring Christopher George, Patch Mackenzie, Michael Pataki, Linnea Quigley, Vanna White and E.J. Peaker. After the death of a high school track star during a race, a mysterious, fencing-mask wearing killer begins murdering her friends and teachers. Who could the killer be? Her disgruntled coach? Her angry
sister? Her violent boyfriend? As the bodies pile up, a twisted mystery unfolds, slowly revealing itself as it moves towards its bloody climax. Newly restored in 4K and presented in its original aspect ratio for the very first time. In a Blu-ray/DVD Combo from Vinegar Syndrome/CAV Distributing ... The folks at Scream Factory/Shout! Factory are bringing out a Blu-ray Collector's Edition debut of
"Pumpkinhead
"
(1988), a horror favorite with one of the scariest movie monsters of all time. When a group of teenagers inadvertently kill his only son, Ed Harley (Lance Henriksen) seeks the powers of a backwoods witch to bring the child back to life. But instead, she invokes "the pumpkinhead" -- a monstrously clawed demon which, once reborn, answers only to Ed's bloodlust. Extras include a new featurette "Remembering the Monster Kid: A Tribute to Stan Winston"; new interviews with the cast and crew; a "Pumpkinhead Unearthed" making of documentary featuring "Evolution of a Demon," "The Cursed and the Damned," "The Tortured Soul of Ed Harley," "Constructing Vengeance" and "Razorback Holler"; and behind-the-scenes footage.
For a lighter horror touch there's the Blu-ray debut of Mel Brooks' great
"Young Frankenstein
"
(1974), starring Gene Wilder, Peter Boyle, Cloris Leachman, Marty Feldman, Teri Garr and Madeline Kahn, in a 40th Anniversary edition. Extras include commentary by Mel Brooks; interviews with Marty Feldman, Gene Wilder and Cloris Leachman; "Inside the Lab: Secret Formulas to the Making of Young Frankenstein" featurette; "Blucher Button"; "It's Alive: Creating a Monster Classic" featurette; "Making FrankenSense of Young Frankenstein" featurette; "Transylvanian Lullaby: The Music of John Norris" featurette; deleted scenes and outtakes; production photo galleries; more. From Fox.
Also due this week:
"Hangmen Also Die
"
(1942), starring Brian Donlevy, Anna Lee and Walter Brennan. The great director Fritz Lang made his reputation in Germany with such landmarks as "Metropolis," "M" and "The Testament of Dr.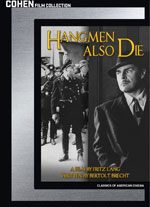 Mabuse," but he left the country in 1933 as Nazism took hold. He continued his long and successful career in Hollywood, often returning to the themes of oppression and persecution, never more overtly than in this thriller, made in 1942, in which Lang decided to make a film that would face the Nazi terror head-on. Working with the famous playwright Bertolt Brecht and the Oscar-winning cinematographer James Wong Howe, Lang devised a fact-based thriller that would shock and stir audiences. In German-occupied Czechoslovakia, surgeon Franticek Svoboda (Brian Donlevy), a Czech patriot, succeeds in assassinating the (real-life) "Hangman of Europe," the high-ranking Nazi and key Holocaust architect Reinhard Heydrich (Hans Heinrich von Twardowski). But Svoboda's getaway car is discovered and therefore his planned safe house must reject him. When a woman he doesn't know, Mascha (Anna Lee), deliberately misdirects German soldiers close to finding him, he seeks her home as a refuge. This turns out to be the home of her father, history professor Stephen Novotny (Walter Brennan), who the Nazis have banned from teaching. With the assassin remaining elusive, the Gestapo in Prague offer an incentive for him to turn himself in (or for others to reveal him): They will execute 400 citizens, including Professor Novotny, 40 at a time, until the killer is in custody. Restored in collaboration with the British Film Institute and Pinewood Studios; it features a one-minute sequence that was cut from the original domestic release. On DVD, Blu-ray Disc from the Cohen Film Collection.
With the 2014 re-imagined version of "Godzilla" arriving next week, Sony is taking the opportunity to release Blu-ray versions of Godzilla standbys:
"Godzilla 2000
"
(1999), in which the king of all monsters is back and bigger than ever. The action heats up when a UFO reveals itself as a massive alien monster with awesome destructive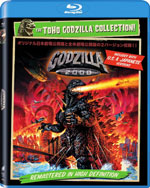 powers, and it heads straight for the behemoth Godzilla who's just crushed the entire city for the battle of the millennium ... and
"Godzilla Double Feature
"
:
"Godzilla, Mothra and King Ghidorah: Giant Monsters All-Out Attack"
(2001): Fifty years ago, the Japanese Defense Forces killed Godzilla or so they thought. When a series of terrifying natural disasters begin to plague Japan, including the inexplicable offshore sinking of a U.S. submarine, a mystic old man warns his nation that Godzilla has come back to destroy Japan as revenge for all the souls lost in the Pacific War. When mere military might cannot squash the monster, the mystic man awakens the Holy Beasts of Yamato - King Ghidorah, Mothra and Baragon, sleeping giants that protected Japan in ancient times. These untamed mammoth beasts take on Godzilla with frightening supernatural brute power.
"Godzilla Against Mechagodzilla
"
(2002): After four years of scrupulous preparation under the prime minister, a new invincible robot, Mechagodzilla, has now reached completion, armed with various weapons, including the most powerful gun in history that can destroy anything in the world. But as soon as Mechagodzilla starts on its test run, the huge shadow of Godzilla begins to rise from the depths of the ocean.
BUZZIN' THE 'B'S:
In
"A Long Way Down
"
(2014), starring Pierce Brosnan, Toni Collette, Aaron Paul and Imogen Poots, four strangers meet on the roof of a London building on New Year' Eve, each with the intent of committing suicide. Their plans for death in solitude are ruined, so they mutually agree to call off their plans for six weeks and form an unconventional, dysfunctional family. Based on the novel by Nick Hornby. From Magnolia Home Entertainment ... A handful of passengers -- including a London doctor and single dad on his way home one night -- on a speeding London commuter train hang on for their lives as the train hurtles out of control, without a conductor or brakes but apparently controlled by someone looking to wreak havoc in
"Last Passenger
"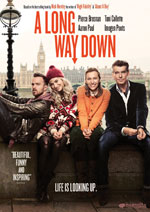 (2013), starring Dougray Scott, Kara Tointon, Iddo Goldberg and Joshua Kaynama. From Cohen Media Group ... In
"God's Pocket
"
(2014), starring Philip Seymour Hoffman, Christina Hendricks, Eddie Marsan, Caleb Landry Jones, Jack O'Connell, Richard Jenkins and John Turturro, nobody in the working class neighborhood of Philadelphia's God's Pocket is sorry he's gone when Mickey's crazy step-son Leon is killed in a construction "accident." When a local columnist comes sniffing around for the truth, Mickey -- whose line of work entails stealing vans of meat with his accomplice Arthur -- quickly finds himself stuck in a life-or-death struggle compounded by a body he can't bury, a wife (and grieving mother) he can't please and a debt he can't pay. On DVD, Blu-ray Disc from IFC Films/MPI Media Group ...
"Born to Race: Fast Track
"
(2014), starring Brett Davern, Beau Mirchoff, Tiffany Dupont, Diogo Morgado, Corbin Bernsen, Grant Show and Sharon Lawrence, is the second in the "Born to Race" series; this time around street racers Danny and Jake head off to a top racing school where they compete with a roster of international-class drivers. On DVD, Blu-ray Disc from Anchor Bay ...
"Burning Blue"
(2013) is based on the critically acclaimed London and Off Broadway play set in the era of "Don't Ask, Don't Tell," about two male Navy pilots who begin a forbidden love affair that will forever change their lives and the lives of their families. Stars Trent Ford, Morgan Spector, Rob Mayes, William Lee Scott. From Lionsgate ... In
"The Victim"
(2013), starring Ashley Chin, Ashley Madekwe, David Harewood, Jason Maza, Anna Nightingale and Michael Maris, Tyson, an east Londoner in his 20s, looks after his sister by day, and robs luxury flats at night. But his sister's classroom encounters with an inspirational teacher, and a girl from the other side of the tracks, allows him to glimpse another way of life. On DVD, Blu-ray Disc from Well Go USA ... In
"My Man Is a Loser"
(2013), two married friends employ a single playboy to help them get their mojo back to save their marriages. Stars Michael Rapaport, Bryan Callen, Tika Sumpter, John Stamos. From Lionsgate ... A down-and-out man is pulled into a brutal revenge mission after meeting the woman of his dreams in
"Monika"
(2012). While staying in a cheap Las Vegas motel, a man troubled by visions and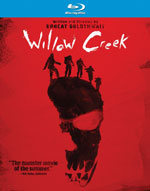 premonitions meets Monika, a beautiful young woman with seduction and revenge on her mind, taking him on a surreal cat-and-mouse hunt for the hit man who murdered her sister. Stars Jason Wiles and Cerina Vincent. From Inception Media Group ... Looking to make a splash with his research videos into the existence of Bigfoot, Jim and his skeptical girlfriend Kelly take a camping trip to the mountains surrounding Willow Creek, California, a small town where famous footage of the legendary Sasquatch was filmed decades earlier -- where they find themselves face to face with a terrifying evil in
"Willow Creek
"
(2013), starring Alexie Gilmore and Bryce Johnson. From Dark Sky Films ...
"The Hunted
"
(2014) follows family-man, hunter, Jake (Josh Stewart), alongside his best friend Stevie (Ronnie Gene Blevins) as they journey deep into the Appalachians of West Virginia on the hunt for a legendary buck. Chasing their dream of landing a television hunting show, the duo head into the dense, secluded mountains armed with only their bows and camera equipment. The friends quickly realize there is something else that stirs within the woods, something that, turn by turn, begins to hunt them. From Entertainment One.
ON THE INDIE FRONT:
After the unexpected death of their daughter, a couple work to build a state of the art children's hospital where families are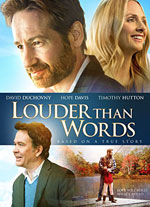 welcomed into the healing process in
"Louder than Words
"
(2013), starring David Duchovny, Hope Davis, Timothy Hutton, Olivia Steele-Falconer, Adelaide Kane, Ben Rosenfield and Morgan Griffin. From ARC Entertainment ... After her parents abandon them, a young woman raises her two, slightly younger, but overly needy siblings, balancing her personal life with her responsibilities in
"Refuge
"
(2012). When a young handsome stranger rolls into town, he becomes entrenched in the family while he and, against all odds, the pair begin to create a life they never thought possible. Stars Krysten Ritter, Brian Geraghty, Logan Huffman and Madeleine Martin. From Strand Releasing.
FOREIGN:
"Borgman
"
(2013 -- Netherlands) is a dark suburban fable exploring the nature of evil in unexpected places. A vagrant enters the world of an arrogant upper-class family, turning their home and lives into a psychological nightmare in the process. Stars Jan Bijvoet, Hadewych Minis, Jeroen Perceval, Alex van Warmerdam, Tom Dewispelaere, Sara Hjort Ditlevsen.On DVD, Blu-ray Disc from Drafthouse Films.
FOR THE FAMILY:
"The Magic School Bus: Human Body DVD + Book"
(2012) is a DVD and book bundle that teaches all about the human body with Ms. Frizzle and The Magic School Bus gang. Three episodes of the Emmy Award-winning animated science-adventure series based on the best-selling books here has Ms. Frizzle taking the kids inside the human body to explore everything from head to toe and inbetween: "For Lunch," "Inside Ralphie," "Flexes Its Muscles" and "Gets Planted." The 70-page book has Ms. Frizzle and the class visiting the Hugh Mann Costume Company, where they get an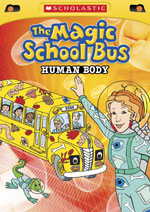 informative lesson about skeletons. From Scholastic/Cinedigm ...
"My Little Pony – Friendship Is Magic: Spooktacular Pony Tales"
(2014) consists of six-Halloween-themed episodes featuring the very popular Hasbro toy, $14.97 from Shout! Factory Kids ...
"Regular Show: Rigby Pack"
(2014): Cartoon Network and the "Regular Show's" favorite slacker raccoon takes center stage with 16 Rigby-rrific episodes. The Cartoon Network series follows two best friends and park groundskeepers, Mordecai the blue jay and Rigby the raccoon, whose attempts to escape their everyday boredom take them to fantastical -- and sometimes unintended –- extremes. Maintenance duties for Rigby and Mordecai are just dull enough to somehow propel the pair into different wild shenanigans each episode. Their boss, the gumball machine Benton, doesn't enjoy having to manage their antics ... but their insane escapades often delight Pops, a talking lollipop, who has spent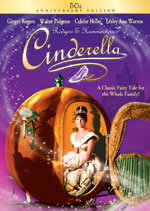 his entire life in the park. $19.82 from Warner ... The 50th Anniversary Edition of
"Rodgers & Hammerstein's Cinderella"
(1965), starring Lesley Ann Warren, Stuart Damon, Walter Pidgeon, Ginger Rogers and Celeste Holm, showcases a new high quality transfer from the original master. This 1965 TV remake of the original 1957 version (which starred Julie Andrews) is one of the most treasured interpretations of this classic fairy tale. Filmed on videotape, it enjoyed repeated airings throughout the 1960s and 70s. From Shout! Factory ...
"Worlds Together Cuba"
(2011) provides a ground level look at Cuba -- The Pearl of the Antilles. Narrated by children, the film introduces the island by touching on its topography, history, health care, cuisine, education and religious practices. Also available are "Worlds Together Ecuador" and "Worlds Together Colombia." $29.95 from Master Communications ...
"Sabrina - Secrets of a Teenage Witch: A Witch and the Werewolf - The Movie"
(2014) is an animated movie that follows the charming Sabrina Spellman (voice of Ashley Tisdale) who leads a double life as both a klutzy high schooler and superhero sorceress. From Lionsgate ...
"SpongeBob SquarePants: Spongebob's Halloween Collection"
(2014) is a two-disc set with 17 episodes and two bonus features as SpongeBob and his friends encounter ghosts, curses and other frightening things. From Nickelodeon/Paramount.
SPECIAL INTEREST:


"Bee People" (2014): For 100 million years, bees have provided sustainability on earth. In fact, the honeybee is responsible for one third of the items on our dinner plates. Unfortunately these glorious pollinators are facing myriad challenges -- colony collapse disorder, nicotine-based pesticides, mites -- and are disappearing at truly alarming numbers. Following in the flight path of the acclaimed documentary "Vanishing of the Bees," this documentary takes a look at the incredible world of bees -- and the people who keep them. From True Mind/TDC Entertainment.


"Korengal" (2013): Sebastian Junger's followup to his Oscar-nominated film "Restrepo," which dropped viewers into the thick of battle in the War in Afghanistan. With this equally visceral followup, Junger focuses on the state of mind of U.S. soldiers after they've left the war. "Korengal," named for the Afghan valley where Restrepo took place, picks up where the earlier film left off ... the same men, the same place, the same commanders, but a very different look at the experience of war. The film explains how war works, what it feels like and what it does to the young men who fight it. From Virgil Films.


"Secrets of Her Majesty's Secret Service" (2014): Documentary about the legendary spy agency popularized by Ian Fleming's James Bond, lifting the veil on the shadowy culture of espionage, going back in time and behind the scenes to look at some of the world's most calculated and delicately executed operations. Established in 1909 as the Secret Service Bureau, MI6, as it is known, initially was set up to control secret intelligence operations overseas, concentrating on Imperial Germany's activities. In addition to outlining the exploits of Reilly "Ace of Spies" and presenting some of the "gadgets" used in intelligence gathering, the film reveals how the practice of recruiting agents from the upper classes proved damaging to the agency. From PBS Distribution.


"Teenage" (2013): Teenagers didn't always exist. They were invented. As the cultural landscape around the world was thrown into turmoil during the industrial revolution, and with a chasm erupting between adults and youth, the concept of a new generation took shape. Whether in America, England, or Germany, whether party-crazed Flappers or hip Swing Kids, zealous Nazi Youth or frenzied Sub-Debs, it didn't matter -- this was a new idea of how people come of age. They were dubbed Teenagers. A hypnotic rumination on the genesis of youth culture, "Teenage" is a living collage of rare archival material, filmed portraits, and diary entries read by Jena Malone, Ben Whishaw and others. Set to a shimmering score, the film is a mesmerizing trip into the past and a riveting look at the very idea of "coming-of-age." From Oscilloscope.


"The World Wars" (2014): Documentary commemorates the 100th anniversary of WWI and 75th anniversary of WWII, traversing three decades of war through insightful interviews with historians and modern-day politicians as well as dramatic reenactments. Adolf Hitler, Franklin Delano Roosevelt, Benito Mussolini, Winston Churchill, Charles de Gaulle, George Patton. Before they were the giants of WWII, they were infantrymen and privates in WWI, the "war to end all wars." This is the story of the devastating three decades of 20th-century world war through the eyes of the men whose characters were forged in the trenches before they commanded a world on the brink of disaster. Narrated by Jeremy Renner. Originally premiered on Memorial Day on the History Channel. Two-disc DVD: $26.98, two-disc Blu-ray: $29.99. From Lionsgate.
FROM TV TO DVD:
"Blue Bloods – The Fourth Season"
(2013-14) is a six-disc set with 22 episodes, $54.99. The Reagan family dynamics continue to shift as they deal with everything from gambling and drugs to kidnapping and murder: Jamie (Will Estes) wrestles with his feelings for his new partner; Erin (Bridget Moynahan) and Jack (Peter Hermann) work to figure out their personal relationship; and Danny (Donnie Wahlberg) and Frank (Tom Selleck) clash over an internal investigation of Danny's techniques. As the Reagans faces off against the FBI, the mob, and other officers who don't follow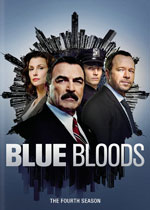 their ethical code, the family bond will both serve and protect them. From CBS/Paramount ...
"The Curse of Oak Island: Season One"
(2013) is a History Channel reality series that follows two brothers as they attempt to find hidden treasure on Oak Island off the coast of Nova Scotia, a search that has eluded the likes of John Wayne, Errol Flynn and Franklin D. Roosevelt. Two-disc set, $14.98 from Lionsgate ...
"Doctor Who: Deep Breath"
(2014) The Doctor makes his spectacular return in this feature-length season premiere episode of the hit sci-fi series. The beginning of the Twelfth Doctor's era stars Peter Capaldi as the Doctor, Jenna Coleman as his companion Clara Oswald, Neve McIntosh as Madame Vastra, Catrin Stewart as Jenny Flint and Dan Starkey as Strax. When the Doctor arrives in Victorian London he finds a dinosaur rampant in the Thames and a spate of deadly spontaneous combustions. Who is the new Doctor and will Clara's friendship survive as they embark on a terrifying mission into the heart of an alien conspiracy? From BBC Home Entertainment ...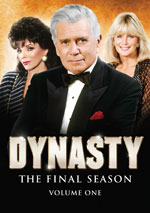 "Dynasty: The Final Season – Volumes One and Two"
(1988-89) The iconic 1980s hit series stars John Forsythe, Linda Evans and Joan Collins, and follows the rich and powerful Carrington family as they exploit and manipulate others in order to maintain their status of influence and wealth. Each three-disc volume contains 11 episodes, $42.99 each; both volumes are available together for $69.98. From CBS/Paramount ...
"The Goldbergs: The Complete First Season"
(2013-14) is a three-disc set with 23 episodes from Sony ...
"Homeland Season Three"
(2013) contains 12 episodes in a four-disc DVD: $49.98, three-disc Blu-ray: $59.99, from Fox ...
"Little House on the Prairie - Season Three Deluxe Remastered Edition"
(1976-77) is a five-disc set with 22 episodes on DVD: $21.98, Blu-ray Disc: $24.99, from Lionsgate ...
"Marvel's Agents OF S.H.I.E.L.D.: Season 1"
(2013-14) contains all 22 episodes on DVD and Blu-ray from Disney ... CBS/Paramount has three volumes of
"Perry Mason Movie Collection Double Features":
Double Feature Four: "The Case of the Scandalous Scoundrel," "The Case of the Avenging Ace"; Double Feature Five: "The Case of the Lady in the Lake," "The Case of the Lethal Lesson," Double Feature Six: "The Case of the Musical Murder," "The Case of the All-Star Assassin." $16.99 each ...
"Supernatural: The Complete Ninth Season"
(2013-14) includes 23 episodes on DVD: 59.98,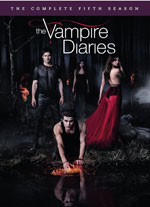 Blu-ray: $69.97. With the angelic Host's descent to Earth, Sam and Dean are now facing a world inhabited by thousands of powerful beings, who soon form their own chaotic agendas. Before tackling the threat of the "loose nukes" roaming the globe, however, the Winchesters engage in their most personal conflict yet. Meanwhile, Castiel finds he's more vulnerable -- and yet capable of more humanity -- than ever. As the threat escalates, a way must be found to reopen the gates of Heaven and head off a demon insurrection in Hell. From Warner ...
"Vampire Diaries: The Complete Fifth Season"
(2013-14) features 22 episodes (including the series' 100th episode) on DVD: $59.98, Blu-ray Combo Pack: $69.97. After a sizzling summer with Damon, Elena leaves Mystic Falls for Whitmore College and moves into a dorm with Caroline as her roomie, ready for new adventures and new friends. But dark thoughts gnaw at Elena, and soon familiar faces are back in the girls' lives. There's Stefan with his shadow self, Silas, plus Katherine, with a diabolical agenda and a jaw-dropping transformation. As the doppelgangers test destiny, pitting the Salvatore brothers against each other, the student body count rises -- evidence of powerful forces on campus. The struggle later continues between the mysterious Travelers, new witches and vampires, fighting for their own survival and, ultimately, the fate of Mystic Falls. From Warner.
Check out other September 9-September 15 DVD releases and reviews at OnVideo.
Comments