New on DVD and Blu-ray Week of July 8-14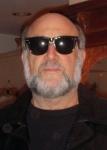 By Harley Lond - 07/08/14 at 01:58 AM CT
THIS WEEK'S THEATRICAL RELEASES:

"Bad Words":
Jason Bateman makes his feature directorial debut and also stars in this quirky comedy about a disgruntled middle-aged man who hijacks a national spelling bee and verbally mows down his competition -- eighth graders. And he's unstoppable -- contest officials, outraged parents, and overly ambitious students can't persuade him to end his "jihad" or uncover his motivations.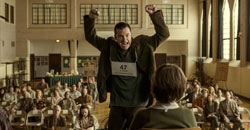 Bateman has made a habit of playing lovable losers in most of his recent starring roles ("Identity Thief," "The Switch"), but here he goes against that grain by taking on a role that tests the boundaries of main character likeability. And, despite its subject matter -- a kids spelling bee -- the film is rated 'R'. Also stars Kathryn Hahn, Rohan Chand, Allison Janney, Philip Baker Hall, Judith Hoag and Beth Grant. A wonderfully auspicious first outing for Bateman. Extras include deleted and extended scenes, "The Minds and Mouths Behind Bad Words
," commentary. From Universal.

"The Raid 2
":
Director Gareth Huw Evans' follow-up to the sleeper hit "The Raid" (2011) ups the ante for violence, blood and outright outrageous gore. Babyfaced cop Rama (Iko Uwais) -- who fought his way out of a building filled with gangsters and madmen in the first film -- goes undercover as an enforcer for a local mob boss to get evidence linking the mob to corrupt government officials. The body count soars as Rama first fights his way into the gang, then single-handedly fends off another group of gangsters who want to take over his mob's territory. "Raid 2" features some of the best martial arts action -- and gore -- you're likely to see on the screen -- rivaling the best of Bruce Lee, Jet Li, Jackie Chan, Takeshi Kitano, Yuen Woo-ping, Takashi Miike, Kinji Fukasaku and the "Ip Man," "Ong Bak" and "Kill Bill" films. Any film that creates a killer like the "Hammer Girl" has to be taken very seriously. Extras include commentary, a "Gang War" deleted scene, and a couple interesting behind-the-scenes featurettes. From Sony.

Alejandro "Jodorowsky's Dune
" is the greatest movie you'll never see. Coming off the success of his cult-film "El Topo" -- which launched the midnight film genre in 1970 -- and his follow-up "The Holy Mountain" (1973) -- which was well-received around the world -- visionary director Jodorowsky decided to take on an incredible ambitious project: a feature film adaptation of Frank Herbert's futuristic best-seller "Dune." Jodorowsky saw the film not so much as a sci-fi epic but as a spiritual journey that would awaken a higher consciousness in audiences and change the role of cinema forever. To that end in 1975 he marshaled a support group of some of the most imposing icons of the era: Orson Welles, Mick Jagger, Salvador Dali, Pink Floyd, Dan O'Bannon, and visual artists H.R. Giger, Jean "Moebius" Giraud and Chris Foss. After two years of pre-production in which Jodorowsky and his crew created a hard-bound book of meticulous story boards, the project fell apart: none of the Hollywood studios -- scared of the director's reputation as a maverick -- wanted to bankroll the production. Jodorowsky turned to writing comic books, making only a handful of films in the ensuing decades -- but his ideas and concepts lived on in such films as "Star Wars," "Alien," "The Terminator" and even David Lynch's awful version of "Dune." Director Frank Pavich had unprecedented access to Jodorowsky, Giger, Gary Kurtz (producer, "Star Wars: Episodes IV and V"), Nicholas Winding Refn (director, "Drive"), Diane O'Bannon (Dan's widow) and a host of others to tell the full saga of this amazing project. From Sony.

Also due this week: "Nymphomaniac Vol 1 & Vol 2
," Lars von Trier's wild and poetic story of a woman's journey from birth to the age of 50 as told by the main character, the self-diagnosed nymphomaniac Joe (Charlotte Gainsbourg). Not nearly as experimental as "Dogville," as gruesome as "Antichrist," or as depressing as "Melancholia," "Nymphomaniac" is provocative and indulgent and a bit boring. Co-stars Stellan Skarsgard, Shia LaBeouf, Stacy Martin, Willem Dafoe, Mia Goth, Sophie Kennedy Clark, Christian Slater, Jamie Bell, Uma Thurman, Michael Pas, Connie Nielsen, Ananya Berg. From Magnolia Home Entertainment. And "Le Week-End
" -- unavailable for review -- about an older English couple (Jim Broadbent and Lindsay Duncan) who return to Paris 30 years after their honeymoon to rekindle their marriage. From Music Box Films.


THIS WEEK'S HIGHLIGHTS:

There's two terror-filled Blu-ray debuts this week, both from Shout! Factory: "Lake Placid
" (1999), starring Bill Pullman, Bridget Fonda, Oliver Platt, Brendon Gleason and Betty White. The tongue-in-cheek horror film takes place in a tranquil New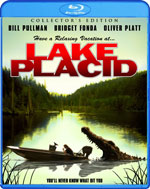 England lakefront that erupts into an action-packed den of destruction when visitors and residents alike get eaten by an unknown predator. An investigative team, armed with state-of-the-art equipment, high powered weaponry and a biting sense of sarcasm, are brought in to uncover and defeat Black Lake's most ferocious resident: a prehistoric crocodile. One of the best films of the genre snaps with humor and sparkles with fun. Written by David E. Kelley ("Ally Mcbeal," "Boston Legal"), directed by Steve Miner ("Halloween H20," "Friday The 13th Part 2"), and co-starring White as the cantankerous Mrs. Bickerman. The other new Blu-ray is "Southern Comfort
" (1981), Walter Hill's gut-wrenching tale of backwoods terror about nine National Guardsmen who enter the Louisiana swamp for routine training only to incite an all-out war with some angry Cajuns who know the territory like the backs of their hands. Stars Keith Carradine, Powers Boothe, Peter Coyote and Lewis Smith. The Criterion Collection has released DVD-only editions of two of its recent releases that first appeared in Dual Format Blu-ray/DVD versions only: Peter Weir's "Picnic at Hanging Rock
" (1975) and Howard Hawk's "Red River
" (1948).


BUZZIN' THE 'B'S:

In "Stage Fright
" (2014), starring Minnie Driver, Meat Loaf, Allie MacDonald, Douglas Smith and Kent Nolan, a snobby musical theater camp is terrorized by a blood-thirsty killer who hates musical theater. On DVD, Blu-ray Disc from Magnolia Home Entertainment's Magnet Label. A washed-up actor, desperate and suicidal, moves into a haunted apartment building where supernatural creatures, ghost hunters, Taoist exorcists, and the souls of the undead are among his neighbors in "Rigor Mortis
" (2013 -- Hong Kong), starring Chin Siu-ho, Anthony Chan, Kara Hui and Hee Ching Paw. On DVD, Blu-ray Disc from Well Go USA ... After surviving a fall from a plane 3000-feet over the ocean, a former CIA operative turned government contractor re-infiltrates a dangerous North Mexican drug trafficking ring to find the man who threw him out of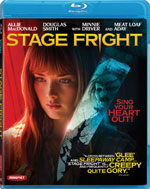 the plane -- his best friend, in "Dead Drop
" (2013), starring Luke Goss, Nestor Carbonell and Cole Hauser. From Lionsgate ... A midlife crisis over his upcoming wedding sends 32-year-old unemployed stoner Warren Allman on the drug trip of a lifetime, and he becomes obsessed with Doomsday theories and decides to make a documentary on the subject while his fiance is busy planning their wedding in "Don Peyote" (2014), starring Dan Fogler, Josh Duhamel, Jay Baruchel, Anne Hathaway, Topher Grace, Annabella Sciorra and Wallace Shawn. From XLrator Media ... Five years ago, a deer hunter vanished in the Alabama woods, leaving behind only a rifle, bloodstains and an enormous footprint from a species unknown to science. Now, the hunter's son, his two best friends and a documentary film crew set out to learn the truth ... and seek vengeance in "Hunting the Legend: The Search Continues for Sasquatch" (2014),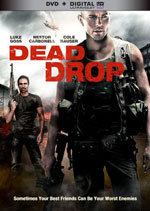 starring Christopher Copeland, Hannah Wallace, Jeff Causey, Alex Ballew and Stan Copeland. From Image Entertainment ... "Kid Cannabis
" (2014), starring Jonathan Daniel Brown, Kenny Wormald, Ron Perlman and John C. McGinley, is the true story of Nate Norman, an Idaho teen dropout who builds a multimillion-dollar marijuana ring by partnering with his best friend and their pals to run drugs across the Canadian border. Bankrolled by a deadly-serious dope czar, Nate's pursuit of the high life -- complete with girls, guns, and vicious rival dealers -- puts the ex-pizza boy in way over his head. On DVD, Blu-ray Disc from Well Go USA ... There's five terror-ridden blasts from the past due this week from CAV Distributing: Troma's "The Deviants" (1994), in which six blissfully reckless friends come together for a lost weekend wedding reunion of drinking, bowling, fighting, snorting, puking, screwing, writing bad novels, getting spanked by a psychotic preacher, hailing extraterrestrials and finally ... learning that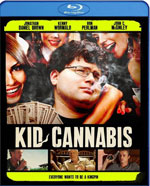 it takes more than a few days to achieve "total world domination"; Severin Films' "The Baby
" (1973), in which Anjanette Comer stars as an idealistic L.A. County social worker who investigates the case of Mrs. Wadsworth (Ruth Roman), her two buxom daughters and son "Baby", a mentally-disabled man who sleeps in a crib, eats in a high-chair, crawls, bawls and wears diapers. But what secrets of unnatural attachment -- and sexual obsession -- are all of these women hiding?; Severin's "Bloody Birthday
" (1981), in which three babies are simultaneously born in the same hospital at the peak of a full solar eclipse. Ten years later, these adorable youngsters suddenly begin a kiddie killing spree of stranglings, shootings, stabbings, beatings and beyond. Stars K.C. Martel, Joe Penny, Michael Dudikoff, Susan Strasberg, Jose Ferrer, Julie Brown; Severin's "Bloody Moon
" (1981), in which pretty girls are killed at a language-school in Spain in a twisted slasher film loaded with incest, voyeurism and roller disco. Banned in England and now presented uncut and uncensored -- including the complete "stone mill power saw" sequence; and Vinegar Syndrome's "Runaway Nightmare" (1982) , in which two Death Valley worm farmers are kidnapped by an all-female cult of drug runners who, after making the men into their sex slaves, force them to assist in a plan to steal a suitcase full of platinum from the mafia. Fasten your seatbelts.


ON THE INDIE FRONT:

When Katie Miner, a shy accountant at the local newspaper, begins anonymously penning the advice column "Dear Viola
" (2014), she's struck by a letter from a widower named Russ and, as they correspond, she begins to fall for "Mr. Lost Love." But when he starts dating the new knockout in town on "Viola's" advice, Katie must decided if it's in her best interest to keep her identity and feelings a secret. Stars Kellie Martin, Sheila McCarthy, Jefferson Brown and Adamo Ruggiero. From Entertainment One.


FOR THE FAMILY:

"Wings: Sky Force Heroes" (2014), with the voices of Josh Duhamel , Rob Schneider, Tom Skerritt, Jesse McCartney, Hilary Duff, Dallas Lovato and Russell Peters, is a DOVE-approved family adventure follow up to the animated feature "Wings." When Ace (Duhamel), a cocky young firefighter, defies his Colonel's (Skerritt) orders and recklessly attempts a solo mission, it leads to disastrous consequences. Ace, along with Fred (Schneider), his trusty co-pilot, quits Sky Force and resigns himself to hauling coal for Mr. Steinway (Peters), until one day a fire breaks out in the mines. With the help of his friends Ace must overcome his fears and become the hero he was destined to be. Available exclusively at Walmart, $19.98 from Lionsgate ...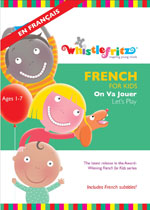 "French for Kids: On Va Jouer (Let's Play)" (2014) On va chanter! (Let's sing!) On va danser!(Let's dance!) On va jouer! (Let's play!) This new release in the "French for Kids" series introduces vocabulary related to the parts of the body, clothes, numbers, animals, and more. Join host Marie, Fritzi the mouse and a diverse group of playful peers who make learning French as easy as un, deux, trois. Sing-along and dance-along songs, world music rhythms, and an engaging combination of live-action, animation and colorful illustrated backgrounds immerse children in French and language learning fun. This DVD includes an easy-to-use translation guide for parents and teachers for first time learners of French. The DVD teaches French using the immersion teaching method recommended by language acquisition experts. $19.99 from Whistlefritz.


SPECIAL INTEREST:

"How It All Began: Origins of Master Mantak Chia" (2013) is the definitive documentary about martial arts legend Grandmaster Mantak Chia. In the 1970s, when Yoga was practiced in basements and martial arts was found mainly in the movies, the spiritual healing of Taoist Internal Alchemy was not accessible to the Western world. This was the time Master Mantak Chia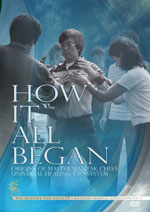 left Thailand and came to America with a dream to share Taoist Wisdom. This documentary shows how the Healing Tao System was established in the USA, from its early beginnings in downtown Chinatown, NYC. Included are interviews with Grandmaster Mantak Chia and his first Western students. From TDC Entertainment ... "Watermark
" (2014) is an award-winning documentary that brings together diverse stories from around the globe that explore our relationship with water: How we are drawn to it, what we learn from it, how we use it and the consequences of that use. Shot in 5K ultra high-definition video and full of soaring aerial perspectives, "Watermark" transports viewers to massive floating abalone farms off China's Fujian coast and the construction site of the biggest arch dam in the world -- the Xiluodu, six times the size of the Hoover Dam; to the barren desert delta where the mighty Colorado River no longer reaches the ocean, and the water-intensive leather tanneries of Dhaka; follows scientists who drill ice cores two kilometers deep into the Greenland Ice Sheet; and explores the sublime, pristine watershed of Northern British Columbia. On DVD, Blu-ray Disc from Entertainment One.


FROM TV TO DVD:

"Masterpiece Mystery!: Endeavour Series 2" (2014) is a two-disc set with four episodes with Shaun Evans returning to duty at Oxford City Police as Colin Dexter's cerebral young Endeavour Morse, before his signature red Jaguar but with his deductive powers already running in high gear. On DVD, Blu-ray Disc from PBS Distribution ... "The Soul Man: Season One" (2012) is a two-disc set with 12 episodes of the TV Land series starring Cedric The Entertainer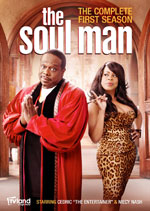 as Singer Boyce "The Voice" Ballentine, who gets the calling and moves his family to his hometown of St. Louis to become a preacher. From Shout! Factory ... "Vicious" (2014) is a two-disc set with seven episodes of the sitcom that tells the story of partners Freddie (Ian McKellen) and Stuart (Derek Jacobi), who have lived together in a small central London flat for nearly 50 years. Constantly picking each other apart and holding on to petty slights for decades, Freddie and Stuart are always at each other's throats, cracking snide remarks aimed at the other's age, appearance and flaws. However, underneath their vicious, co-dependent fighting, they have a deep love for one another. Airs on PBS Sundays, June 29 – August 3. From PBS Distribution ... "Walker, Texas Ranger: One Riot One Ranger" (1993) is the two-hour premiere episode that introduced Chuck Norris in his now iconic role as Cordell Walker, a contemporary Texas Ranger with an Old West attitude. When his partner is killed in a bank heist, Walker seeks vengeance on those responsible alongside new partner, James Trivette (Clarence Gilyard). Available exclusively at Walmart. From CBS Home Entertainment/Paramount.

Check out other July 8-14 DVD releases and reviews at OnVideo.