Five Films That Prove Hollywood is Trying to Usher in the Apocalypse
By Chris Kavan - 04/26/14 at 04:21 PM CT
Every year is astounds me what Hollywood will do to turn a profit. Yes, there are plenty of stunning films each and every year, but, man, are there some real head-scratchers out there too. But just when I think things can't get any worse, Hollywood manages to up their game and decide on a course of action that Satan himself would be proud to present. I'm not prognosticator - some of these films might never be made and some, gasp, might even be good (if you would have told me three years ago a movie based on LEGO toys would be a smash animated his, I would have asked you what you were smoking and where I could get some). But these titles, some still in early development, some all but assured to be released, all make me cringe in horror - but, like watching a train wreck, I can't turn away. Here, in no particular order, are the horrors about to be unleashed upon us (maybe).

JEM AND THE HOLOGRAMS

Jon M. Chu - responsible for the cinematic masterpieces of Step-Up 2, Step Up 3D and not one, but two Justin Bieber documentaries, is directing this live-action take on that 80s classic cartoon Jem and the Holograms.

Now, I know nostalgia is a big factor in bringing back childhood classics (Scooby-Doo, The Smurfs, Alvin and the Chipmunks), along with appealing to children of the generation who grew up with those cartoons - but Jem and the Holograms is just a strange choice. It's a bit more obscure and the cast is made up mostly of TV personalities rather than established actors. It also held an open casting call on YouTube (and even cast one role, Zipper - to Nathan Moore using this method). All in all, I shudder at the thought. All I can picture is the cinematic abortion that is Josie and the Pussycats another "girl group" cartoon that got turned into a live-action film - and does anyone even remotely remember that film? If this doesn't wind up being terrible or forgettable, color me surprised


THE GOONIES 2

Granted, it's very early, but apparently things are moving on the sequel (30 years in the making). I don't care if Steven Spielberg is involved - this is the kind of 80s classic that is just impossible to reproduce - no matter how much of the original cast returns. Just like The Princess Bride (a remake of which has also been up for debate - I hope it never resurfaces), some films just shouldn't be messed with. Plus, 30 years? Would that set some kind of record for a wait between an original movie and a sequel. I think the original Goonies is one of the great films of the 80s - and it can work for any generation. Why botch things with a sequel that (barring some divine intervention) is going to change all that by being a watered down and/or "edgy" take on things? I hope this is a case where Spielberg gets busy on another project and this quietly goes away.


LIVE ACTION BARBIE COMEDY

Just so you have to scrub your eyes out, this is what a live action Barbie looks like: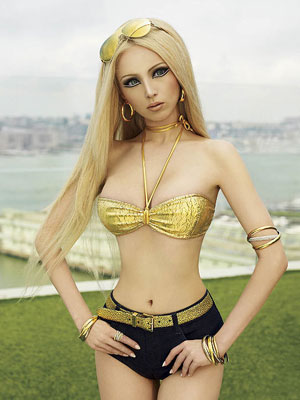 That is Ukrainian model Valeria Lukyanova who, through a mix of cosmetic surgery and judicial use of makeup, is the equivalent of a real, live Barbie doll. If you don't find that picture horrifying, your sick fetish is acknowledged but not approved. Now imagine a 90-minute movie with an actual actress looking like that and tell me the idea doesn't make your stomach hurt and your eyes melt. I see nothing funny about that at all - unless, you know, they make Barbie into a regular person, but that would kind of be defeating the whole "Barbie" title. Whatever they decide, this sounds like just a terrible idea, now pardon me why I find some lye for my eyes to forget the above image ever happened.


GHOSTBUSTERS 3

Every week it seems there's a new rumor - the movie is happening! No it isn't! Yes it is! No, it's really not! Wait, no actually it is. No, retract that, it actually isn't.... and so on forever and ever. I would have thought the death of Harold Ramis would have quashed the Ghostbusters 3 idea once and for all, but nay, director Ivan Reitman says the project is once again totally going to happen. Ernie Hudson is gung ho (but, really, what has he been up to recently?) but Bill Murray is still a question mark. Look, I loved the original Ghostbusters - almost as much as The Goonies - but, as much as I would like it to be good, in my mind there is no conceivable way this long-gestating sequel will be anything than an absolute disaster at this point. The fans want it, you say? The fans wanted a Firefly movie, Snakes on a Plane and Scott Pilgrim vs. the World - and while all of them have a niche appeal - none of them gained wide attention. Granted, Ghostbusters has a much wider appeal, but this is another case where time is the biggest factor, and if most of the original cast bails, it will be that much more of a disaster.


SCARFACE (REMAKE)

Actually, I could have picked pretty much any film, but I chose this one because it's considered such a "classic" (mostly by rappers) and, in a list of insane Al Pacino performances, it's right up there with the best of them. Here's a fun game you can play - first think of all the good remakes you have seen - really think about this one. I'll give you some time... Okay - now think of all the Godawful, horrid, tepid, stupid and inane remakes you have seen. I'll give you more time - okay, now which list is longer? If you said the "good" remakes - get off my site, you terrible, lying bastard. For every decent remake I can think of - I can list probably at least a half dozen that should never have seen the light of day (Okay remake: Evil Dead, Bad Remakes: The Thing, Poseidon, Arthur, Straw Dogs, RoboCop, Oldboy) and that's just off the top of my head. Look, I understand remaking an existing film into a new project is easy - you have the story, the characters and such right there - but making a good remake is much tougher. And there are just some films you shouldn't mess with, no matter what. I realize remakes are an essential part of Hollywood - but that doesn't mean I have to like them (even when they turn out OK).


So, have I missed the mark or do you feel the same way? Or are there upcoming films that you want to see that maybe will counter my dire predictions? Let me know now, you know, before fire starts raining from the sky.