New on DVD and Blu-ray Week of February 18-24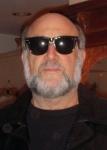 By Harley Lond - 02/17/14 at 07:09 PM CT
THIS WEEK'S THEATRICAL RELEASES:
There are no major theatrical releases coming to home video this week.

COLLECTIBLES:
Topping the list this week is "American Experience: 1964" (2014), a must-see, incredibly informative documentary that tracks the events that occurred in 1964, a year that saw the baby boomer generation rise to prominence with an emphasis on rock 'n' roll, psychedelics and protests -- it was the beginning of the "generation gap" and the counter culture as well as the anti-war movement and feminism. 1964 was the year the Beatles came to America, Cassius Clay became Muhammad Ali, and three civil rights workers were murdered in Mississippi. It was the year when Berkeley students rose up in protest,
blacks fought back against injustice in Harlem, and Barry Goldwater's conservative revolution took over the Republican Party. In myriad ways, 1964 was the year when Americans faced choices: between the liberalism of Lyndon Johnson or Barry Goldwater's grassroots conservatism, between support or opposition to the Civil Rights movement, between an embrace of the emerging counterculture or a defense of traditional values. Based in part on "The Last Innocent Year: America in 1964" by Jon Margolis, "1964" follows some of the most influential figures of the time -- Lyndon Johnson, Barry Goldwater, Betty Friedan -- but also brings out from the shadows the stories of ordinary Americans whose principled stands would set the country onto a new and different course. $24.99 from PBS Distribution.

There's two wonderful dual-format (Blu-ray/DVD) releases this week from The Criterion Collection: "Fantastic Mr. Fox" (2009) is the story of a clever, quick, nimble, and exceptionally well-dressed wild animal. A compulsive chicken thief turned newspaper reporter, Mr. Fox settles down with his family at a new foxhole in a beautiful tree directly adjacent to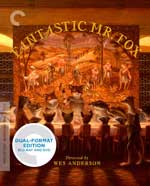 three enormous poultry farms -- owned by three ferociously vicious farmers: Boggis, Bunce, and Bean. Mr. Fox simply cannot resist. This adaptation of Roald Dahl's classic children's novel from Wes Anderson is a meticulous work of stop-motion animation featuring vibrant performances by George Clooney, Meryl Streep, Jason Schwartzman, Willem Dafoe, Michael Gambon and Bill Murray. New digital master, approved by director Wes Anderson, with 5.1 surround DTS-HD Master Audio soundtrack on the Blu-ray. And "Foreign Correspondent" (1940). In 1940, Alfred Hitchcock made his official transition from the British film industry to Hollywood. And it was quite a year: his first two American movies, "Rebecca" and "Foreign Correspondent," were both nominated for the best picture Oscar. Though "Rebecca" prevailed, "Foreign Correspondent" is the more quintessential Hitch film. A full-throttle espionage thriller, starring Joel McCrea as a green Yank reporter sent to Europe to get the scoop on the imminent war, it's wall-to-wall witty repartee, head-spinning plot twists, and brilliantly mounted suspense set pieces, including an ocean plane crash climax with astonishing special effects. New 2K digital restoration, with uncompressed monaural soundtrack on the Blu-ray.

Also due this week: "Game of Thrones: The Complete Third Season" (2013) includes all 10 episodes of the third season of the HBO series based on George R.R. Martin's best-selling part-political-thriller, part-epic-fantasy book series "A Song of Ice and Fire" in which seven noble families fight for control of the mythical land of Westeros. In Season 3, the battling families of the Seven Kingdoms continue to fight for power as bonds are strained, loyalties are tested and cruel fates are met. The Lannisters barely hold on to power after a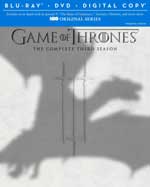 savage naval onslaught from Stannis Baratheon, while stirrings in the North threaten to alter the overall balance of power. Robb Stark, King in the North, faces major calamity in his efforts to build on his victories over the Lannisters, and beyond the Wall, Mance Rayder and his huge army of wildlings continue their inexorable march south. Across the Narrow Sea, Daenerys Targaryen -- reunited with her three fast-maturing dragons -- attempts to raise an army to sail with her from Essos, in hopes of eventually claiming the Iron Throne for herself. On DVD (five discs, $59.99 ) and Blu-ray/DVD Combo (5 BD Discs, 2 DVD discs, $79.98). And "Darkman Collector's Edition Blu-ray" (1990), directed by Sam Raimi and starring Liam Neeson, Frances McDormand, Colin Friels, Larry Drake, Nelson Mashita, Jessie Lawrence Ferguson, Dan Hicks, Ted Raimi and Dan Bell. From Shout! Factory.


BUZZIN' THE 'B'S:

In "Fists of Legend" (2013 -- South Korea), three old friends and rivals who haven't seen each other for 25 years are invited to an episode of Fists of Legend, a mixed martial arts reality TV show that recruits forgotten street fighting legends to battle each other in "The Greatest Fight Show on Earth." Deok-kyu, whose Olympic dreams were dashed, now runs a struggling noodle shop. Jae-seok who always wanted to be number one but still finds himself in a third-rate gang. And Sang-hoon, a thug turned corporate executive, must go back and find his bloodlust one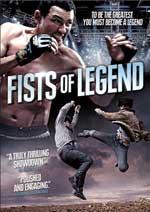 last time. Stars Hwang Jung-min, Yu Jun-sang and Yun Jea-moon. On DVD and Blu-ray from CJ Entertainment ... Following a deadly viral outbreak in a major city, private military soldier Max Gatling (Dolph Lundgren) leads a handful of survivors and a ragtag band of robots against an army of the infected to rescue the daughter of an industrialist in "Battle of the Damned" (2013), co-starring Matt Doran, David Field and Melanie Zanetti. On DVD and Blu-ray from Anchor Bay ... "Hellbenders" (2012), a group of elite, highly-trained exorcists who live in a constant state of debauchery so they will be ready to go to Hell at any moment and drag a demon with them, must use every ounce of their debauchery to battle an infernal Norse demon called Black Surtr who has escaped into New York City intent on cracking open the gates of Hell. Stars
Clifton Collins Jr., Clancy Brown and Andre Royo. On DVD, Blu-ray and 3D Blu-ray from Lionsgate ... In "Mortal Enemies" (2011 -- Indonesia), starring Robin Shou and Verdy Bhawanta, fellow orphans Sunny and Verdy are like brothers, but are separated when Verdy is adopted by a wealthy couple. Their paths cross again when Verdy, now a successful businessman, and his fiancee, are kidnapped by a crew of pirates while on vacation and he's reunited with his long lost friend who, it appears, is with the pirates. From Lionsgate ... After inheriting a house from the family she never knew, a young woman and her and three friends head to rural Sader Ridge to inspect the property -- which is plagued by sinister forces in "The Invoking" (2013), starring Trin Miller, D'Angelo Midili, Andi Norris and Josh Truax. From Image Entertainment ... In "Laughing to the Bank" (2011), starring Brian Hooks, Devyn Ashley, Tabitha Brown and Darrel Cherney, a down-on-his-luck actor is frustrated with Hollywood and makes a plan to write, direct, and distribute his own project, but when the money goes missing, he embarks on a wild adventure to get it back. From One Village Entertainment.


ON THE INDIE FRONT:

In "Balls to the Walls" (2011), directed by Penelope Spheeris and starring Joe Hursley, Jenna Dewan-Tatum, Christopher McDonald and Mimi Rogers, an engaged guy is forced by his future father-in-law to take a side job moonlighting as an exotic dancer in order to pay for the extravagant wedding neither of them can afford. From Inception Media Group ... "Afternoon Delight" (2013), starring Katherine Hahn, Juno Temple, Josh Radnor and Jane Lynch, is a provocative comedy about sex, marriage and finding yourself again. Rachel, a quick witted yet tightly coiled thirty-something bored with her daily routine of preschool auctions and a lackluster sex life, and career that has gone kaput, visits a strip club to spice up her marriage and meets McKenna, a stripper she adopts as her live-in nanny. From Cinedigm.


FOREIGN:

"Zaytoun" (2012 -- Israel), starring Stephen Dorff, Abdallah El Akal. In 1982, amid the Lebanese Civil War, Israeli pilot Yoni (Dorff) is shot down over Beirut and is taken prisoner by inhabitants of a Palestinian refugee camp. Among the captors is 10-year-old Fahed, whose father obsessively tends to his prized, but sickly olive tree, refusing to replant it until they return to their ancestral land. Despite his deep-rooted hatred for Yoni, Fahed realizes he can use him to get past the border and into Palestine to plant his father's olive tree. The two embark on a harrowing and dangerous journey -- one that tests the very boundaries of humanity. From Strand Releasing.


FOR THE FAMILY:

"Tom and Jerry: Mouse Trouble" (2014) contains 30 cartoons of animated cat and mouse antics from "Tom and Jerry Tales" and classic, theatrical Tom and Jerry shorts. $19.97 from Warner ... "Peter Rabbit and Peter Rabbit: Spring Into Adventure!" (2014) are the first two DVDs from Nickelodeon's take on the Beatrix Potter classic. $14.99 each from Paramount ... "Strawberry Shortcake: Berry Big Help" (2013) contains three new Strawberry Shortcake episodes as the kids help babysit a very special Baby Berrykin, work on fashion designs and adopt a bitty fish that turns out to be a homesick tadpole. $14.98 from Fox ... "Guess How Much I Love You: Friendship Adventures" (2014) consists of seven charming animated episodes -- inspired by Sam McBratney's best-selling book -- in which Little Nutbrown hare, his father and all his forest friends, including fun-loving Field Mouse, mischievous Little Grey Squirrel, tricky Little Redwood Fox and Little White Owl, explore the grassy fields, mossy forests, lazy rivers and sunny green valleys all around them. $12.98 from Entertainment One.


FROM TV TO DVD:

"Gentle Ben: Season Two" (1968-69) is a four-disc set with 28 episodes, $36.00. The final season of the family-friendly series about a boy and his 650-pound best friend, Ben the bear. Starred a young Clint Howard and Dennis Weaver. Based on the children's novel that follows the adventures in the Florida Everglades of a game warden, his wife, their son Mark and Mark's tame bear Ben. From Paramount ... "Nurse Jackie: Season Five" (2013). Edie Falco stars as the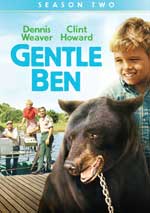 complex and compelling Nurse Jackie whose life hits a cross-road as she spends the entirety of Season Five's 10 episodes in an unfamiliar state ... sober. In a three-disc DVD, $39.97; two-disc Blu-ray Disc, $39.97; from Lionsgate ... "Pompeii: The Doomed City" (2013) consists of three History Channel documentaries that explore the secrets of the lost city and ponder the potentially disastrous consequences if the great Mt. Vesuvius were to erupt again: "Digging for the Truth: Pompeii Secrets Revealed," "In Search of History: Pompeii" and "Mega Disasters: The Next Pompeii." $14.98 from Lionsgate ... "Property Wars: Season One" (2012) is a two-disc set with six episodes of the Discovery Channel series in which buyers gamble big bucks on houses up for auction with the proviso that they can't step foot inside before they bid on it. Sometimes their gambles pay off big on a pristine house, but sometimes the inside reveals a profit-decimating house of horrors. $29.93 from Cinedigm.

Check out other February 18-24 DVD releases and reviews at OnVideo.