By Harley Lond - 02/11/14 at 07:38 AM CT
THIS WEEK'S THEATRICAL RELEASES:

What do you think about watching a film about a 77-year-old man wordlessly floundering around on a foundering boat for 106 minutes? Well if that man is Robert Redford, the director is young hotshot J.C. Chandor, and the film is "All is Lost," then you're talking about an hour and a half of gripping, enthralling moviewatching. The plot: On a solo voyage in the Indian Ocean, an unnamed man (Redford) wakes to find his 39-foot yacht taking on water after a collision with a shipping container. His navigation equipment and radio are disabled and,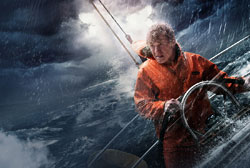 without a motor, he works hard and cleverly to repair his boat and create a plan of action to save himself. But things get worse: he sails into a violent storm, which all but destroys the ship and his rations, and he's left to float aimlessly under an unrelenting sun, circling sharks and dwindling supplies. Now the ever-resourceful sailor finds himself staring his mortality in the face. Redford gives a tour-de-force performance -- indeed, this 77-year-old can handle himself well on the open seas. Extras include commentary with writer-director-producer Chandor and producers Neal Dodson and Anna Gerb, and a half-dozen featurettes on making All is Lost, which, despite Redford's participation, was shot on a rather low-budget. From Lionsgate.

"Ender's Game" has so many things wrong with it I don't know where to begin: a weak story line, unlikable characters that aren't fleshed out and are one-dimensional cardboard figures (there's a weak-kneed genius who will save the world, the bully, the hard-nosed drill sergeant with a heart of gold, the leaders with ulterior motives, the understanding girlfriend, etc.), sloppy direction, a couple of top-name actors telephoning in their performances, and even a muddled message about the sanctity of life, whether human or alien. The plot: In the future, a hostile alien race called the Formics attacked the Earth but were repelled and, in preparation for another attack, years later, the International Military begin training the best young children to be the military leaders of the future. Among them is Ender Wiggin, a shy, but strategically brilliant wunderkind who is trained to be the military strategist to combat the Formics. As part of his training, he's enlisted to play a computer simulation -- a game -- that involves attacking the Formics and wiping them out. But all is not as it seems. Based on the award-winning bestseller by Orson Scott Card (who, one should note, caused quite a stir with some moviegoers because of his history of anti-gay outbursts and articles). Stars Asa Butterfield, Harrison Ford, Hailee Steinfeld, Abigail Breslin, Ben Kingsley and Viola Davis. Extras include deleted/extended scenes and commentary; the Blu-ray adds an eight-part making-of featurette. From Lionsgate.

Also due this week:

"The Best Man Holiday," a sequel to 1999's ensemble comedy "The Best Man;" here the college friends reunite after 15 years for the Christmas holidays, where they discover just how easy it is for long-forgotten rivalries and romances to be ignited. Stars Taye Diggs, Morris Chestnut, Terrence Howard, Nia Long, Sanaa Lathan, Monica Calhoun, Harold Perrineau, Regina Hall, Melissa De Sousa, Eddie Cibrian, John Michael Higgins. From Universal.

"The Counselor," director Ridley Scott's thriller about a talented lawyer who gets involved in a nightmarish world of drug deals and deceit. Stars Michael Fassbender, Brad Pitt, Cameron Diaz, Javier Bardem and Penelope Cruz. From Fox.

"Austenland," a weak comedy about a young woman with a fixation on all things Jane Austen who spends her life savings on a trip to Austenland in England, an eccentric resort where guests experience complete immersion in the Regency era. It's an interesting idea squandered with dumb sex jokes, slapstick shticks, and sloppy acting and directing. Stars Keri Russell, JJ Feild, Bret McKenzie, Jennifer Coolidge and Jane Seymour. From Sony.


COLLECTIBLES:
Sometimes a TV series arrives on the scene that just overturns your idea of what TV is all about by offering thought-provoking dramatic slices of life, alternate takes on reality, philosophical perambulations or just plain outrageous story-telling -- shows that stand heads and tails above the run-of-the-mill fare that populates the tube (especially in today's "reality"-driven TV economy). We're thinking "The Twilight Zone," "I Spy," "All in the Family," "Twin Peaks," "Hill Street Blues," "The Cosby Show," "The Sopranos," "Breaking Bad," and the Swedish "Wallander." Add to that list the international hit French series
"The Returned,"
which aired in its home country in 2012, then in Sweden, Belgium and the U.K., and began airing on Sundance in the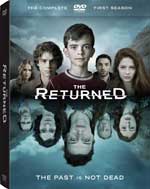 U.S. in October ("The Returned" just won an International Emmy for Best Drama, and a second series is currently in production for airing in November of this year). The series is based on 2004's feature film "Les revenants," and follows the lives of the residents of an idyllic French alpine village whose world is turned upside down when a seemingly random collection of people who have been dead for several years (anywhere from 30 to four years in the past) inexplicably come back to life and try to integrate themselves into their former lives ... not as rotting, flesh-eating zombies but as full-bodied humans who return as they were the day they died. Not only is there cognitive dissonance for the living and the now-living dead, but other weird things coincide with the returned: there's a gruesome attack on a waitress that bears a chilling resemblance to the work of a serial killer from the past; there's recurring power outages; the water level of the reservoir mysteriously lowers, revealing the presence of dead animals and a church steeple; strange marks appear on the bodies of the living and the dead. Surprisingly, there's very little in the way of special effects; the show hinges on almost-existential human interactions and drama, the development of characters and characterizations, and a bizarre and involving story line. It's a gripping, stylish mix of real and surreal, an intimate portrait of people dealing with their guilt over the death of their loved ones and questions about our desire for eternal life. And add in an incredible music score/ soundscape by Scottish post-rock band Mogwai. Music Box Films has packaged the eight episodes of the first series in a beautifully-designed box with lush, soft graphics featuring a collector's booklet with an interview with director Fabrice Gobert and critical essay by film critic Scott Tobias. Three-disc DVD, $29.95; two-disc Blu-ray, $34.95. Don't miss this.
With the emphasis this week on the 50th anniversary of The Beatles' appearance on the Ed Sullivan Show and their monumental take-over of pop music in 1964, it's also important to note some American contributions to the mid-60s revolution in rock 'n' roll: the birth of Crosby, Stills, Nash & Young and the rise of Lou Reed and The Velvet Underground. So, music fans rejoice:
"Crosby, Stills, Nash & Young -- Fifty By Four"
(2013) is a fabulous documentary that takes a look at the career of Crosby, Stills, Nash and Young, that group of singer-songwriters who helped usher in a new era of rock music in the late-1960s and 1970s with its emphasis on folk rock, vocal harmonies, confessional balladry, and political activism. David Crosby (who helped found The Byrds in 1964), Stephen Stills (from The Buffalo Springfield) and Graham Nash (of the Hollies), alongside occasional collaborator Neil Young (also late of Buffalo Springfield), refused to be labelled "a band," describing themselves as a loose collective of musical friends free from the inhibiting confines of the music business. This documentary follows the careers of the groups each man played in before and after CSNY as well as their solo adventures ... it's a journey of breakthroughs, breakdowns, break-ups and incredible music. Features archival and exclusive interviews, seldom-seen footage, classic and rare performances and contributions from those who worked closely with CSNY across the years, including Dallas Taylor, Greg Reeves, Danny Kortchmar, George Chocolate Perry, Joe Lala, Chad Cromwell, Calvin Fuzzy Samuels, Joe Vitale, The Albert Brothers, Bill Halverson, and many others. It's a great document of a bygone era in rock ... Another important document in the history of rock 'n' roll is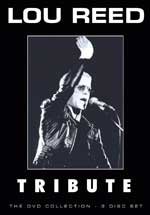 the
"Lou Reed Tribute"
(2014), a video tribute to one of the true legends of rock music, who died October 27, 2013. This genius maverick not only co-founded The Velvet Underground in 1964 -- the band rock critic Lester Bangs inarguably claimed was the start of all new music -- he also composed the lion's share of their near perfect catalog. After the Velvet disbanded, he went on to establish a solo career that was as dynamic, controversial and genuinely enthralling as that of any rock performer before and since. This three-disc set features three separate films that pay tribute to New York's favorite son: "The Velvet Underground - Under Review," a 75-minute retrospective of the music and career of one of rock music's most influential groups; "Punk Revolution NYC: The Velvet Underground, The NY Dolls and The CBGBs Set" traces the entire history of New York's punk scene, showing how the Velvet were instrumental in shaping the city's unique brand of rock; and "The Sacred Triangle -- Bowie, Iggy and Lou -- 1971-1973," which tells the story of how these three musical pioneers influenced each other at the beginning of their solo careers, forming an association that made for some of the finest music in the 1970s. Both releases are must-haves from Chrome Dreams/MVD Entertainment.
And there's more to jog your rock, folk, hippie and psychedelic memories, by way of
"Festival Express"
(2003): In the summer of 1970, some of the era's biggest rock stars took to the rails for Festival Express, a multi-artist, multi-day, multi-city Canadian concert tour that captured the spirit and imagination of a generation. What made it unique was that it was portable; for five days, the bands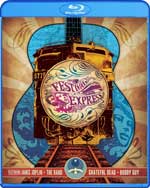 and performers lived, slept, rehearsed and let loose aboard a customized train that traveled from Toronto, to Winnipeg, to Calgary, with each stop culminating in a mega-concert. "Festival Express" captures some of rock's most iconic artists in an extraordinary setting, during an incredible time in music history. These were some of Janis Joplin's final performances, as she would tragically die just three months later. The Band were at the height of their time together, and the Grateful Dead were in the midst of releasing future classics "Workingman's Dead" and "American Beauty." Also on board were the Buddy Guy Blues Band, The Flying Burrito Brothers, Delaney & Bonnie & Friends, Ian & Sylvia and the Great Speckled Bird, Mashmakhan and Sha Na Na. This is the Blu-ray debut of the concert documentary, which is pretty much a virtual video diary of the tour. Also available in a two-DVD set. Another must-have, from Shout! Factory.
There's a trio of great Blu-ray releases this week:
"Chicago: Diamond Edition"
(2002), directed by Rob Marshall and starring Renee Zellweger, Catherine Zeta-Jones, Richard Gere, Queen Latifah, John C. Reilly, Lucy Liu, Taye Diggs and Colm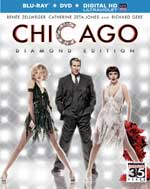 Feore, is the big-screen version of Fred Ebb and Bob Fosse's musical take on the 1926 play "Chicago," based on the trial of real-life murderesses in corrupt Chicago during Prohibition. At a time when crimes of passion result in celebrity headlines, nightclub sensation Velma Kelly (Zeta-Jones) and spotlight seeking Roxie Hart (Zellweger) both find themselves sharing space on Chicago's famed Murderess Row. They also share Billy Flynn (Gere), the town's slickest lawyer with a talent for turning notorious defendants into local legends. But in Chicago, there's only room for one legend. Winner of six Academy Awards, "Chicago" is a dazzling spectacle, both on stage and the big screen. Remastered in a Blu-ray/DVD Combo. From Miramax/Lionsgate ...
"Rocky Heavyweight Collection Blu-ray"
features all six knockout "Rocky" films including the first film with a stunning new master. $59.99 from Fox ... Disney has on hand
"The Jungle Book Diamond Edition"
(1967), a restored and remastered edition of the film that features the voices of Phil Harris, Sebastian Cabot, Bruce Reitherman, George Sanders, Sterling Halloway, J. Pat O'Malley, Louis Prima. Extras include introductions by Diane Disney Miller and Richard M. Sherman; an alternate ending: Mowgli and the hunter; more, in a Blu-Ray/DVD Combo.
BUZZIN' THE 'B'S:
During the last two years of her life, Princess Diana embarks on a final rite of passage: a secret love affair with Pakistani heart surgeon Hasnat Khan in
"Diana"
(2013), starring Naomi Watts, Naveen Andrews, Douglas Hodge, Geraldine James, Charles Edwards, Juliet Stevenson. On DVD and Blu-ray Disc, Digital from Entertainment One ... In
"Reel Zombies"
(2008), independent underground filmmakers Mike Masters and David J. Francis (playing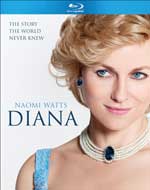 themselves) are eager to complete the third film in their "Zombie Night" film trilogy, a series of rather unsuccessful low-budget, shot-on-video gorefests. The problem, however, is a recent zombie apocalypse has taken over the world since their series began. The dead are rising from their graves and eating the living ... for real this time. The pair embark on the production of their newest masterpiece anyway, only to discover shooting in a post-apocalyptic world offers many unforeseen challenges and they decide to capitalize on the cannibalistic catastrophe: No need for latex and fake blood when there's an entire world of flesh eating undead to add realism to their film, and help save money on special effects costs! From Synapse Films ...
"Grace Unplugged"
(2013), starring AJ Michalka, James Denton, Kevin Pollak, Michael Welch, Shawnee Smith, is an uplifting story of a teenager whose faith and family ties are put to the test when her dreams of becoming a music star start to come true. On DVD and Blu-ray/DVD Combo from Lionsgate ... After losing contact with a clandestine energy research facility, a powerful venture capitalist contracts a private team of elite military operatives to retrieve a physicist who holds the key to an unprecedented alternate energy source in
"SEAL Patrol"
(2013), starring Eric Roberts, Kristina Anapau, Roark Critchlow, Josh Daugherty. From Lionsgate ...
"Young Detective Dee: Rise of the Sea Dragon"
(2013 -- China), directed by Tsui Hark and starring Angelababy, Mark Chao, William Feng, Carina Lau, Lin Gengxin, is the action-packed, martial arts extravaganza that follows Dee Renjie's beginnings in the Imperial police force. His very first case, investigating reports of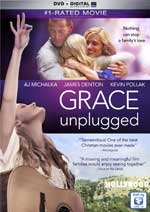 a sea monster terrorizing the town, reveals a sinister conspiracy of treachery and betrayal, leading to the highest reaches of the Imperial family. The prequel to Hark's 2010 "Detective Dee and the Mystery of the Phantom Flame." On DVD and Blu-ray from Well Go USA ... When his parents vanish and his younger brother is kidnapped, a young man follows a trail of clues to the darkly majestic Prince Regent Hotel, where he discovers a hidden realm of child-stealing monsters, deadly secrets and a long-lost artifact that grants limitless wealth -- but also devastating supernatural power in
"The Adventurer: The Curse of the Midas Box"
(2014), starring Michael Sheen, Lena Headey, Sam Neill, Ioan Gruffudd, Aneurin Barnard. On DVD and Blu-ray from Image Entertainment ... When Natalie discovers her husband has led a secret life, she's forced to deal with losing everything she loves. While picking up the pieces of her shattered world, the process of healing introduces some new-found obstacles in the form of a new love interest in
"And Then There Was You"
(2013), starring Garcelle Beauvais, Brian White, Lynn Whitfield, Leon. From One Village Entertainment.
In the near future, an American girl, sent to the English countryside to stay with relatives, finds love and purpose while fighting for her survival as an escalating military conflict in Europe envelops the world around her in
"How I Live Now"
(2013), starring Saoirse Ronan, Tom Holland, George MacKay. Based on the award-winning young adult novel by Megan Rosoff. On DVD and Blu-ray Disc from Magnolia Home Entertainment ...
"Jewtopia"
(2012), starring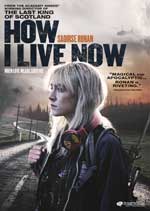 Jennifer Love Hewit, Ivan Sergei, Joel David Moore is a romantic comedy centered on a gentile who pretends to be Jewish in order to win the affection of his love interest. Based on the wildly successful stage play "Jewtopia." From Cinedigm ... In
"Sorority Party Massacre"
(2012), starring Tom Downey, Kevin Sorbo, Ed O'Ross, Leslie Easterbrook, Richard Moll, Ron Jeremy, Marissa Skell, Eve Mauro and Yvette Yates, an isolated town full of sexy college girls has a dangerous secret: one girl has gone missing each year for the last 20 years. A big-city cop, in danger of losing his badge, agrees to aid the town's sheriff in investigating the unsolved disappearances. From Anchor Bay ... In
"Haunter"
(2013), starring Abigail Breslin, Stephen McHattie, Eleanor Zichy, Peter Outerbridge, Michelle Nolden and David Hewlett, 15-year-old Lisa (Breslin) and her family died in their home under sinister circumstances in 1986. Unable to move on, their spirits have continued to roam the house for nearly 30 years, living the same miserable day over and over, never thinking they're anything but alive. But now, Lisa has started noticing things that make her believe that she and her family are in fact ghosts -- and she must reach out to help her living counterpart Olivia and her family avoid the same gruesome fate that Lisa and her family suffered. On DVD and Blu-ray Disc from IFC Midnight/MPI Media Group ...
"On the Job"
(2013 -- Philippines), starring Joey Marquez, Piolo Pascual, Joel Torre and Gerald Anderson, is a crime thriller inspired by a real-life scandal in which prison inmates are temporarily released from prison to work as contract killers on behalf of politicians and high ranking military officials. Two cops uncover the scheme, but, caught in a web of deceit and corruption, head on a collision course with government officials who will do anything to silence them. From Well Go USA ... After a reverend is bitten by a vampire on the first day at his new parish, he tries to put his new bloodlust to good use when he discovers that his seemingly idyllic little town is anything but: it's plagued by drugs, prostitution and violence in
"The Reverend"
(2011), starring Stuart Brennan, Tamer Hassan, Rutger Hauer, Doug Bradley, Emily Booth. From Level 33 Entertainment ...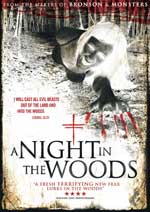 When three friends go hiking in supposedly haunted woods, jealousies, sexual tensions and strained relationships come to a head, turning what should have been a peaceful camping adventure into a terror trip when something comes after them in
"A Night in the Woods"
(2011), starring Scoot McNairy, Anna Skellern, Andrew Hawley. On DVD and Blu-ray/DVD Combo from Tribeca Film/Cinedigm ... In
"22 Bullets"
(2010 -- France), Lifelong mobster Charly Mattei (Jean Reno) has turned a new leaf and left his past as an outlaw behind him, living a quiet, comfortable life, devoting himself to his wife and two young children. One winter morning, however, he's attacked in an underground parking garage and left for dead -- with 22 bullets in his body. After a miraculous recovery, he embarks on a hunt for vengeance that takes him back into the seedy criminal underworld he thought he'd left behind forever. Co-stars Kad Merad, Jean-Pierre Darroussin, Marina Fois. On DVD and Blu-ray/DVD Combo from Cinedigm ...
"Anna Nicole"
(2013) is a bio-drama about Anna Nicole Smith, a modern-day Marilyn Monroe whose meteoric rise to fame from single, Texas mother to international supermodel, actress and reality television personality came with a tragic price. Stars Agnes Bruckner, Martin Landau, Adam Goldberg, Cary Elwes, Virginia Madsen. From Sony.
ON THE INDIE FRONT:


"Capital Games" (2013): Based on the best-selling erotic novel by author and executive producer G.A. Hauser about the rivalry between a tough ex-LAPD cop who quit police to work in the calm environment of a business office and the glamorous new kid in the office, who soon wins favor with the big boss and co-workers. After a crazy night in the Santa Fe desert, the pair become torn between passionate love and passionate hatred. From Breaking Glass Pictures.


"Reaching for the Moon" (2013): Directed by Bruno Barreto and starring Miranda Otto, Tracy Middendorf, Gloria Pires. A sophisticated tale of an unlikely romance between two extraordinary artists, set against the backdrop of political upheaval and a clash of cultures. Grappling with writer's block, legendary American poet Elizabeth Bishop (Otto) travels from New York City to Rio de Janeiro in the 1950s to visit her college friend, Mary (Middendorf). Hoping to find inspiration on Mary's sprawling estate, Elizabeth winds up with much more -- a tempestuous relationship with Mary's bohemian partner, architect Lota de Macedo Soares (Pires), that rocks the staid writer to her foundation. From Wolfe Video.


"2 Jacks" (2012): Stars Danny Huston, Sienna Miller, Jack Huston, Jacqueline Bisset, Billy Zane. A glamorous and romantic vision of Hollywood now and then. Legendary film director Jack Hussar, notorious gambler and womanizer, returns to L.A. to raise financing for his next film. In a whirlwind night on the town, Jack seduces the stunning Diana, hits some wild industry parties, narrowly escapes a brush with the law, before playing a high-stakes poker game at dawn. Years later, Jack Hussar Jr., arrives in Hollywood for his directorial debut, and an older Diana finds her daughter falling for her former lover's son. Based on Tolstoy's short story "The Two Hussars." From Breaking Glass Pictures.
FOREIGN:
"The Artist and the Model"
(2013 -- Spain) Stars Jean Rochefort, Claudia Cardinale, Aida Folch. It's the summer of 1943, and in a verdant corner of occupied France, not far from the Spanish border, a famous old sculptor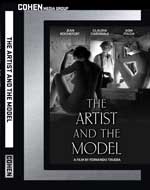 and painter, Marc Cros (Rochefort), lives with his supportive wife Lea (Cardinale), safe from the war raging in the distance. Marc, who can call Cezanne and Matisse his friends, seems to have reached the end of his life and, worse, his art. But one day, Lea meets Merce (Folch), a beautiful young Spaniard who has escaped from a refugee camp. Lea instantly sees that the raw, sensual girl is her husband's favorite type of model and brings her home to give the artist some fresh inspiration. Though initially chilly to each other, Marc and his frequently nude model slowly grow closer, as the old man comes to realize she will be his final masterpiece, and she absorbs his insights into art and, ultimately, life. On DVD and Blu-ray from Cohen Media Group ...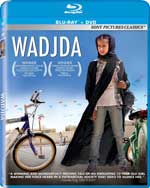 "Wadjda"
(2012 -- Saudi Arabia): Wadjda, a fun-loving 10-year-old girl living in Saudi Arabia, has her heart set on a beautiful new bicycle. However, her mother won't allow it, fearing repercussions from a society that sees bicycles as dangerous to a girl's virtue. Determined to turn her dreams into reality and buy the bike on her own, Wadjda uncovers the contradictions and opportunities in her world. The first feature film shot entirely in Saudi Arabia, the first Saudi film written and directed by a woman, the first Saudi submission to the Foreign Language committee for the Academy Awards and a wonderful debut performance by Waad Mohammed as the spunky title character. In a Blu-ray/DVD Combo from Sony.
FOR THE FAMILY:
"Max & Ruby: Everybunny Loves Spring!"
(2014) features 12 new-to-DVD episodes of animated springtime adventure with Max & Ruby. $14.99 from Nickelodeon/Paramount ... The
"League of Super Evil Season 1, Volumes 1 and 2"
(2013) are two two-disc sets with 13 episodes each of the animated TV series that follows four Super Villains (the League of Super Evil, or L.O.S.E.)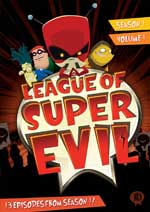 who have set their sights on nothing less than total neighborhood domination, except they have no powers, no skills, no money ... and the worst thing they've done is irritate their neighbors. Led by self-proclaimed mastermind Voltar, L.O.S.E. includes muscle-bound nice-guy Red Menace, Mad Scientist Doktor Frogg and inter-dimensional hell-hound Doomageddon. Their methods? Using a shrunken anime robot to win a playground slam dunk competition and holding a neighborhood barbecue and not inviting any of the neighbors. Total mindless fun. $19.95 each from Cinedigm ...
"Brewster Leads the Way"
(2014) is the newest addition to the popular "Chuggington" DVD series (from the animated TV series), filled with six action-packed episodes featuring Brewster the train. In these episodes, Brewster starts the digging of a new tunnel, saves new chuggineers Zack, Tyne and Fletch from a flash flood caused by a bursting river, and pitches in to fix Old Puffer Pete ... all the while discovering the importance of helping others and working together. On DVD, packed with an Old Puffer Pete die-cast engine from TOMY while supplies last. From Anchor Bay.
SPECIAL INTEREST:


"The Armstrong Lie" (2013): In 2009, Academy Award-winning director Alex Gibney was hired to make a film about Lance Armstrong's comeback to cycling. The project was shelved when the doping scandal erupted, and re-opened after Armstrong's confession. "The Armstrong Lie" picks up in 2013 after Armstrong was stripped of his seven Tour de France titles, and presents a riveting, insider's view of the unraveling of the greatest deception in sports history. From Sony.


"The Discovery of Eilleen Twain" (2014): Featuring early footage and songs from Shania Twain, when she was still struggling artist Eilleen Twain. Eilleen Twain got her first break in the late 80s in Viva Vegas, a legendary Vegas style resort show produced by Brian Ayers at Deerhurst Inn Resort in Ontario, Canada. This documentary features revealing interviews with former cast members and music veterans of that era, taking you back to Twain's roots along with footage of her heartfelt renditions of "Somewhere Out There" and "Somewhere Over the Rainbow." The Bonus CD, "Eilleen Twain: Beginnings 1989-1990," features 10 re-mastered songs from Twain's early career. A CD/DVD Combo from Video Service Corp/MVD Entertainment.


"Mike Tyson: Undisputed Truth" (2013): "Iron Mike" recounts his life's highs and lows in his signature candid style in this one-man stage show directed by Spike Lee, filmed before a live audience at Broadway's Imperial Theatre in New York City for HBO. From HBO.


"Pussy Riot: A Punk Prayer" (2013): Winner of the Special Jury Prize at Sundance Film Festival 2013 and for Best Documentary at the British Independent Film Awards 2013, "Pussy Riot: A Punk Prayer" tells the incredible story of three young women in a Moscow-based feminist punk rock group, Pussy Riot, who stage a provocative guerrilla performance on the soleas of the city's Cathedral of Christ the Savior in a statement against the leadership of the church and Russia's president Vladimir Putin. Filmed over the course of six months, the critically-acclaimed documentary follows the group's arrests, subsequent trials and their sentencing -- profound events that shine a world spotlight on Russian society and freedom of expression. From Cinedigm.


"Spinning Plates" (2012): Documentary examines the drama and unique challenges faced each day by the owners of three very different restaurants: World-renowned chef Grant Achatz strives for culinary excellence at his gourmet restaurant Alinea in Chicago, while privately battling a life-threatening condition. Family owned and operated for six generations, Breitbach's Country Dining in rural Iowa remains standing only because of an unbreakable bond with the small town community. And a fledgling Mexican restaurant, La Cocina de Gabby, in Tucson, Az., struggles to stay afloat as its owners risk everything to provide for their young daughter. From Inception Media Group.


"The Summit" (2012): Documentary about the deadliest day on the world's most dangerous mountain, when 11 of a multinational group of 22 experienced mountain climbers mysteriously perished on K2, on August 1, 2008. Features breathtaking cinematography, the climbers' own firsthand footage and jaw-dropping reenactments based on the testimony of those who survived the climb. From IFC Films.
FROM TV TO DVD:
"The Americans Season 1"
(2013) features 13 episodes of the thriller about undercover Russian spies in 1980s Washington; on DVD, $49.98; Blu-ray Disc, $59.99 from Fox ...
"Dallas: The Complete Second Season"
(2013) is a four-disc set with all 15 episodes of the reimagined series, $39.98. J.R. Ewing (Larry Hagman), one of the most iconic television villains of all time, takes his last breath under very suspicious circumstances but not before stirring up a season's worth of Texas-size trouble. J.R. deviously guides his son, John Ross (Josh Henderson), in stealing the family business from Christopher (Jesse Metcalfe) and Bobby (Patrick Duffy), while the ladies take their own sides. Sue Ellen (Linda Gray) runs for governor, Ann (Brenda Strong) takes aim at her ex, Harris (Mitch Pileggi), and Pamela (Julie Gonzalo) and Elena (Jordana Brewster) prove that being beautiful and fighting dirty sometimes go hand in hand. From Warner ...
"Farscape: The Complete Season Two 15th Anniversary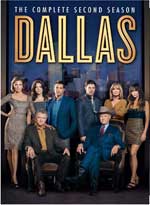 Edition"
(2000-01) unfolds as a tapestry of histories and mysteries. Having survived Season 1's deathtrap finale, John Crichton and the crew of the living space ship Moya attempt to evade the villainous Scorpius. And if the Peacekeepers weren't enough trouble, Crichton and company soon cross paths with the ambitious, reptilian Scarran race. Twenty-two episodes in a six-disc DVD, $39.95; four-disc Blu-ray, $49.95. From Cinedigm ...
"Hetty Wainthropp Investigates: The Complete Collection"
(1996-98) is a 12-disc set with 27 episodes starring Patricia Routledge as housewife-turned-private-investigator Hetty Wainthropp who, like an earthier Miss Marple, applies her seasoned intuition and fierce moral compass to the job of righting wrongs in England's towns and villages. From Acorn Media ...
"Hindenburg -- The Last Flight"
(2011), starring Maximilian Simonichek, Lauren Lee Smith, Stacy Keach and Greta Scacchi, is a fictionalized account of one of the most shocking accidents of the 20th Century, this is an alternate history of the tragic event that rocked the world in 1937, imagining passengers in a desperate search for explosives that have been planted onboard the aircraft by a ruthless businessman. Originally aired in two parts on Encore's Big Miniseries Showcase.From Anchor Bay)
"Killing Kennedy"
(2013) is a National Geographic original movie that chronicles the assassination of John F. Kennedy. It's based on the second in a trilogy of books written by Bill O'Reilly and his researcher and partner Martin Dugard. Stars Rob Lowe, Will Rothhaar, Michelle Trachtenberg, Ginnifer Goodwin. On DVD and Blu-ray Disc from Fox ...
"Newhart: The Complete Second Season"
(1983-84) is a five-disc set with 22 episodes of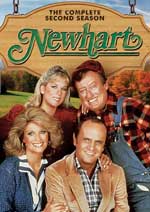 the acclaimed TV series. Bob Newhart returned to TV as Dick Loudon, a New Yorker who runs a small B&B in Vermont with his wife Joanna (Mary Frann). Things operate a little differently up in ski country, as exemplified by their disparate group of friends and neighbors including wacky, bumbling handyman George (Tom Poston), Larry (William Sanderson) and his brother Darryl (Tony Papenfuss) and his other brother Darryl (John Voldstad). Season Two highlights include Dick fighting against the advances of a celebrity author, Joanna challenging the town's historical practice of the men and women eating separately during the town's potluck dinners, Stephanie (Julia Duffy) getting lost in a snowstorm, Kirk (Steven Kampmann) planning to sell the Minuteman Cafe and more. $29.93 from Shout! Factory ...
"Regular Show: Mordecai and Margaret Pack"
(2013) includes all 16 themed episodes from the first four seasons of the Cartoon Network series, highlighting Mordecai's crush, Margaret. $19.82 from Warner ...
"Sherlock: Season Three"
(2013) is a two-disc set with three episodes of the PBS Masterpiece Mystery! series from the BBC. On DVD, $29.98; Blu-ray, $39.98. From BBC Home Entertainment ...
"Swamp People: Season 4"
(2013) is a six-disc set with 23 episodes, $24.98 from Lionsgate ...
"Yukon Men: Season 1"
(2012) features nine episodes of the Discovery Channel series about the inhabitants of Tanana, Alaska, and their struggle for survival in the wilds just 60 miles from the Arctic Circle. $29.93 from Cinedigm.
Check out other February 11-17 DVD releases and reviews at OnVideo.
Comments