By Harley Lond - 01/21/14 at 01:45 AM CT
THIS WEEK'S THEATRICAL RELEASES:
"Captain Phillips": Two-time Oscar-winner Tom Hanks turns in one of his best performances in years in the true story of Captain Richard Phillips and the 2009 hijacking by Somali pirates of the U.S.-flagged MV Maersk Alabama off the African coast. Phillips and his crew were held hostage for ransom, setting up a tense headline-making standoff between the pirates and the U.S. Navy. Director Paul Greengrass -- no newcomer when it comes to political and action films ("Bloody Sunday," "The Bourne Supremacy," "United 93," "Green Zone") creates a spell-binding
drama as he first keys in on the day-to-day machinations of freight shipping, then segues into high stakes action as the pirates decide to hijack the ship. Greengrass misses nothing here, and Hanks' performance as he fears for his life is so realistic that one just has to squirm with recognition. A pulse-pounding thriller with tour-de-force directing and editing, and outstanding performances by a cast of unknowns as the pirates. Extras include an interesting "Capturing Captain Phillips," a three-part, behind-the-scenes look at the film's production and the real events surrounding the film; commentary with director Paul Greengrass. From Sony.

"Blue Jasmine": Say what you will about the reclusive, aloof, perhaps kinky Woody Allen -- the man loves women. In particular, he loves the women in his films (sometimes literally), creating great roles for the likes of Diane Keaton, Mia Farrow, Mira Sorvino, Julia Louis-Dreyfus, Scarlett Johansson, Rebecca Hall and Naomi Watts, to name just a few -- and now he's created a great one for Cate Blanchett. Blanchett puts in an Oscar-worthy tour-de-force performance as a spoiled, elegant Manhattan socialite whose life falls apart -- figuratively and literally -- after her doting businessman husband is arrested for securities fraud. Virtually penniless, she moves to San Francisco to live in her sister's apartment, where she struggles to pull herself back together again despite her upper-class snobbery rubbing up against her new blue-collar existence. She's precariously balanced on an emotional tightrope between her troubled past and her fresh start, dreaming of her lost glamour but all the while neglecting to take responsibility for her complicity in her past failings. A remarkable outing. Co-stars Alec Baldwin, Michael Stuhlbarg, Peter Sarsgaard, Alden Ehrenreich, Louis C.K., Sally Hawkins, Bobby Cannavale, Tammy Blanchard and Andrew Dice Clay. From Sony.

"In a World...": A delightful but lean comedy about a young voiceover artist (writer-director Lake Bell) who gets her first big break in the cutthroat world of movie-trailer voiceovers and then finds herself in competition with her father (Fred Melamed), the industry's reigning king, as well as his arrogant protege (Ken Marino), for the plumb announcer's role in an upcoming, big-budget teen-girl-oriented movie series. Nothing much happens as Bell waltzes from one comedic scene to another, and there's very little tension even as the voiceover artists jockey for position. Still, its an enjoyable taste of more to come from the talented Bell. Extras include commentary with writer-director-actor Bell, deleted scenes, a gag reel and six voiceover promo trailers for the film. From Sony.

Also due this week:

"Instructions Not Included," a Mexican comedy about a former Acapulco playboy who gives it all up to move to Los Angeles with his new-found baby daughter, raising her for six years and establishing himself as one of Hollywood's top stuntmen. But their unique and offbeat family is threatened when Maggie's birth mom shows up out of the blue. In Spanish with English subtitles. From Lionsgate.

"Machete Kills," a very weak sequel to an already weak original, starring Danny Trejo as the "legendary" ex-Federale Machete Cortez who is recruited by the U.S. President to stop a crazed global terrorist (Mel Gibson) who has hatched a plan to spread war and anarchy across the planet. From Universal.


COLLECTIBLES:
Highlight of the week is The Criterion Collection release of
"La vie de bohème"
(1992), a deadpan tragicomedy about a group of impoverished, outcast artists living the bohemian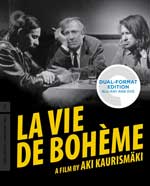 life in Paris that is among the most beguiling films by Finnish master Aki Kaurismaki ("Le Havre"). Based on stories from Henri Murger's influential mid 19th-century book "Scenes de la vie de boheme (the basis for the opera "La boheme"), the film features a marvelous trio of Kaurismaki regulars, Andre Wilms, Matti Pellonpaa and Karl Vaananen, as a poet, painter, and composer who scrape by together, sharing in life's daily absurdities. Gorgeously shot in black and white, "La vie de boheme" is a vibrantly scrappy rendition of a beloved tale. In a new, high-definition digital restoration, with uncompressed monaural soundtrack on the Blu-ray. In a Blu-ray/DVD Dual Format Edition.
There's four fine Blu-ray debuts this week:
"The Postman Always Rings Twice"
(1981), directed by Bob Rafelson and starring Jack Nicholson, Jessica Lange, John Colicos, Michael Lerner, John P. Ryan and Anjelica Huston. Warner finally does justice to the steamy remake of the 1946 Tay Garnett crime drama (starring Lana Turner and John Garfield) with this lavish remastering of Rafelson's film (with his approval). Apparently, the 1997 DVD release was in the wrong aspect ratio in a pan-and-scan format and, according to Rafelson, contained "a host of other errors." Warner has made it good this time, adding commentary by Rafelson, Nicholson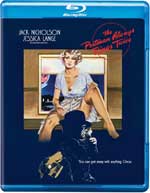 and screenwriter David Mamet. The film is justly notorious for its hot kitchen table sex scene between Lange and Nicholson ...
"Never Sleep Again: The Elm Street Legacy"
(2010) is a "Shockumentary" highlighting the horrifying history of everybody's bad dreamer, Freddy Krueger, featuring exclusive interviews with over 100 key cast and crew from every "Nightmare," including creator Wes Craven and Robert Englund. Extras include extended interviews, "First Look: Heather Langenkamp's I Am Nancy," "For the Love of the Glove," "Fred Heads: The Ultimate Freddy Fans," "Horror's Hallowed Grounds: Return to Elm Street," "Freddy vs. The Angry Video Game Nerd," "Expanding the Video Game Universe: Freddy in Comic Books and Novels," "The Music of the Nightmare: Conversations With Composers and Songwriters," "Elm Street's Poster Boy: The Art of Matthew Joseph Peak," "A Nightmare on Elm Street in 10 Minutes," "Never Sleep Again: The Elm Street Legacy" teaser trailer. In a two-disc collector's edition, $29.98 from Image Entertainment ...
"Cat People Collector's Edition"
(1982), directed by Paul Schrader and starring Nastassja Kinski, Malcolm McDowell, John Heard and Annette O'Toole, is a kinky remake of Jacque Tourneur's 1942 horror noir classic. Features music by Giorgio Moroder with the "Cat People" theme sung by David Bowie. Extras include new interviews with writer-director Schrader,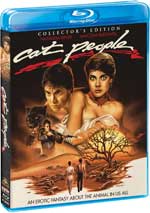 Kinski, McDowell, Heard, O'Toole, Lynn Lowry and composer Giorgio Moroder; a theatrical trailer, still gallery and TV spot. From Scream Factory/Shout! Factory ... And, finally, from The Criterion Collection comes a remastering of Stanley Kramer's
"It's a Mad Mad Mad Mad World"
(1963), a wild comedy about a group of strangers fighting tooth and nail over buried treasure; it's quite possibly the most grandly harebrained movie ever made, a pile up of slapstick and borscht-belty one-liners performed by a nonpareil cast, including Milton Berle, Sid Caesar, Ethel Merman, Mickey Rooney, Spencer Tracy, Jonathan Winters, Buddy Hackett, Dick Shawn, Phil Silvers, Terry-Thomas, Jim Backus and a boatload of other playing-to-the-rafters comedy legends. In a new, restored 4K digital film transfer of the general release version of the film, with 5.1 surround Master Audio soundtrack on the Blu-ray. New high-definition digital transfer of a 197-minute extended version of the film, reconstructed and restored by Robert A. Harris using visual and audio material from the longer original road-show version -- including some scenes that have been returned to the film here for the first time -- with 5.1 surround Master Audio soundtrack on the Blu-ray. Formats: Blu-ray/DVD Dual Format Edition: Two Blu-rays/three DVDs.
BUZZIN' THE 'B'S:
"Old Goats"
(2010) is the very sweet and unusual story of a trio of spirited senior citizens on a quest to make the most of their sunset years. Friends Bob, Britt and Dave -- playing themselves in a fictional framework -- are each confronting aging in his own unique fashion: Straight-laced Dave rebels against his wife's plans for their new retirement, hoarder Britt struggles with online dating after decades alone on his houseboat, and lively ladies man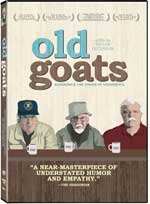 Bob juggles a hyperactive social schedule and a fanciful memoir about his adventurous past. Rife with equal doses of attitude and charm, this slice-of-life comedy finds offbeat humor in the everyday foibles of life and love after retirement, and provides a refreshing perspective on "the golden years," proving it's never too late to chase your dreams. It's kind of like "Seinfeld" for seniors. Stars Britton Crosley, Bob Burkholder, David Vander Wal, Benita Staadecker, Gail Shackel, Steve Stolee. From Music Box Films ... In
"The Prey"
(2013 -- France), starring Albert Dupontel, Stephane Debac, Alice Taglioni and Sergi Lopez, Franck Adrien, a bank robber convicted of a heist and sentenced to six months in prison, shares a cell with seemingly weak Jean Louis Morel. But once Morel gets released from behind bars, Adrien learns that Morel is really a sadistic serial killer who now knows private details about Adrien's life. Adrien must break out of prison and catch Morel before he gets to Adrien's family ... and before France's elite police detectives hunt Adrien down. On DVD and Blu-ray from Cohen Media Group ...
"The Starving Games"
(2013), staring Maiara Walsh, Brant Daugherty and Cody Christian, is the sixth in the series of cinematic spoofs of popular box-office hits by Jason Friedberg and Aaron Seltzer ("Vampires Suck," "Meet the Spartans"). When Kantmiss Evershot volunteers to take her manipulative younger sister's place in the 75th annual "Starving Games" she must leave behind her smoldering just-a-friend Dale and team up with the geeky baker's son in a fight for her life. But wait, there's more. She could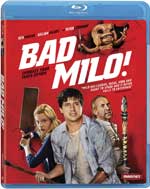 also win an old ham, a coupon for a footlong sub at a six-inch price, and a partially-eaten pickle. From Ketchup Entertainment ... In
"Bad Milo"
(2013), starring Ken Marino, Gillian Jacobs, Mary Kay Place and Claudia Choi, Duncan's mounting stress starts to trigger an insufferable gastrointestinal reaction. Out of ideas and at the end of his rope, Duncan seeks the help of a hypnotherapist, who helps him discover the root of his unusual stomach pain: a pint-sized demon living in his intestine that, triggered by excessive anxiety, forces its way out and slaughters the people who have angered him. Out of fear that his intestinal gremlin may target its wrath on the wrong person, Duncan attempts to befriend it, naming it Milo and indulging it to keep its seemingly insatiable appetite at bay. On DVD and Blu-ray from Magnolia Home Entertainment ... A group of young documentary filmmakers set off to uncover the true story behind the Black Water murders, a series of brutal killings where women were found dumped in the woods, savagely slain, with their mutilated bodies completely drained of blood in the appropriately named
"Black Water Vampire"
(2014), starring Bill Oberst Jr., Danielle Lozeau, Andrea Monier, Anthony Fanelli and Robin Steffen. From Image Entertainment ... In
"Concrete Blondes"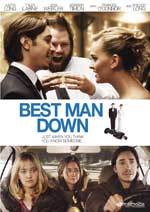 (2013), three bombshell friends face off against dangerous criminals whose money they've stolen. Stars Carly Pope, Samaire Armstrong and Diora Baird. From Inception Media Group ... Hunted by raiders, a band of crusading knights must escort a sacred artifact through a zombie-infested valley in
"Knight of the Dead"
(2013). starring Alan Calton, Alf Thompson, Dylan Jones and Feth Greenwood, from Inception Media Group ... In the comedy
"Best Man Down"
(2012), starring Justin Long, Jess Weixler, Tyler Labine, a newlywed couple cancel their honeymoon and return to the snowy Midwest to make the funeral arrangements for their best man, who died unexpectedly after their ceremony. But getting his body back to Minneapolis is just the start of their adventure, as the well-intended sacrifice surprises at every turn. On DVD and Blu-ray from Lionsgate ... In
"Life's an Itch"
(2012), a married thirtysomething father of two reaches the point where he questions everything: career, creativity, his marriage and even love. But complications and temptations arise when his wife invites her open-minded (and very sexy) yoga instructor, Gillian, to stay in the guesthouse while she's away on vacation with the kids. Stars Roger Ali Cobrin, Rossi Morreale, Andrea Bogart, Kathleen Quinlan. From Monarch Home Entertainment ... In
"Richard the Lionheart"
(2013), starring Malcolm McDowell, Burton Perez, Stewart Arnold and Christopher Jones, King Henry II tests the loyalty and honor of his son Richard by sending him to a hellish prison. In prison Richard must fight against adversaries representing the virtues of a knight. From Lionsgate.
FOR THE FAMILY:
"My Little Pony: Classic Movie Collection"
is a two-disc set with four "My Little Pony" movies: "Princess Promenade," "Runaway Rainbow," "Dancing in the Clouds" and "Friends Are Never Far Away." $14.93 from Shout! Factory Kids ... In
"Barney: Story Time With Barney"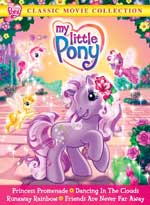 (2014), Barney shows that reading is fun and that imaginations can soar in three episodes: "Fairy tales," "The Emperor's Contest" and "The Sword in the Sandbox," $14.98 from Lionsgate ..
"Angelina Ballerina: On With the Show"
(2013) consists of five "showtime" episodes with Angelina and her friends in which the mouselings get on with the show: "Angelina's Musical Day," "Angelina and the Bandleader," "Angelina and Ms. Mimi," "Angelina's Kitchen Band" and "Angelina and the Father's Day Surprise," 14.98 from Lionsgate ... The football-inspired release
"Peanuts Deluxe Edition: Touchdown Charlie Brown!"
(1977) is comprised of the re-mastered, animated TV special, "It's Your First Kiss, Charlie Brown," in which the Peanuts gang celebrate homecoming, plus three football-themed episodes of "The Charlie Brown and Snoopy Show." From Warner.
FROM TV TO DVD:
"Borgen: Season Three"
(2013 -- Denmark) is the Danish political drama that for three seasons has intrigued audiences around the world for it's portrayal of the personal costs of the struggle for power for the people at the center of the political world and the media. Final season with 10 episodes in a four-disc DVD, $49.95 from MHz Home Entertainment ...
"Bullet in the Face: The Complete Series"
(2012) is a single disc with six episodes of the series about a sociopathic criminal, shot in the face by his girlfriend during a robbery gone awry, who wakes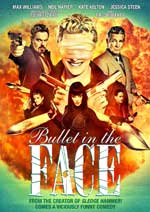 up in the hospital with the face of a cop and who now has to work with the police and fight crime. It's all set in he intriguing, neo-noir universe of Bruteville, a dystopian city where high-octane thrills, gangster mayhem, and a generous dose of subversive, satirical bent collide. $19.97 from Shout! Factory ...
"Crossing Lines: Season One"
(2013) is a three-disc set with 10 episodes about a special crime unit that investigates serialized crimes that cross over European borders, hunting down criminals to bring them to justice. On DVD, $29.97; Blu-ray Disc, $29.98; from Lionsgate ...
"Comedy Bang! Bang! The Complete First Season"
(2013) is a two-disc set that contains all 10 episodes of IFC's series that turns the predictable TV chat show upside down and inside out. Created, written by and starring Scott Aukerman and based on his popular podcast of the same name, "Comedy Bang! Bang!" infuses celebrity appearances and comedy sketches with a tinge of the surreal. In each episode, Aukerman engages his guests with unfiltered and improvisational lines of questioning, punctuated by banter and beats provided by photo for Comedy Bang! Bang! The Complete First Season his bandleader, one-man musical mastermind Reggie Watts. Packed with character cameos, filmic shorts, sketches and games set amongst an off-beat world. Joining Aukerman and Watts for the first season are guests Zach Galifanakis, Amy Poehler, Jon Hamm, Michael Cera, Seth Rogen, Paul Rudd, Ed Helms, Elizabeth Banks and Andy Samberg. $29.98 from Anchor Bay ...
"Counting Cars: Season 2 -- Volume 2 "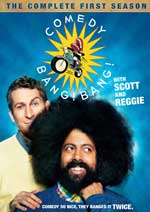 (2013) is a two-disc set with 12 episodes of the History series about Danny "The Count" Koker and his Las Vegas-based crew that restores and "flips" classic autos. $14.98 from Lionsgate ...
"How the Universe Works Season 2"
(2013) is a two-disc set with eight epiosdes of scientific exploration that covers planets, weather, energy, magnetism, orbits, comets, and other elements that make up this space that we call home. $32.98 from Cinedigm ...
"Sebastian Bergman: Volume 1"
(2010 -- Sweden) is a two-disc of the adventures of Sweden's most famous criminal profiler, the strong-headed, politically incorrect, intuitive, abrasive and grief stricken Sebastian Bergman. From MHz Home Entertainment ...
"Space Voyages"
(2013) is a Smithsonian Channel four-part series that surveys the challenges and opportunities of modern space exploration: "The Moon and Beyond," "Into the Unknown," "Open for Business" and "Surviving the Void." $19.98 from Inception Media Group.
Check out other January 21-27 DVD releases and reviews at OnVideo.
Comments