New in Theaters June 07: The Internship, The Purge
By Chris Kavan - 06/06/13 at 09:22 AM CT
After Earth sputtered at take off while Now You See Me did better than expected last weekend. But even with new competition, including a comedy and the rare summer horror film, I still think that Fast 6 is going to continue to be the movie to beat - at least until Man of Steel lands in two weeks. Still, can a pairing of beloved comedians and a Ethan Hawke returning to horror once again spell success at the box office? I've been surprised a few times this year, so anything is possible.


THE INTERNSHIP The Hangover III has proven that comedy is harder sell, but earlier in the year Identity Thief proved that a winning combination can capture an audience. I have a feeling that despite featuring Vince Vaughn and Owen Wilson (who have combined for some of the best comedies of the last decade - including the popular Wedding Crashers - you should have another hit (and bonus - John Goodman is back... though he didn't exactly help Hangover III too much). Something about the whole Google fish-out-of-water thing just seems a bit... well, lame. However, I did enjoy the Professor X part of the trailer. I don't see this as anything more than a rental in my eyes. I don't think audiences are going to embrace this - it will be lucky to match Hangover III - as it just seems kind of stale at this point in time. Maybe if they threw in a talking bear...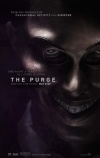 THE PURGE In a bit of counter-programming to everything else out there, The Purge looks to capture the horror audience in a time when it's dangerous to release a horror film. Blockbusters abound - and rarely does a horror film reach such levels. Ethan Hawke is back, after proving to me he suits the genre well with the nice and creepy Sinister. Lena Headey is probably best known from playing the evil Cersei Lannister on Game of Thrones - but is no stranger to the big screen. I have to admit the idea is... interesting to say the least. In one 12 hour period, all crime is legal, and this follows one family as they must survive after their secure home is breached. It's a ridiculous premise in my mind... but I still want to see how it turns out. Like The Internship, I feel this would make a better rental than a theater-worthy film, but, considering the utter lack of any horror, this could be a dark horse at the box office. Even terribly reviewed films can make stacks of cash, so I don't consider anything unlikely at this point in time. Audiences are incredibly fickle when it comes to horror - things either do well or completely bomb - that is rarely any middle ground. We'll see where The Purge winds up.


I think it's going to be another relatively quiet weekend - setting the stage for a couple of big weekends as Man of Steel, World War Z and Pixar are all on the horizon. Hopefully the weekend will prove a win before some big hitters step up to the plate.