By Harley Lond - 11/14/22 at 11:32 PM CT
FROM THE BIG SCREEN
"Three Thousand Years of Longing" (2022) Dr Alithea Binnie (Tilda Swinton) is an academic - content with life and a creature of reason. While in Istanbul attending a conference, she happens to encounter a Djinn (Idris Elba) who offers her three wishes in exchange for his freedom. This presents two problems. First, she doubts that he is real and second, because she is a scholar of story and mythology, she knows all the cautionary tales of wishes gone wrong.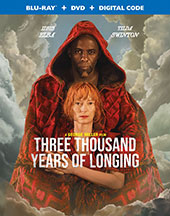 The Djinn pleads his case by telling her fantastical stories of his past. Eventually she is beguiled and makes a wish that surprises them both. Vitals: Director: George Miller. Stars: Tilda Swinton, Idris Elba, Pia Thunderbolt, Berk Ozturk, Anthony Moisset, Alyla Browne. 2022, CC, MPAA rating: R, 108 min., Fantasy Drama, North American box office gross: $8.286 million, worldwide $18.677 million, MGM. Formats for Three Thousand Years of Longing: DVD, Blu-ray/DVD Combo + Digital Code, 4K Ultra HD/Blu-ray Combo, VOD, Digital.


THIS WEEK'S BEST BETS:
The Hong Kong crime drama was jolted to new life with the release of the
"The Infernal Affairs Trilogy,"
a bracing, explosively stylish critical and commercial triumph that introduced a dazzling level of narrative and thematic complexity to the genre with its
gripping saga of two rival moles - played by superstars Tony Leung Chiu-wai and Andy Lau Tak-wah - who navigate slippery moral choices as they move between the intersecting territories of Hong Kong's police force and its criminal underworld. Set during the uncertainty of the city-state's handover from Britain to China and steeped in Buddhist philosophy, these ingeniously crafted tales of self-deception and betrayal mirror Hong Kong's own fractured identity and the psychic schisms of life in a postcolonial purgatory. Three-disc set with "Infernal Affairs" (2002), "Infernal Affairs II" (2003) and "Infernal Affairs III" (2003). On Blu-ray, with new 4K digital restorations, with 5.1 surround DTS-HD Master Audio soundtracks, from The Criterion Collection.
Read more here.
BUZZIN' THE 'B's:
In
"Christmas in Paradise"
(2022), starring Kelsey Grammer, Elizabeth Hurley and Billy Ray Cyrus, three quirky sisters chase their estranged dad (Grammer) down to his beachside pad in the Caribbean and enjoy a little fun in the sun. But why did he disappear to the islands? Only Joanna (Hurley) knows for sure, and she's sworn to secrecy. On DVD, Blu-ray, from Paramount.
Read more here
...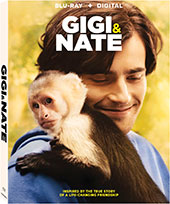 In the uplifting drama
"Gigi & Nate"
(2022), starring Marcia Gay Harden, Charlie Rowe, Josephine Langford and Zoe Colletti, and inspired by actual events, Nate (Rowe) suffers a near-fatal illness and is left a quadriplegic just weeks before departing for college. As Nate tries to adjust to his new life challenges, his mother (Oscar-winner Harden) helps him bring home an unlikely service animal, Gigi - a curious and intelligent capuchin monkey. Nate and Gigi form an unbreakable bond, but when it's threatened by a group trying to outlaw capuchins, Nate's family rallies behind him to help him regain what he needs most: hope. On DVD, Blu-ray, from Lionsgate ... A group of artist's lives become unwittingly entangled as their obsessions and insecurities manifest monsters, demons and death in
"Allegoria"
(2021),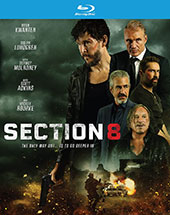 starring Krsy Fox, Adam Busch, Bryce Johnson and Scout Compton. On DVD, Blu-ray, from RLJE Films ...
"Section 8"
(2022), starring Ryan Kwanten, Dolph Lundgren, Dermot Mulroney, Scott Adkins and Mickey Rourke, after avenging the murder of his wife and child, a former soldier (Kwanten) is sent to prison with a life sentence. He's given a shot at freedom when a shadowy government agency recruits him for an off-the-books assignment. He soon realizes Section 8 isn't what it seems. On DVD, Blu-ray, from RLJE Film ... In
"Pearl"
(2022), starring Mia Goth, David Corenswet, Tandi Wright and Matthew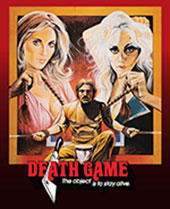 Sunderland, filmmaker Ti West returns with another chapter from the twisted world of "X" in this astonishing follow-up to the year's most acclaimed horror film. Trapped on her family's isolated farm, Pearl must tend to her ailing father under the bitter and overbearing watch of her devout mother. Lusting for a glamorous life like she's seen in the movies, Pearl's ambitions, temptations, and repressions all collide in the stunning, Technicolor-inspired origin story of "X's" iconic villain. On DVD, Blu-ray, from Lionsgate ... In
"Death Game"
(1977), starring Seymour Cassel, Sondra Locke and Colleen Camp, John Cassavetes veteran Seymour Cassel stars as George Manning, a family man whose perfect life is turned into a nightmare of sex and torture when he allows himself to be seduced by two nubile young strangers (Locke and Camp) who show up at his door on a rainy night. Considered lost for many decades, "Death Game" is being presented for the first time on home video in its original 2.39:1 aspect ratio, meticulously restored in 4K from the original camera negative. On Blu-ray from Grindhouse Releasing/CAV.
ON THE INDIE FRONT:
In
"The Lost One"
(2022), starring Emily Rowbottom, Stephanie Ranty, Daniel Nelson and David Cook, when several teen girls go missing, retired police detective Shae Conway (Rowbottom) discovers an alarming pattern in her sleepy community. What starts as a simple missing persons case becomes an investigation into the underground world of human trafficking. She joins forces with Riley (Ranty), a vigilante who has been trying to break into this elite ring and expose corruption as the highest levels of power. From Indican Pictures ..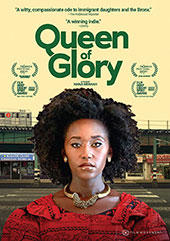 In
"Queen of Glory"
(2021), Sarah Obeng (Nana Mensah), a doctoral student at Columbia University, is weeks away from following her very married boyfriend to Ohio when her mother suddenly passes away. Her inheritance? King of Glory, a small Christian bookstore serving a Ghanaian immigrant community in the Bronx. Tasked with arranging her mother's funeral according to her family's traditional expectations, Sarah must simultaneously navigate her plans to relocate as well as the unexpected return of her estranged father, all while grappling with the bookstore. Aided by an only-in-New York ensemble of Eastern European neighbors, opinionated aunties, and a no-nonsense ex-con employee, Sarah must face her new responsibilities while figuring out how to remain true to herself. Winner of the Tribeca Film Festival Best New Narrative Director Award for director-star Mensah. From Film Movement.
FOREIGN FILMS:
In
"Adieu Godard"
(2022 - India), Ananda, an older resident of a small, conservative Indian village, has a problem: he's addicted to pornography. Much to the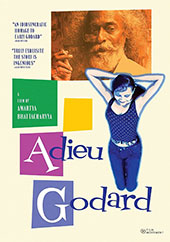 chagrin of his wife and daughter, he's a frequent renter of films at a local video store, and he brings them home and watches with friends. One day, he accidentally brings home a DVD with a Jean Luc Godard film inside the case. And though his friends are disappointed and leave, Ananda is fueled by curiosity with the French director, develops an obsession and begins to rent all of Godard's films. Eventually, he decides to host a village film festival dedicated to the filmmaker - and that's when things start to become interesting. From Film Movement ...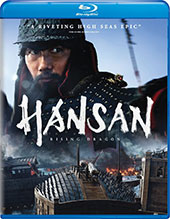 "Hansan: Rising Dragon"
(2022 - South Korea), starring Park Hae-il, Byun Yo-Han and Ahn Sung-kiis a prequel to "The Admiral: Roaring Currents" - the most-watched film in Korean cinema history - this film depicts the historical Battle of Hansando. In 1592, Admiral Yi and his fleet face off against the might of the invading Japanese navy and its formidable warships. As the Korean forces fall into crisis, the admiral resorts to using his secret weapon, the dragon head ships known as geobukseon, in order to change the tide of this epic battle at sea. On DVD, Blu-ray, from Well Go USA.
SPECIAL INTEREST:
"Amazing Grace: Country Stars Sing Songs of Faith and Hope"
(2022) is a comprehensive 10-disc collection brings together 153 performances from music legends including George Jones, Loretta Lynn, Alan Jackson, Reba McEntire, Randy Travis, Vince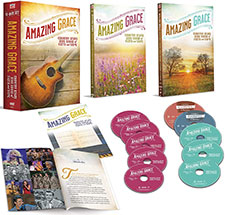 Gill, Dolly Parton, The Oak Ridge Boys, and more. plus, over a dozen exclusive interviews, a 36-page collector's booklet, and two bonus DVDs of Opry gospel classics. From Time Life.
Read more here
...
"Tubular Bells 50th Anniversary Tour: Live at the Royal Festival Hall"
(2021): Mike Oldfield's "Tubular Bells" is one of the most iconic pieces of music ever created. Recorded when Oldfield was just 19 years old, the album was released on May 25, 1973, as the debut album from Virgin Records. While initial sales were positive, the album became a worldwide phenomenon when the first track was used as part of the soundtrack for "The Exorcist." Despite only being featured in a couple of scenes,
Tubular Bells
has become closely associated with the film, with many referring to it as "the theme of The Exorcist," and the haunting sounds regularly earning a spot on horror playlists. In the fifty years since its release, the album's popularity has not waned, racking up more than 17.5 million copies sold and 18 million streams. In celebration of the album's 50th anniversary, a live concert performance was held over three days at London's Royal Festival Hall. The music was accompanied by dance and acrobatic feats by the Circa Contemporary Circus to create a beautiful and memorable experience that truly brings this masterpiece to life. This once-in-a-lifetime performance was captured in 4K and will be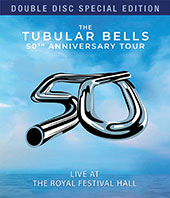 available in both a 2-disc Blu-ray and 2-disc DVD set. Two-disc set includes a feature-length documentary on the history of the Tubular Bells. On DVD, Blu-ray, from Cleopatra Entertainment.
Due November 18
...
"Wendy O. Williams: Live and F'ing Loud From London!"
(2022) is a rare live concert footage of the indomitable High Priestess of Metal, Wendy O. Williams, featuring special guests Lemmy and Wurzel from Motorhead. Shot at London's Camden Palace in London in 1985 and originally broadcast on Sky TV, the footage captures Williams in a rare and pinnacle moment in her now iconic and legendary career - with trademarked backbend screams and scorching vocals at an unmatched, blood-pumping, high-energy athletic pace. The largely speed-metal set features an appearance by Lemmy and Wurzel from Motorhead, who join Wendy onstage for the song "Jailbait," as well as audience sing-alongs for "Bump and Grind," with lead guitarist Michael Ray on Wendy's shoulders, "Fuck and Roll," the song "You'll Succeed," a crowd pleaser that never made it onto an album, Wendy's "Banana Rap," and much more. From Pandemonium).
Due November 18.
FROM TV TO DISC:
"A Discovery of Witches: The Complete Trilogy"
(2018-22) is a six-disc set with all 25 episodes. Adapted from Deborah Harkness' best-selling trilogy of novels, the series is a bold and romantic thriller that uncovers a secret underworld of vampires, witches and daemons hiding in plain sight for fear of persecution by humans. Brilliant historian Diana Bishop is a witch denying her own heritage. But when she unexpectedly calls up an ancient, bewitched manuscript, Ashmole 782, she finds herself thrown into the heart of a dangerous mystery – and into the path of the enigmatic geneticist and vampire Matthew Clairmont. On DVD, Blu-ray. from RLJE Films ...
"HALO: Season One
(2022) is a five-disc set with all nine episodes. Season One takes place in the universe that first came to be in 2001 through the launch of Xbox's first "Halo" videogame. After years of human civil war and growing political unrest, mankind's very future is threatened when our outermost colonies intrude upon the sacred worlds of an alien threat known as the Covenant. As this fanatical powerful alliance destroys world after human world, only one soldier slows their advance – a cybernetically enhanced "Spartan" supersoldier, the Master Chief (Pablo Schreiber). As the mystery of the Covenant's true ambitions are revealed, the Master Chief must find a way to save humanity from the alien threat while also coming to terms with the secrets of his own enigmatic past.On DVD, Blu-ray, 4K Ultra HD/Blu-ray Combo, from Showtime/Paramount.
Check out other new DVD/Blu-ray releases, streaming films, and information and reviews at OnVideo.
Comments