By Harley Lond - 09/05/22 at 11:20 PM CT
FROM THE BIG SCREEN

"Minions: The Rise of Gru" (2022) Long before he becomes the master of evil, Gru is just a 12-year-old boy in 1970s suburbia, plotting to take over the world from his basement. When the infamous supervillain group, the Vicious 6, ousts their leader, Gru attempts to join their ranks but soon finds himself the mortal enemy of the apex of evil. With Gru on the run, the Minions attempt to learn martial arts to help save him,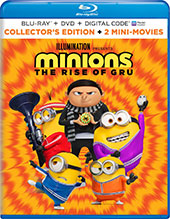 and Gru discovers that even bad guys need a little help from their friends. Vitals: Directors: Brad Ableson, Jonathan del Val. Stars: Voices of Steve Carell, Pierre Coffin, Taraji P. Henson, Lucy Lawless, Dolph Lundgren, Danny Trejo, Jean-Claude Van Damme, Julie Andrews, Alan Arkin. 2022, CC, MPAA rating: PG, 127 min., Animated Family, North American box office gross: $351.337 million, worldwide $836.909 million, Universal. Formats for Minions: The Rise of Gru: DVD, Blu-ray/DVD Combo + Digital Code, 4K Ultra HD/Blu-ray Combo + Digital Code, VOD, Digital. Extras: Two mini-movies: "Post Modern Minions" and "Minions and Monsters"; extended scene; outtakes; character profiles; "Gru-Vy Animation" featurette; "The '70s - Fashion, Food & Funk" featurette; "Minion Martial Arts"; "Lair Flair: Make Your Own Minion Hideout"; "Super Style Shop." Read more here.


THIS WEEK'S BEST BETS:
In the enthralling
"Blow Out"
(1981), brilliantly crafted by Brian De Palma, John Travolta gives one of his greatest performances, as a film sound-effects man who believes he has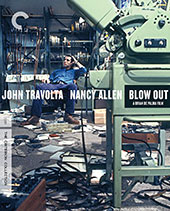 accidentally recorded a political assassination. To uncover the truth, he enlists the help of a possible eyewitness to the crime (Nancy Allen), who may be in danger herself. With its jolting stylistic flourishes, intricate plot, profoundly felt characterizations, and gritty evocation of early-1980s Philadelphia, "Blow Out" is an American paranoia thriller unlike any other, as well as a devilish reflection on moviemaking. In a Director-Approved 4K UHD + Blu-ray special edition; with new 4K digital restoration, with 2.0 surround DTS-HD Master Audio soundtrack. One 4K UHD disc of the film is presented in Dolby Vision HDR and one Blu-ray with the film and special features. From The Criterion Collection.
Read more here.
BUZZIN' THE 'B's:
In
"Something in the Woods"
(2022), starring Nicole Cinaglia, Robbie Dias and Vienna Hayden, a reporter, Nora Thompson, has become an overnight celebrity by exposing Senator Morrison's illegal activities. As a result of the harmful exposé, the senator commits suicide, and his daughter kidnaps Nora and takes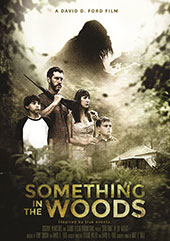 her deep into the woods to avenge her father. While Nora battles for her life, they encounter something evil hunting them. Now, the two women must work together to stay alive. From Uncork'd Entertainment.
Read more here
...
"Mrs Harris Goes to Paris"
(2022), starring Lesley Manville, Isabelle Huppert, Lambert Wilson, Alba Baptista, Lucas Bravo, Ellen Thomas, Rose Williams and Jason Isaacs, is the story of a widowed cleaning lady in 1950s London who falls madly in love with a couture Dior dress and decides that she must have one of her own. After she works, starves, and gambles to raise the funds to pursue her dream, she embarks on an adventure to Paris which will change not only her own outlook, but the very future of the House of Dior. On DVD, Blu-ray + Digital Code, from Universal.
Read more here
...
"Paradise Highway"
(2022), starring Juliette Binoche, Frank Grillo, Hala Finley, Cameron Monaghan, Veronica Ferres, Christiane Seidel, Morgan Freeman and Hala Finley, is a riveting thriller set in the trucking industry and its seamy underbelly of human trafficking. To save the life of her brother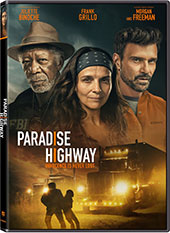 (Grillo), Sally (Binoche), a truck driver, reluctantly agrees to smuggle illicit cargo: a girl named Leila (Finley). As Sally and Leila begin a danger-fraught journey across state lines, a dogged FBI operative (Freeman) sets out on their trail, determined to do whatever it takes to terminate a human-trafficking operation - and bring Sally and Leila to safety. On DVD, Blu-ray, from Lionsgate ... In
"Spitfire Over Berlin"
(2021), starring Kris Saddler, Tom Gordon, David Dobson, it's August 1944 and with the American Eighth Air Force poised to strike over Nazi Germany, British Intelligence learns that they could be flying into a deadly trap. With only hours to spare, Flight Lieutenant Edward Barnes must fly a life and death mission over Berlin in his unarmed Spitfire to obtain photographic evidence and save the lives of 1200 Airmen.
Formats:
DVD, Blu-ray, VOD, Digital. Extras: Audio commentary with director Callum Burn, producer Andrew Burn, and director of photography Sam Parsons; theatrical trailer. From Shout! Studios.
Read more here.
FROM TV TO DISC:
"NCIS: Hawai'i: Season One" (2021-22) is a six-disc set with all 22 episodes. The successful television series continues on the seductive shores of the Aloha State, where the first female Special Agent in Charge of NCIS Pearl Harbor, Jane Tennant, has thrived and risen through the ranks by equal parts confidence and strategy in a system that has pushed back on her every step of the way.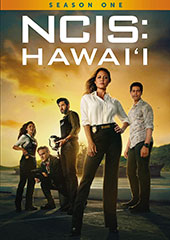 ,Together with her unwavering team of specialists, they balance duty to family and country while investigating high-stakes crimes involving military personnel, national security and the mysteries of the sun-drenched island paradise itself. From CBS/Paramount ... "Young Sheldon: The Complete Fifth Season" (2021-22) is a two-disc set with all 22 episodes. For young Sheldon Cooper (seen as an adult in "The Big Bang Theory"), being a once-in-a-generation mind capable of advanced mathematics and science isn't always helpful in East Texas. And while the vulnerable, gifted and somewhat naïve Sheldon deals with the world, his very normal family must find a way to deal with him. His father struggles as a high school football coach and father to a boy he doesn't understand. Sheldon's mother fiercely protects her son who just doesn't fit in. Sheldon's older brother does the best he can in high school, but his younger brother is already in college. Sheldon's twin sister remains the one person who can reliably tell Sheldon the truth. And his beloved Meemaw, his Texas grandmother who supports him and his gifts. On DVD, Blu-ray, from Warner.

Check out other new DVD/Blu-ray releases, streaming films, and information and reviews at OnVideo.
Comments