By Harley Lond - 04/26/22 at 12:09 AM CT
FROM THE BIG SCREEN

Moonfall (2022) A mysterious force knocks the Moon from its orbit around Earth and sends it hurtling on a collision course with life as we know it. With mere weeks before impact and the world on the brink of annihilation, NASA executive and former astronaut Jo Fowler (Halle Berry) is convinced she has the key to saving us all - but only one astronaut from her past, Brian Harper (Patrick Wilson) and a conspiracy theorist K.C. Houseman (John Bradley) believes her.
These unlikely heroes will mount an impossible last-ditch mission into space, leaving behind everyone they love, only to find out that our Moon is not what we think it is. Vitals: Director: Roland Emmerich. Stars: Halle Berry, Patrick Wilson, John Bradley, Michael Peña, Charlie Plummer, Kelly Yu, Eme Ikwuakor, Carolina Bartczak, Donald Sutherland. 2021, CC, MPAA rating: PG-13, 124 min., Science Fiction, North American box office gross: $19.060 million, worldwide $41.248 million, Lionsgate. Formats : DVD, Blu-ray/DVD Combo + Digital Code, 4K Ultra HD/Blu-ray Combo + Digital Code, VOD, Digital. Extras: Audio commentary by writer-producer-director Roland Emmerich and writer-producer-composer Harald Kloser; "Against Impossible Odds: Making Moonfall"; "Exploring the Moon: Past, Present, and Future"; "KC Houseman Speaks the Truth!" unearths recent viral videos from Megastructurist KC Houseman; "Sounds of the Moon" featurette. Read more here.


THIS WEEK'S BEST BETS
"Eyimofe (This is My Desire)"
(2020 - Nigeria) is a revelatory, award-winning debut feature from co-directors (and twin brothers) Arie and Chuko Esiri and is a heartrending and hopeful portrait of everyday human endurance in Lagos, Nigeria. Shot on richly textured 16 mm film and infused with the spirit of neorealism, "Eyimofe (This is My Desire)" traces the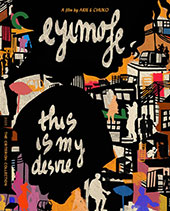 journeys of two distantly connected strangers - Mofe (Jude Akuwudike), an electrician dealing with the fallout of a family tragedy, and Rosa (Temi Ami-Williams), a hairdresser supporting her pregnant teenage sister - as they each pursue their dream of starting a new life in Europe while bumping up against the harsh economic realities of a world in which every interaction is a transaction. From these intimate stories emerges a vivid snapshot of life in contemporary Lagos, whose social fabric is captured in all its vibrancy and complexity. On DVD, Blu-ray, with new 2K digital transfer, approved by directors Arie and Chuko Esiri, with 5.1 surround DTS-HD Master Audio soundtrack on the Blu-ray. From The Criterion Collection.
Read more here
... Following the commercial and critical success of "The Fisher King," Terry Gilliam's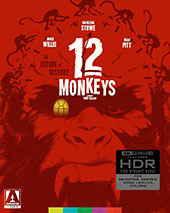 next feature would turn to science fiction and a screenplay by Janet and David Peoples ("Blade Runner," "Unforgiven") inspired by Chris Marker's classic short film "La Jetée." In
"12 Monkeys"
(1995) a deadly virus is unleashed by a group calling themselves the Army of the Twelve Monkeys, destroying much of the world's population and forcing survivors underground. In 2035, prisoner James Cole (Bruce Willis) is chosen to go back in time and help scientists in their search for a cure. Featuring an Oscar-nominated turn by Brad Pitt as mental patient Jeffrey Goines, "Twelve Monkeys" would become Gilliam's most successful film and is now widely regarded as a sci-fi classic. Brand new restoration from a 4K scan of the original negative by Arrow Films, approved by director Terry Gilliam. In a 4K (2160p) UHD Blu-ray presentation in Dolby Vision (HDR10 compatible) with lossless DTS-HD Master Audio 5.1 and 2.0 stereo soundtracks. From Arrow Video/MVD Entertainment.
Read more here
... For five decades Claude Chabrol navigated the unpredictable waters of cinema, leaving in his wake 55 feature films that remain among the most quietly devastating genre movies ever made.
"Twisting the Knife: Four Films by Claude Chabrol"
brings together: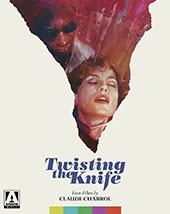 "The Swindle" sees Chabrol at perhaps his most playful as a pair of scam artists, Isabelle Huppert and Michel Serrault, get in over their heads. But who is scamming who and who do you trust in a life built on so many lies? The murder of a 10-year-old girl sparks rumors and gossip in "The Color of Lies," as suspicion falls on René (Jacques Gamblin), the dour once famous painter, now art teacher, who was the last person to see her alive. Enigmatic, perverse, seductive, Isabelle Huppert encapsulates everything that makes "Nightcap" a film John Waters calls "cinematic perfection" in this tale of suppressed family secrets. Finally, in "The Flower of Evil," incest, old money and intergenerational guilt come under the scalpel as an outwardly perfect bourgeois family begins to unravel when the wife involves herself in politics. Though influenced by Fritz Lang, Alfred Hitchcock and Jean Renoir, Chabrol's voice was entirely and assuredly his own, influencing in turn filmmakers like Bong Joon-ho, James Gray and Dominik Moll. His amused, unblinkered view of life and refusal to judge his characters makes his films timelessly relevant and accessible to all. This is Arrow Video's second collection of films by Chabrol, with a wealth of new and archival extras. On Blu-ray from Arrow Video/MVD Entertainment.
Read more here.
...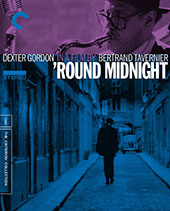 "'Round Midnight"
(1986 - US, France) is a love letter from director Bertrand Tavernier to the heyday of bebop and to the Black American musicians who found refuge in the smoky underground jazz clubs of 1950s Paris. In a miraculous, sui generis fusion of performer and character that was nominated for an Oscar, legendary saxophonist Dexter Gordon plays Dale Turner, a brilliant New York jazz veteran whose music aches with beauty but whose personal life is ravaged by addiction. Searching for a fresh start in Paris, Turner strikes up an unlikely friendship with a struggling single father and ardent jazz fan (François Cluzet) who finds his life transformed as he attempts to help the self-destructive musician. Herbie Hancock's evocative, Oscar-winning score sets the mood for this definitive jazz film, a bittersweet opus that glows with lived-in, soulful authenticity. In a Blu-ray debut and reissued on DVD, with new 4K digital restoration, with uncompressed stereo soundtrack on the Blu-ray. Alternate 5.1 surround soundtrack, supervised by composer Herbie Hancock and presented in DTS-HD Master Audio. From The Criterion Collection.
Read more here.
BUZZIN' THE 'B'S:
"Aquaman: King of Atlantis"
(2022) is a new full-length animated movie. The adventure begins with Aquaman starting his first day on the job as king of Atlantis – and he's got a lot of catching up to do. Luckily, he has his two royal advisors to back him up: the scholar Vulko, and Mera, the water controlling warrior princess. Between dealing with unscrupulous surface dwellers, elder evils from beyond time and his own half-brother who wants to overthrow him, Aquaman must rise to the challenge and prove to his subjects – and to himself – that he's the true heir to the throne, and holder of the trident. From Warner ...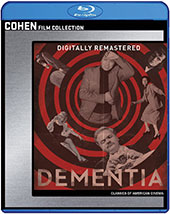 An entirely unique and utterly bizarre film, John J. Parker's
"Dementia"
(1953) is a 1950s style foray into the mind of psycho-sexual madness. Set entirely in a nocturnal twilight zone that blends dream imagery with the cinematic stylings of film noir, the film follows the tormented existence of a young woman haunted by the horrors of her youth, which transformed her into a stiletto-wielding, man-hating beatnik. Accompanied by George Antheil's sci-fi score, the camera follows a "Gamin" (Adrienne Barrett) on a surreal sleepwalk through B-movie hell, populated by prostitutes, pimps, and would-be molesters – all photographed by William Thompson ("Plan 9 From Outer Space"). Two years after its original release, a narration track of foreboding psychobabble (diabolically spoken by Ed McMahon) was added and the title was changed to the more sensational "Daughter of Horror." This edition presents the original cut of "Dementia", digitally remastered from the 35MM negative, as well as the complete "Daughter of Horror" (from a 35MM print), and the original theatrical trailer. On Blu-ray from Cohen Film Collection ... In
"Expired"
(2022), starring Ryan Kwanten, Jillian Nguyen and Hugo Weaving, assassin Jack (Kwanten) crosses paths with a nightclub singer, April (Nguyen) in a futuristic Hong Kong. As Jack becomes increasingly drawn to April his body mysteriously deteriorates, and he tracks down reclusive life extension scientist Doctor Bergman (Weaving) in a search for answers. Doctor Bergman unearths Jack's long buried secret and is forced to confront his own murky past. As the net that connects them tightens, Jack and April struggle for love as they face their past in a loveless world that is on the cusp of immortality and extinction. On DVD, Blu-ray, from Lionsgate.
FOREIGN FILMS:
In
"A Taste of Hunger"
(2021 - Denmark), starring Nikolaj Coster-Waldau and Katrine Greis-Rosenthal, the restaurant Malus is the bright new star in the culinary sky in Denmark. Here, the power couple Maggie (Greis-Rosenthal) and Carsten (Coster-Waldau) rule as the latest invincible duo on the Danish gourmet scene. Maggie is an anthropologist who has created the extraordinary setting of the restaurant, and Carsten is a celebrity chef who works his magic in the kitchen. They have it all except the prestigious Michelin star they so desperately covet. The couple is willing to sacrifice everything to achieve their dream.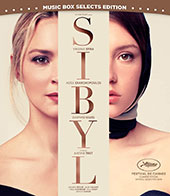 In their tireless chase after the ultimate recognition, they forget that the best meals in life are shared together. From Magnolia Home Entertainment ...
"Sibyl"
(2019 - France/Belgium), making its Blu-ray debut this week, is a sly, sultry character study that follows a psychotherapist who decides to quit her practice and return to writing instead. As Sibyl starts dropping patients, she begins to struggle with excess time and a lack of inspiration - until she gets a call from Margot, a young actress wrapped up in a dramatic affair with her co-star, Igor, who happens to be married to the film's director. Becoming further enmeshed in Margot's life, Sibyl starts to blur past and present, fiction with reality, and the personal with the professional as she begins to use Margot's life as source material for her novel. Stars Virginie Efira, Adèle Exarchopoulos, Gaspard Ulliel and Sandra Hüller. From Music Box Films.
SPECIAL INTEREST:
"Writing with Fire"
(2021 - India): Reporting from a social environment built to divide based on caste and gender, a fearless group of journalists maintain India's only women-led news outlet. The women of Khabar Lahariya ("Waves of News"), all from the Dalit ("untouchables") caste, prepare to transition the newspaper from print to digital even though many of their reporters don't have access to electricity at home. Armed with smartphones, Chief Reporter Meera and her team of investigative journalists confront some of India's biggest issues - exposing the relentless discrimination against women and amplifying the voices of those who suffer from the oppressive caste system. From Music Box Films.
FROM TV TO DISC:
"The Great Season Two "
(2021) is a four-disc set with all 10 episodes of the satirical comedy - and occasionally true story - about the rise of Catherine the Great (Elle Fanning) from outsider to the longest reigning female ruler in Russia's history. With Fanning and Nicholas Hoult reprising their Golden Globe-nominated roles, Season Two finds Catherine finally taking the Russian throne for her own. But if she thought coup-ing her husband was difficult, it's nothing compared to the realities of liberating a country that doesn't want to be. She'll battle her court, her team, even her own mother (played by two-time Emmy Award-winning actress Gillian Anderson) in a bid to bring the Enlightenment to Russia. From Paramount.
Check out other new DVD/Blu-ray releases, streaming films, and information and reviews at OnVideo.
Comments