By Harley Lond - 04/12/22 at 12:27 AM CT
FROM THE BIG SCREEN

Spider-Man: No Way Home (2021) For the first time in the cinematic history of Spider-Man, our friendly neighborhood hero's identity is revealed, bringing his Super Hero responsibilities into conflict with his normal life and putting those he cares about most at risk. When he enlists Doctor Strange's help to restore his secret, the spell tears a hole in their world, releasing the most powerful villains who've ever fought a Spider-Man in any universe. Now, Peter will have to overcome his greatest challenge yet, which will not only forever alter his own future but the future of the Multiverse.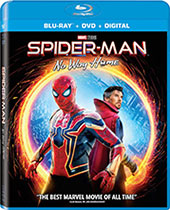 Vitals: Director: Jon Watts. Stars: Tom Holland, Zendaya, Benedict Cumberbatch, Jacob Batalon, Jon Favreau, Marisa Tomei. 2021, CC, MPAA rating: PG-13, 148 min., Action Adventure, North American box office gross: $774.136, million, worldwide $1,834 billion, Sony. Formats for Spider-Man: No Way Home": DVD, Blu-ray/DVD Combo, 4K Ultra HD/Blu-ray Combo, VOD, Digital. Extras: "A Spectacular Spider-Journey With Tom Holland" featurette, "Graduation Day" featurette. Blu-ray adds: Bloopers and gag reel; alternate reality Easter Eggs; five additional behind-the-scenes featurettes: "Action Choreography Across the Multiverse," "A Multiverse of Miscreants," "Enter Strange," "Realities Collide, Spiders Unite" and "Weaving Jon Watt's Web"; two special panels: "The Sinister Summit - Villains Panel" and "A Meeting of the Spiders - Heroes Panel"; three stories from The Daily Bugle: "Spider-Menace Strikes Again,' "Spider Sycophant" and "Web of Lies"; two stunt scenes previsualization: "Apartment Fight" and "Shield Fight." Read more here

C'mon C'mon" (2021) When his sister asks him to look after her son, a radio journalist (Joaquin Phoenix)embarks on a cross-country trip with his energetic nephew (Woody Norman) to show him life away from Los Angeles. They forge a tenuous but transformational relationship in this delicate and deeply moving story about the connections between adults and children and the past and the future, from writer-director Mike Mills.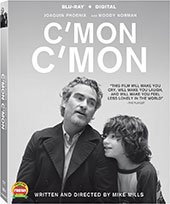 Vitals: Director: Mike Mills. Stars: Joaquin Phoenix, Gaby Hoffmann, Scoot McNairy, Jaboukie Young-White, Woody Norman. 2021, CC, MPAA rating: R, 109 min., Drama, North American box office gross: $1.863 million, worldwide $2.737 million, Lionsgate. Formats: DVD, Blu-ray + Digital Code, VOD, Digital. Extras: Commentary with writer-director Mike Mills, "Making C'mon C'mon featurette." Read more here

Jackass Forever" (2022) Older and grayer but not wiser, Johnny Knoxville and the gang are back for another outrageous round of stunts and bad ideas. With new friends and loads of celebrity guest stars, the crew take pranks to ridiculous lengths where absolutely no one is safe and all senses are frayed. From exploding port-a-potties to hockey pucks to the nuts and performing magic for an unamused bull, jackass forever is a hilarious roller coaster ride like you've never experienced before.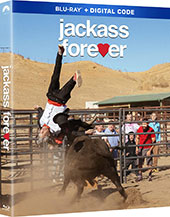 Vitals: Director: Jeff Tremaine. Stars: Johnny Knoxville, Steve-O, Chris Pontius. 2021, CC, MPAA rating: R, 96 min., Comedy, North American box office gross: $57.669 million, worldwide $79.169 million, Paramount. Formats: DVD, Blu-ray, VOD, Digital. Extras: Forty minutes of outrageous and hilarious stunt footage not seen in theaters. Read more here


THIS WEEK'S BEST BETS
In
"Mary Shelly's Frankenstein""
(1994), Kenneth Branagh leads an all-star cast including Robert De Niro, Helena Bonham Carter, Tom Hulce, Ian Holm, John Cleese and Aidan Quinn in his definitive cinematic version of Mary Shelley's classic tale of gothic terror. At the turn of the 19th century, visionary scientist Victor Frankenstein (Kenneth Branagh) embarks on an obsessive quest to conquer the mysteries of human mortality. But his hubristic bid to create life out of death goes hideously wrong, and succeeds only in begetting a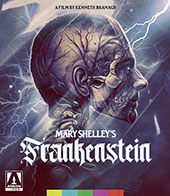 deformed monster (Robert De Niro). Horrified by what he has wrought, the scientist attempts to destroy his creation, but fails. Rejected by his creator and shunned by the world of man, the tormented creature swears vengeance against Frankenstein and his family. As the monster begins to enact his murderous revenge, Victor must face a terrible reckoning with the tragic consequences of attempting to play God. Mary Shelley's seminal novel is one of the most adapted books of all time, and this retelling faithfully goes back to the original source, lushly transforming the story's twin themes of love and death into a darkly operatic gothic romance. Unlike many versions of Shelley's novel, Branagh's adaptation understands that Frankenstein's misbegotten creation is as pitiable as he is monstrous, and never loses sight of the human tragedy lying at the core of its horrific tale. Filled with sweeping, atmospheric visuals and powerfully emotional performances from an award-winning ensemble of acting talent, "Mary Shelley's Frankenstein" stands as a landmark interpretation of this enduring masterpiece. New 4K restoration from the original camera negatives by Sony Pictures Entertainment; 4K (2160p) UHD Blu-ray presentation in Dolby Vision (HDR10 compatible); original uncompressed stereo audio and DTS-HD MA 5.1 surround audio. From Arrow Video/MVD Entertainment.
Read more here.
...
"RoboCop""
(1987) RoboCop, from Orion Pictures, marked director Paul Verhoeven's Hollywood debut and instantly became an enduring sci-fi/action classic when it landed in theaters in the summer of 1987. Verhoeven's peerlessly exciting and kinetic visuals were matched by a sharp script, iconic cast and exceptional special effects by Rob Bottin ("The Thing") and Phil Tippett ("The Empire Strikes Back"). The film takes place in Detroit in the not-too-distant future. Heroic cop Alex Murphy (Peter Weller) is gunned down in the line of duty, only to be resurrected as RoboCop - a cybernetic mix of spare human parts and Motor City steel, and the latest defense against crime designed by the all-powerful OCP Corporation. As RoboCop's memories of his former life as Murphy resurface, only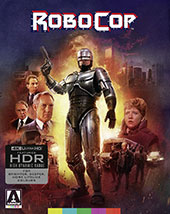 his ex-partner (Nancy Allen) stands beside him to fight against the vicious thugs responsible for his death, as well as a nefarious top-level OCP executive orchestrating the chaos from above. The future of law enforcement is back in a definitive 4K UHD Blu-ray presentation packed with hours of bonus features and exclusive collectable packaging. 4K restoration of the film from the original camera negative by MGM, transferred in 2013 and approved by director Paul Verhoeven. Director's Cut and Theatrical Cut of the film on two 4K (2160p) UHD Blu-ray discs with Dolby Vision (HDR10 compatible). Original lossless stereo and four-channel mixes plus DTS-HD MA 5.1 and Dolby Atmos surround sound options on both cuts. In a Steelbook Limited Edition from Arrow Video/MVD Entertainment.
Read more here.
... A hallucinatory biopic that breaks all cinematic conventions,
"Walker""
(1987), from British director Alex Cox, tells the story of 19th-century American adventurer William Walker (Ed Harris), who abandoned a series of careers in law, politics, journalism, and medicine to become a soldier of fortune and, for many months, the dictator of Nicaragua. Made with mad abandon and political acuity - and the support of the Sandinista army and government during the contra war - the film uses this true tale as a satirical attack on American ultrapatriotism and a freewheeling condemnation of "manifest destiny." Featuring a powerful score by Joe Strummer and a performance of intense, repressed rage by Harris, "Walker" remains one of Cox's most daring works. In a Blu-ray debut and on DVD, with restored high-definition digital transfer, approved by director Alex Cox, with uncompressed monaural soundtrack on the Blu-ray. From The Criterion Collection.
Read more here
BUZZIN' THE 'B'S:
In
"Warhunt""
(2021), starring Mickey Rourke, Jackson Rathbone, Robert Knepper, Fredrik Wagner and Polina Pushkareva, a military commander (Rourke) dispatches an elite team of American soldiers on a deadly rescue mission after a WWII plane crashes. Trapped behind enemy lines in Germany's Black Forest, the men are confronted by a coven of witches. On DVD, Blu-ray, from Lionsgate.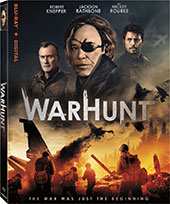 Read more here
... In
"Last Looks""
(2021), starring Charlie Hunnam, Morena Baccarin, Mel Gibson, Rupert Friend and Lucy Fry, Charlie Waldo (Hunnam) is an ex-LAPD superstar who left the force and now lives a life of simplicity and solitude deep in the woods. Alistair Pinch (Gibson) is an eccentric actor who spends his days drunk on the set of his TV show. When Pinch's wife is found dead, he is the prime suspect and Waldo is convinced to come out of retirement to investigate what happened. On DVD, Blu-ray, from RLJE Films ...
"Reed's Point""
(2021), starring Sasha Anne, Julia Kelly and Evan Adams, is a psychological-thriller/creature-feature about Sarah and Alex, two survivors of an RV crash near the New Jersey Pine Barrens. On the anniversary of the accident, Sarah and Alex drive to Reed's Point to investigate the crash site. Things go downhill quickly as they find themselves stuck in the woods unsure of who they can trust and questioning if monsters really do exist. From Uncork'd Entertainment.
Read more here.
FOREIGN FILMS: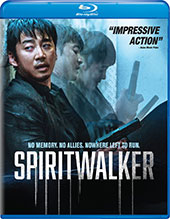 After waking up from a car crash unable to remember anything about his life, a man begins regaining consciousness in a new body every 12 hours in
"Spiritwalker""
(2021 - South Korea), starring Yoon Kye-Sang, Park Yong-Woo, Lim Ji-Yeon and Park Ji-Hwan. Now, he must piece together his identity, all while evading attacks from pursuing agents and dangerous criminals alike. But with no memory - and no allies - his time is running out. On DVD, Blu-ray, from Well Go USA ... In Czechoslovakia, 1980, the totalitarian Communist regime demands allegiance from all its subjects, including the clergy.
"Servants""
(2020 - Czech) follows Michal and Juraj, two conflicted novitiates whose seminary is under increasing pressure by the Party to mold its students into satisfactory citizens. With the school on the brink of dissolution, and its head priest a target for blackmail, Michal and Juraj have to choose between collaborating with the government as informants, or becoming targets of the secret police. Shot in striking, atmospheric black-and-white, "Servants" is both a brooding morality tale and a taut political thriller. From Film Movement.
Check out other new DVD/Blu-ray releases, streaming films, and information and reviews at OnVideo.
Comments