By Harley Lond - 01/24/22 at 11:17 PM CT
THIS WEEK'S BEST BETS:
"The Lover (L'amant)" (1993 - France), directed by Jean-Jacques Annaud and starring Jane March and Tony Leung Ka Fai, is the The Academy Award-nominated and César Award-winning film based on the novel from international best-selling author Marguerite Duras. In colonial French Indochina in the late 1920s, a fifteen-year-old French girl (March) returns to Saigon,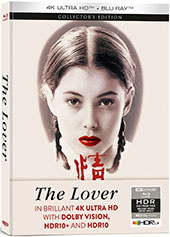 where she attends a girls' boarding school. On her way there, she meets a handsome, wealthy and much older Chinese man (Leung Ka Fai) from a respectable family. Going against the conventions of their respective societies, the pair begin a passionate affair. Their strong attraction toward one another is only intensified by the illicit nature of their rendezvous. The Lover is on DVD, 4K Ultra HD/Blu-ray Combo from Capelight Pictures ... In Alfred Hitchcock's world, theaters are where danger stalks the wings, characters are not what they seem, and that "final curtain" can drop any second. The droll "Stage Fright" (1950) springs from that entertaining tradition. Jane Wyman plays drama student Eve Gill, who tries to clear a friend (Richard Todd) being framed for murder by becoming the maid of flamboyant stage star Charlotte Inwood (Marlene Dietrich). Filming in his native England, Hitchcock merrily juggles elements of humor and whodunit and puts a game ensemble (Alistair Sim, Sybil Thorndike, Joyce Grenfell, Kay Walsh and daughter Patricia Hitchcock) through its paces. In a Blu-ray debut from Warner Archive ... Nightmare and trauma. Fear and repression. Guilt and atonement. Weaving together the emotional violence of horror with the cryptic motifs of German folk and fairy tales, "Sleep" (2020 - Germany) is the debut feature from a major new talent in world cinema. Tormented by recurring nightmares of a place she has never been, Marlene cannot help but investigate when she discovers the place is real. Once there, she suffers a breakdown and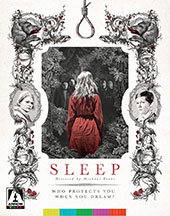 is admitted to a psychiatric ward. Determined to discover what happened to her, Mona, her daughter, follows and finds herself in Stainbach, an idyllic village with a dark history. What is it that so tormented her mother, and the people of Stainbach? What is the source of the nightmares she suffers? And who is the mysterious Trude that lives in the forest? Richly conceived and confidently told, director Michael Venus draws influence from Mario Bava, David Lynch, Franz Kafka and the Brothers Grimm, but his voice is uniquely his own. On Blu-ray from Arrow Video/MVD Entertainment). Read more here ... "Dancing with Crime and The Green Cockatoo" is a double-feature with two early Brit Noirs, digitized in association with the British Film Institute. In "Dancing With Crime" (1947), Richard Attenborough and Sheila Sim, married in real life at the time, put themselves in harms way when they go undercover to investigate the murder of a friend with ties to black market racketeers. Watch for Dirk Bogarde and Diana Dors in uncredited roles. A true rarity, William Cameron Menzies' "The Green Cockatoo" was completed in 1937, but not released until 1940. It is often cited as one of the earliest of the British Noirs and helped set the stage for the classical period of Brit Noir which flourished in the years following WWII. It's a taut little thriller based on a Graham Greene story, directed by the American William Cameron Menzies, and featuring a stellar cast and crew, including John Mills, Rene Ray, Charles Oliver, Bruce Seton and Robert Newton. After witnessing the murder of a racketeer, a young woman is pursued by both gangsters and the police. She is aided by a Soho entertainer, who is the brother of the victim. On Blu-ray from Cohen Film Collection ...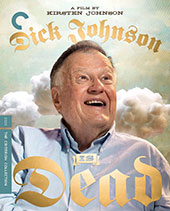 The playful, profound and immensely moving docu-fantasia "Dick Johnson is Dead" (2020) by Kirsten Johnson ("Cameraperson") is a valentine to the director's beloved father, Dick Johnson, made as she has begun to face the reality of losing him to dementia. Using the language of cinema both to defy death and to confront it head-on, Johnson mischievously envisions an array of ways in which the man she loves most in the world might die, staging a series of alternately darkly comic and colorfully imaginative tableaux interwoven with raw vérité footage capturing the pair's tender but increasingly fragile bond. Tackling taboo questions of aging, mortality and grief with subversive humor and surprising grace, "Dick Johnson is Dead" is ultimately a triumphant celebration of life, and of the gentle, funny, unforgettable man at its center. Long live Dick Johnson. On DVD, Blu-ray, from The Criterion Collection ... "The Unknown Man of Shandigor" (1967 - Switzerland) is Swiss director Jean-Louis Roy's long-unseen 60s Cold War super-spy thriller, restored in 4K from the camera negative by the Cinémathèque suisse. This visually stunning film was originally screened at the Cannes Film Festival in 1967. A marvelous and surreal hall of mirrors, part-"Dr. Strangelove," part-"Alphaville," with sly nods to British TV shows like "the Avengers" and "Doctor Who." The film stars a who's who of great 60s European character actors starting with the unforgettable Daniel Emilfork ("The City Of Lost Children," "The Devil's Nightmare") as crazed scientist Herbert Von Krantz, who's invented a device to "sterilize" all nuclear weapons. A mad herd of rival spies are desperate to get their hands on the device, including legendary French singer Serge Gainsbourg as the leader of a sect of bald, turtleneck-wearing assassins, and Jess Franco veteran Howard Vernon ("The Awful Dr. Orlof"). Gainsbourg's deranged jazz-lounge song, "Bye Bye Mr. Spy" - performed by him on funeral parlor organ, no less - is arguably the film's high point. "An accomplished spy is at the same time psychologist, artist, funambulist, conjurer," to quote one of the film's characters, and the same could be said of Roy's exotic camera obscura of B&W Cold War paranoia. On Blu-ray from Deaf Crocodile Films.


BUZZIN' THE 'B'S:
In
"Two Deaths of Henry Baker"
(2021), starring Gil Bellows, Tony Curran, Sebastian Pigott, Jess Salgueiro and Joe Dinicol, a decades-long family feud pits two brothers and their sons in a bloody battle for possession of a fortune in gold. On the outskirts of a dusty, rural town, a young boy watches as his father buries a cache of stolen coins. The secret stash is entrusted alone to his favored son, Henry. Thirty years later, a corrupt cop and his crew descend on the now-adult son (Bellows) to snatch the treasure. A bloody ambush ensues, leaving several dead or maimed and Henry being sent away to prison. His only son, Hank (Pigott), is now in possession of the riches. After a long stint behind bars, Henry is released and plans to reunite with Hank and the fortune he left behind. Henry's brother, Sam and his own son have resurfaced to exact revenge and claim the riches as their own. From Saban Films.
Read more here
FOREIGN FILMS:
In
"Arrebato (Rapture)"
(1979 - Spain), starring Eusebio Poncela, Cecilia Roth and Will More, horror movie director José is adrift in a sea of doubt and drugs. As his belated second feature nears completion, his reclusive bubble is popped by two events: a sudden reappearance from an ex-girlfriend and a package from past acquaintance Pedro: a reel of
Super-8 film, an audiotape and a door key. From there, the boundaries of time, space and sexuality are erased as José is once more sucked into Pedro's vampiric orbit. Together, they attempt the ultimate hallucinogenic catharsis through a moebius strip of filming and being filmed. On DVD, Blu-ray, from Altered Innocence ... In
"Moffie"
(2021 - South Africa), starring Kai Luke Brummer, Barbara-Marié Immelman and Michael Kirch, the year is 1981 and South Africa's white minority government is embroiled in a conflict on the southern Angolan border. Like all white boys over the age of 16, Nicholas Van der Swart must complete two years of compulsory military service to defend the apartheid regime. The threat of communism and "die swart gevaar" (the so-called black danger) is at an all-time high. But that's not the only danger Nicholas faces. He must survive the brutality of the army - something that becomes even more difficult when a connection is sparked between him and a fellow recruit. On DVD, Blu-ray, from Universal.
FOR THE FAMILY:
In the family animated adventure
"Birds Like Us"
(2021), featuring the voices of Jeremy Irons, Alicia Vikander and Jim Broadbent. Huppu the bird (Vikander), trapped in a village ruled by the meddling Kondor (Irons), dreams of having the freedom to hatch her own egg. Suddenly, she, Kondor, and their friends are blasted to a distant land, and they must trust in a wise, eccentric bat to guide them on a strange, dazzling odyssey back to the tree they call home. From Lionsgate.
Read more here
SPECIAL INTEREST:
The documentary
"The Great Postal Heist"
(2021) follows director Jay Galione's father, a 30-year US Post Office clerk, who was harassed, threatened and fired for standing up for his colleagues.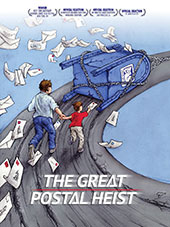 A moving indictment of the toxic culture and push to downsize, the documentary chronicles the journey of postal workers, experts and advocates who experienced firsthand the abuses in the oldest federal agency in America. The current atmosphere was a result of systematic dismantling and privatization of the trillion-dollar mail industry by lobbyists and politicians who seek to make profits at the expense of the mental health, living wages, and working conditions of their employees. It is broadly known that current Postmaster General Louis DeJoy has significant conflicts of interest because of his and his family's investments in a number of companies closely tied to the U.S. Postal Service. In March 2021, DeJoy unveiled the largest rollback of consumer mail services in a generation, part of a 10-year plan that includes longer first-class delivery windows, reduced post office hours and higher postage prices. From Cinema Libre Studio.
Read more here
FROM TV TO DISC:
"Kamen Rider Zero-One: The Complete Series"
is an eight-disc set with all 46 episodes, first time available in Morth America. Includes the movie "REALxTIME," which completes the narrative of the "Kame Rider Zero-One" series, and five special episodes. Originally premiering in 1971, the long-running Japanese television series follows the exploits of a masked, motorcycle-riding hero who fights the forces of evil. The number one kids' program in Japan for almost 50 years, "Kamen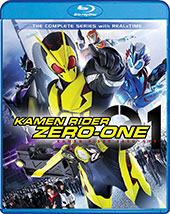 Rider" has proved to be beloved through multiple series iterations and generations of fans and Riders. Humagears (humanoid robots), created by the leading company for AI, Hiden Intelligence, serve humanity's every convenience. But a cyber-terrorist organization begins hacking the Humagears in a conspiracy that turns them into monsters. Aruto Hiden has taken over at Hiden Intelligence, and along with the CEO's post, he also takes over the responsibility for Kamen Rider Zero-One by using his company's technology. Aruto tries to keep the peaceful world between humans and Humagears with his Humagear secretary, while A.I.M.S., a military squad, pursues the terrorists. On Blu-ray from Shout! Factory ...
"Robin Roberts Presents: Mahalia"
(2021 - TV), starring Danielle Brooks, Wolsey Brooks, Max Boateng and Marci T. House, is a bio-drama about Mahalia Jackson, who, with a career spanning over 40 years, rose to international stardom, rightfully earning the title of "Queen of Gospel." Her vast discography and powerhouse performances made her the voice of the civil rights movement, inspiring iconic activists and singers for generations - from Martin Luther King, Jr. to Aretha Franklin - and she hoped that her music and singing for racially integrated audiences would encourage racial equality and real change. From Lionsgate.
Check out other new DVD/Blu-ray releases, streaming films, and information and reviews at OnVideo.
Comments