By Harley Lond - 10/12/21 at 06:25 PM CT
FROM THE BIG SCREEN:

"Free Guy" (2021) A bank teller (Ryan Reynolds) who discovers he is actually a background player in an open-world video game decides to become the hero of his own story – one he rewrites himself. Now, in a world where there are no limits, he is determined to be the guy who saves his world his way - before it's too late. Vitals: Director: Shawn Levy. Stars: Ryan Reynolds, Jodie Comer, Lil Rel Howery, Joe Keery, Utkarsh Ambudkar, Taika Waititi.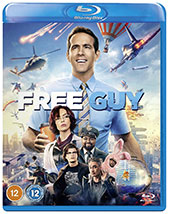 2021, CC, MPAA rating: PG-13, 115 min., Comedy, US box office gross: $58.812 million, worldwide $111.912 million, 20th Century Studios/Disney. Formats: DVD, Blu-ray/DVD Combo + Digital Code, 4K Ultra HD/Blu-ray Combo + Digital Code, VOD, Digital. Extras: "Dude vs. Guy" featurette; "Creating Molotovgirl" featurette; "It's Taika's World" featurette; "Welcome to Free City" featurette; gag reel; deleted and extended scenes. Read more here.

"The Green Knight" (2021) Tells the story of Sir Gawain (Dev Patel), King Arthur's reckless and headstrong nephew, who embarks on a daring quest to confront the eponymous Green Knight, a gigantic emerald-skinned stranger and tester of men. Gawain contends with ghosts, giants, thieves, and schemers in what becomes a deeper journey to define his character and prove his worth in the eyes of his family and kingdom. Vitals: Director: David Lowery. Stars: Dev Patel, Alicia Vikander, Joel Edgerton, Sarita Choudhury, Sean Harris, Kate Dickie, Barry Keoghan, Ralph Ineson.
2021, CC, MPAA rating: R, 132 min., Action Adventure, US box office gross: $16.951 million, worldwide $17.725 million, Lionsgate. Formats: DVD, Blu-ray/DVD Combo + Digital Copy, 4K Ultra HD/Blu-ray Combo + Digital Copy, VOD, Digital. Extras: "Boldest of Blood and Wildest of Heart: Making The Green Knight," "Practitioners of Magic: Visual Effects," "Illuminating Technique: Title Design," theatrical trailer. Read more here.

"Roadrunner: A Film About Anthony Bourdain" (2021) It's not where you go. It's what you leave behind. Chef, writer, adventurer, provocateur: Anthony Bourdain lived his life unabashedly. This documentary is an intimate, behind-the-scenes look at how an anonymous chef became a world-renowned cultural icon. From Academy Award-winning filmmaker Morgan Neville this unflinching look at Bourdain reverberates with his presence, in his own voice and in the way he indelibly impacted the world around him. Vitals: Director: Morgan Neville.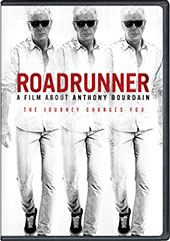 2021, CC, MPAA rating: R, 119 min., Documentary, US box office gross: $5.249 million, worldwide $5.249 million, Universal. Formats: DVD, VOD, Digital. Read more here.


THIS WEEK'S BEST BETS
Marking the moment when the gritty gangster sagas of the 1930s began giving way to the romantic fatalism of 1940s film noir,
"High Sierra
" (1941) also contains the star-making performance of Humphrey Bogart, who, alongside top-billed Ida Lupino, proved his leading-man mettle with his tough yet tender turn as Roy Earle. A career criminal plagued by his checkered past, Earle longs for a simpler life, but after getting sprung on parole, he falls in with a band of thieves for one last heist in the Sierra Nevada. Directed with characteristic punch by Raoul Walsh -- who makes the most of the vertiginous mountain location -- Roy and Lupino's Marie, a fellow outcast also desperate to escape her past, hurtle inexorably toward an unforgettable cliffside climax and a rendezvous with destiny.
Formats:
DVD, Blu-ray, with new, restored 4K digital transfer, with uncompressed monaural soundtrack on the Blu-ray. Extras: "Colorado Territory," director Raoul Walsh's 1949 western remake of "High Sierra"; new conversation on Walsh between film programmer Dave Kehr and critic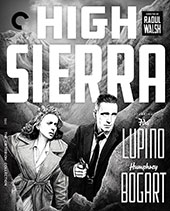 Farran Smith Nehme; "The True Adventures of Raoul Walsh," a 2019 documentary by Marilyn Ann Moss; "Curtains for Roy Earle," a 2003 featurette on the making of "High Sierra"; "Bogart: Here's Looking at You, Kid," a 1997 documentary aired on The South Bank Show; new interview with film and media historian Miriam J. Petty about actor Willie Best; new video essay featuring excerpts from a 1976 American Film Institute interview with "High Sierra" novelist and co-screenwriter W. R. Burnett; radio adaptation of "High Sierra" from 1944; trailers. From The Criterion Collection ... After changing the face of science fiction cinema forever with "Alien" and "Blade Runner," director Ridley Scott turned his visionary eye to the fantasy genre, teaming with writer William Hjortsberg ("Angel Heart") to create the breathtaking cinematic fairytale
"Legend"
(1985), with one of the screen's most astonishingly rendered depictions of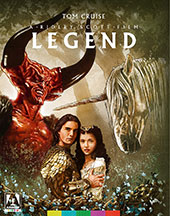 Evil. In an idyllic, sun-dappled forest, the pure-hearted Jack (Tom Cruise) takes his true love Princess Lili (Mia Sara) to see a pair of unicorns frolicking at the forest's edge. Little do they know, however, that the Lord of Darkness (Tim Curry, in a remarkable make-up designed by "The Thing's" Rob Bottin) has dispatched his minions to capture the unicorns and sever their horns so that he may plunge the world into everlasting night. After Lili and the unicorns are taken prisoner, Jack must team with a group of forest creatures and descend into Darkness' subterranean lair to face off against the devilish creature before it is too late. Despite a troubled production in which the elaborate full-size forest set was accidentally incinerated and a lengthy post-production that resulted in multiple versions of the film (with competing music scores by Jerry Goldsmith and Tangerine Dream), Legend has since been restored to Scott's original cut and embraced by generations of film fans eager to see a master director's unique vision of a world beyond our imagination. Two-disc set with the original theatrical cut and director's cut. In a Blu-ray limited edition from Arrow Video/MVD Entertainment.
BUZZIN' THE 'B'S:
From director Wes Craven comes
"Deadly Friend"
(1986), a terrifying tale of technology gone haywire. A lonely teenage genius, a specialist in brain research, has two best friends: his remarkable robot and a beautiful girl next door. When tragedy strikes both of his friends, he desperately tries to save them by pushing technology beyond its mortal limits into a terrifying new realm. Like a modern-day Dr. Frankenstein, he discovers too late that he has created a rampaging monster. New 2K scan of the interpositive. Stars Matthew Labyorteaux, Kristy Swanson, Michael Sharrett, Anne Twomey. In a Blu-ray debut from Scream Factory ... In
"Survive the Game"
(2021), starring Chad Michael Murray, Bruce Willis, Swen Temmel and Sarah Roemer, when cop David (Willis) is injured in a drug bust gone wrong, his partner, Cal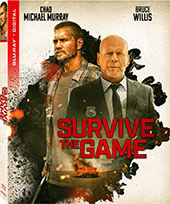 (Temmel), pursues the two criminals who shot him to a remote farm owned by troubled vet Eric (Murray). As Cal and Eric plot their defense, more of the gang arrives — along with a wounded David - and, outnumbered, the three heroes must use stealth, smarts, and marksmanship to take down the drug-dealing mob. On DVD, Blu-ray, from Lionsgate.
Read more here
... In the sci-fi thriller
"The Colony"
(2021), from executive producer Roland Emmerich, Earth has been decimated by climate change, pandemics, and war. Years after the ruling elite escaped to another planet, a mission was launched to find out if a return to an uninhabitable Earth were possible. That mission was lost. Now, a lone astronaut in search of answers struggles to survive the hostile planet, and she must ultimately make a choice that will seal the fate of the wasteland's remaining populace. Stars Nora Arnezeder, Iain Glen, Sarah-Sofie Boussnina and Sope Dirisu. On DVD, Blu-ray, from Lionsgate.
Read more here
... When ex-mob boss and cancer sufferer Ben Myers (Richard Dreyfuss) is targeted in a home robbery, he goes on a deadly rampage of vengeance in
"Crime Story"
(2021). But with his family caught in the cross hairs, Myers must finally face the consequences of his dark past. Co-stars Mira Sorvino. On DVD, Blu-ray, from Paramount ... In
"Lady Usher"
(2021), starring John Tupy, Billie D. Merritt, Allyson Cristofaro and Theresa Santiago, when Roderick learns that his father has taken ill, he tells his fiancé Morgan that he must leave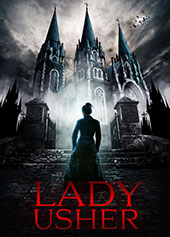 college and head to his gothic-style southern home to be with his family. Though he warns her not to come, Morgan is encouraged by her friend Liz to follow Roderick, making a surprise and unannounced trip to be by his side and meet his family. Shocked by her arrival, Roderick is forced to introduce Morgan to everyone – who are all learning about her for the first time – including the family matriarch, Lady Usher, who makes it evidently and venomously clear that she is unwelcome. With a household cursed by madness and unrequited love, Morgan's arrival spells the beginning of the end as Roderick's family will stop at nothing to prevent their marriage. From Indican Pictures.
Read more here
... In the chilling horror film
"99.9"
(1997 - Spain), Lara (Mario Barranco) is the host of a "psychic phenomena" radio show, whose ex-lover has been found dead in a small Spanish village. When she travels to the location, she discovers that he had been performing experiments to connect with tormented spirits, trapped between worlds. Upon arrival at the abandoned building where he conducted the experiments, she finds something she never expected. The third feature film directed by Agustí Villaronga ("In a Glass Cage," "Moon Child") that was made during the 90s wave of Spanish supernatural thrillers. On Blu-ray with a new 2K transfer. From Cult Epics.
ON THE INDIE FRONT:
In
"Sweet Thing"
(2021), starring Lana Rockwell, Nico Rockwell, Jabari Watkins, M.L. Josepher, Karyn Parsons and Will Patton, two children in contemporary New Bedford, Massachusetts spend one eventful summer in a beach house with their mother and her boyfriend.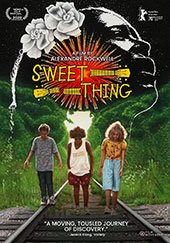 Billie, a 15-year-old girl who fantasizes Billie Holiday as a sort of fairy godmother, has to navigate the evolving challenges of her life while she plays mother to her 11-year-old brother, Nico. They meet up with another adolescent, run away from home, and together roam the area free from their parents' watchful eye. They discover freedom and enchantment among New Bedford's boats and railway tracks. They fantasize about a life of luxury when they break into a posh home, and are able to carry the taste of affluence into their adventures. The film is an ode to that trying age when young people prepare to take their first step into adulthood. From Film Movement.
FOREIGN FILMS:
Casanova, Last Love"
(2019 -- France), makes its Blu-ray debut this week. London, 18th century. Casanova, famous for his taste of pleasure and gambling, arrives from Paris, forced into exile. In this city he knows nothing about, the libertine meets on several occasions a young prostitute, Marianne de Charpillon. She attracts him to the point that he starts disregarding all other women. The legendary seducer is ready to do anything to get her, but La Charpillon always escapes under various excuses. She challenges Casanova: "You will only have me if you stop desiring me!" Stars Vincent Lindon, Stacy Martin, Valeria Golino, Julia Roy, Nancy Tate and Anna Cottis. From Cohen Media Group.
SPECIAL INTEREST:
The documentary
"Witkin and Witkin"
(2019) explores the worlds of identical twins born in 1939, Joel-Peter, a world famous photographer (whose Dali-inspired arrangements are often constructed with cadavers and body arts) and Jerome, a painter and life-long educator (whose work explores political, social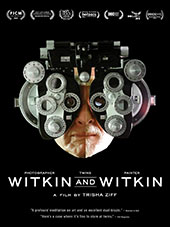 and cultural themes). An intensely human film that addresses the philosophy of their practices, their art and personal relationship. A film about perception and growing older, two artists working in different media who shared a childhood but whose lives took very different directions. Filmed over four years, "Witkin and Witkin" documents the changes they experience as time tells its own distinct and disparate narrative. From Indiepix Films ...
"The Titans That Built America"
(2021) is a three-part miniseries that chronicles the evolution and intense rivalries of five post-war giants of industry: Pierre du Pont, Walter Chrysler, J.P. Morgan Jr., Henry Ford, and William Boeing. Out of the ashes of WWI and the Great Depression, a new crop of bold innovators creates new industries — from automobiles and airplanes to buildings and munitions — and rebuilds our nation. After years of competing with each other, these industry titans must unite during World War II to help defeat the world's greatest enemy. From Lionsgate.
FROM TV TO DISC:
"Black Lightning: The Fourth and Final Season"
(2021) contains all 13 episodes. In the fourth and final season, Jefferson Pierce (Cress Williams) returns as Black Lightning, the superpowered protector of Freeland with the ability to harness electricity. Jefferson isn't the only one with powers. His older daughter, Anissa (Nafessa Williams) is able to drastically increase her density, giving her invulnerability and super strength. His younger daughter, Jennifer (China Anne McClain), is a fiery teen whose body generates pure electrical energy, giving her the potential to be more powerful than either Anissa or Jefferson. Lynn (Christine Adams), Jefferson's ex-wife, is an expert in metahuman medicine. Together the Pierce family, along with covert superspy Peter Gambi (James Remar) and the metahuman Painkillerer (Jordan Calloway), faces the challenges of the eroded urban community that is Freeland, including a war between a criminal cartel backed by the infamous gangster Tobias Whale (Marvin "Krondon" Jones III) and a menacing gang that calls itself The 100. On DVD, Blu-ray, from Warner Archive ...
"The Flash: The Complete Seventh Season"
(2021) contains all 18 episodes. It's time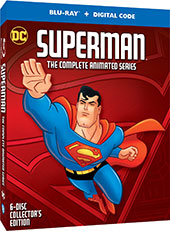 to escape the Mirrorverse, resurrect the Speed Force and make every second count: The Flash is back to protect Central City with his lightning-fast reflexes. After last season's cliffhanger which saw the brilliant and powerful Eva McCulloch victorious and still-at-large in Central City, Barry Allen/The Flash must regroup in order to stop her and bring back his missing wife. With help from the rest of Team Flash, Barry must defeat Mirror Monarch and reunite with Iris West-Allen. But in doing so, he unleashes two more devastating threats: one that could tear his marriage apart… and another that will lay siege to Central City and change the future forever. On Four-disc DVD, three-disc Blu-ray, from Warner ...
"Superman: The Complete Animated Series"
(1996-2000): Warner Bros. Home Entertainment and DC are celebrating the 25th anniversary of "Superman: The Animated Series" with a fully remastered Blu-ray box set containing six-discs with all 54 episodes. An imaginative, heartfelt look at Superman's adventures in Metropolis alongside Lois Lane and opposite the villainous likes of Lex Luthor, Brainiac, Darkseid and more.
Check out other new DVD/Blu-ray releases, streaming films, and information and reviews at OnVideo.
Comments