By Harley Lond - 05/10/21 at 11:29 PM CT
FROM THE BIG SCREEN
The Marksman Hardened Arizona rancher Jim Hanson (Liam Neeson) simply wants to be left alone as he fends off eviction notices and tries to make a living on an isolated stretch of borderland. But everything changes when Hanson, an ex-Marine, witnesses 11-year-old migrant Miguel (Jacob Perez) fleeing with his mother Rosa (Teresa Ruiz) from drug cartel assassins led by the ruthless Mauricio (Juan Pablo Raba). After being caught in a shoot-out, an injured Rosa begs Jim to take her son to safety to her family in Chicago. Defying his step-daughter Sarah (Katheryn Winnick),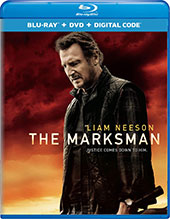 Jim sneaks Miguel out of the local U.S. Customs and Border Patrol station and together, they hit the road with the group of killers in pursuit. Jim and Miguel slowly begin to overcome their differences and begin to forge an unlikely friendship, while Mauricio and his fellow assassins blaze a cold-blooded trail, hot on their heels. Vitals: Director: Robert Lorenz . Stars: Liam Neeson, Katheryn Winnick, Jacob Perez, Harry Maldonado, Teresa Ruiz, Alfredo Quiroz, Sean A. Rosales, Jose Vasquez, Juan Pablo Raba. 2021, CC, MPAA rating: PG-13, 108 min., Action Adventure, US box office gross: $13.002 million, worldwide $17.044 million, Universal. Formats: DVD, Blu-ray, VOD, Digital. "The Making of The Marksman."

Land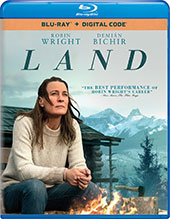 The poignant story of one woman's search for meaning in the vast and harsh American wilderness. Edee (Robin Wright), in the aftermath of an unfathomable event, finds herself unable to stay connected to the world she once knew and in the face of that uncertainty, retreats to the magnificent, but unforgiving, wilds of the Rockies. After a local hunter (Demián Bichir) brings her back from the brink of death, she must find a way to live again. Wright's feature film directorial debut. Vitals: Director: Robin Wright. Stars: Robin Wright, Demian Bichir, Sarah Dawn Pledge, Kim Dickens, Warren Christie. 2021, CC, MPAA rating: PG-13, 89 min., Drama, US box office gross: $2.360 million, worldwide $2.360 million, Focus Features/Universal. Formats: DVD, Blu-ray, VOD, Digital.

The Mauritanian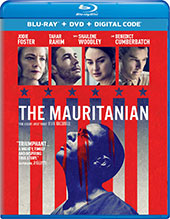 Based on the NY Times best-selling memoir "Guantánamo Diary" by Mohamedou Ould Slahi, this is the inspiring true story of Slahi's fight for freedom after being detained and imprisoned without charge by the U.S. Government for years. Alone and afraid, Slahi (Tahar Rahim) finds allies in defense attorney Nancy Hollander (Jodie Foster) and her associate Teri Duncan (Shailene Woodley) who battle the U.S. government in a fight for justice that tests their commitment to the law and their client at every turn. Their controversial advocacy, along with evidence uncovered by a formidable military prosecutor, Lt. Colonel Stuart Couch (Benedict Cumberbatch), uncovers shocking truths and ultimately proves that the human spirit cannot be locked up. Vitals: Director: Kevin Macdonald. Stars: Tahar Rahim, Jodie Foster, Zachary Levi, Saamer Usmani, Benedict Cumberbatch, Shailene Woodley. 2021, CC, MPAA rating: R, 129 min., Drama, US box office gross: $.569 million, worldwide $1.712 million, Universal. Formats: DVD, Blu-ray/DVD Combo with digital code, VOD, Digital.


THIS WEEK'S BEST BETS:
Addiction, nonmonogamy, and female sexual liberation: decades before such ideas were widely discussed, Dorothy Arzner, the only woman to work as a director in 1930s Hollywood, brought them to the screen with striking frankness, sophistication, and wit -- a mature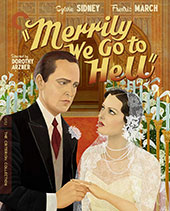 treatment that stands out even in the pre-Code era -- in
"Merrily We Go to Hell"
(1932). Fredric March (in one of four collaborations with Arzner) and Sylvia Sidney turn in extraordinary performances as the urbane couple whose relationship is pushed to the breaking point by his alcoholism and wandering eye -- leading them into an emotionally explosive experiment with an open marriage. Exposing the hypocrisies and petty cruelties simmering beneath the surface of high-society elegance, "Merrily We Go to Hell" is a scathing early-feminist commentary on modern marriage. On DVD, Blu-ray, with new, restored 4K digital transfer, with uncompressed monaural soundtrack on the Blu-ray. From The Criterion Collection ... From Budd Boetticher, the outstanding director of "Red Ball Express," "Wings of the Hawk," and "Ride Lonesome," comes the classic Western
"Horizons West"
(1952), starring screen legends Robert Ryan and Rock Hudson. Post-Civil War Texas hosts a classic tale of brother against brother. After returning from the war, Dan Hammond (Ryan) sees his high hopes fall apart under the pressure of gambling debts. He turns to a life of crime, pitting him against his younger brother Neil (Hudson), the new local marshal. The stupendous cast also includes Julie Adam, Raymond Burr, John McIntire, James Arness, Dennis Weaver and Judith Braun. In a Blu-ray debut from Kino Lorner Studio Classics ...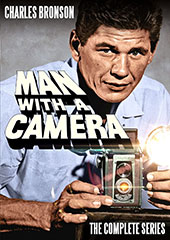 "Man With a Camera: The Complete Series"
(1958-60) is a two-disc set with 29 episodes. In 1958 a young Charles Bronson came to ABC-Television in the fast-paced action drama "Man With a Camera," which was loosely based on the popular radio series "Casey, Crime Photographer" starring Staats Cottsworth and the earlier TV series "Crime Photographer" starring Darren McGavin. Bronson played Mike Kovac, a former WWII combat photographer now freelancing in New York City, who specialized in getting the photographs that other lensmen couldn't. His assignments came from newspapers, insurance agencies, the police and private individuals, all of whom wanted a filmed record of an event. His cases always lead to danger, usually involving a good-looking damsel in distress. Kovac's police liaison was Lieutenant Donovan, well played by James Flavin, who looked to the freelance cameraman for help with the cases the cops couldn't handle. To the viewer's delight, Kovac employed the latest photographic technology to solve a case, including a Minox III mini-camera fastened to his belt; fisheye and telephoto lenses; and various other cutting-edge technologies; even converting the trunk of his car into a portable darkroom where he could develop his negatives on the spot. From MPI Media Group ...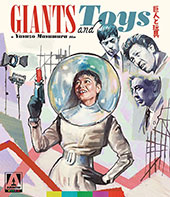 Candyland for cutthroats:
"Giants and Toys"
(1958 -- Japan) is a sharp and snappy corporate satire that revolves around the ruthless machinations of a group of admen working in the confectionary industry. Its absurdist and acidly cynical take on the excesses of the media and advertising worlds presents a garish vision of a bold new postwar Japan where traditional company values come head-to-head with American-style consumer capitalism. As a new recruit to the marketing department of World Caramel, fresh-faced graduate Nishi (Hiroshi Kawaguchi) is eager to impress his ambitious and hard-nosed boss Goda (Hideo Takamatsu), even if it strains his relationships with his college friend Yokoyama (Koichi Fujiyama) and new love interest Masami (Michiko Ono), who work at the rival companies of Giant and Apollo. With World's lead over its competitors slipping badly, the two spot a chance to get back in the race in the shape of the pretty but unsophisticated 18-year-old, Kyoko (Hitomi Nozoe). The two get to work polishing this rough diamond as their new campaign girl, but as the three rival confectionary companies pitch themselves into an all-out advertising war that spills out onto the streets of Tokyo as it escalates to ludicrous extremes, Kyoko's newfound fame starts going to her head. With the pressure mounting within the hothouse environment of World's boardroom, it soon becomes clear to Nishi that the Goda has sold out more than just his family in the name of corporate advancement. Making its worldwide Blu-ray debut, this lurid and colorful adaptation of the award-winning 1957 novel by Ken Kaiko is considered a landmark in Japanese film history and a key work by Yasuzo Masumura, one of the country's most acclaimed directors of his generation. On Blu-ray from Arrow Video/MVD Entertainment ...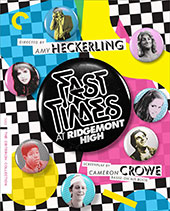 The wild world of adolescence has rarely been captured with as sharp an observational eye as in this refreshingly smart, frank spin on the teen comedy by director Amy Heckerling and screenwriter Cameron Crowe -- for each of whom it kicked off a hugely successful film career. Based on Crowe's experiences going undercover as a student at a Southern California high school,
"Fast Times at Ridgemont High"
(1982) blends hormone-fueled hilarity with an almost sociological examination of the 1980s teenage experience: the shopping-mall hangouts, fast-food jobs, buzzkill teachers, awkward dates and first experiences of love and sex. This pop-culture touchstone launched to stardom practically an entire cast of unknowns -— including Jennifer Jason Leigh, Phoebe Cates, Judge Reinhold, Forest Whitaker, Anthony Edwards, Eric Stoltz and Sean Penn as stoner icon Jeff Spicoli -- and broke new ground in its raw yet sensitive depiction of the realities of coming of age. On DVD, Blu-ray, with new, restored 4K digital transfer, supervised by director Amy Heckerling, with 5.1 surround DTS-HD Master Audio soundtrack on the Blu-ray. From The Criterion Collection ... Robert Young stars in the absorbing film noir melodrama
"They Won't Believe Me"
(1947). The original RKO publicity tells the story: "When a man goes to the devil he usually takes a woman with him...this man took THREE!" Young plays a dirty rotten scoundrel who sponges off his wealthy wife (Rita Johnson), seduces and abandons another woman (Jane Greer) and runs off with a third (Susan Hayward). Returning home, Young plots to murder his wife and get away with her money, but a series of ironic plot twists leaves him battling for his life. The role of faithless cad was a startling change of pace for Young, and he pulls it off brilliantly. Irving Pichel directed Jonathan Latimer's uncompromising script. 1080p HD Master sourced from 4k scan of Nitrate Preservation elements of original 95 minute release version. In a Blu-ray debut from Warner Archive.
BUZZIN' THE 'B'S:
"Pixie"
(2021), starring Olivia Cooke, Ben Hardy, Daryl McCormack, Colm Meaney and Alec Baldwin, is an action-packed crime story set in Ireland. On a path to avenge her mother's death, Pixie Hardy (Cooke) attempts a heist that will give her the means to leave her small-town life behind. When the plan goes horribly wrong, she's forced to team up with a pair of misfits who are clearly in over their heads. On the run from an organized gang – criminal priests and nuns, led by Father McGrath (Baldwin) – the trio scheme and swindle anyone they come across. From Paramount ... The sweeping 70s remake of the classic tale
"King Kong"
(1976) comes home in a two-disc Blu-ray collector's edition set including both the theatrical cut with a new restored theatrical stereo track and an extended TV broadcast cut with a new 2k scan of the additional TV footage from the internegative. The Petrox company's search for new oil reserves on a strange island unleashes a terror unseen by civilized man -- King Kong. The timeless story of a "beauty" (Jessica Lange) and a "beast" comes to the screen in this ambitious production from Dino De Laurentiis. Charles Grodin is the scheming oil company shark out to exploit the giant beast to his fullest. And Jeff Bridges is the desperate hero, Jack Prescott, who attempts to wrest the beautiful heroine from King Kong's grasp. New York City trembles with each echoing footstep of the towering ape set loose in the streets. From Scream Factory ...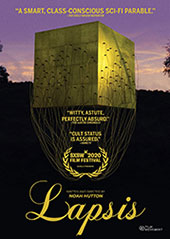 "Lapsis"
(2020), starring Dean Imperial, Madeline Wise and Babe Howard, is set in an alternate present New York. The quantum computing revolution has begun and investors are lining their pockets in the quantum trading market. Building the network, though, requires miles of infrastructure to be laid between huge magnetic cubes by "cablers" - unprotected gig workers who compete against robots to pull wires over rough terrain. Queens delivery man Ray Tincelli (Imperial) is skeptical of new technology, and the buy-in to start cabling is steep, but he struggles to support himself and his ailing younger brother, who suffers from a mysterious illness. So when Ray scores a shady permit, he believes their fortunes may have finally changed. What he doesn't expect is to be pulled into a conspiracy involving hostile cablers, corporate greed, and the mysterious "Lapsis" who may have previously owned his medallion. A darkly comic and timely look at the gig economy and the failed utopian promises of big tech. From Film Movement ...
"No Reason"
(2010 -- Germany), starring Irene Holzfurtner, Mathias Engel and Alexander Gamnitzer is a Deutsche splatter film, uncut and from a new scan from the master. Engulfed by anguish, and trapped inside an allegory of torment and carnage, Jennifer's (Holzfurtner) soul seeks the path of awareness and enlightenment. A harrowing journey into the pits of Hell where one woman's quest for redemption in the afterlife is tested to the most extreme limits. On Blu-ray from Unearthed Films.
ON THE INDIE FRONT:
"The Twentieth Century"
(2019 -- Canada), starring Daniel Beirne, Sarianne Cormier and Mikhaïl Ahooja, is set in Toronto, 1899. Aspiring young politician Mackenzie King (Dan Beirne) dreams of becoming the Prime Minister of Canada. But his romantic vacillation between a British soldier and a French nurse, exacerbated by a fetishistic obsession, may well bring about his downfall. In his quest for power, King must gratify the expectations of his imperious Mother, the hawkish fantasies of a war-mongering Governor-General, and the utopian idealism of a Québécois mystic before facing one, final test of leadership. On DVD, Blu-ray, from Oscilloscope Laboratories ... In
"Shithouse"
(2020), starring Cooper Raiff and Dylan Gelula, lonely college freshman Alex (writer-director Raiff) has closed himself off from his peers, who all appear to have this whole "college thing" figured out. But everything changes one night when Alex takes a leap and attends a party at S#!%HOUSE -- a legendary party fraternity -- where he forges a strong connection with Maggie (Gelula). The next day, she ignores him completely and seems to have forgotten about their amazing night. Desperately clinging to his social breakthrough, Alex pulls out all the stops with one more night at S#!%HOUSE, hoping to rekindle that moment of connection. On DVD, Blu-ray, from IFC Films.
FOREIGN FILMNS:
From the acclaimed novel by Frederik van Eeden,
"The Cool Lakes of Death (Van De Koele Meren Des Doods)"
(1982 -- Dutch) is the magnum opus from pioneering feminist filmmaker Nouchka van Brakel. A celebrated Dutch masterpiece, the film is a historic melodrama featuring an outstanding performance by Renée Soutendijk as Hedwig, a wealthy woman who falls victim to a loveless marriage and the loss of her lover (Derek de Lint) and child that leads to mental illness, prostitution and addiction - before finding possible redemption. A box-office smash upon its release in 1982, "The Cool Lakes of Death" remains one of the greatest Dutch drama films in history and was subsequently the Dutch entry for Best Foreign Language Film at the Academy Awards. Blu-ray debut in a newly restored High-definition 4K transfer, with new DTS-HD MA 2.0 Mono track. On DVD, Blu-ray, from Cult Epics ... In
"Freedom (Freiheit)"
(2017 -- Germany), starring Johanna Wokalek, Hans-Jochen Wagner and Inga Birkenfeld, a woman leaves her husband and children without saying goodbye. While she struggles to build a new life, her family is left completely uncertain of her fate. The radical nature of her departure appears to be an opportunity as well as a trauma. The film is structured in three episodes, each showing a different perspective of the subject. The first one accompanies the woman in Vienna and Bratislava, creating a new life for herself. Although her past remains untold, she seems driven by it. The second episode portrays the life of her abandoned husband and their children, two years after her disappearance. Their days are still dominated by her mysterious leaving. The final episode returns to the last evening the family spent together. From Corinth Films ... At the height of WWII, 3,500 young cadets from two Podolsk military schools are sent with their commanding officers to hold up the last line of defense outside of Moscow. The gritty, harrowing
"The Final Stand"
(2020 -- Russia) tells the true story of the cadets' heroic stand in October 1941. Sent to the Ilyinsky line of defense, cadets from the Podolsk infantry and artillery schools fight alongside units from the 43rd Army to hold back the German advance until reinforcements arrive. Hopelessly outnumbered, young men in their teens lay down their lives in a battle lasting almost two weeks to obstruct the far superior Nazi forces advancing towards Moscow. On DVD, Blu-ray, from Shout! Factory ... After a harrowing accident, the perpetually down-on-his-luck Diego Martinez accepts a gig as a security guard at the local
"Morgue"
(2019 -- Paraguay). He thought he'd had a lucky break, but as the night wears on, eerie occurrences and the suddenly not-quite-lifeless body of a victim leave him to wonder: how much otherworldly rage does it take to wake the dead? On DVD, Blu-ray, from Well Go USA.
FOR THE FAMILY:
Filmmaker Ping Zhang (a.k.a MTJJ) derived
"The Legend of Hei"
(2019 -- China) from a popular flash animation series he created in 2011. The series gained immense popularity when it debuted online in China, and Zhang then decided to develop it into a feature-length movie. Cat spirit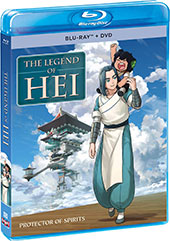 Luo-Xiao Hei goes on a journey of self-discovery after his home gets deforested by humans. On his search for a new home, he runs into a group of other spirit creatures who take him under their wing with dreams of reconquering the land they say is rightfully theirs. However, the group runs into a human known as Wuxian, who separates Hei from the other spirits. The two go on a journey that teaches Hei to control his abilities as well as forming his own thoughts on whether or not he should ally with the spirits or humans. On DVD, Blu-ray/DVD Combo, from Shout! Factory ... In
"Justice Society: World War II"
(2021), the Flash speeds into the middle of an epic battle between Golden Age DC Super Heroes and Nazis in the next entry in the popular series of animated DC Universe Movies. On Blu-ray, 4K Ultra HD/Blu-ray Combo, from Warner.
SPECIAL INTEREST:
"Martin Margiela: In His Own Words"
(2020 -- Germany-Belgium-France): One of the most revolutionary and influential fashion designers of his time, Martin Margiela has remained an elusive figure the entirety of his decades-long career. From Jean Paul Gaultier's assistant to creative director at Hermès to leading his own House, Margiela never showed his face publicly and avoided interviews, but reinvented fashion with his radical style through forty-one provocative collections. Now, for the first time, the "Banksy of fashion" reveals his drawings, notes, and personal items in this intimate profile of his vision. On DVD, Blu-ray, from Oscilloscope Laboratories ...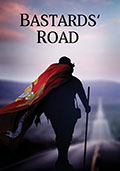 "Bastards' Road"
(2020): Walking over 5,800 miles, US Marine Combat Veteran John Hancock confronts the demons that had overtaken his life. Visiting his fellow 2/4 Marines - a unit known as the The Magnificent Bastards - and families of their fallen along the way, Jon's unique insight, humor and compassion illuminates a story much bigger than himself. "Bastards' Road" builds a bridge between a marginalized Veteran community dealing with extraordinarily high suicide rates and a civilian population struggling to understand. From Gravitas Ventures ...
"Dolly Parton: 50 Years at the Opry"
(2019): Filmed in front of a live audience at Nashville's Grand Ole Opry, this PBS special is a celebration of Dolly's 50 years as a member of the Opry. With performances by Dierks Bentley, Emmylou Harris, Chris Janson, Toby Keith, Lady Antebellum, Margo Price, Hank Williams Jr. From PBS Distribution.
DUE NEXT WEEK:
"Above Suspicion," Cosmic Sin," The Father," Minari," The Nest," Nina Wu (2021 -- Taiwan)," Raya and the Last Dragon," S#!%HOUSE," "Supernova."
Check out other new DVD/Blu-ray releases, streaming films, and information and reviews at OnVideo.
Comments