By Harley Lond - 03/29/21 at 10:47 PM CT
FROM THE BIG SCREEN:
Wonder Woman 1984 (2020) Diana Prince (aka Wonder Woman) lives quietly among mortals in the vibrant, sleek 1980s - an era of excess driven by the pursuit of having it all. Though she's come into her full powers, she maintains a low profile by curating ancient artifacts, and only performing heroic acts incognito. But soon, Diana will have to muster all of her strength, wisdom and courage as she finds herself squaring off against Maxwell Lord and the Cheetah, a villainess who possesses superhuman strength and agility. Vitals: Director: Patty Jenkins. Stars: Gal Gadot, Chris Pine, Kristen Wiig, Pedro Pascal, Robin Wright,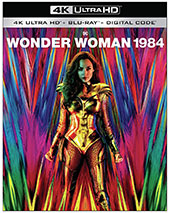 Connie Nielsen. 2019, CC, MPAA rating: PG-13, 151 min., Action Adventure, US box office gross: $40.3 million, worldwide $154.6 million, Warner. Formats: DVD, Blu-ray/DVD Combo, 4K Ultra HD/Blu-ray Combo, VOD, Digital. Extras: "The Making of Wonder Woman 1984: Expanding the Wonder," "Gal & Kristen: Friends Forever," "Small But Mighty," "Gal & Krissy Having Fun" and "Meet the Amazons," "Scene Study: The Open Road," "Scene Study: The Mall," gag reel, the Black Gold Infomercial seen in the film, and a "Wonder Woman 1984 Retro Remix."


THIS WEEK'S BEST BETS
Is there love after death? Acerbic everyman Albert Brooks finds a perfect balance between satirical bite and romantic-comedy charm as the writer, director, and star of the wonderfully warm and imaginative existential fantasy
"Defending Your Life"
(1991). After he dies suddenly, the hapless advertising executive Daniel Miller (Brooks) finds himself in Judgment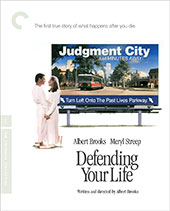 City, a gleaming way station where the newly deceased must prove they lived a life of sufficient courage to advance in their journey through the universe. As the self-doubting Daniel struggles to make his case, a budding relationship with the uninhibited Julia (Meryl Streep) offers him a chance to finally feel alive. Buoyed by a brilliant supporting cast that includes Rip Torn, Lee Grant, and Buck Henry, "Defending Your Life" is a rare feat of personal, philosophical filmmaking that happens to also be divinely entertaining. On DVD, Blu-ray, with new 4K digital restoration, supervised by director Albert Brooks, with 2.0 surround DTS-HD Master Audio soundtrack on the Blu-ray. From The Criterion Collection ...
In
"Secrets & Lies"
(1996), writer-director Mike Leigh reached new levels of expressive power and intricacy in his ongoing contemplation of unembellished humanity with a resonant exploration of the deceptions, small and large, that shape our relationships to those we love. When Hortense (Marianne Jean-Baptiste), a black optometrist who was adopted as a child, begins the search for her birth mother, she doesn't expect that it will lead her to Cynthia (Brenda Blethyn), a desperately lonely white factory worker whose tentative embrace of her long-lost daughter sends shock waves through the rest of her already fragile family. Born from a painstaking process of rehearsal and improvisation with a powerhouse ensemble cast, "Secrets & Lies" is a Palme d'Or–winning tour de force of sustained tension and catharsis that lays bare the emotional fault lines running beneath the surface of everyday lives. On DVD, Blu-ray, with new 2K digital restoration, supervised by director Mike Leigh and director of photography Dick Pope, with 2.0 surround DTS-HD Master Audio soundtrack on the Blu-ray. From The Criterion Collection ... Cecil B. DeMille's Academy Award-winning film
"The Greatest Show on Earth"
(1952) captures the thrills, chills and exhilaration of the circus. Featuring three intertwining plotlines filled with romance and rivalry, the film includes spectacular action sequences, including a show-stopping train wreck, and boasts a sensational cast, including Betty Hutton, Cornel Wilde, Charlton Heston, Dorothy Lamour, Gloria Grahame, and James Stewart. Newly restored from a 4K scan of the original negative, in collectible packaging with a foldout image of the film's theatrical poster and an interior spread with key movie moments. In a Blu-ray debut from Paramount.
BUZZIN' THE 'B'S:
"Our Friend"
(2021), starring Jason Segel, Dakota Johnson and Casey Affleck, is the inspiring and extraordinary true story of the Teague family – journalist Matt (Affleck), his vibrant wife Nicole (Johnson) and their two young daughters – and how their lives are upended by Nicole's heartbreaking diagnosis of terminal cancer. As Matt's responsibilities as a caretaker and parent become increasingly overwhelming, the couple's best friend Dane Faucheux (Segel) offers to come and help out. As Dane puts his life on hold to stay with his friends, the impact of this life-altering decision proves greater and more profound than anyone could have imagined. From Universal ...
In
"The Widow"
(2020 -- Russia), starring Viktotiya Potemina, Anastasiya Gribova and Margarita Bychkova, people have been going missing for three decades in a densely forested area north of St. Petersburg. Very few corpses were ever found, and the few that were recovered were naked. On October 14, 2017, a team of volunteers went out into the woods in search of a missing teenager. Soon, all communication with them was lost. Locals believe they were taken by the same dark spirit that took the others ... they call it the Limping Widow. Based on true accounts from the region. On DVD, Blu-ray, from Scream Factory ...
"55 Steps"
(2018), starring Helena Bonham Carter, Hilary Swank, Jeffrey Tambor, Johan Heldenbergh and Michael Culkin, is based on the inspiring true story of an outrageous and smart Eleanor Riese (Carter), a patient in a psychiatric hospital where she's been mistreated, and her attorney, a patients' rights lawyer, Colette Hughes (Swank). When patients' rights lawyer Hughes goes to meet her new client, Riese, a patient in the psychiatric unit of a San Francisco hospital, she has no idea that besides taking on an uphill legal battle to improve treatment for mental patients in hospitals, she is meeting a woman who will make it her mission to transform Colette's workaholic life. On DVD, Blu-ray, from Sony ...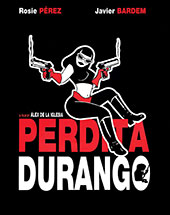 For his English-language debut
"Perdita Durango"
(1997 -- Mexico/Spain), writer-director Álex de la Iglesia ("Day of the Beast") chose novelist Barry Gifford's prequel to "Wild At Heart" featuring sociopath priestess Perdita Durango. But when the U.S. distributor saw the finished film, they slashed 10+ minutes of gleefully profane sex and violence and dumped it under the title "Dance With the Devil." This is the complete Director's Cut starring Oscar nominee Rosie Perez and Academy Award winner Javier Bardem in an amoral love story filled with human sacrifices, kidnapping, murder, fetus trafficking and the dogged DEA agent (James Gandolfini) on the trail of it all. Don Stroud, Demián Bichir, Alex Cox and Screamin' Jay Hawkins co-star in this joyride to the dark side, now restored in 4K. On Blu-ray, 4K Ultra HD/Blu-ray Combo, from Severin Films ...
In between his cult hit debut "Acción Mutante" and proudly depraved "Perdita Durango", writer-director Álex de la Iglesia delivered
"The Day of the Beast"
(1995 -- Spain), an international smash that remains one of the best horror comedies of our time: When a rogue priest (Álex Angulo) discovers the exact date The Antichrist will be born, he enlists a Death Metal record store clerk (Santiago Segura) and a cheesy TV psychic (Armando De Razza) for an urban spree of gore, sacrilege and twisted humor to prevent the Apocalypse by summoning Satan himself. Winner of six Goya Awards including Best Director, now restored in 4K from the original negative. On Blu-ray, 4K Ultra HD/Blu-ray Combo, from Severin Films ... In
"The Toll"
(2020), starring Jordan Hayes, Max Topplin, James McGowan, and Rosemary Dunsmore, when Cami orders a taxi service to take her to her father's country home, she's hoping for a quiet and uneventful ride. But a wrong turn by Spencer, her chatty driver, results in the car stalling on a dark and remote road. After several threatening and inexplicable occurrences, Cami and Spencer realize they are being watched by an unseen presence — one that sees them as trespassers, and is ready to exact a deadly toll. On DVD, Blu-ray with digital code, from Lionsgate ...
From infamous producer Harry Novak -- whose Box Office International Pictures brought the world such classics as "Axe," "Mantis in Lace" and "Wham Bam Thank You, Spaceman" -- comes the still-startling sickie
"A Scream in the Streets"
(1973), about a pair of L.A.P.D. detectives hunting a transvestite psychopath through a polyester jungle of massage parlor perverts, suburban sex fiends, violence-crazed cops and one of the worst examples of cross-dressing ever filmed. Joshua Bryant, Sandy Carey, Linda York and Sharon Kelly (aka 80s adult film superstar Colleen Brennan) star in this garish display of rampant depravity directed by Carl Monson ("Please Don't Eat My Mother!"), now scanned uncut in 2K from the original negative. On Blu-ray from Severin Films ...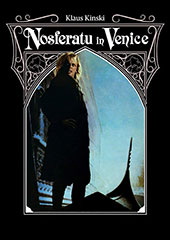 What was intended to be an unofficial sequel to Werner Herzog's "Nosferatu" (1979) instead became one of the most notoriously fascinating productions in EuroCult history: Klaus Kinski gives his penultimate performance as the legendary vampire resurrected in modern-day Venice with an insatiable hunger for warm blood and rough sex in
"Nosferatu in Venice"
(1988 -- Italy). Donald Pleasence and Academy Award-winner Christopher Plummer co-star in this sumptuously insane shocker that features music by Oscar winner Vangelis ("Chariots of Fire"), employed five different directors -- including Mario Caiano, Luigi Cozzi, writer/producer Augusto Caminito and reportedly Kinski himself, now scanned in 2K from the original negative. On Blu-ray from Severin Films.
FOREIGN FILMS:
A hybrid of fiction and documentary filmmaking,
"My Mexican Bretzel"
(2019 -- Spain), the feature film debut of Nuria Giménez, uses silent home movies, fleeting snippets of sound, and diaristic narration to tell the story of Vivian Barrett, a wealthy Swiss woman, and her husband, Leon, a WWII pilot-turned-entrepreneur. Partial hearing loss
doesn't impede Leon from creating a pharmaceutical wonder drug that changes their lives, propelling the go-lucky couple into a world of adventure, romance, and mystical truth-seeking. From the 40s through 60s, from the Alps to Le Mans to Manhattan to Hawaii, vulnerability, belonging, truth, and mid-century opulence are explored in a way that only the magic of cinema allows ... with a dazzling twist. The idea for the film originated in 2011, when Giménez came across a few home movies made by her grandparents, mid-way through the last century. Based on that rich material, which shows the couple travelling around the world (from Paris to New York, Majorca to Florence, between meetings with friends, excursions and lunches), the filmmaker set about planning a sophisticated and fascinating film structure: she wrote a diary on behalf of Barret, recounting specific moments of her existence, her worries and her innermost thought. She then illustrated those words with material selected from amongst her forebears' 50 reels of 16mm film. In so doing, Giménez has crafted an impressive audiovisual trompe l'oeil, almost entirely lacking in sound, which involves the viewer reading the protagonist's memories in text form on screen. From IndiePix Films.
SPECIAL INTEREST:
"
My Journey Through French Cinema
" (2016), Bertrand Tavernier's César-nominated three-and-a-half-hour tour through French film history, was too short to introduce audiences to all that
he wanted to share. In this new eight-part series,
"Journeys Through French Cinema"
(2017 -- France), the acclaimed director of such films as "Coup de Torchon" and "'Round Midnight" guides us through a roster of filmmakers both influential and forgotten, explores how his country's cinema was shaped by the German occupation and changed again through the New Wave, spotlights little-known female filmmakers, and more. Subjects include: René Clément, Henri-Georges Clouzot, Julien Duvivier, Henri Decoin, Claude Autant-Lara, as well as composers who made movie music an art in and of itself, far from the Hollywood spotlight. On Blu-ray from Cohen Media. Tavernier died on March 25 at the age of 80.
Check out other new DVD/Blu-ray releases, streaming films, and information and reviews at OnVideo.
Comments