By Harley Lond - 02/22/21 at 10:10 PM CT
FROM THE BIG SCREEN:
"The Croods: A New Age" (2020) The first prehistoric family is ready for another rocking adventure: The Croods have survived fanged beasts, natural disasters, and even young love, but now they must face their biggest challenge yet: another family. In search of a new home, the Croods discover a walled-in paradise created by the sophisticated Betterman family (emphasis on the "better"). As they try to coexist, the differences between the two families escalate into a full-blown feud,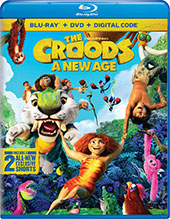 but when a new threat forces both families to embark on an epic adventure, they must all learn to work together ... or they'll all go extinct. Vitals: Director: Joel Crawford. The Croods: A New Age Stars: Voices of Ryan Reynolds, Emma Stone, Nicolas Cage, Peter Dinklag, Kelly Marie Tran, Leslie Mann. 2020, CC, MPAA rating: PG, 95 min., Animated Family Adventure, US box office gross: 43.924 million; worldwide: $144.4 million, Universal. Formats: DVD, Blu-ray/DVD Combo with digital code, 4K Ultra HD/Blu-ray Combo, VOD, Digital.

"The Last Vermeer" (2020) While Joseph Piller (Bang), a Dutch Jew, was fighting in the Resistance during the Second World War, the witty, debonair aesthete, Han van Meegeren (Pearce) was hosting hedonistic soires and selling Dutch art treasures to Hermann Goring and other top Nazis. Following the war, Piller becomes an investigator assigned the task of identifying and redistributing stolen art, resulting in the flamboyant van Meegeren being accused of collaboration — a crime punishable by death. But, despite mounting evidence, Piller, with the aid of his assistant (Krieps), becomes increasingly convinced of Han's innocence and finds himself in the unlikely position of fighting to save his life.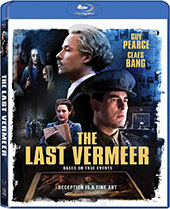 Vitals: Director: Dan Friedkin. Stars: Guy Pearce, Claes Bang, Vicky Krieps, Roland Moller, August Diehl, Olivia Grant. 2020, CC, MPAA rating: R, 118 min., Drama, Box office gross: $.685 million, Sony. Formats: DVD, Blu-ray, Digital.



THIS WEEK'S BEST BETS:
Directed by Frank Launder (scriptwriter for "The Lady Vanishes" and "Night Train to Munich"), the classic British comedy
"The Belles of St.Trinian's"
(1954) -- which spawned several sequels -- features one of Alastair Sim's most unforgettable performances. In an all-girls school, where the unruly students are more interested in men and mischief than homework and hockey, the arrival of Princess Fatima of Makyad and the return of recently expelled Arabella Fritton -- who has a kidnapping scheme on her mind -- inspire even more chaos than usual. Featuring an all-star line-up, the cast includes Sim playing dual roles as both headmistress Miss Millicent Fritton and her twin brother, Clarence. Co-stars Joyce Grenfell, George Cole, Hermione Baddeley, Betty Ann Davies, Renee Houston, Beryl Reid, Irene Handl, Mary Merrall. Based on the cartoons of Ronald Searle. In a new digital remaster. On Blu-ray from Film Movement Classics ...
A modest miracle of 21st-century neorealism,
"Man Push Cart"
(2005), the acclaimed debut feature by Ramin Bahrani speaks quietly but profoundly to the experiences of those living on the margins of the American dream. Back in his home country of Pakistan, Ahmad (Ahmad Razvi, elements of whose own life story were woven into the script) was a famous rock star. Now a widower separated from his son and adrift in New York, he works long hours selling coffee and bagels from a midtown Manhattan food cart, engaged in a Sisyphean search for human connection and a sense of purpose that seems perpetually just out of reach. A rare immigrant's-eye view of a post-9/11 city suffused with subtle paranoia and xenophobia, "Man Push Cart" gives at once empathetic and clear-eyed expression to the everyday drama of human endurance. On DVD, Blu-ray, with high-definition digital master, supervised and approved by director Ramin Bahrani, with uncompressed stereo soundtrack on the Blu-ray, from The Criterion Collection ...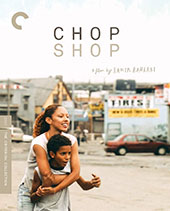 For
"Chop Shop"
(2007), his acclaimed follow-up to "Man Push Cart," Ramin Bahrani once again turned his camera on a slice of New York City rarely seen on-screen: Willets Point, Queens, an industrial sliver of automotive-repair shops that remains perpetually at risk of being redeveloped off the map. It's within this precarious ecosystem that 12-year-old Ale (Alejandro Polanco) must grow up fast, hustling in the neighborhood chop shops to build a more stable life for himself and his sister (Isamar Gonzales) even as their tenuous circumstances force each to compete with other struggling people and make desperate decisions. A deeply human story of a fierce but fragile sibling bond being tested by hardscrabble reality, "Chop Shop" tempers its sobering authenticity with flights of lyricism and hope. On DVD, Blu-ray, with high-definition digital master, supervised and approved by director Ramin Bahrani, with 5.1 surround DTS-HD Master Audio soundtrack on the Blu-ray, from The Criterion Collection ...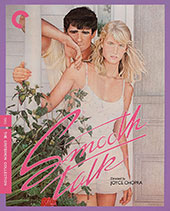 Suspended between carefree youth and the harsh realities of the adult world, a teenage girl experiences an unsettling awakening in
"Smooth Talk"
(1985), a haunting vision of innocence lost. Based on the celebrated short story "Where Are You Going, Where Have You Been?" by Joyce Carol Oates, the narrative debut from Joyce Chopra features a revelatory breakout performance by Laura Dern as Connie, the 15-year-old black sheep of her family whose summertime idyll of beach trips, mall hangouts, and innocent flirtations is shattered by an encounter with a mysterious stranger (a memorably menacing Treat Williams). Winner of the Grand Jury Prize at Sundance,"Smooth Talk" captures the thrill and terror of adolescent sexual exploration as it transforms the conventions of a coming-of-age story into something altogether more troubling and profound. On DVD, Blu-ray, with new, restored 4K digital transfer, supervised by director Joyce Chopra, with uncompressed monaural soundtrack on the Blu-ray, from The Criterion Collection.
BUZZIN' THE 'B'S:
"Wrong Turn: The Foundation"
(2021), starring Matthew Modine, Emma Dumont and Charlotte Vega, is a reboot of the franchise that began in 2003. Backwoods terror and never-jangling suspense meet when Jen (Vega) and a group of friends set out to hike the Appalachian Trail. Despite warnings to stick to the trail, the hikers stray off course —- and cross into land inhabited by The Foundation, a hidden community of mountain dwellers who use deadly means to protect their way of life. Suddenly under siege, Jen and her friends seem headed to the point of no return —- unless Jen's father (Modine) can reach them in time. On DVD, Blu-ray with digital code, from Lionsgate ...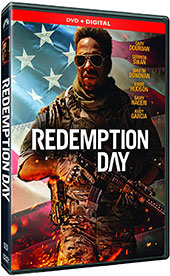 In
"Redemption Day"
(2021), starring Gary Dourdan, Serinda Swan, Martin Donovan, Ernie Hudson, Samy Naceri and Andy Garcia, having just returned home, decorated U.S. Marine Captain Brad Paxton's (Dourdan) wife, Kate, is kidnapped by a terrorist group while working in Morocco. He is forced back into action for a daring and deadly operation to save the woman he loves. From Paramount ...
"Silk Road"
(2021), starring Jason Clarke, Nick Robinson, Katie Aselton and Jimmi Simpson, is a crime thriller that follows the rise and fall of Silk Road, the infamous darknet site that sent a seismic shock through the World Wide Web. Young, idealistic, and driven to succeed, Ross Ulbricht (Robinson) creates the internet's first unregulated marketplace: Silk Road. But when it becomes a multimillion-dollar pipeline for illicit drugs, Ross is set on a collision course with Rick Bowden (Clarke), a disreputable and dangerously unpredictable DEA agent, who will use any means necessary to take him down. On DVD, Blu-ray, from Lionsgate ...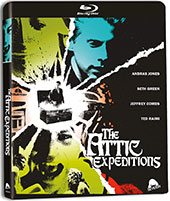 "The Attic Expeditions"
(2001), starring Andras Jones, Seth Green, Jeffrey Combs, Ted Raimi, Wendy Robie and Alice Cooper, is the hallucinatory debut by director Jeremy Kasten ("The Dead Ones," "The Theatre Bizarre," "The Wizard of Gore" remake) about a young man -- who may have or may have not brutally murdered his girlfriend -- committed to an asylum where madness, mayhem and murder may rip apart his mind forever. Scanned in 2k from the original negative. In a Blu-ray premiere from Severin Films ... In
"Centigrade"
(2019), starring Genesis Rodriguez, Vincent Piazza and Mavis Simpson-Erns, a young American couple, Matthew and Naomi, travel to the arctic mountains of Norway . in 2002. After pulling over during a snowstorm, they wake up trapped in their SUV, buried underneath layers of snow and Ice. As if the stakes aren't high enough, Naomi is eight months pregnant in their frozen prison. With few resources, a dwindling food supply, and nothing but time, tension, blame, and personal secrets bubble to the surface. Matthew and Naomi realize they must work together to survive in a crippling battle against the elements, hypothermia, disturbing hallucinations, and plunging temperatures reaching as low as -30C. On DVD, Blu-ray, from Universal ...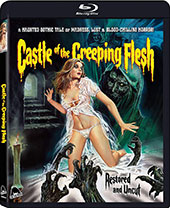 From writer-director Adrian Hoven -- creator of the infamous "Mark of the Devil" -- comes the rarely-seen EuroSleaze masterpiece
"Castle of the Creeping Flesh"
(1968 -- Germany), starring Janine Reynaud, Howard Vernon and Elvira Berndorff, packed with krimi depravity, mondo-style shocks, and graphic gothic insanity. When a group of bourgeois swingers stumbles upon the creepy castle of the cursed Earl of Saxon, they'll discover an unholy nightmare of sexual violence, bombastic philosophy, deranged performances, grisly medical experiments, inappropriate music cues, and one very pissed off bear. On Blu-ray from Severin Films ... Also from Severin Films is
"Plague Town"
(2008), starring Josslyn DeCrosta, Erica Rhodes, David Lombard and Lindsay Goranson in which a tourist family gets lost in the Irish countryside near a remote village that hides a hideous secret. It's a hybrid of grisly 70s shockers and graphic 21st-century folk-horror. From co-writer-director David Gregory ("Blood & Flesh: The Reel Life & Ghastly Death of Al Adamson") and the producers of "Stakeland," now featuring an uncensored HD master on Blu-ray.
FOREIGN FILMS:
From the outrageous imagination of cult director Teruo Ishii ("Orgies of Edo," "Horrors of Malformed Men") comes
"Shogun's Joy of Torture"
(1968 -- Japan), an infamous omnibus of three shocking tales of crime and punishment based on true-life documented cases set during the reign of the Tokugawa shogunate. The first tale sees the beautiful Mitsu (Masumi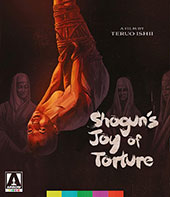 Tachibana) going to horrifying lengths to tend to her older brother Shinzo (Teruo Yoshida), a carpenter injured in a work accident, but the law catches up on them and metes out a terrifying retribution after they violate the ultimate taboo. In the second, unfettered passions in a Buddhist nunnery are not allowed to go unpunished after abbess Reiho (Yukie Kagawa) and her attendant Rintoku (Naomi Shiraishi) encounter a virile young monk from a neighboring temple. In the closing segment, a sadistic torturer (Fumio Watanabe) attempts to show a tattoo artist (Asao Koike) how to depict convincing expressions of faces of pain in his work by allowing him to sketch a selection of Europeans as they are tortured for entering Japan with the aim of spreading Christianity. Ishii's notorious portmanteau of Edo-era excess signaled a change in direction for a director until then regarded for his crime and yakuza films, setting the ball rolling on the run of grotesque historical anthologies for which he is now best remembered. Vehemently denounced by the critics of the day, "Shogun's Joy of Torture" set a new benchmark for the depiction of sex, sadism and depravity in Japanese exploitation, with Ishii staging his elaborate torture methods with an unmatched verve and inventiveness. On Blu-ray from Arrow Video/MVD Entertainment ...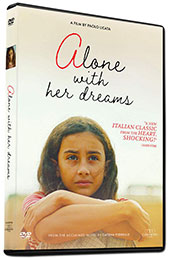 Filmed on the rugged and stunningly beautiful Sicilian coast and set in the late 1960's,
"Alone With Her Dreams"
(2020 -- Italy), starring Marta Castiglia, Tania Bambaci and Nicoletta Cifariello, explores the issues of immigration, community values and family devotion through the eyes of a young girl, Lucia who is left behind with her grandmother, Maria, while her parents emigrate to France to find work. Lucia pains to be with her family as she struggles to learn her role in the tiny, traditional village under the watchful guidance of her stern grandmother. As Lucia enters womanhood, her childhood innocence is lost to a hideous family secret and her world of childhood fragility and heartbreaking nostalgia melts into adulthood's poignant understanding. Winner of Best First Feature and Best Original Score at the 2020 Italian Golden Globe Awards. From Corinth Films.
FOR THE FAMILY:
In
"Scooby-Doo The Sword and the Scoob"
(2021), the Scooby-Doo gang is transported to the mythical castled city of Camelot in this brand-new, full-length animated family film. Our favorite teen sleuths take a trip to England to trace Shaggy's family roots, where they suddenly find themselves in the Middle Ages and meet the legendary King Arthur and his noble knights. An evil sorceress tries to seize power in Camelot, so King Arthur needs the help of the Mystery, Inc. super sleuths to save his throne. But will their valiant efforts only make things royally worse? From Warner.
SPECIAL INTEREST:
"Collective"
(2019 -- Romania): After an explosive fire claimed the lives of 27 people at Colectiv Nightclub in Bucharest, Romania, officials reassure the public that surviving victims will receive care in facilities that are better than Germany's state-of-the-art trauma centers. As the casualty count rises weeks later, intrepid reporters at the Sports Gazette begin to investigate the reason behind the increased number of deaths. As a crucial tip exposes Hexi Pharma, a pharmaceutical company at the heart of the scandal, the company's owner dies under mysterious circumstances, leading the health minister to quietly resign amid the uproar -- opening the first chapter in a thrilling, ever-twisting exposé. Closely tracking the efforts of the Gazette team as they methodically discover layer upon layer of fraud and criminal malfeasance, director Alexander Nanau's documentary is a fast-paced, real-time detective story about truth, accountability and the value of an independent press in partisan times. From Magnolia Home Entertainment ...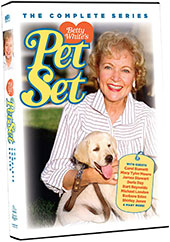 "Betty White's Pet Set: The Complete Series":
The long-unseen series created by and starring the sitcom legend will make its debut on digital platforms and DVD. In an unparalleled television career spanning over 70 years, Betty White has brought laughter and joy to millions of fans of all ages via such hit series as "The Golden Girls," "The Mary Tyler Moore Show" and "Hot in Cleveland," as well as countless game show appearances. In 1971, just prior to Betty's sitcom superstardom, she created and hosted a weekly program celebrating her lifelong love of animals. Produced with her husband Allen Ludden ("Password"), Betty White's Pet Set featured Betty welcoming celebrity friends with their dogs, cats and horses -- in addition to a wide range of wild animals including tigers, bears, elephants, lions, wolves, gorillas, chimps, cougars, cheetahs, seals, kangaroos, zebras, eagles, snakes and penguins -- both in the studio and on location. The 39 episodes feature such entertainment greats as Carol Burnett, Doris Day, Jimmy Stewart, Mary Tyler Moore, Burt Reynolds, Shirley Jones, Michael Landon, Barbara Eden, James Brolin, Della Reese, Vincent Price, Rod Serling and many more. From MPI Media Group ...
"You Never Had It: An Evening with Bukowski"
(2020) captures a raucous night of drinking and talking about sex, literature, childhood and humanity with the cult writer Charles Bukowski in 1981. This documentary is based on a video interview conducted by producer and journalist Silvia Bizio with Bukowski and his soon-to-be wife Linda Lee Beighle at their home in San Pedro, California. The interview was shot on U-matic tapes which have been digitized and edited along with new shots in Super 8 of scenes of Los Angeles today and poems read by Bukowski. On Blu-ray from Kino Lorber.
FROM TV TO DISC: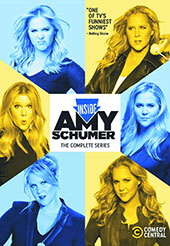 "Inside Amy Schumer: The Complete Series"
(2013-16) is a seven-disc set with all four seasons that provide an intimate look into the mind of comedian Amy Schumer, who, through a series of scripted vignettes, stand-up comedy, and man-on-the-street interviews, explores topics revolving around sex, relationships, and the general c1usterfck that is life. Guest stars include Tina Fey, Zach Braff, Steve Buscemi, Lena Dunham, Paul Giamatti, Ilana Glazer, Abbi Jacobson, Selena Gomez, Jake Gyllenhaal, Bill Hader, Nick Kroll, Liam Neeson and more. From Comedy Central/Paramount.
Check out other new DVD/Blu-ray releases, streaming films, and information and reviews at OnVideo.
Comments