By Harley Lond - 12/29/20 at 02:11 AM CT
As we close out 2020 and enter into what will be a much better 2021, there's only a handful of titles heading to DVD and Blu-ray this week. Things will pick up after the first, so, in the meantime:


Happy New Year
FROM THE BIG SCREEN:
"Honest Thief"
(2020) Liam Neeson, Kate Walsh, Jai Courtney, Jeffrey Donovan, Anthony Ramos, Robert Patrick. Meticulous thief Tom Carter (Neeson) has stolen $9 million from small-town banks while keeping his identity a secret. But after he falls in love with the bubbly Annie (Walsh), Tom decides to come clean about his criminal past, only to be double-crossed by two ruthless FBI agents.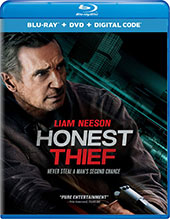 Honest Thief
is a tale of redemption and one man's mission to make things right for the sake of love.
Formats:
DVD, Blu-ray/DVD Combo, VOD, Digital. CC, MPAA rating: PG-13, 99 min., Crime Action, Box office gross: $12.362 million. (Universal).
ALSO THIS WEEK
"Blackjack: The Jackie Ryan Story
"
(2020), starring Ashley Greene, David Arquette and Robert Davi, is a bio-drama about troubled Brooklyn-native street basketball legend Jackie Ryan, who confronts his inner demons after getting invited to try out for the NBA. On DVD, Blu-ray, from Gravitas Ventures ... In
"The Last Shift
"
(2020), starring Richard Jenkins, Shane Paul McGhie, Da'Vine Joy Randolph, Birgundi Baker, Allison Tolman and Ed O'Neill, Stanley (Jenkins), an aging fast-food worker, plans to call it quits after 38 years on the graveyard shift at Oscar's Chicken and Fish. His last weekend takes an interesting turn while training his replacement, Jevon (McGhie), a talented but stalled young writer whose provocative politics keep landing him in trouble. These two who share little in common are brought together through circumstance. Stanley, a high school dropout who has watched his life pass by his drive-through window, proudly details the nuances of the job. While Jevon, a columnist who's too smart to be flipping patties, contends their labor is being exploited. A flicker of comradery sparks during the long overnight hours in a quiet kitchen. On DVD, Blu-ray,from Sony ... In
"Zombie Bro
"
(2020), starring Lauren Grego and Cooper Flynn, when Francine catches her brother, Teddie, in the act of a zombie attack, she must convince her parents that they're in danger and -- worst of all -- that they have to find a way to get rid of her brother. Along the way, Francine learns how to defend herself, make a best friend for life and become closer to her idol, her father. From Indican Pictures.
Comments