By Harley Lond - 11/24/20 at 06:53 AM CT
THIS WEEK'S BEST BETS
One hundred years after his birth, Federico Fellini still stands apart as a giant of the cinema. The Italian maestro is defined by his dualities: the sacred and the profane, the masculine and the feminine, the provincial and the urbane. He began his career working in the slice-of-life poetry of neorealism, and though he soon spun off on his own freewheeling creative axis, he never lost that grounding, evoking his dreams, memories, and obsessions in increasingly grand productions teeming with carnivalesque imagery and flights of phantasmagoric surrealism while maintaining an earthy, embodied connection to humanity. Bringing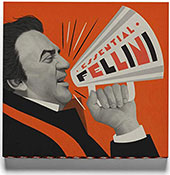 together 14 of the director's greatest spectacles, all beautifully restored, this centenary box set is a monument to an artist who conjured a cinematic universe all his own: a vision of the world as a three-ring circus in which his innermost infatuations, fears, and fantasies take center stage. The 15 Blu-ray "Essential Fellini
" collector's set features "Variety Lights" (1950), "The White Sheik" (1952), I vitelloni" (1953), "La strada" (1954), "Il bidone" (1955), "Nights of Cabiria" (1957), "La dolce vita" (1960), "8 1/2" (1963), "Juliet of the Spirits" (1965), "Fellini Satyricon" (1969), "Roma" (1972), "Amarcord" (1973), "And the Ship Sails On" (1983) and "Intervista" (1987). From The Criterion Collection ...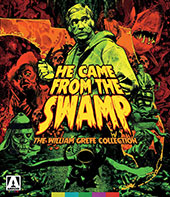 Killer sharks and human jellyfish and living mummies, oh my! Arrow Video presents the first ever collection of works by William "Wild Bill" Grefé, the maverick filmmaker who braved the deep, dark depths of the Florida everglades to deliver some of the most outrageous exploitation fare ever to go-go dance its way across drive-in screens. Bringing together seven of Grefé's most outlandish features, all new to Blu-ray, "He Came from the Swamp: The William Grefé Collection
" packs in a macabre menagerie of demented jellyfish men ("Sting of Death"), zombified witch doctors ("Death Curse of Tartu"), homicidal hippies ("The Hooked Generation") and seductive matrons ("The Naked Zoo") - not to mention the ubiquitous go-go dancing college kids – to create one of the most wildly entertaining box-sets of all time. Seven William Grefé films, all newly restored from the best surviving film elements: "Sting of Death" (1966), "Death Curse of Tartu" (1966), "The Hooked Generation" (1968), "The Psychedelic Priest" (1971), "The Naked Zoo" (1971)," Mako: Jaws of Death" (1976) and "Whiskey Mountain" (1977). Brand new, extended version of Ballyhoo Motion Pictures' definitive documentary "They Came from the Swamp: The Films of William Grefé." On Blu-ray from Arrow Video/MVD Entertainment ...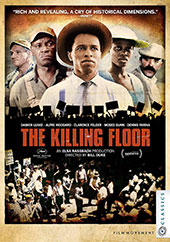 Praised by The New Yorker as "a revelatory historical drama" and by The Village Voice as the most "clear-eyed account of union organizing on film," "The Killing Floor
" (1985) is the first feature film directed by Bill Duke and explores a little-known true story of an African American migrant in his struggle to help build an interracial union in the Chicago Stockyards. The screenplay by Obie Award-winner Leslie Lee is from an original story by producer Elsa Rassbach and is based on actual characters and events, tracing ethnic and class conflicts seething in the city's giant slaughterhouses, when management efforts to divide the workforce fuel racial tensions that erupt in the deadly Chicago Race Riot of 1919. Damien Leake stars as Frank Custer, a young black sharecropper from Mississippi who lands a job on "the killing floor" of a meatpacking plant — one of tens of thousands of southern blacks who journeyed to the industrial north during World War I, hoping for more racial equality. Frank finally succeeds in bringing his wife Mattie (Alfre Woodard) and family up north, but when he decides to support the union cause, his best friends from the South, distrustful of the white-led union, turn against him. The film was shot in Chicago in 1983 by a small indie production firm in the midst of the union-busting Reagan Era just as Chicago's first African-American mayor, Harold Washington, was elected. Available on Blu-ray and DVD for the first time ever in North America, the film was the Official Selection at Cannes and Winner of the 1985 Special Jury Prize at Sundance. From Film Movement ...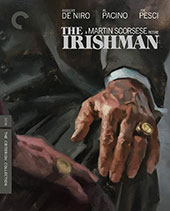 Martin Scorsese's cinematic mastery is on full display in the sweeping crime saga "The Irishman
" (2019), which serves as an elegiac summation of his six-decade career. Left behind by the world, former hit-man and union truck driver Frank Sheeran (Robert De Niro) looks back from a nursing home on his life's journey through the ranks of organized crime: from his involvement with Philadelphia mob boss Russell Bufalino (Joe Pesci) to his association with Teamsters union head Jimmy Hoffa (Al Pacino) to the rift that forced him to choose between the two. An intimate story of loyalty and betrayal writ large across the epic canvas of mid-20th-century American history, "The Irishman" (based on the real-life Sheeran's confessions, as told to writer Charles Brandt for the book "I Heard You Paint Houses") is a uniquely reflective late-career triumph that balances its director's virtuoso set pieces with a profoundly personal rumination on aging, mortality, and the decisions and regrets that shape a life. On Formats: DVD, Blu-ray, with new 4K digital master, approved by director Martin Scorsese, with Dolby Atmos soundtrack on the Blu-ray, from The Criterion Collection.


BUZZIN' THE 'B'S:
For the first time ever, screen legends Arnold Schwarzenegger and Jackie Chan face off against each other in the fantasy-adventure
"Iron Mask
"
(2019 -- Russia), co-starring Jason Flemyng, Xingtong Yao, Anna Churina, Rutger Hauer, Li Ma and Charles Dance. In order to save his homeland from certain doom, a kung fu master (Chan) must escape from the maniacal James Hook (Schwarzenegger) in order to send his daughter a secret talisman that will allow her to control a massive and mythical dragon. The globe-trotting tale – ranging from the impenetrable Tower of London to the fabled Silk Road and China's Great Wall – also stars Rutger Hauer in one of the screen icon's final performances. On DVD, Blu-ray, from Lionsgate ...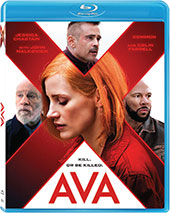 "Ava
"
(2020), starring Jessica Chastain, John Malkovich, Common, Geena Davis, Colin Farrell, Ioan Gruffudd and Joan Chen, is a deadly assassin who works for a black ops organization, traveling the globe specializing in high profile hits. When a job goes dangerously wrong she is forced to fight for her own survival. On DVD, Blu-ray, from Lionsgate ... In
"Buddy Games
(2019), starring Dan Bakkedahl, Kevin Dillon, Josh Duhamel, Olivia Munn, James Roday, Dax Shepard and Nick Swardson, after six lifelong friends have a five year falling out, Bob (Duhamel), aka "The Bobfather", reunites his pals for the Buddy Games, an insane competition of absurd physical and mental challenges with the chance to win a $150,000 pot. Now all bets are off, as the determined dudes fight, claw, and party for the big bucks. From Paramount ... In
"The Haunting of the Mary Celeste
"
(2020), starring Emily Swallow, Dominic Devore, Alice Hunter, Pierre Adele and Richard Roundtree, a researcher and her crew set out to sea to prove that the disappearance of a family and crew from a merchant ship was for reasons having to do with the supernatural. Her theory, that those on the Mary Celeste vanished into a "rift" between dimensions, proves true as their boat breaks down and her crew begins to vanish one-by-one. From Lionsgate ...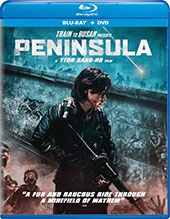 Four years after South Korea's total decimation in 2016's "Train to Busan," the zombie thriller that captivated audiences worldwide, acclaimed director Yeon Sang-ho brings us this next nail-biting chapter in his post-apocalyptic world:
"Train to Busan Presents: Peninsula
"
(2019), starring Gang Dong-won, Lee Jung-hyun and John. D Micheals. Jung-seok, a soldier who previously escaped the diseased wasteland, relives the horror when assigned to a covert operation with two simple objectives: retrieve and survive. When his team unexpectedly stumbles upon survivors, their lives will depend on whether the best - or worst - of human nature prevails in the direst of circumstances. On Blu-ray, 4K Ultra HD/Blu-ray Combo, from Well Go USA ...
"Riders of Death Valley
"
(1941) is a two-disc set with 14 cliffhanger episodes. This Western serial has cowboy heroes escaping various perils devised by the evil Wolfe Reade and his pack of outlaws, who wish to lay claim to the fabled Lost Aztec Mine. The stable of stars includes Dick Foran, Leo Carrillo, Buck Jones, Charles Bickford, Guinn 'Big Boy' Williams, Lon Chaney Jr., and Noah Beery Jr. On DVD, Blu-ray, from VCI Entertainment.
FOREIGN FILMS:
In
"Mellow Mud
"
(2016 -- Latvia), starring Elina Vaska, Andzejs Janis Lilientals abd Ruta Birgere, harsh circumstances force a resourceful and determined Latvian teen to mature beyond her years in this compelling, bittersweet coming-of-age story from first-time feature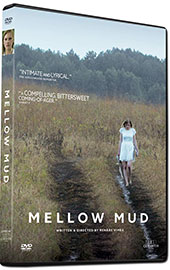 helmer-writer Renars Vimba. Following the death of their father and emigration of their mother to England to find work, 17-year-old Raya (Vaska) and her younger brother, Robis (Lilientals), are forced to share a squalid rural cottage with their paternal grandmother (Birgere), whom they despise. When Raya returns from school one day to find their grandmother dead, they uneasily bury her in the garden to avoid the local social worker who has been snooping about and go about their lives as if nothing has happened. So when a high school English competition promising a trip to London for the finalists provides hope for Raya to escape her desperate situation - maybe even help them find her mother - she ultimately makes a series of decisions that bring her to an unenviable crossroad. Winner of the Crystal Bear for Best Feature Film at the Berlinale. From Corinth Films.
SPECIAL INTEREST:
An archive of '90s culture and a philosophical study of fame via the intimate video-diary of Shannon Hoon, the late lead singer of alt-rock band Blind Melon. In
"All I Can Say
"
(2019), Hoon filmed himself religiously from 1990-1995 with a video camera, recording up until a few hours before his sudden death at the age of 28. His camera was a diary and his closest confidant. In the hundreds of hours of footage, Hoon meticulously documented his life - his family, his creative process, his television, his band's rise to fame, and his struggle with addiction. Created solely with his own footage, voice, and music, this rare autobiography is a prescient exploration of experience and memory in the age of video. It is also Hoon's last work, completed 23 years after his death. On DVD, Blu-ray, from Oscilloscope Laboratories ...
"Frontline: Policing the Police 2020"
(2020) is a provocative journey inside one police force that's been ordered to reform by the Department of Justice: the Newark Police Department in New Jersey, which was found to have a pattern of civil rights abuses against the city's black residents. A raw and complex look at the challenge of changing how cops operate in a place like Newark: a poor city plagued by violent crime, where the victims and the perpetrators are usually black, and the police force itself is largely black and Latino. The documentary examines the difficulties of fixing a broken relationship with the community after decades of mutual mistrust. From PBS Distribution.
FROM TV TO DISC:
"Babylon Berlin: Season 3"
(2020) is a three-disc set with all 12 episodes. The ambitious, award-winning German series is a dizzyingly crime drama. Season 3 opens in the fall of 1929 in Berlin, during the tumultuous weeks before Black Friday's stock market crash. Inspector Gereon Rath (Volker Bruch) and Charlotte Ritter (Liv Lisa Fries) are assigned to investigate the death of an actress, only to realize that the film industry is as rotten as the underworld. In the meantime, the fascist Black Reichswehr are regathering their forces for their next attempt to bring down democracy and provoke more clashes with the Communists. On DVD, Blu-ray, from Kino Lorber ...
"Better Call Saul: Season Five"
(2020) is a three-disc set with all 10 episodes. Jimmy McGill's decision to practice law as "Saul Goodman" creates unexpected and profound waves of change throughout Albuquerque's legal and illegal circles. Kim Wexler finds herself at a crossroads as her connection with Jimmy deepens. Wracked with guilt and regret, Mike Ehrmantraut hits rock bottom. Meanwhile, Nacho Varga tries to survive as Gus Fring's covert war on the cartel becomes a life-and-death chess match with the mercurial and relentless Lalo Salamanca. Stars Bob Odenkirk, Jonathan Banks, Rhea Seehorn, Patrick Fabian, Michael Mando, Giancarlo Esposito. On DVD, Blu-ray, from Sony.
Comments