By Harley Lond - 04/07/20 at 06:54 AM CT
FROM THE BIG SCREEN:
"Little Women," "Dolittle" and "Cats."

THIS WEEK'S BEST BETS:
The most personal film by the underworld poet Jean-Pierre Melville, who had participated in the French Resistance himself, the tragic masterpiece "Army of Shadows" (1969 -- France), based on a novel by Joseph Kessel, recounts the struggles and sacrifices of those who fought in the Resistance. Lino Ventura, Paul Meurisse, Jean-Pierre Cassel, and the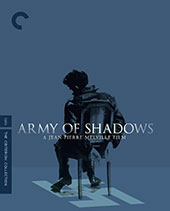 incomparable Simone Signoret star as intrepid underground fighters who must grapple with their conception of honor in their battle against Hitler's regime. Long underappreciated in France and virtually unseen outside of festivals in the United States, the atmospheric and gripping thriller is now widely recognized as the summit of Melville's career, channeling the exquisite minimalism of his gangster films to create an unsparing tale of defiance in the face of seemingly insurmountable odds. On DVD, Blu-ray Disc, with high-definition digital restoration, supervised by director of photography Pierre Lhomme, with uncompressed monaural soundtrack on the Blu-ray. Alternate 2.0 surround soundtrack, presented in DTS-HD Master Audio on the Blu-ray. Army of Shadows
is from The Criterion Collection ...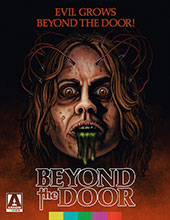 Legendary filmmaker Ovidio G. Assonitis, whose "Tentacles" and "Piranha II" sought to cash in on the killer fish craze spawned by "Jaws," first hit pay dirt in 1974 with "Beyond the Door
" (1974 -- Italy) -- a gloriously bonkers riff on "The Exorcist" featuring Emmy Award-winning actress Juliet Mills and distinguished British actor Richard Johnson. Set against the backdrop of San Francisco, the film stars Mills as Jessica Barrett, a young mother who starts to develop strange behaviors whilst pregnant with her third child. Before you can say "split pea soup," Jessica is displaying signs of full-blown demonic possession -- complete with projectile vomiting and fully-rotating head! Could it be that she's carrying the child of the Antichrist himself? Described as "disgusting", "scary trash" and "maddeningly inappropriate" by film critic Robert Ebert and subject to a lawsuit by Warner Bros. (who claimed copyright infringement against a certain William Friedkin film), the devilish denizens at Arrow Video have summoned up this wickedly entertaining popcorn spiller in a brand new, extras-packed edition fit for Satan himself. Limited to 3,000 units; brand new 2K restoration of the extended Uncut English Export Version. On Blu-ray from Arrow Video/MVD Entertainment.


BUZZIN' THE 'B'S:
In
"Dead by Dawn
"
(2020), starring Jamie Bernadette, Drew Lindsey Mitchell, Kelcey Watson, Bo Burroughs and Timothy Muskatell, a suicidal man in a remote cabin is suddenly faced with protecting a kidnapped woman from three killers and their sadistic games. Unable to contact the outside world and with night falling, he falls backs on creating traps to prevent the criminals from gaining entry. It's a fight to the death where only the strongest will survive until dawn. From Uncork'd Entertainment ...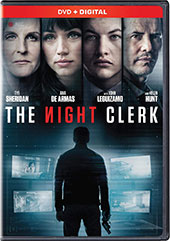 In
"The Night Clerk
"
(2020), starring Tye Sheridan, Ana de Armas, John Leguizamo and Helen Hunt, Sheridan stars as hotel night clerk Bart Bromley who is a highly intelligent young man on the autism spectrum. When a woman is murdered during his shift, Bart becomes the prime suspect. As the police investigation closes in, Bart makes a personal connection with a beautiful guest named Andrea (Ana De Armas), but soon realizes he must stop the real murderer before she becomes the next victim. From Paramount ... After a meteor causes a global apocalypse in
"Impact Event
"
(2020), starring Margaret O'Brien, Michael Berryman, Vernon Wells and Richard Grieco, a small group of survivors takes refuge in an abandoned funhouse and must fight off cannibalistic killers. From Wild Eye Releasing ... In
"Gold Dust
"
(2020), starring Darin Brooks, Chris Romano, David Wysocki, and David Wall, somewhere along the border with Mexico, two lifelong friends -- prospectors -- use moth eaten maps and passed down legends in a lifelong search to find a ghost ship rumored to have been buried in the desert sand over millennia as the seafloor dried up. A rollicking Western adventure with dancing assassins, opera in uncharted canyons, armed children on dirt bikes, mines, hostages and mirages that all form the wild whirlwind called Gold Dust. From High Octane Pictures ...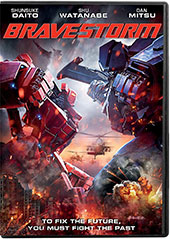 In
"Bravestorm
"
(2017 -- Japan), in the year 2050, mankind is extinct on Earth. The last survivors, five Kasuga brothers, must use a time machine to travel back to 2018, to collect a human capable of exterminating a group of giant robots sent to Earth by an alien race called the Killgis. Filled with massive action set pieces, robot battles, time travel, and tons of other sci-fi goodies, it's a cinematic remake of two 1970s Japanese TV series ("Silver Mask" and "Super Robot Red Baron"). From GVN Releasing ... In
"Just One More Kiss
"
(2020), "Till death do us part" wasn't nearly long enough for Max and Abby, a happily married couple ... until an accident took Max away. As Abby struggles with life without Max something strange happens: Max's ghost returns to help her get over him. But with a second chance to be together, neither wants to say goodbye again. From Indiecan Pictures.
FOREIGN:
In
"From Iceland to EDEN
"
(2019 -- Iceland), starring Hansel Eagle, Telma Huld Jóhannesdóttir and Arnar Jónsson, two drug-hazed young lovers dream about escaping icy Reykjavik to live carefree in Paradise (aka Eden). While escaping from the police, Óliver (Eagle) accidentally stumbles into a flat and saves Lóa's (Jóhannesdóttir) life. The pair are both users and dealers but want nothing more than to escape and start a new life. However, the situation becomes much more complicated when they decide to use stolen narcotics from an infamous drug lord to fund their escape plans. On DVD, Blu-ray, from Cinema Libre Studio.
FOR THE FAMILY:
"Strike
"
(2020) is a heart-warming, coming-of-age animated story following young mole Mungo Morrison (voice of Lizzie Waterworth) as he struggles to save his family and community from evil "Boss", while also trying to achieve his dream of representing his country in soccer during the Wild Cup in Russia. From Magnolia Home Entertainment ...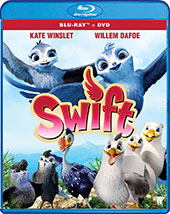 In
"Swift
"
(2019), featuring the voices of Kate Winslet, Willem Dafoe and Josh Keaton, Manou is a sweet bird who grows up believing he is a seagull like his parents. He strives to swim, fish and fly like them … but feels that he is not very gifted. To his great shock, Manou discovers that he was adopted, and is actually the offspring of the much-hated swifts! After a tragedy, Manou has to navigate the differences between swifts and seagulls, and ultimately try to find his own identity - and save his friends and family along the way. On DVD, Blu-ray, from Shout! Kids.
SPECIAL INTEREST:
"Miles Davis: Birth of the Cool
"
(2019) tells the story of the legendary trumpeter, bandleader, innovator and trend-setter who crossed musical genres and whose life was notable on and off stage. Directed by award-winning documentarian Stanley Nelson, the film features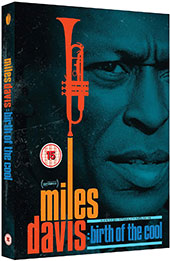 Miles' music from live performances, studio recordings and outtakes, as well as interviews with those who knew Miles best (Quincy Jones, Santana, Wayne Shorter, etc). Pulls back the curtain of the man behind the music. The film takes an intimate look at what drove his intense, methodical approach and ravenous hunger to study all genres of music, from Baroque to classical Indian, as well as his demons, and how those elements fueled his genius and unique self-expression. Includes bonus DVD disc of live footage from the Montreux Jazz Festival. On DVD, Blu-ray, from Eagle Rock Entertainment/Universal.
Due April 10
... Oscar-winning writer-director Alex Gibney's revelatory documentary
"Citizen K
"
(2019) is an intimate yet sweeping look at post-Soviet Russia from the perspective of the enigmatic Mikhail Khodorkovsky, a former oligarch turned political dissident. Benefitting from the chaos that ensued after the dissolution of the U.S.S.R., Khodorkovsky was able to amass a fortune in financing and oil production and became the richest man in Russia. But when he accused the new Putin regime of corruption, Khodorkovsky was arrested, his assets were seized and following a series of show trials, he was sentenced to more than 10 years in prison. Today, as an exile living in London, he continues to speak out against Putin's two-decade stranglehold on power. Expertly researched and photographed, Gibney uses Khodorkovsky's story as a way to explore the complex interplay between oligarchy and government and its destructive effect on democracy, in Russia and beyond. From Kino Lorber ...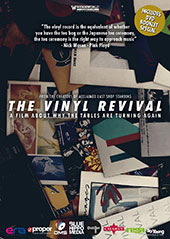 The documentary
"The Vinyl Revival"
(2019) charts the amazing revival of vinyl over the past several years. The film explores the whys and hows with industry pundits, artists, record shop owners, vinyl fans and many more. The film discusses the importance of the record shop and vinyl as a whole, answering the why's of vinyl's revival, attesting to the human need for belonging, the love of history and the stories of how the humble little record shop has shaped so many lives. Record collecting has lost its image as a hobby for middle-aged men and become instead a pursuit of the most fashion-conscious consumer. Will it last? What is the future for record shops when vinyl becomes less fashionable? Why are we in danger of another record shop decline? Why must we support these bastions of culture? Includes interviews from Nick Mason (Pink Floyd), Philip Selway (Radiohead), Ade Utley (Portishead), Joel Gion (The Brian Jonestown Massacre), The Orielles, CASSIA and others. From Wienerworld/MVD Entertainment.
Due April 10
Check out other new DVD/Blu-ray releases, streaming films, and information and reviews at OnVideo.
Comments