By Harley Lond - 11/26/19 at 07:10 PM CT
FROM THE BIG SCREEN:
"Angel Has Fallen," the latest (and weakest) in the "Fallen" franchise, involving as assassination attempt on the president, starring Gerard Butler, Morgan Freeman, Jada Pinkett Smith, Lance Reddick, Tim Blake Nelson, Danny Huston. From Lionsgate ... "Don't Let Go," a lame sci-fi thriller about a cop who gets a call from his dead niece and has to work across time to prevent an already occurred murder, starring Mykelti Williamson, David Oyelowo, Byron Mann, Shinelle Azoroh, Omar Leyva, Storm Reid. From Universal ... "Where'd You Go, Bernadette?
," a run-of-the-mill drama about a loving mom who becomes compelled to reconnect with her creative passions after years of sacrificing herself for her family. Stars Cate Blanchett, Kristen Wiig, Judy Greer, Steve Zahn, Laurence Fishburne, Troian Bellisario, Billy Crudup, Megan Mullally. From Fox ... and "Official Secrets
," the true story of a British whistleblower who leaked information to the press about an illegal NSA spy operation designed to push the UN Security Council into sanctioning the 2003 invasion of Iraq. Stars Keira Knightley, Matt Smith, Matthew Goode Rhys Ifans, Adam Bakri, Ralph Fiennes. From Paramount.


THIS WEEK'S BEST BETS:
"Robocop
"
(1987) marked director Paul Verhoeven's Hollywood debut and instantly became an enduring sci-fi/action classic when it landed in theaters in the summer of 1987. Verhoeven's peerlessly exciting and kinetic visuals were matched by a sharp script, iconic cast and exceptional special effects by Rob Bottin ("The Thing") and Phil Tippett ("The Empire Strikes Back"). The film takes place in Detroit in the not-too-distant future. Heroic cop Alex Murphy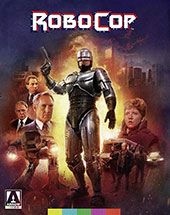 (Peter Weller) is gunned down in the line of duty, only to be resurrected as RoboCop -- a cybernetic mix of spare human parts and Motor City steel, and the latest defense against crime designed by the all-powerful OCP Corporation. As RoboCop's memories of his former life as Murphy resurface, only his ex-partner (Nancy Allen) stands beside him to fight against the vicious thugs responsible for his death, as well as a nefarious top-level OCP executive orchestrating the chaos from above. Unsurpassably thrilling, unexpectedly moving and unforgettably hilarious in equal measure, the future of law enforcement is back in a definitive Blu-ray presentation packed with hours of brand new bonus features and exclusive collectable packaging. 4K restoration from the original camera negative by MGM, transferred in 2013 and approved by director Paul Verhoeven. Includes director's cut and theatrical cut of the film on two Blu-ray discs, with original lossless stereo and four-channel mixes plus DTS-HD MA 5.1 surround sound option on both cuts. In both Limited Edition Blu-ray and Steelbox Blu-ray from Arrow Video/MVD Entertainment ...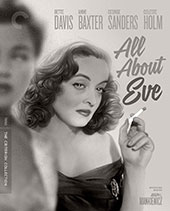 In Joseph L. Mankiewicz's devastatingly witty Hollywood classic
"All About Eve
"
(1950), backstage is where the real drama plays out. One night, Margo Channing (Bette Davis) entertains a surprise dressing-room visitor: her most adoring fan, the shy, wide-eyed Eve Harrington (Anne Baxter). But as Eve becomes a fixture in Margo's life, the Broadway legend soon realizes that her supposed admirer intends to use her and everyone in her circle, including George Sanders's acid-tongued critic, as stepping-stones to stardom. Featuring stiletto-sharp dialogue and direction by Mankiewicz, and an unforgettable Davis in the role that revived her career and came to define it, the multiple-Oscar-winning "All About Eve" is the most deliciously entertaining film ever made about the ruthlessness of show business. On DVD, Blu-ray Disc with 4K digital restoration, with uncompressed monaural soundtrack on the Blu-ray. From The Criterion Collection ...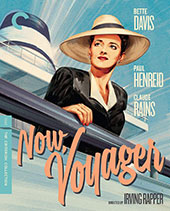 In
"Now, Voyager
"
(1942), nervous spinster Charlotte Vale (Bette Davis) is stunted from growing up under the heel of her puritanical Boston Brahmin mother (Gladys Cooper), and remains convinced of her own unworthiness until a kindly psychiatrist (Claude Rains) gives her the confidence to venture out into the world on a South American cruise. Onboard, she finds her footing with the help of an unhappily married man (Paul Henreid). Their thwarted love affair may help Charlotte break free of her mother's grip -- but will she find fulfillment as well as independence? Made at the height of Davis's reign as the queen of the women's picture and bolstered by an Oscar-winning Max Steiner score, "Now, Voyager" is a melodrama for the ages, both a rapturous Hollywood romance and a poignant saga of self-discovery. On DVD, Blu-ray Disc with new, restored 4K digital transfer, with uncompressed monaural soundtrack on the Blu-ray. From The Criterion Collection.
BUZZIN' THE 'B'S:
In
"The Driver
"
(2018), starring Mark Dacascos, Julie Condra and Noelani Dacascos, after a plague of the undead decimates human life on earth, a former hit man (Dacascos), his wife (Condra), and daughter, Bree (Noelani Dacascos), live quietly in a survivalist compound. But when their base is attacked, a massive explosion summons a swarm of the undead. They escape and must seek out the Haven – a rumored sanctuary up north – while the father teaches his daughter to shoot, drive, and survive before time runs out. From Lionsgate ... In
"The Dwelling
"
(2019), starring Alysa King abnd Gwenlyn Cumyn, four people find themselves stuck on a haunted antique bed where leaving means suffering a gruesome death. Plagued with frightening hallucinations, they must figure out the bed's secrets before they are ultimately picked off one by one. From Uncork'd Entertainment ...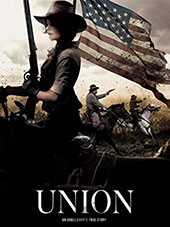 A civil war love story that is epic, moving, crazy and loaded with facts that are staggering,
"Union
"
(2018), starring Virginia Newcomb, Cece Kelly and Blaine Burdette, is based on Lizzie Compton, a real-life woman who fought as a man in some of the worst battles of all time. Not only did she fight – she was wounded multiple times. Compton saw considerable action during the war, serving in seven different regiments, holding the record for the most amount of reenlistments. She transferred many times, either due to her sex being revealed or her fear of being detected. She fought at the Battle of Antietam and the Battle of Gettysburg among many others. She was last shot in the shoulder outside of Green River, Kentucky, at the Battle of Tebbs Bend. While she was being treated by the surgeon, her sex was discovered. Undeterred, she returned to Green River after her recovery to join a regiment that was encamped there. Her last known whereabouts were in the mountains of Tennessee where she made her home living as man until her death. From Indican Pictures ... In
"Mary
"
(2019), starring Gary Oldman, Emily Mortimer, Manuel Garcia-Rulfo, Stefanie Scott, Chloe Perrin, Douglas Urbanski and Jennifer Esposito, David (Oldman) is a struggling blue-collar captain looking to make a better life for his family. Strangely drawn to an abandoned ship that is up for auction, David impulsively buys the boat, believing it will be his family's ticket to happiness and prosperity. But soon after they embark on their maiden journey, strange and frightening events begin to terrorize David and his family, causing them to turn on one another and doubt their own sanity. With tensions high, the ship drifts off course, and it becomes horrifyingly clear that they are being lured to an even greater evil out at sea. On DVD, Blu-ray, from RLJE Films ... Scream Factory has this week a 40th anniversary,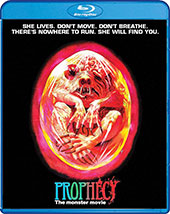 Blu-ray debut of John Frankenheimer's
"Prophecy
"
(1979). Robert Foxworth and Talia Shire star as a doctor and his wife who travel to Maine to research the impact of the lumber industry on the local environment. They begin to investigate a succession of mysterious and terrifying events: ecological freaks of nature and a series of bizarre and grisly human deaths. Something unimaginably horrible waits in the woods ... something unwittingly created by man, that will become an uncontrollable, merciless machine of destruction ... Also from Scream Factory is a new Blu-ray of
"Dracula
"
(1979), starring Frank Langella, Laurence Olivier, Donald Pleasence and Kate Nelligan. Throughout history, Dracula has filled the hearts of men with fear and the hearts of women with desire. In this stylish production of Bram Stoker's classic gothic horror tale, Frank Langella reprises his electrifying, award-winning stage performance as the bloodthirsty Count Dracula as he goes in search of his ultimate bride. Meanwhile, the renowned and relentless vampire hunter, Professor Van Helsing (Laurence Olivier), seeks to end the dark prince's reign of terror over the citizens of Transylvania. Featuring an all-star cast, fine direction and a superbly atmospheric score by the great John Williams, "Dracula" is an unforgettable adaptation of one of the most enduring horror legends of all time. New 4K scan of the original best available film elements.
ON THE INDIE FRONT:
In
"Genèse
"
(2018 -- Canada), three teenagers encounter the turmoils of love and youth. While the charismatic Guillaume (Théodore Pellerin) wrestles with his sexual identity at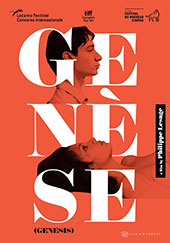 boarding school, his older half sister Charlotte (Noée Abita) navigates an adult world filled with casual cruelty. Separately, Félix (Édouard Tremblay-Grenier) meets his first girlfriend while away at summer camp. At a time when others are conforming, these three individuals stand their ground and assert their right to love and be free. From Film Movement ... In
"The Demons
"
(2015 - Canada), while Montreal is in the throes of a string of kidnappings targeting young boys, 10-year-old Felix (Edouard Tremblay-Grenier) is finishing his school year in the seemingly quiet suburb where he lives. A sensitive boy with a vivid imagination, Felix is afraid of everything. Little by little, his imaginary demons begin to mirror those of the truly disturbing world around him. From Film Movement.
FOREIGN:
"Olivia
"
(1951 -- France) is a remarkable work by one of France's first groundbreaking female filmmakers, and easily merits rediscovery today after being neglected for nearly 70 years. Plunging the viewer – and the main character – into a true lion's den, Jacqueline Audry (1908-1977) depicts a 19th century boarding school for young girls, one divided into two camps where all the shots, even the most underhanded, are allowed. That's because the two mistresses of the house, Miss Julie (Edwige Feuillère) and Miss Cara (Simone Simon) are engaged in a turf war as well as a war of the heart. Competing for the affections of their students, they route passion, hatred and unexpected reversals of loyalties. "Olivia" is a truly unique film that depicts a world almost without men. For 1950s France, when homosexuality was still largely considered deviant, Audry has made a fundamentally feminist film. On DVD, Blu-ray, from Icarus Films.
SPECIAL INTEREST:
"The Pink Panther Cartoon Collection Volume 6"
(1978-80): In the sixth and final volume of Pink Panther shorts, produced primarily for "The All New Pink Panther Show," the animators (directors Friz Freleng, David H. DePatie, Art Leonardi) at DePatie-Freleng revisited some of the character's most hilarious and endearing situations, haunting the nightmares of his long-time "Little Man" nemesis ("Pinkologist"), performing a Chaplinesque battle of cat vs. appliance ("Pink Breakfast"), and delving into the surreal with the space opera "Star Pink" and the high-concept "String Along in Pink." The collection ends with the final short in the series, "Supermarket Pink," a clever satire of consumer culture. On DVD, Blu-ray, from Kino Lorber Studio Classics.
FROM TV TO DISC:
"Line of Duty, Series 5"
(2019) is a two-disc set with all six episodes of the highest-rated UK program of 2019 with more than 11 million viewers. The cop drama follows anti-corruption unit 12 (AC-12) as they investigate fellow police officers accused of corruption. Each season features a new guest lead(s). In Series 5, Stephen Graham stars as John Corbett, the ruthless leader of an organized crime group who hijacks a seized drug transport. AC-12 investigators suspect corrupt police officers of leaking information. As the body count rises, AC-12 realize they're facing their most vicious adversary yet. From Acorn Media ...
"London Kills, Series 2"
(2019) is a two-disc set with all five episodes. The series follows a different murder each episode and an ongoing story involving the lead detective's missing wife. The elite murder squad returns. As the detectives solve each case – skeletal remains dug up in the garden, the brutal murder of a pub landlord, a teenage au pair found dead, the double-shooting of a father and son – there's one mystery Detective Inspector David Bradford can't unravel. Where is his wife Sarah? As the other detectives investigate why David is lying to them about the night Sarah disappeared, they begin to think the unthinkable – did the Detective Inspector murder his wife? On DVD, Blu-ray, from Acorn Media.
Check out other new DVD/Blu-ray releases, streaming films, and information and reviews at OnVideo.
Comments