By Harley Lond - 11/13/19 at 09:31 AM CT
FROM THE BIG SCREEN:
With a title like "Good Boys" you know you're in for some bad-boy action. Three sixth-grade boys ditch school and embark on an epic journey while carrying accidentally stolen drugs, being hunted by teenage girls, and trying to make their way home in time for a long-awaited party where, hopefully, they'll get their first kisses. Stars Jacob Tremblay, Keith L Williams, Brady Noon, Will Forte, Molly Gordon, Lil Rel Howery, Midori Francis. From Universal ... "The Angry Birds Movie 2
" is an animated sequel with more goofy action as Bird and Pig Island face yet another threat. With the voices of Jason Sudeiki, Josh Gad, Bill Hader, Danny McBride, Peter Dinklage, Rachel Bloom, Awkwafina, Sterling K. Brown. From Sony ... For relentless thrill fans there's "47 Meters Down: Uncaged
," a sequel of sorts in which four teen girls diving in a ruined underwater city quickly learn they've entered the territory of the deadliest shark species in the claustrophobic labyrinth of submerged caves. Stars Sophie Nélisse, Corinne Foxx, Brianne Tju, Sistine Rose Stallone, Khylin Rhambo, Nia Long, Brec Bassinger, John Corbett. From Lionsgate. ... The only theatrical-to-disc film this week that has any modicum of substance in it is "The Farewell
": After learning that her family's beloved matriarch, Nai Nai, has been given mere weeks to live, Chinese-born, U.S.-raised Billi returns to Changchun to find that her family has decided to keep the news from Nai Nai. While the family gathers under the joyful guise of an expedited wedding, Billi rediscovers the country she left as a child, and is forever changed by her grandmother's wondrous spirit, in this richly moving story of how family can unite and strengthen us — often in spite of ourselves. Written and directed by Lulu Wang ("Posthumous"), based on her real-life experiences. Stars Shuzhen Zhao, Awkwafina, X Mayo, Tzi Ma, Diana Lin. From Lionsgate.


THIS WEEK'S BEST BETS:
It must be getting close to the holiday gift-giving season -- there's a profundity of remastered classic and cult films to partake of this week.
An archetypal example of its genre,
"The Far Country
"
(1954 is one of five superb Westerns the screen legend James Stewart made with acclaimed Hollywood auteur Anthony Mann - the others being "Winchester '73" (1950), "Bend of the River" (1952), "The Naked Spur" (1953) and "The Man from Laramie" (1955). Mann's film tells of Jeff Webster (Stewart) and his sidekick Ben Tatum (Walter Brennen), two stoic adventurers driving cattle to market from Wyoming to Canada who come to logger heads with a corrupt judge (John McIntire) and his henchmen. Ruth Romai plays a sultry saloon keeper who falls for Stewart, teaming up with him to take on the errant lawman. An epic saga set during the heady times of the Klondike Gold Rush, "The Far Country" captures the scenic grandeur of northern Canada's icy glaciers and snow-swept mountains in vivid Technicolor. Mann's direction expertly steers the film to an unorthodox, yet thrilling 'all guns-blazing' finale. Two-disc limited edition with two presentations in both original
aspect ratios of 1.85:1 and 2.00:1. Brand new 4K restoration from the original film elements by Arrow Films. On Blu-ray from Arrow Video/MVD Entertainment ...
"Charley Varrick
"
(1963), directed by Don Siegel and starring Walter Matthau, Joe Don Baker, Felicia Farr, Andy Robinson, John Vernon, Sheree North, Norman Fell, Benson Fong, Woodrow Parfrey, William Schallert and Marjorie Bennett, is a tough-as-nails action classic about a small-time crook who outfoxes the mob and the law. Screen great Walter Matthau stars as the titular career criminal, with the powerful Joe Don Baker as the tough Mafia hitman on his tail. Charley robs small banks with small payrolls. That keeps him out of trouble until he stumbles onto the mob's secret stash. The chase is on as the Big Boys go after the "Last of the Independents." It's a heart-pounding ride that builds to a fiery airborne climax as Charley makes his last desperate run for the Mexican border and safety. Two of the film's best features are the terrific photography by Michael C. Butler and original music score by Lalo Schifrin. On Blu-ray from Kino Lorber Studio Classics ... Hardboiled crime-drama
"Madigan
"
(1968), directed by Don Siegel and starring Richard Widmark, Henry Fonda, Inger Stevens, Harry Guardino, James Whitmore, Susan Clark, Don Stroud, Sheree North, Warren Stevens and Raymond St. Jacques, takes a hard-hitting look at the lives and loves of New York City's top cops. Directed in gripping documentary style by Siegel, Widmark portrays the veteran Big Apple detective who is given only a few hours to track down a vicious killer. Fonda is the humane yet relentlessly forceful police commissioner who orders Widmark into the streets to solve the case, even though it might be his last assignment. Screenplay by Abraham Polonsky and Howard Rodman with stunning CinemaScope cinematography by acclaimed DP Russell Metty ("Touch of Evil"). On Blu-ray from Kino Lorber Studio Classics ...
"Thunderbolt and Lightfoot
"
(1974), directed by Michael Cimino and starring Clint Eastwood, Jeff Bridges, George Kennedy, Geoffrey Lewis, Gary Busey, Catherine Bach, Vic Tayback and Dub Taylor, is a bold, witty and tough crime-thriller starring screen icons Eastwood and Bridges as a pair of modern-day outlaws. Thunderbolt (Eastwood) is a former thief whose razor-sharp wits and steely nerves made him a master of his profession, but he's about to re-enter the criminal world with a new partner: Lightfoot (Bridges), a brash young drifter whose energy and exuberance give the veteran a new outlook on life. Their target: the seemingly impenetrable Montana Armored Depository. After forming an uneasy alliance with Thunderbolt's former partners in crime, Red Leary (Kennedy) and Eddie Goody (Lewis), they launch an amazing scheme that will test the limits of their endurance, and the power of their friendship. Fueled by explosive action, fascinating characters and a powerfully moving climax, Thunderbolt and Lightfoot is an adventure of the highest caliber and the directorial debut for Cimino, who also wrote the original screenplay. Wonderfully shot in Scope by Frank Stanley ("The Eiger Sanction"). On Blu-ray from Kino Lorber Studio Classics ...
With its droll humor and bittersweet emotional heft,
"The Daytrippers
"
(1996), the feature debut of writer-director Greg Mottola, announced the arrival of an unassumingly sharp-witted new talent on the 1990s indie scene. When she discovers a love letter written to her husband (Stanley Tucci) by an unknown paramour, the distraught Eliza (Hope Davis) turns to her tight-knit Long Island family for advice. Soon the entire clan -- strong-willed mom (Anne Meara), taciturn dad (Pat McNamara), and jaded sister (Parker Posey) with pretentious boyfriend (Liev Schreiber) in tow -- has squeezed into a station wagon and headed into Manhattan to find out the truth, kicking off a one-crazy-day Odyssey full of unexpected detours and life-changing revelations. Performed with deadpan virtuosity by a top-flight ensemble cast, "The Daytrippers" is a wry and piercing look at family bonds stretched to the breaking point. On DVD, Blu-ray Disc with new 4K digital restoration, supervised by director Greg Mottola, with uncompressed stereo soundtrack on the Blu-ray, from The Criterion Collection ... In
"Winter Kills
"
(1975), starring Jeff Bridges, Anthony Perkins, Eli Wallach, Sterling Hayden, John Huston, Elizabeth Taylor, Dorothy Malone, Tomas Milian, Belinda Bauer, Ralph Meeker, Toshirô Mifune, Richard Boone, Joe Spinell, Tisa Farrow and Erin Gray, Bridges stars as Nick Kegan, the son of world-famous tycoon Pa Kegan (Huston) and half-brother of the late US President Timothy Kegan, who was slain by a lone assassin 19 years earlier. But when a long-rumored "second gunman" makes a secret deathbed confession, Nick begins to unravel a trail of suspects that includes a billionaire war-freak (Hayden), a murderous mob boss (Meeker), a shady nightclub owner (Eli Wallach), a Cuban kingpin (Tomas Milian), an eccentric computer expert (Perkins) and a mysterious Washington madam (Taylor). One-of-a-kind black comedy-thriller from acclaimed writer-director William Richert and based on the best-selling novel by Richard Condon ("Prizzi's Honor," "The Manchurian Candidate"). In a new 4K master, on DVD, Blu-ray, from Kino Lorber Studio Classics ... In
"Road Games
"
(1981), Stacy Keach is Pat Quid, a lone trucker who plays games to keep his sanity on long hauls through the desolate Australian Outback. Jamie Lee Curtis is a free-spirited hitchhiker looking for excitement with a game of her own. And somewhere up ahead is a maniac in a van whose game may be butchering young women along the highway. But when the killer decides to raise the stakes, Quid's game becomes personal ... and the rules of this road are about to take some very deadly turns. On Blu-ray from Scream Factory ... In
"Heathers
"
(1988), starring Winona Ryder, Christian Slater, Shannen Doherty and Lisanne Falk, the Heathers -- beautiful, popular and ruthless -- are the picture-perfect queens of the social scene at Westerburg High that everyone wants to be. And
that includes Veronica – or so she thought – until she meets JD. He's the new bad boy in class with some extreme ideas about how to get even with the school bullies and mean girls. But is he prom date material or a dangerous psychopath? The classic, wickedly dark comedy still rules as the greatest high school movie that isn't afraid of a little mayhem. On Blu-ray from RLJE Films ... The limited-edition
"Spirited Away
Collector's Edition Set"
(2001 -- Japan) comes housed in an elegant hard slipcase, with a new 40-page book with stunning art and essays. Featured in a deluxe disc portfolio will be a Blu-ray of the film paired with hours of special features and the film's soundtrack on CD, now available exclusively on disc in North America. From the legendary Studio Ghibli, this wondrous fantasy film is one of the best-selling and internationally renowned films of all time, becoming the highest-grossing film in Japanese history in 2001. Winner of the Academy Award for Best Animated Feature, Hayao Miyazaki's epic adventure is a dazzling masterpiece from one of the most iconic filmmakers in the history of animation. Chihiro's family is moving to a new house, but when they stop on the way to explore an abandoned village, her parents undergo a mysterious transformation and Chihiro is whisked into a world of fantastic spirits ruled over by the sorceress, Yubaba. Put to work in a magical bathhouse for spirits and demons, Chihiro must use all her wits to survive in this strange new place, find a way to free her parents and return to the normal world. On Blu-ray from GKIDS/Shout! Factory.
BUZZIN' THE 'B'S:
"Brian Banks
"
(2019), starring Aldis Hodge, Sherri Shepherd and Greg Kinnear, the inspirational true story of Brian Banks (Hodge), an All-American high school football star committed to USC who finds his life upended when he is wrongly convicted of a crime he didn't commit. Despite lack of evidence, Banks is railroaded through a broken justice system and sentenced to a decade of prison and probation. Years later, with the support of Justin Brooks
(Kinnear) and the California Innocence Project, Banks fights to reclaim his life and fulfill his dreams of playing in the NFL. On DVD, Blu-ray, from Universal ... In
"After the Wedding
"
(2019), starring Julianne Moore, Michelle Williams, Billy Crudup and Abby Quinn, as if driven by an inescapable force, Isabel has devoted her life to running an orphanage in a Calcutta slum. With funds running dry, a potential donor, who requires she travel from India to New York, to deliver a presentation in-person, contacts Isabel. At first balking at the demand of an uncommitted philanthropist, she relents, and travels to a city she deliberately hasn't returned to in over two decades. On DVD, Blu-ray, from Sony ... In
"Cross: Rise of the Villains
"
(2018) Brian Austin Green, Lori Heuring, Patrick Durham, Juhahn Jones, Vinnie Jones, Tom Sizemore, Danny Trejo. Armed with an explosive powerful ancient cross amulet, Callan (Brian Austin Green) is back with his extraordinary team of weapons experts to defend Los Angeles from its biggest threat yet -- super villains Muerte (Danny Trejo) and Drago (Manu Intiraymi). Callan will have to join forces with his once mortal enemy, Gunnar (Vinnie Jones), to try to save the city. Tom Sizemore returns as Detective Nitti and Lou Ferrigno, DB Sweeney, Jeremy London and Eric Roberts return as The Contractors in this third installment in the franchise. From Sony ... Welcome back to Tromaville High School! In
"Return to Return to Nuke 'Em High AKA Volume 2
"
(2018), starring Asta Paredes, Catherina Corcoran, Lloyd Kaufman and Zac Amico, the once tone-deaf Glee Club has now turned into a vicious gang of Cretins, wreaking havoc upon Tromaville and two innocent lesbian lovers, Crissy and Lauren. As Lauren suffers the side-effects of a Cretin forced duck rape, Chrissy follows a trail of tainted toxic taco crumbs, leading her to the crux of all Tromaville High School's mutating mires, the evil Tromorganic Foodstuffs Conglomerate and its salacious CEO, Lee Harvey Herzkauf. On Blu-ray from Troma Entertainment ...
in
"Truth
"
(2019), starring Eric Paul Erickson and Rachel Alig, after a long and bloody revolution, captured army officer Xavier Faraday is offered amnesty if he will detail his time at a notorious internment camp. When Xavier reluctantly agrees, his interrogator peels away the layers of his life, only to reveal he's not the only one hiding something. The film unfolds with only two actors in a single location, in real time. As the story progresses, nothing is what it seems and both characters will sacrifice everything in order to achieve their goals and uncover the truth. From Random Media ... When an elite group of American soldiers are ordered to take out a series of German machine gun nests in
"D-Day: Battle of Omaha Beach
"
(2019), starring Weston Cage Coppola, Chuck Liddell and Randy Couture, they find themselves blindly venturing into hostile territory. Outnumbered and outgunned they must risk life and limb as they cross treacherous terrain, never knowing where the enemy might be hiding. Based on the incredible true story of heroes Lieutenant Colonel James Rudder, Lieutenant General Omar Bradley and Major Cleveland Lytle and a day that was destined to change history. From Cinedigm ... In
"The Peanut Butter Falcon
"
(2019), starring Zack Gottsagen, Thomas Haden Church, Shia LaBeouf and Dakota Johnson, Zak (Gottsagen), a young man with Down syndrome, runs away from a residential nursing home to fulfill his dream of attending the pro wrestling school of his idol, The Salt Water Redneck (Church). On the road, Zak meets Tyler (LaBeouf), a small-time outlaw who becomes Zak's unlikely coach and ally. Together, they set out on a wild, life-changing journey and try to convince Eleanor (Johnson), a kind nursing-home employee charged with bringing Zak back, to join them. On DVD, Blu-ray, from Lionsgate ...
In director James Franco's drama
"Pretenders
"
(2018), starring Franco, Dennis Quaid, Brian Cox, Shameik Moore, Juno Temple, Jack Kilmer and Jane Levy, life imitates deadly art as a French New Wave-obsessed film student finds his muse in a mysterious actress that both he and his best friend fall in love with. After years of sex, betrayal, and collateral damage, the three end up in a dangerous situation that leaves one of them fighting for his life. From Cleopatra Entertainment ... Based on the romances between Prince Harry and Meghan Markle, and Prince William and Kate Middleton, the
"Royals & Romance 3-Film Collection"
features three Lifetime movies: "Harry & Meghan: Becoming Royal" (2019)," Harry & Meghan: A Royal Romance" (2018), and "William & Kate" (2011). From Lionsgate ... In the romantic comedy
"The Weekend
"
(2019), starring Sasheer Zamata, Tone Bell, DeWanda Wise, Kym Whitley and Y'lan Noel, Zadie (Zamata) goes on an insane weekend getaway with her ex, Bradford (Bell) and his new girlfriend (Wise). At the B&B run by her nosy mom (Whitley), Zadie feels like a third wheel until handsome Aubrey (Noel) shows up. While crushing on Aubrey, Zadie gets a little drunk and makes a lot of trouble for everyone — including herself. On DVD, Blu-ray, from Lionsgate ...
In the rock mockumentary
"Popstar: Never Stop Never Stopping
"
(2016), starring Andy Samberg, Jorma Taccone, Akiva Schaffer, Sarah Silverman, Tim Meadows, Maya Rudolph, Joan Cusack and Imogen Poots, after a two-year, sold-out, worldwide tour, Conner4Real (Samberg) is the biggest name in music. Go behind the scenes as Conner faces a crisis of popularity after this sophomore album flops, leaving fans, sycophants and rivals all wondering what to do when Conner4Real is no longer the dopest star of all. The hilarious comedy from blockbuster producer Judd Apatow is loaded with cameos from the biggest names in comedy and music, including Justin Timberlake, Adam Levine, Pharrell Williams, Carrie Underwood, Snoop Dogg, 50 Cent, Ringo Starr, Simon Cowell, Mariah Carey and more. In a Blu-ray Steelbook from Shout! Factory ...
"The Gun Runners
"
(1958), directed by Don Siegel and starring Audie Murphy, Eddie Albert, Patricia Owens, Everett Sloane, Jack Elam and Richard Jaeckel, is an action-packed adventure-yarn about Florida gun-smuggling during the Cuban Revolution. In order to pay off debts, cabin-cruiser skipper Sam Martin (Murphy) rents his boat to a ruthless gun merchant who sells his illegal arms to a revolutionary group in Cuba. Soon Sam finds himself in deep water as director Siegel ratchets up the tension in this sea-faring thriller based on the classic Ernest Hemingway novel "To Have and Have Not." On DVD, Blu-ray, from Kino Lorber Studio Classics ...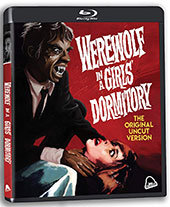 "Werewolf in a Girls' Dormitory
"
(1961 -- Italy) is a twisted Italian horror EuroShocker. When an all-girl reform school is rocked by a series of grisly murders, it unleashes a nightmare of sexual corruption and lupine depravity. Carl Schell, Barbara Lass (aka Roman Polanski's first wife Barbara Kwiatkowska) and Luciano Pigozzi star in this infamous Italian/Austrian co-production – originally titled "Lycanthropus," directed by Paolo Heusch from a screenplay by giallo maestro Ernesto Gastaldi with a classic score by Armando Trovajoli, newly scanned in 2k from archival elements recently discovered in a Rome lab vault. On DVD, Blu-ray + CD, from Severin Films ...
"Yesterday Was a Lie
"
(2009) is digitally remastered shot-by-shot for the 10th anniversary edition of the jazzy neo-noir that explores mind-twisting sci-fi themes including the nature of time, reality and human consciousness. Kipleigh Brown stars as Hoyle, a girl with a sharp mind and a weakness for bourbon who finds herself on the trail of a reclusive genius (John Newton). But her work takes a series of unforeseen twists as events around her grow increasingly fragmented, disconnected and surreal. With a sexy lounge singer (Chase Masterson) and a loyal partner (Mik Scriba) as her only allies, Hoyle is plunged into a dark world of intrigue and earth-shattering cosmological secrets. Haunted by an ever-present shadow (Peter Mayhew) whom she is destined to face, Hoyle discovers that the most powerful force in the universe -- the power to bend reality, the power to know the truth -- lies within the depths of the human heart. On DVD, Blu-ray, from IndiePix Films ...
In
"Flowers in the Attic
"
(1987), when her husband dies in a tragic accident, widow Corrine Dollanganger (Victoria Tennant) takes her four children to the ancestral family home she fled before they were born. Locked away in the attic by their tyrannical grandmother (Louise Fletcher), it falls to older brother and sister Chris (Jeb Stuart Adams) and Cathy (Kristy Swanson) to care for their younger siblings. But with their mother growing increasingly distant and erratic and a mysterious sickness taking hold, will any of the Dollanganger children survive to escape the clutches of the house's cruel matriarch? Originally published in 1979, VC Andrews' novel "Flowers in the Attic" was a smash hit, spawning four sequels and going on to sell over 40 million copies worldwide. With undercurrents of incest and child abuse and a haunting score by Christopher Young ("Hellraiser"), "Flowers in the Attic" is a dark and chilling Gothic suspense thriller in the classic tradition. On Blu-ray from Arrow Video/MVD Entertainment.
ON THE INDIE FRONT:
In a
"A Snow White Christmas
"
(2018), starring Michelle Randolph, Carolyn Hennesy, Liam McNeill and Rich Barnes, when Blanca Snow is faced with spending Christmas with her dastardly stepmother, Victoria, she attempts to fulfill her late father's wishes and create new memories as a family. However, Victoria plots to edge Blanca out of her father's inheritance and keep the money and his mansion, for herself. From Monarch Home Entertainment.
FOREIGN:
"Buñuel in the Labyrinth of the Turtles
"
(2018 -- Spain) is a deeply affecting and humanistic animated portrait of a legendary artist hunting for his purpose. Filmmaker Luis Buñuel is left penniless after the scandalous premiere of his film "L'Age d'Or." However, his good friend, the sculptor Ramón Acín, buys a lottery ticket with the promise that if he wins, he will pay for Buñuel's next film. Incredibly, luck is on their side, so they set out to make the movie, an unconventional documentary about the desperately poor Las Hurdes region in Spain. Buñuel's initially callous approach to the extreme poverty and situations he encounters (or creates) gradually leads to a filmmaking experience that will transform him forever. On DVD, Blu-ray/DVD Combo from GKIDS/Shout! Factory.
FOR THE FAMILY:
In
"Steven Universe: The Movie
"
(2019), with the voices of Zach Callison, Estelle, Michaela Dietz, Deedee Magno, Tom Scharpling and Grace Rolek, Steven thinks his time defending the Earth is over, but when a new threat comes to Beach City, Steven faces his biggest challenge yet. Two years have passed since Steven Universe resolved the ongoing conflict between Earth and the Diamonds and brought peace to the galaxy, seemingly allowing Steven and the Crystal Gems to live happily ever after. However, Steven's past comes back to haunt him in the shape of a mysterious Gem hellbent on destroying him and everything he holds dear, including the Earth itself. From Cartoon Network.
SPECIAL INTEREST:
"Scared of Revolution
"
(2018) is the untold story of the godfather of rap. Umar Bin Hassan hasn't even hit 70 yet, but he walks with difficulty and there's sadness and fatigue in his eyes. As a member of The Last Poets, a group of performance poets who expressed the
progressive spirit of the times starting in the late 1960s, he was a major influence on later hip-hop artists. In one of his best-known pieces, "Ni****s Are Scared of Revolution", he criticizes his black brothers' destructive, macho behavior. The documentary, based on Christine Otten's book, "The Last Poets," concentrates on Hassan's personal life, in which he still fights his demons. He grew up poor with a violent, unpredictable father, which in turn left him with an inferiority complex. In the course of his adult life, he has had a string of bad relationships and left children without a father figure. In his darkest hour, he also battled a crack addiction. Today, Hassan takes control of his life again, breaks the destructive cycle and does his best to be the devoted father and grandfather that he was never fortunate enough to have. From Film Movement.
FROM TV TO DISC:
"The Big Bang Theory: The Twelfth and Final Season"
(2018-19) is a three-disc DVD and two-disc Blu-ray with all 24 episodes. For years, fans have been delighted watching their favorite physicists Leonard (Johnny Galecki) and Sheldon (Jim Parsons) navigate the universe and everyday life along with Penny (Kaley Cuoco), and fellow scientists Howard (Simon Helberg), Raj (Kunal Nayyar), Amy (Mayim Bialik) and Bernadette (Melissa Rauch), as well as other beloved characters. Now that Sheldon has married neurobiologist Amy Farrah Fowler, he'll have to make some serious adjustments to their "Relationship Agreement" in Season 12. Will their equation for marital bliss alter the chemistry between these two beautiful minds? Perhaps Leonard and Penny will provide the data as they experiment with variable in their own marriage. Meanwhile, Howard and Bernadette explore the principles of parenthood, and Raj considers a traditional arranged marriage. Quantum comedy converges in the 12th dimension for the final season. On DVD, Blu-ray, from Warner ...
"Cobra Kai Seasons 1 and 2 Limited Collector's Edition"
(2018-19) is a four-disc set with all 20 episodes. The return of two iconic characters, the arch-rivals from the legendary "The Karate Kid" film series reunite over 30 years after the events of the 1984 All Valley Karate Tournament. Now living in the affluent hills of Encino, Daniel LaRusso (Ralph Macchio) leads an enviable life. Meanwhile, his high school adversary, Johnny Lawrence (William Zabka), has taken a rocky turn, but seeks redemption by reopening the infamous Cobra Kai karate dojo. Their lives inevitably become intertwined and the rivalry is reignited, setting forth the next generation of "karate kids." On DVD, from Sony.
Check out other new DVD/Blu-ray releases, streaming films, and information and reviews at OnVideo.
Comments