By Harley Lond - 07/30/19 at 06:30 PM CT
FROM THE BIG SCREEN:
Three weak major releases are due this week: "The Intruder," a thriller about a young married couple (Michael Ealy and Meagan Good) who buy their dream house in the Napa Valley, but can't get rid of the strangely attached seller (Dennis Quaid), from Sony; "Long Shot," a comedy about a journalist (Seth Rogen) who becomes the speechwriter for his childhood crush (Charlize Theron), one of the most influential women in the world now making a run for the presidency, from Lionsgate; and "UglyDolls
," an animated family film that takes place in Uglyville, where weird is celebrated, strange is special and beauty is embraced as more than that which simply meets the eye. With the voices of Kelly Clarkson, Janelle Monáe, Blake Shelton, Wanda Sykes, Wang Leehom, Bebe Rexha, Charli XCX, Lizzo, Nick Jonas and Pitbull. From Universal.


THIS WEEK'S BEST BETS:
There's two exciting Blu-ray debuts this week, both revolving around the famous British Professor Bernard Quatermass, an intelligent and highly moral British scientist and pioneer of the British space program. Originally a 1953 BBC TV series, Professor Quatermass was ported to the big screen in "The Quatermass Xperiment" in 1955. Scream Factory brings home the second and
third entries in the franchise, "Quatermass 2" and "Quatermass and the Pit."
"Quatermass II
"
(1957): The second and most talked about of the three science fiction stories written by Nigel Kneale and based on his critically acclaimed BBC series. Professor Quatermass, played by Hollywood veteran Brian Donlevy reprising his role from "The Quatermass Xperiment," is Britain's most clever scientist. Investigating a series of bizarre incidents that have been reported from a deserted area, he finds a group of soldiers and government officials that appear to be controlled by aliens from another world. When a close friend is brutally murdered by these beings, Quatermass leads a mob of local workers to a showdown with the extraterrestrials. Directed by Val Guest and produced by Anthony Hinds, "Quatermass 2" was retitled "Enemy From Space" for its U.S. theatrical release. 2K scan of a
pristine archival film print.
"Quatermass and the Pit
"
(1967): Hobbs End, Knightsbridge, London. While working on a new subway tunnel for the London Underground, a group of construction workers uncover a strangely shaped skull. Nearby, another discovery: a large, mysterious and impenetrable metal object. Initially mistaken for an unexploded bomb, the object and its strange power turn out to be far more horrific than anybody could have possibly imagined. Is it of this Earth? Could it be the ancestral link to mankind's evolution? Or could it be an ancient link to the unleashing of the ultimate evil? There's only one man capable of unraveling the clues, and his name is Professor Bernard Quatermass, a man of science who thrives on the dark mysteries of the world. "Quatermass and the Pit" stars Andrew Keir, James Donald, Barbara Shelley and Julian Glover. The film is directed by Roy Ward Baker ("A Night to Remember)". For its U.S. theatrical release, it was re-titled "Five Million Years to Earth."
BUZZIN' THE 'B'S:
In
"The Swindlers
"
(2017 -- South Korea), starring Yoo Ji-tae, Hyun Bin, Bae Seong-woo, Park Sung-woong and Nana, high stakes and fast talk are the game in this crime caper that brings together unlikely allies from different sides of the law. Each member of the team has their own motives, but they'll have to work together to achieve their common goal -- trapping the world's most legendary con man. On Blu-ray from Well Go USA ...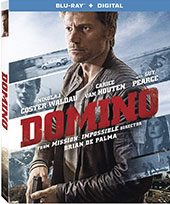 In
"Domino
"
(2019), directed by Brian De Palma and starring Nikolaj Coster-Wealdau, Carice van Houten and Guy Pearce, a Copenhagen police officer, Christian (Coster-Wealdau), seeks justice for his partner's murder by ISIS member Imran. Determined to hunt Imran down, Christian and Alex (van Houten), a fellow cop and his late partner's mistress, are unwittingly caught in a deadly cat-and-mouse chase with a duplicitous CIA agent (Pearce) who is using Imran as a pawn to trap other ISIS members. Their quest for revenge becomes a race against time to save their own lives. On DVD, Blu-ray, from Lionsgate ... In
"Body at Brighton Rock
"
(2019), starring Karina Fontes, Casey Adams, Emily Althaus, Wendy, a part-time summer employee at a mountainous state park, takes on a rough trail assignment at the end of the season, trying to prove to her friends that she's capable enough to do the job. When she takes a wrong turn and ends up deep in the backcountry, she stumbles upon what might be a potential crime scene. Stuck with no communication after losing her radio and with orders to guard the site, Wendy must fight the urge to run and do the harder job of staying put -- spending the night deep in the wilderness, facing down her worst fears and proving to everyone -- including herself -- that she's made of stronger stuff then they think she is. On DVD, Blu-ray, from Magnolia Home Entertainment ... From legendary horror film producer Val Lewton and from Jacques Tourneur, the director of the original "Cat People,"
"The Leopard Man
"
(1943), starring Dennis O'Keefe, Margo and Jean Brooks, is one of the first American films to attempt a remotely realistic portrayal of a serial killer. Is it man, beast or both behind a string of savage maulings and murders? An escaped leopard provides the catalyst for a foray into fear in which a cemetery is the rendezvous for death and love, and a closed door heightens rather than hides the horror of a young girl's fate. New 4K scan of the original nitrate camera negative. In a Blu-ray debut from Scream Factory ...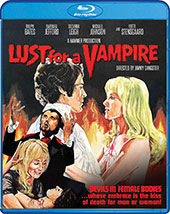 "Lust for a Vampire
"
(1971) is a Hammer Film classic. A mysterious man performs rites of black magic, bringing the notorious female vampire Carmilla Karnstein back to life. Looking to quench her bloodlust for the fairer sex, she enrolls at an exclusive girl's school as the young debutante Mircalla (Yutte Stensgaard), and begins to feast on her fellow students as well as indulging in her unholy desires for a teacher. New 4K scan of the negative, presented in two aspect ratios: 1.66:1 and 1.85:1. On Blu-ray from Scream Factory ...
"The Reptile
"
(1966) is another Hammer Film classic. A deadly epidemic is spreading through the remote Cornish village of Clagmoor Heath. As darkness falls, its victims are found foaming at the mouth with savage wounds on their necks. After his brother falls prey to the "black death," Harry Spalding (Ray Barrett) travels with his new wife (Jennifer Daniel) to Clagmoor to investigate his sibling's mysterious death. With little help from the unfriendly locals, Harry follows a trail of clues that leads him to the sinister Dr. Franklyn (Noel Willman), the doctor's strange, but beautiful daughter (Jacqueline Pearceo) ... and a horrific family secret. Presented in two aspect ratios: 1.66:1 and 1.85:1. On Blu-ray from Scream Factory ... In
"Chain of Death
"
(2018), starring Madeline Zima, Adrienne Barbeau, Dey Young, Jamie Clayton, Ray Wise, John
Patrick Amedori and Neus Asensi, when a successful surgeon discovers he has the same neurological disorder as his invalid father, he joins an underground assisted suicide group operating under one rule: if you want to die, you first must help someone else kill themselves. But when his turn to assist goes awry, law enforcement and The Chain close in. From Cleopatra Entertainment ... In an act of desperation, the coach of The Maine Lobsters, a pro football team that has lost 32 games in a row, travels to Japan to buy a school of sumo wrestlers in
"Hail Mary!
!"
(2018), starring Eddie Mekka, Chet Gole, Sheena Colette, Joomin Hwang, Claire Kennedy and Yama. His intention: To bring the humongous wrestlers back to Portland to replace his inept offensive line. From MVD Visual ...
"The White Crow
"
(2019), starring Oleg Ivenk, Adèle Exarchopoulos, Chulpan Khamatova, Ralph Fiennes and Lexey Morozov, is the incredible true story of legendary ballet dancer Rudolf Nureyev, from his poverty-stricken childhood in the Soviet city of Ufa, to his blossoming career as a dancer in Leningrad, to his nail-biting defection to the West at the height of the Cold War. From Sony.
ON THE INDIE FRONT:
In
"Portraits of Andrea Palmer
"
(2017), Andrea Palmer (Katrina Zova) spends her days working as a cam girl. After having an online breakdown, she receives an unexpected and too-good-to-be-true offer to come to Los Angeles and work full time as an erotic model. Jumping on what seems like a perfect opportunity for financial independence, Andrea immediately travels to LA but no sooner than arriving, discovers that she's been conned and finds herself stranded and alone. Relying on what she knows best, she begins working as an escort, losing a bit of herself with each new client and becoming more and more willing to perform the vilest of sexual services; a decision which can only end in tragedy and violence. Uncensored 2k Scan from original 16mm reversal film. On Blu-ray from Tomorrow Productions ...
In
"Mountain Rest
"
(2018), starring Natalia Dyer, Kate Lyn Sheil, Shawn Hatosy and Frances Conroy, after years without contact, estranged daughter Frankie (Sheil) and granddaughter Clara (Dyer) pay a visit to aging actress Ethel (Conroy) at her mountain cabin. The visit leads into a strange and surprising weekend of fantasy and disillusionments -- and an extravagant party. From Filmrise ... In
"Zilla and Zoe
"
(2019), starring Greg James, Aida Valentine, Sam Kamerman, Kurt Conroyd and Mia Allen, Zoe, age 10, is obsessed with making horror films. A deadline for a big horror contest is coming up, and Zoe is determined to win. But when her father, concerned about her increasingly gory activities, orders her to stop making horror films and shoot her sister's wedding week instead, Zoe has no other choice. To win the contest of her dreams, she'll have to turn her sister's wedding into a horror film. From Indican Pictures.
FOREIGN FILMS:
In
"The Island
"
(2018 -- China), starring Huang Bo, Shu Qi, Wang Baoqiang and Zhang Yixin, news of a meteorite bound to strike the Earth doesn't have much effect on Ma Jin's everyday life; he still gets up and goes to a job where he spends his time daydreaming of a romance with his colleague Shanshan, and of winning the lottery. But when this cataclysmic event occurs during a team-building trip, he finds himself shipwrecked on an island with an odd group of co-workers ... and the winning lottery ticket in his pocket. In a Blu-ray/DVD Combo, from Well Go USA ...
Set in Haiti five years after the devastating earthquake,
"Ayiti Mon Amour
"
(2018 -- Haiti) is a captivating magical realist tale that was the country's first official entry for Best Foreign Language Film. A grieving young boy discovers he has a superpower. An old fisherman realizes the cure for his ailing wife can be found in the sea. A muse struggles to exit the story her author is penning. And in Kabic, a coastal fishing village town forgotten by the rest of the world, the sea is gaining ground. In Guetty Felin's magical neorealist tale, these stories intertwine, collide and co-exist to create a poetic portrait of the island nation. Set five years after the devastating 2010 earthquake, "Ayiti Mon Amour" avoids the images of the disaster that filled screens the world over. Instead, the director, making her narrative feature debut, taps into her past documentary work to infuse verité-style moments along with lyrical elements to capture the realities of modern-day Haiti through a unique lens. Shot on location with local actors and crew. From IndiePix Films.
FOR THE FAMILY:
In
"Turbo: A Power Rangers Movie
"
(1997), the evil space alien Divatox plans to unleash the dark forces of Maligore, a powerful, fiery creature imprisoned inside a volcano on the magical island of Muiranthias. She can reach the island only by traveling through the dangerous Nemesis Triangle, and for that she needs the special powers of the magician Lerigot. But Lerigot flees to Earth, to see the only people who can stand against Divatox and her evil plan — the Power Rangers. In a Blu-ray debut from Shout! Factory.
SPECIAL INTEREST:
"Creating Woodstock
"
(2019): With the future of the highly anticipated Woodstock 50 music festival unclear, a younger generation may not know that the original "Three Days of Peace and Music" were also plagued by uncertainty, last-minute venue changes, a lack of headliners and permits ... and in fact it almost didn't happen! With more than 70 hours of interviews with
Woodstock producers, planners, and performers, director Mick Richards, who attended the 1969 festival as a teenager, has created the most comprehensive and deeply researched look back at how the event came to be. The documentary features never-before-seen private film and rare archival video footage, original interviews with key figures, and uncovered photographs that show just how much went in to pulling off the impossible. First-hand accounts of little known stories are woven throughout the film, such as when Jimi Hendrix was stranded at the airport and hitched a ride to the site, or when a bank manager was awoken in the middle of the night to get money to pay The Who, which then needed to be helicoptered to them before they would go on stage – much like the personal supply of strawberries that Janis Joplin required. From Cinema Libre Studio.
FROM TV TO DISC:
"The Good Place: The Complete Third Season"
(2018-19) is a two-disc set with all 12 episodes. The show follows Eleanor (Kristen Bell), Chidi (William Jackson Harper), Tahani (Jameela Jamil), and Jason (Manny Jacinto) -- ordinary people who enter the afterlife, and thanks to some kind of error, find themselves in The Good Place instead of The Bad Place (which is definitely where they belong). At the end of Season 2, Michael (Ted Danson) and Janet (D'Arcy Carden) appeared in front of the Judge (Maya Rudolph) to argue that the humans may have been judged unfairly and deserve a second chance. With a snap of her fingers, the Judge sent the humans back to Earth, in a new timeline where they never died. From Shout! Factory ...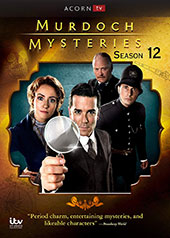 "Murdoch Mysteries, Season 12"
(2018) includes all 18 episodes. Set in Toronto in the late 1890s and early 1900s during the age of invention and starring Canadian Screen Award "Fan's Choice Award" winner Yannick Bisson, the mystery series centers on Detective William Murdoch, a methodical and dashing detective, who enlists radical new forensic techniques like fingerprinting, ultraviolet light, and trace evidence to solve some of the city's most gruesome murders. In Season 12, Murdoch and his wife, Dr. Julia Ogden, have moved into a modern new house, but they soon discover their home has mysteries of its own. Murdoch and his team tackle cases involving a seemingly invisible man, the killing of a French diplomat, a possible alien invasion, and one of their own suspected of murder. During their investigations, they encounter architect Frank Lloyd Wright, entrepreneur Elizabeth Arden, and inventor Nikola Tesla. In a five-disc DVD, four-disc Blu-ray set. From Acorn Media ...
"Vidago Palace"
(2018 - Spain/Portugal) is a two-disc set of the six-part romantic period drama. Against the glamorous backdrop of an exclusive luxury hotel and health resort in Portugal at the beginning of the Twentieth Century, two young people of different classes who long to be together must overcome many obstacles that are thrown in their path. From Acorn Media.
Check out other new DVD/Blu-ray releases, streaming films, and information and reviews at OnVideo.
Comments