By Harley Lond - 05/08/19 at 11:03 AM CT
FROM THE BIG SCREEN:
Due this week: "The LEGO Movie 2: The Second Part," a sequel to 2014's "The LEGO Movie." In this outing, the LEGO universe is threatened by LEGO DUPLO invaders from outer space, meaning that Emmet (Chris Pratt), Lucy (Elizabeth Banks), Batman (Will Arnett) and their friends have to travel faraway, unexplored worlds, including a galaxy filled with fantastic planets, strange characters and catchy new songs. And it also means tons of new LEGO toys. From Warner ..."What Men Want
," a very lame reimagining of 2000's "What Women Want," here with Taraji P. Henson taking Mel Gibson's role, magically granted the ability to "hear" the thoughts of the opposite sex. Co-stars Aldis Hodge, Richard Roundtree, Wendi McLendon-Covey, Erykah Badu, Max Greenfield abd Tracy Morgan. From Paramount ... and "The Prodigy
," in which a mother discovers that her young son' disturbing behavior signals that an evil, possibly supernatural force has overtaken him. So what else is new? Stars Jackson Robert Scott, Taylor Schilling, Peter Mooney and Colm Feore. From Fox.


THIS WEEK'S BEST BETS:
Directed with a keen sense of ambiguity by William Wyler,
"The Heiress
"
(1949), based on a hit stage adaptation of Henry James's "Washington Square," pivots on a question of motive. When shy, fragile Catherine Sloper (Olivia de Havilland, in a heartbreaking, Oscar-winning turn), the daughter of a wealthy New York doctor, begins to receive calls from the handsome spendthrift Morris Townsend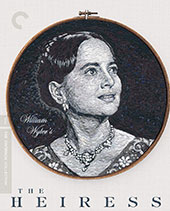 (Montgomery Clift), she becomes possessed by the promise of romance. Are his smoldering professions of love sincere, as she believes they are? Or is Catherine's calculating father (Ralph Richardson) correct in judging Morris a venal fortune seeker? A graceful drawing-room drama boasting Academy Award-winning costume design by Edith Head, "The Heiress" is also a piercing character study riven by emotional uncertainty and lacerating cruelty, in a triumph of classic Hollywood filmmaking at its most psychologically nuanced. New, restored 4K digital transfer, with uncompressed monaural soundtrack on the Blu-ray. From The Criterion Collection ...
"The Grand Duel
"
(1972) is an archetypal Spaghetti Western that boasts many of the genre's classic hallmarks, including action-packed gunfights, wild stunts and an impressive climactic showdown. Genre stalwart Lee Van Cleef stars as a gnarled ex-sheriff called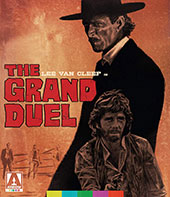 Clayton who comes to the aid of a young Philipp Wermeer (Alberto Dentice), a fugitive framed for the murder of a powerful figure called The Patriarch. Clayton helps Philipp fend off attacks from bounty hunters in a series of thrilling gunfights before the two make their way to Jefferson to confront three villains known as the Saxon brothers, and reveal who really killed The Patriarch. A complex tale of revenge penned by prolific giallo writer Ernesto Gastaldi ("Torso," "The Case of the Scorpion's Tail"), "The Grand Duel" benefits from a beguiling central performance from Lee Van Cleef and assured helmsmanship from Giancarlo Santi (assistant director to Sergio Leone on "The Good, The Bad and The Ugly" and "Once Upon a Time in the West"). Add to this brew a memorable and tuneful score by composer Luis Bacalov ("Django") and the stage is set for one of the grandest of all the Italian westerns. On Blu-ray from Arrow Video/MVD Entertainment.
BUZZIN' THE 'B'S:
Playfully exploring the outer reaches of cult film fandom,
"Sex Madness Revealed
"
(2018), starring Patton Oswalt, Rob Zabrecky and Patrick Cooper, is both an ingenious twist on the audio commentary and a satire of the wisecrack track (featuring the voice of "MST3K" regular Patton Oswalt). Using as it foundation a low-budget sex hygiene picture from 1938 ("Sex Madness," aka "Human Wreckage"), Jimmy Morris (Oswalt) of the popular "Film Dick" podcast hosts an irreverent conversation with the filmmaker's grandson, the eerily emotionless Chester Holloway (Rob Zabrecky) while the film streams behind them. But as the on-screen plot unfolds, a much darker story unravels within the recording booth, about the sinister mastermind behind the film, and the unorthodox methods he employed. On DVD, Blu-ray, from Kino Lorber ...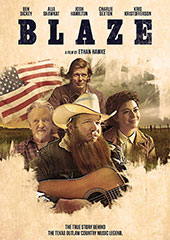 "Blaze
"
(2018), directed, co-written, and produced by four-time Academy Award-nominee Ethan Hawke, is a musical biopic inspired by the life of Blaze Foley (Ben Dickey), the unsung songwriting legend of the outlaw music movement that gave the world the likes of Merle Haggard and Willie Nelson. "Blaze" weaves together three different periods of time, braiding re-imagined versions of Blaze's past, present, and future. The different strands explore his love affair with Sybil Rosen (Alia Shawkat); his last, dark night on Earth; and the impact his music had on his fans, friends, and foes. Featuring unforgettable performances and stylish direction, "Blaze" is a glorious exploration of the profound highs and lows of Foley's life. On DVD, Blu-ray, from Shout! Factory ... In
"The Lady Killers
"
(2019), starring Arye Gross, Alexandra Barreto, Peter Shinkoda, Christina Grance and Shaun Parker, homicide detective Pete Martel gathers his old college frat brothers for a reunion game of high-stakes sexual conquest. Joined in their escapades by two new players, the men commit several crimes in their quest for bragging rights. Once the new winner is crowned, the real game begins as one-by-one the men turn up dead. From Indican Pictures.
ON THE INDIE FRONT:
In
"Strawberry Flavored Plastic
"
(2018), starring Aidan Bristow, Nicholas Urda and Andres Montejo, Errol and Ellis, two aspiring documentarians embarking on their first feature, put out a feeler to their local community for individuals with interesting stories. They hear back from and settle on the tale of Noel, a man who has just been released from prison after a nine-year incarceration for a crime of passion. After several weeks of shooting, they inadvertently discover that Noel's story is fabricated: he has never been to prison. They soon find out that he is an at-large and very active serial killer who has never been apprehended by authorities. Now too entangled and implicit in Noel's horrific crimes, the duo are stuck between deciding on the right thing to do and possibly making the most sensationalized and infamous documentary ever made. From Breaking Glass Pictures ... In
"Just Say Goodbye
"
(2018), starring Katerina Eichenberger, Max MacKenzie, William Galatis, Jesse Walters, Pamela Jayne Morgan and Charlotte Cusmano Zanolli, ater enduring years of abuse from his alcoholic father and the school bully Chase, Jesse Peterson tells his best friend Sarah that he plans on committing suicide. After promising to tell no one, Sarah takes it upon herself to try to stop him, taking any means necessary. DVD, Digital. (Leomark Studios).
Due May 10.
FOREIGN FILMS:
"All About Lily Chou-Chou
"
(2001 -- Japan) is Shunji Iwai's acclaimed and profound Japanese coming-of-age story. For young people around the world, music is often the only salvation when pain and suffering becomes too much to bear. Yuichi (Hayato Ichihara) is in 8th grade and worships Lily Chou-Chou, a Björk-like singer whose lush and transcendent music provides the perfect escape from his brutal surroundings. Yuichi also finds solace as the moderator of an online chat room dedicated to his pop idol, but as his real life nightmare of teenage prostitution, crime and bullying grows more untenable, will Lily be enough to save him from isolation and despair? On DVD, Blu-ray from Film Movement ... In
"Everybody Knows
"
(2018 -- Spain), starring Penélope Cruz, Javier Bardem and Ricardo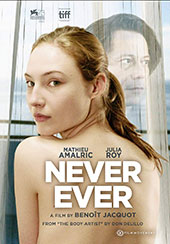 Darín, Laura (Cruz) and her children travel to her hometown, a small Spanish village, to attend her sister's wedding. An unexpected crisis soon exposes the family's hidden past, and dark secrets long hidden come to light. A thriller from Oscar-winning filmmaker Asghar Farhadi. On DVD, Blu-ray, from Universal ... Based on Don DeLillo's acclaimed novella "The Body Artist,"
"Never Ever
"
(2016 - France), starring Mathieu Amalric, Julia Roy and Jeanne Baliba, swirls around a self-centered filmmaker, Rey, (Amalric) who, while attending a museum retrospective of his work, wanders into an adjoining gallery and becomes mesmerized by a beautiful young performance artist, Laura (Roy). The two fall madly in love and embark on a wild and delirious affair. Living together in Rey's secluded seaside estate, the lovers believe they have found eternal bliss. Months later, Rey dies in a tragic accident, leaving Laura alone in the house by herself ... or so she thinks. From Film Movement.
FOR THE FAMILY:
In
"Sesame Street: Awesome Alphabet Collection"
(2019), Elmo and his Sesame Street friends explore every letter of the alphabet in this new collection, brought to you in Sesame Street's 50th anniversary year. Highlights include classics "The Beetles Perform Letter B" and "C is for Cookie," animations, pop culture parodies, and favorite segments from recent seasons. Exploring the alphabet alongside their furry friends is an all-star lineup of celebrity guests. Norah Jones duets with the letter Y, Tori Kelly tries a little kindness, and Pharrell Williams belts it out for the letter B. Maya Angelou stops by to talk hugs, Sheryl Crow helps "I" soak up some sun, and Ricky Gervais tries singing a lullaby to a sleepy Elmo. From Shout! Kids/Sesame Workshop.
SPECIAL INTEREST:
Completed shortly before Claude Lanzmann's death at 92 in July 2018,
"Shoah: Four Sisters
"
(2018) is the long-awaited follow-up to his monumental "Shoah", which shook the world upon its release in 1985 as a profound cinematic memorial to the Holocaust. Four Jewish women, survivors of unimaginable Nazi horrors during the Holocaust, tell their individual stories. Each of their testimonies was filmed more than 40 years ago as Lanzmann collected first-hand accounts in preparation for what would become the nine-and-a-half-hour "Shoah." Starting in 1999, Lanzmann made several films that could be considered satellites of "Shoah," comprising interviews conducted in the 1970s that didn't make it into the final, monumental work. In the last years of the director's life, he decided to devote a film to each of four women from four different areas of Eastern Europe with four different destinies, each finding herself improbably alive after war's end: Ruth Elias from Ostravia, Czechoslovakia; Paula Biren from Lodz, Poland; Ada Lichtman from further south in Krakow; and Hannah Marton from Cluj, or Kolozsva´r, in Transylvania, Romania. The four films that make up "Shoah: Four Sisters" are titled "The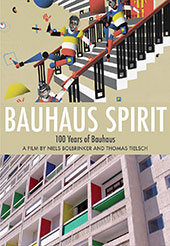 Hippocratic Oath," "The Merry Flea," "Noah's Ark" and "Baluty," and together they remind audiences of the immense courage it took for these witnesses to return to their painful past as they retell personal tragedies that represent the larger tragedy of the Holocaust. In a two-disc DVD, two-disc Blu-ray, from Cohen Film Collection ...
"Bauhaus Spirit: 100 Years of Bauhaus
"
(2018 -- Germany): 2019 marks the centennial of the Bauhaus Movement. Nearly a hundred years ago, a radical artistic utopia was born in Germany. Founded in 1919 by Walter Gropius, Bauhaus was supposed to unite sculpture, painting, design and architecture into a single combined constructive discipline. Bauhaus constituted one of the most significant contributions to everyday 20th-century culture, but it was never just an artistic experiment. Confronted with the social conditions of the time, as well as the experience of World War I, the movement concerned itself with the political and social connotations of design from the very outset. Bauhaus's history is not just the history of art, but also the history of an era that stretches from the early 20th century to the modern day. This documentary describes the fascinating story of Bauhaus as a statement, but also the failure and renewal of a social utopia. It tells of artists, scientists and architects today, and how their challenges might relate to Bauhaus. From Icarus Films ... In
"My Scientology Movie
"
(2015),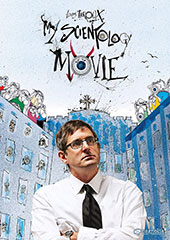 documentarian Louis Theroux is denied admittance to the Church of Scientology's headquarters, setting into motion a clever, confrontational and funny plan to try and reveal the inner workings of the mysterious organization. Inspired by the Church's use of filmmaking techniques, and with the aid of real ex-scientologists, Theroux uses unconventional methods to expose and antagonize the Church. In a bizarre twist, it becomes clear that the Church is also making a film about Louis Theroux. From Magnolia Home Entertainment ...
"George Carlin: 40 Years of Comedy"
(1997), broadcast live from the Wheeler Theater in Aspen, Colorado, as the great comedian's 10th special for HBO. Different from all of Carlin's previous specials, this award-winning program is a career retrospective hosted by a young Jon Stewart, who conducts a lengthy interview with his comedic hero. During the interview, Carlin talks about his early life and how his upbringing prepared him for a career in comedy. Highlights from this special include Carlin performing three new, thought-provoking pieces of material: "Advertising," "Pets" and "American Bullshit." Some of the material performed here is unique to this special and was not repeated again. Also features classic Carlin clips from the first four decades of his career, a treasure trove of the work of one of stand-up comedy's most original, hilarious and enduring artists. From MPI Media Group.
FROM TV TO DISC:
"Agatha Raisin, Series 2"
(2018) is a three-disc set with three feature-length episodes. Based on M.C. Beaton's bestselling books, Agatha Raisin stars Ashley Jensen as a London PR whizz turned amateur sleuth, who becomes entangled in mischief, mayhem, and murder when she opts for early retirement in a small village in the Cotswolds. Drawn into the town's murders, Agatha attempts to solve the crimes ... often in rather unorthodox ways. From Acorn Media ...
"Better Call Saul: Season Four"
(2018) is a three-disc set with all 10 episodes. In the critically acclaimed drama's fourth season, his brother's death catalyzes Jimmy McGill's transformation into "Saul Goodman." Now Jimmy steps into the criminal world, putting his future as a lawyer — and his relationship with Kim Wexler — in deep jeopardy. Meanwhile, Mike Ehrmantraut's work for Gustavo Fring throws the cartel into chaos, with tragic results.On DVD, Blu-ray, from Sony ...
"No Offence, Series 3"
(2018) is a two-disc set with all six episodes of the female-driven police procedural with fierce characters and a shrewd, irreverent take on crime that follows an unorthodox team of cops in Manchester, England. Series 3 finds dynamic DI Vivienne Deering (Joanna Scanlan) and her team providing security at a contentious election debate, but tragedy strikes when a gunman attempts to assassinate one of the candidates. Deering and her right-hand woman, DC Dinah Kowalska (Elaine Cassidy), vow to apprehend the culprit, despite warnings from their superiors that the investigation could jeopardize an undercover officer who has infiltrated an extreme right-wing group. From Acorn Media ...
"Unforgotten, Season 3"
(2018) is a two-disc set with all six episodes of the British procedural. When human remains are found by a motorway near London, the crime-solving duo Cassie and Sunny are called to the scene. Dogged work leads the team to Hayley Reid, a 16-year-old girl who went missing on the eve of the millennium. The police's failure to find out what happened to Hayley wrecked her family's life. Cassie's compassion makes her determined to correct the mistakes made by the original investigating team --- whatever the cost is to herself. From PBS Distribution.
Check out other new DVD/Blu-ray releases, streaming films, and information and reviews at OnVideo.
Comments