By Harley Lond - 03/05/19 at 11:09 PM CT
FROM THE BIG SCREEN:
"The Favourite": A bawdy, acerbic, blasphemous tale of royal intrigue, passion, envy, sex and betrayal in the court of Queen Anne in early 18th century England. A frail Queen Anne (Olivia Colman) occupies the throne, and her closest friend, confidante, adviser and clandestine lover, Lady Sarah Churchill, Duchess of Marlborough (Rachel Weisz), governs the country while tending to Anne's ill health and volatile temper. When the Duchess's younger cousin Abigail (Emma Stone) arrives, Sarah takes Abigail under her wing as she cunningly schemes to return to her aristocratic roots, setting off an outrageous rivalry to become the Queen's favourite. Academy-Award acting by Colman, dripping sex by Weisz and Stone, and black satire by director Yorgos Lanthimos "The Lobster"). Extras for The Favourite
include deleted scenes and a costume featurette. From Fox.

Also due this week: "Creed II
," more Rocky-in' around; "Instant Family
," more dumb domestic shenanigans, with Mark Wahlberg and Rose Byrne; and "Vox Lux
," more misguided acting choices by Natalie Portman as a pop star struggling with her demons.


THIS WEEK'S BEST BETS
From one of the masters of the film noir, Robert Siodmak ("The Killers," "The Dark Mirror"), comes
"Phantom Lady
"
(1944), a consummate crime classic. After a fight with his wife, Scott Henderson (Alan Curtis) heads to a bar to drown his sorrows. There he strikes up a conversation with a mysterious, despondent lady
who agrees to accompany him to a show uptown but withholds her name. Arriving home, Scott is met by grimly countenanced cops -- his wife has been strangled with one of his neckties and he is the prime suspect. He has a solid alibi but his theater companion is nowhere to be found and no one remembers seeing them together. When Scott is charged with murdering his wife, it falls to his devoted secretary "Kansas" (Ella Raines) to find the phantom lady and save Scott from the electric chair. Adapted from a hit novel by acclaimed crime writer Cornell Woolrich, "Phantom Lady" boasts stylish cinematography, cruel characters and memorable performances from Raines and Franchot Tone. The film is presented here for the first time in stunning High Definition. On Blu-ray from Arrow Academy/MVD Entertainment ... The
"Sister Street Fighter Collection
"
(1974) is a two-disc set that includes all three films in the Sister Street Fighter trilogy. Etsuko Shihomi is the half-Chinese, half-Japanese Li Koryu, who travels to Yokohama to investigate the disappearance of her brother, an undercover cop.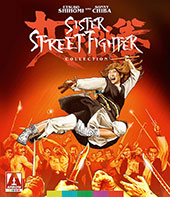 When she discovers a smuggling ring run by a drug lord with his own personal army of deadly fighters, she must penetrate his evil lair and defeat not only his champion (Masashi Ishibashi from the Street Fighter films) but also a group of female Thai kickboxers called The Amazon Seven. Shin'ichi Chiba appears in a cameo as a fellow karate master who helps Koryu in her mission. Released only three months later, the sequel, "Sister Street Fighter: Hanging By a Thread," once again follows Li Koryu as she investigates another smuggling ring, this time involving diamonds implanted into the derrieres of prostitutes! Teaming up with enigmatic fighter Tsubaki (Yasuaki Kurata), she once again calls upon her fighting skills to take down another round of colorful bad guys. The final film of the official trilogy, "Return of the Sister Street Fighter," finds her back in Yokohama searching for a woman who has become the mistress of another crime kingpin. Kurata again co-stars but this time as a crazed fighter working for the villains who swears that he's the man who can kill Li Koryu. Genre entertainment of the highest order, the Sister Street Fighter films are a wild ride through some of the best exploitation cinema Japan produced in the 1970s. Funky and over-the-top, filled with wall-to-wall action, and featuring some of the craziest villains ever depicted onscreen, the series embodies female power in a male-dominated genre and is a magnificent showcase for the physical presence and martial arts skills of its lead star. On Blu-ray from Arrow Video/MVD Entertainment.
BUZZIN' THE 'B'S:
"Ben is Back
"
(2018), starring Julia Roberts, Lucas Hedges, Courtney B. Vance and Kathryn Newton, follows the charming yet troubled Ben Burns (Hedges), who returns home to his unsuspecting family one fateful Christmas Eve. Ben's wary mother Holly Burns (Roberts) welcomes her son's return, but soon learns he is still very much in harm's way ... and he promptly disappears. During the 24 hours
that may change their lives forever, Holly must do everything in her power to avoid the family's downfall. On DVD, Blu-ray/DVD Combo, from Lionsgate ... In
"The Clovehitch Killer
"
(2018), starring Charlie Plummer, Dylan McDermott and Samantha Mathis, Tyler Burnside (Plummer) is a Boy Scout, a volunteer at his local church, and the dutiful son of an upstanding, community leader dad (McDermott). Only one thing troubles the quiet Kentucky town he lives in: the unsolved murders — in which 10 women were brutally tortured and killed by a psychopath known as Clovehitch — that rocked the community more than a decade ago. When Tyler discovers a cache of disturbing images in his father's possession, he begins to suspect that the man he trusts most in the world may be Clovehitch … and that his deadly rampage may not be over. On DVD, Blu-ray from IFC Midnight/Scream Factory ... After a shooting at a police funeral, reclusive ex-cop Gannon finds himself unwittingly forced out of retirement when he realizes that the killer belongs to the same militia he joined after quitting the force in
"The Standoff at Sparrow Creek
"
(2018), starring James Badge Dale, Chris Mulkey, Brian Geraghty, Robert Aramayo, Patrick Fischler and Happy Anderson. Understanding that the shooting could set off a chain reaction of copycat violence across the country, Gannon quarantines his fellow militiamen in the remote lumber mill they call their headquarters. On DVD, Blu-ray, from RLJE Films ...
"The Vanishing
(aka Keepers)"
(2019), starring Gerard Butler, Peter Mullan and Connor Swindells is an action-packed thriller based on true events. After three lighthouse keepers arrive for work on a remote Scottish isle, they make a fateful discovery: a wrecked rowboat -- with a chest full of gold. As a mysterious boat heads toward the island, the three men make a choice that will change their lives forever, ensnaring them in a web of greed, paranoia, and guilt. On DVD, Blu-ray, from Lionsgate ... There's three interesting thrillers from overseas this week: In
"Do It Yourself
"
(2017 -- Greece), small-time crook and ex-con Alkis is double-crossed by an ex-cellmate and finds himself trapped in a working porn studio where his shady, trigger-happy accomplices have no intention of letting him out alive. The disheveled crook has only one option -- to escape by any means possible. From Artsploitation Films ...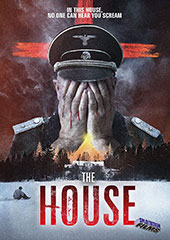 "The House
"
(2016 -- Norway) is set in the frozen wilderness of Norway during WWII, two German soldiers escort a Norwegian soldier to a prisoner of war camp but as the weather begins to take a toll on them, they find an empty house near the forest where they finally can get some rest. However, what seems to be a warm and welcoming shelter turns much more sinister and deadly. They begin to wonder if they somehow have stepped into a psychological hell from which there may be no escape. From the director of "Christmas Blood." From Artsploitation Films ... In
"Jupiter's Moon
"
(2017 -- Hungary), the director of the critically acclaimed "White God" employs his uniquely talented eye to create this riveting Palme d'Or nominated supernatural thriller. Aryan, a young Syrian refugee (Zsombor Jéger) is shot while trying to cross the Hungarian border. While treating his wounds, a doctor (Merab Ninidze) at the refugee camp discovers that Aryan has gained an extraordinary talent -- he can levitate at will. The corrupt doctor sees an opportunity and offers to smuggle Aryan out of the camp if, in return, he helps him make some money by using his new miraculous gift. Director Kornél Mundruczó marks himself as one his generation's most visionary directors by tackling eternally mythic themes and contemporary political issues with mind-bending aplomb. From Icarus Films ... And, lastly, Shout! Factory brings us
"Kalifornia
Collector's Edition"
(1993), starring Brad Pitt, Juliette Lewis, David Duchovny and Michelle Forbes. When urban intellectuals Brian (Duchovny) and Carrie (Forbes) set out on a cross-country trip to research a book about serial killers, they share the ride with a couple they barely know -- Early Grayce (Pitt) and his girlfriend Adele (Lewis). Locked in a car hurtling westward, the four travelers struggle to find some common ground. But when they finally do connect, Early's violent nature abruptly emerges and the terrified Brian and Carrie realize that they don't need to go very far to learn about ruthless killers ... because they are already face-to-face with one! Includes both the theatrical cut and unrated version of the movie. On Blu-ray.
ON THE INDIE FRONT:
"100 Yards
"
(2018) stars Sean Patrick Flanery, Steven Brewis, Danielle Rayne and Rebecca Lim in a drama about a famous but flawed college athlete who turns down the NFL to search for his mother who has gone missing, only to find out he has an illness that takes him on an unexpected journey. From RLJE Films.
FOREIGN FILMS:
In
"Liz and the Blue Bird
"
(2018 -- Japan), Naoko Yamada presents her fourth feature film with a subtle yet entrancing brilliance in this complex look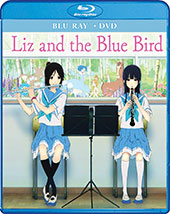 at friendship and growing up. Mizore Yoroizuka plays the oboe, and Nozomi Kasaki plays the flute in Kita Uji High School's concert band. Mizore is shy and soft-spoken, while her best friend, Nozomi, is outgoing. The two girls grow closer as they practice for their last duet before graduating, a piece called "Liz and the Blue Bird." However, the impending separation may be more than their friendship can handle. Interspersed with their story is the fantasy tale of Liz, who like Mizore, seeks a friendship that may be too hard to hold onto in this beautiful coming-of-age story. On DVD, Blu-ray/DVD Combo, from Shout! Factory.
SPECIAL INTEREST:
"Donna Haraway: Story Telling for Earthly Survival"
(2018): Donna Haraway is the author of the groundbreaking "A Cyborg Manifesto." This documentary features Haraway in a playful and engaging exploration of her life, influences, and ideas. Best-known for her ground-breaking work on gender, cyborgs, animals and post-colonialism, Haraway is a passionate and discursive storyteller. The film is structured around a series of discussions on subjects including capitalism, science fiction, unconventional marital and sexual partnerships, the role of Catholicism in her upbringing, humans and dogs, the suppression of women's writing, the surprisingly fascinating history of orthodontic aesthetics, and the need for new post-patriarchal narratives. From Icarus Films.
FROM TV TO DISC:
"Fear the Walking Dead: The Complete Fourth Season"
(2018) is a four-disc set with all 16 episodes. In Season 4, we see the world of Madison Clark and her family through new eyes — the eyes of Morgan Jones, who is joining the story from the world of "The Walking Dead." The characters' immediate pasts mix with an uncertain present of struggle and discovery as they meet new friends, foes, and threats. They fight for each other, against each other, and against a legion of the dead, and work to build an existence strong enough to resist the crushing pressure of lives coming apart. There's darkness and light; terror and grace; and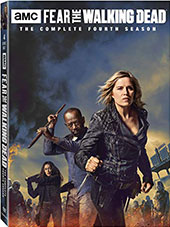 the heroic, mercenary, and craven, all crashing together toward a new reality. On DVD, Blu-ray, from Lionsgate ...
"House of Cards: Season Six"
(2018) is a three-disc set with all eight episodes. The final chapter in the critically acclaimed and award-winning political drama. Following the death of President Frank Underwood, Vice President Claire Underwood (Robin Wright) has ascended to the position of Commander in Chief of the United States, working to rally her allies and outwit those who oppose her. The intrigue and political maneuverings inside the White House continue as the first female president seeks to solidify her legacy. Co-stars Michael Kelly, Diane Lane and Greg Kinnear. On DVD, Blu-ray, from Sony ...
"Krypton: The Complete First Season"
(2018) is a two-disc set with all 10 episodes of the series that tells the origin story of DC's iconic Superman in a whole new way. What if Superman never existed? Set two generations before the destruction of Superman's home planet, Krypton follows a young Seg-El, the legendary Man of Steel's grandfather, who is faced with a life and death conflict -- save his home planet or let it be destroyed in order to restore the fate of his future grandson. With Krypton's leadership in disarray and the House of El ostracized, Seg fights alongside Earthly time-traveler Adam Strange to redeem his family's honor and protect the ones he loves while saving the future of his legacy from DC Super-Villain Brainiac.On DVD, Blu-ray, from Warner ...
"When Calls The Heart: The Greatest Blessing"
(2018) is the latest entry in the series based on the books by celebrated author Janette Oke ("The Love Comes Softly" series). When a group of orphans become stranded in Hope Valley for Christmas, their caretakers -- sisters who have a mysterious backstory -- lead Bill to investigate the circumstances of their arrival. He discovers the sisters and their orphanage are in jeopardy, so Abigail and the other residents rally to make it a Christmas to remember for the orphans. From Shout! Factory.
Check out other new DVD/Blu-ray releases, streaming films, and information and reviews at OnVideo.
Comments