By Harley Lond - 01/30/19 at 01:23 AM CT
FROM THE BIG SCREEN:
"Boy Erased," the story of Jared (Lucas Hedges), the son of a Baptist pastor in a small American town, who is outed to his parents (Nicole Kidman and Russell Crowe) at age 19. Jared is faced with an ultimatum: attend a conversion therapy program -- or be permanently exiled and shunned by his family, friends, and faith. A powerful, well directed and acted drama. Extras include deleted and extended scenes and a trio of featurettes. From Universal ... "Suspiria
," a twisted re-imagining of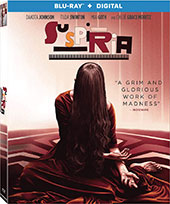 Dario Argento's 1977 horror cult classic about the nasty goings-on behind the scenes at a Berlin dance company. Not for the squeamish or faint of heart. Stars Dakota Johnson, Tilda Swinton, Mia Goth and Chloë Grace Moretz. Extras include a trio of featurettes. From Lionsgate ... "The Wife
," the gripping and heartfelt story of the wife (Glenn Close) behind a Nobel Prize winning Great American Novelist (Jonathan Pryce) and their 30-plus years of marriage. Extras include conversations with the cast and crew. From Sony. Also due this week: "Hunter Killer
," a post-Cold War thriller about a US sub commander who uncovers a Russian coup attempt, starring Gerard Butler, Gary Oldman, Common, Linda Cardellini and Toby Stephens; and"The Nutcracker and the Four Realms
," a fantasy riff on the famous ballet, starring Keira Knightley, Mackenzie Foy, Misty Copeland, Helen Mirren and Morgan Freeman.


THIS WEEK'S BEST BET
"In the Heat of the Night
"
(1967): Passing through the backwoods town of Sparta, Mississippi, Philadelphia detective Virgil Tibbs (Sidney Poitier) becomes embroiled in a murder case. He forms an uneasy alliance with the bigoted police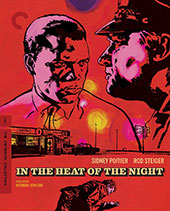 chief (Rod Steiger), who faces mounting pressure from Sparta's hostile citizens to catch the killer and run the African American interloper out of town. Director Norman Jewison splices incisive social commentary into this thrilling police procedural with the help of Haskell Wexler's vivid cinematography, Quincy Jones's eclectic score, and two indelible lead performances -- a career-defining display of seething indignation and moral authority from Poitier and an Oscar-winning master class in Method acting from Steiger. Winner of five Academy Awards, including for best picture, "In the Heat of the Night" is one of the most courageous Hollywood films of the civil rights era. On DVD, Blu-ray Disc with new 4K digital restoration, with uncompressed monaural soundtrack on the Blu-ray. From The Criterion Collection.
BUZZIN' THE 'B'S:
"Blood Brother
"
(2018), starring Trey Songz, Jack Kesy, China Anne McClain, Hassan Johnson, Tanee McCall and Fetty Wap, is a gritty crime drama that takes place on the mean streets of a city in decay, where a recently released convict begins to take murderous revenge against his childhood friends, whom he believes let him take the fall for a crime they collectively committed. As the bodies start piling up, one of the friends, now a cop, will stop at nothing to put an end to the murderous rampage and to right the many wrongs of their tragically violent past. On DVD, Blu-ray, from Lionsgate ... In
"Benchwarmers 2: Breaking Balls
"
(2018), starring Chris Klein, Jon Lovitz, Chelsey Reist, Lochlyn Munro and Garfield Wilson, Ben McGrath (Klein) had major league potential playing professional baseball, but his hopes to play ball literally get crushed. Down on his luck, Ben gets another swing at redemption as a new attorney for Schmood & Associates. His unorthodox boss, Mel (Lovitz), convinces him to manage their eclectic softball team full of misfits and strikeouts. From Universal ... When a slew of pizza delivery boys are slain on the job in a spooky small town, two daring survivors (Zazie Beetz and Chance the Rapper) set out to catch the culprits behind the cryptic crime spree in
"Slice
"
(2018), starring Zazie Beetz, Chance the Rapper, Rae Gray and Chris Parnell. From Lionsgate ...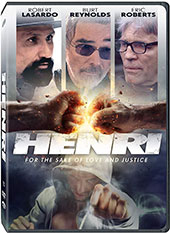 "Henri
"
(2018), stars Eli Jeffree Zen, Eric Roberts, Robert LaSardo, Burt Rewynolds and Lori Katz. Henri, a peaceful man with special skills, becomes entangled in the affairs of the Chesney family, who have been a menace to the community for years ... but the sheriff is reluctant to push the issue due to his own indiscretions. When his girlfriend is targeted, Henri takes the law into his own hands and delivers his own justice to the Chesney family. From Monarch Home Entertainment ...
"Screamers
"
(1995) makes its Blu-ray debut this week. In 2078 rebel Alliance Commander Col. Joseph Hendrickson (Peter Weller) is assigned to protect the Sirius 6B outpost from ravage and plunder at the hands of the New Economic Bloc. His state-of-the-art weaponry are known as Screamers; manmade killing devices programmed to eliminate all enemy life forms. Screamers travel underground; their intent to kill announced by piercing shrieks. They dissect their victims with precision, then eradicate all traces of the carnage. They are lethal. Effective. Tidy. And somehow, they are mutating ... self-replicating into human form ... and slaughtering every beating heart on the planet. Based on a short story by Phillip K. Dick and featuring a screenplay by Dan O'Bannon. From Scream Factory ...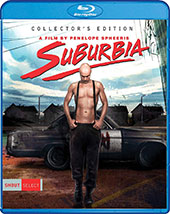 "Suburbia
Collector's Edition"
(1984) makes its Blu-ray debut this week. Written and directed by Penelope Spheeris ("Decline of Western Civilization," "Wayne's World"), and featuring Flea from The Red Hot Chili Peppers in his acting debut, "Suburbia" is Spheeris's study of the Los Angeles punk rock scene in the early 1980s. Featuring live performances by T.S.O.L., The Vandals and D.I., and starring Bill Coyne, Chris Pederson, Jennifer Clay and Christina Beck, the film deftly explores the punk rock generation and follows the unforgettable journey of runaway teens who have escaped unhappy homes, punks who have banded together to form their own family. Dubbing themselves "The Rejected" (aka T.R.), the teens have taken squatters' rights in a filthy, abandoned house, and are bound together by tragedy and punk rock until they're confronted by the "Citizens Against Crime," a group of irascible adults from the suburbs who blame the punks for the ruin of their town. From Shout! Factory Select ... In
"Sarah T. - Portrait of a Teenage Alcoholic
"
(1975), starring Linda Blair, Larry Hagman, Verna Bloom, William Daniels, Michael Lerner and Mark Hamill, Sarah Travis (Blair) is an average teenager who is introduced to drinking alcohol at local parties. As a means of coping with problems in her life, most notably her parents' divorce, Sarah starts to drink regularly and tries to keep her addiction a secret, even from her boyfriend (Hamill). Eventually, Sarah's increasingly severe drinking almost leads to tragedy, and she enters Alcoholics Anonymous, beginning an ongoing struggle to get sober and stay that way. First time on any home entertainment format. New 2K scan of the original film elements. A Blu-ray debut from Shout! Factory.
FOR THE FAMILY:
"The Night is Short, Walk on Girl
"
(2018 -- Japan) is the winner of the 2018 Japan Academy Prize for Best Animated Feature. As a group of teens go out for a night on the town, a sophomore known only as "The Girl with Black Hair" experiences a series of surreal encounters with the local nightlife, all the while unaware of the romantic longings of Senpai, a fellow student who has been creating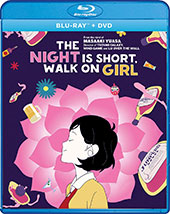 increasingly fantastic and contrived reasons to run into her, in an effort to win her heart. Featuring boundless imagination and visual wit, "The Night is Short, Walk on Girl" is a celebration of the unconventional, confusing routes that life and love can take, from one of the most exciting voices in anime today. In a Blu-ray/DVD Combo from GKIDS/Shout! Factory ... In
"Reign of the Supermen
"
(2018), featuring the voices of Jerry O'Connell, Rebecca Romijn, Rainn Wilson, Jason O'Mara, Rosario Dawson, the world must cope with the loss of Superman -- and the sudden emergence of four would-be heirs to the title -- in the all-new, action-packed animated film, part of the popular series of DC Universe Movies and the second half of a two-part saga that began in August 2018 with "The Death of Superman." Earth's citizens – and the Man of Steel's heroic contemporaries – are dealing with a world without Superman. But the aftermath of Superman's death, and the subsequent disappearance of his body, leads to a new mystery – is Superman still alive? The question is further complicated when four new super-powered individuals – Steel, Cyborg Superman, Superboy and the Eradicator – emerge to proclaim themselves as the ultimate hero. In the end, only one will be able to proclaim himself the world's true Superman. In a Blu-ray/DVD Combo and a 4K Ultra HD/Blu-ray Combo from Warner.
FROM TV TO DISC:
"Ballers: The Complete Fourth Season"
(2018) is a single disc with nine episodes. Success hits hard. Dwayne "The Rock" Johnson stars in this series as a retired football superstar trying to reinvent himself as a financial manager for current players in sun-soaked Miami. After refusing to compromise his principles by joining an alliance with the filthy-rich Anderson brothers to move a football franchise to Las Vegas, Spencer and his partner Joe set out to expand their foothold in the client-management business, weighing an opportunity to purchase an extreme-sports LA outfit. From HBO ...
"Crashing: The Complete Second Season"
(2018) is a single-disc with all nine episodes. Executive produced by Judd Apatow and Pete Holmes, and loosely inspired by Holmes' personal experiences in stand-up comedy, "Crashing" follows an aspiring comic named Pete, who finds out his wife is cheating on him, forcing a move to New York to pursue his dream of being a comedian. From HBO ...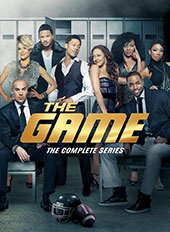 "The Game: The Complete Series"
(2006-2015) is a 20-disc set with all 147 episodes of the spin-off of "Girlfriends," featuring a group of women who all have relationships with professional football players. It may seem glamourous being the wife or girlfriend of a pro-football player, but Melanie Barnett quickly learns the hard truth. After her boyfriend, Derwin Davis, gets drafted as the new third-string wide receiver for the San Diego Sabers, Melanie discovers her role is much more than supporting her beau from the sidelines. She must pick up a playbook of her own and learn the power plays that NFL wives use to get their men the best agents, managers, charity opportunities, endorsements and merchandising deals. From CBS/Paramount ...
"Humans 3.0"
(2018) includes all eight episodes. In the near future, humanoid servants called Synthetics have been created to help busy families simplify their lives. The AMC UK series explores the intersection of man and machine. One year after synths around the globe gained consciousness, human distrust of synths is at an all-time high, and both populations struggle to cope with the fallout. Human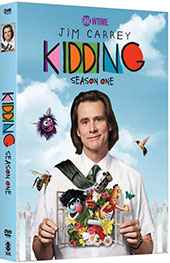 lawyer Laura (Katherine Parkinson) fights for synth rights at a high-profile government commission, while Mia (Gemma Chan) and Max (Ivanno Jeremiah) run a settlement for sentient synths. But Max is torn between his new role as leader and helping his friend, human-synth hybrid Leo (Colin Morgan). When a bomb blast at a synth-friendly bar inflames already high tensions, Niska (Emily Berrington) searches for the perpetrator, and what she finds will have monumental consequences for humans and synths alike. From Acorn Media ...
"Kidding: Season One"
(2018) is a two-disc set with all 10 episodes. Jeff Piccirillo (Jim Carrey) is the face of a longtime children's TV show called "Mr. Pickles' Puppet Time." However, behind his jovial Mr. Pickles mask, Jeff struggles with the death of his son Phil (Cole Allen), his separation from his wife Jill (Judy Greer), and his conflict with his father Seb (Frank Langella), with whom he works as the producer of his TV show. Rounding up the first-season cast of "Kidding" are Catherine Keener as Jeff's sister Didi, Juliet Morris as Didi's daughter Maddy, Bernard White as Didi's husband Scott, and Justin Kirk as Jill's new boyfriend. Cole Allen also stars as Will, Jeff's other son and Phil's twin. Guest stars include Tara Lipinski and Conan O'Brien as themselves. From Showtime/Paramount.
Check out other new DVD/Blu-ray releases, streaming films, and information and reviews at OnVideo.
Comments