By Harley Lond - 01/22/19 at 09:41 PM CT
FROM THE BIG SCREEN:

"First Man," the riveting story behind the first manned mission to the moon, focusing on Neil Armstrong and the decade leading to the historic Apollo 11 flight on July 20, 1969, starring Ryan Gosling, Claire Foy and Jon Bernthal; "The Hate U Give," about a youing black woman who witnesses the fatal shooting of her childhood best friend at the hands of a police officer and must find her voice and stand up for what's right, starring Amandla Stenberg, Regina Hall, Russell Hornsby and Anthony Mackie, based on the novel; and "Johnny English Strikes Again
," in which Rowan Atkinson returns for the tird time as the hapless, accidental secret agent.


THIS WEEK'S BEST BETS
Romanian filmmaker Cristian Mungiu shot to international prominence with
"4 Months, 3 Weeks and 2 Days
"
(2007), his rigorously realistic Palme d'Or-winning second feature. In 1987, during the dictatorship of Nicolae Ceausescu, college roommates Otilia (Anamaria Marinca) and Gabita (Laura Vasiliu) seek an illegal abortion for Gabita. In unflinching but empathetic detail, "4 Months, 3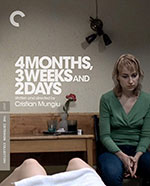 Weeks and 2 Days" recounts the events of 24 perilous hours in their lives, culminating in their encounter with a manipulative and menacing abortionist (Vlad Ivanov). With powerful performances that accentuate the characters' flawed humanity, "4 Months, 3 Weeks and 2 Days" is a gutting account of the impossible choices women face when taking control of their bodies means breaking the law. On DVD, Blu-ray Disc with new 4K digital restoration, supervised and approved by director Cristian Mungiu, with 5.1 surround DTS-HD Master Audio soundtrack on the Blu-ray. From The Criterion Collection ...
Elaine May crafted a gangster film like no other in the nocturnal odyssey
"Mikey and Nicky
"
(1976), capitalizing on the chemistry between frequent collaborators John Cassavetes and Peter Falk by putting them on-screen together as small-time mobsters whose lifelong relationship has turned sour. Set over the course of one night, this restless drama finds Nicky holed up in a motel after the boss he stole money from puts a hit on him. Terrified, he calls on Mikey: the one person he thinks can save him. Scripted to match the live-wire energy of its stars -- alongside supporting players Ned Beatty, Joyce Van Patten, and Carol Grace -- and inspired by real-life characters from May's childhood, this unbridled portrait of male friendship turned tragic is an unsung masterpiece of American cinema. On DVD, Blu-ray Disc with new 4K digital restoration, supervised by director Elaine May, with uncompressed monaural soundtrack on the Blu-ray. From The Criterion Collection ...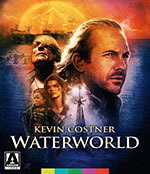 The most expensive film ever made at the time of its release, the infamous
"Waterworld
"
(1995) "Waterworld" has thrilled audiences through the years with its awe-inspiring action scenes, gargantuan maritime sets and ground-breaking special effects. The post-apocalypse film stars Kevin Costner The Mariner -- a mutant trader, adrift in a dystopian future where Earth is submerged under water and humankind struggles to survive on boats and in ramshackle floating cities. The Mariner becomes embroiled with the Smokers, a gang of pirates who, led by villainous leader Deacon (Dennis Hopper), are seeking Enola (Tina Majorino), a girl with a map to the mythical realm of "Dryland" tattooed on her back. Famous for both its epic scale and the controversy that swirled around its production, "Waterworld" is a key cult film of the 1990s, and an essential entry into the subgenre of ecologically-minded blockbusters. Presented here in an exclusive new restoration, in three different cuts: the original cut from a 4K scan, the extended US TV cut, which runs over 40 minutes longer than the theatrical cut, and the extended European "Ulysses" cut, which includes censored shots and dialogue. From Arrow Video/MVD Entertainment.
BUZZIN' THE 'B'S:
While on assignment in war-torn Bosnia, a team of Navy SEALs discovers the existence of a treasure hidden at the bottom of a lake by the Nazis in
"American Renegades
"
(2017), starring J.K. Simmons, Sullivan Stapleton, Ewen Bremner, Charlie Bewley and Sylvia Hoeks. In an effort to help the locals,
the SEALs engineer a covert operation to retrieve the gold and return it to its rightful owners. After a deadly turn of events, the team is detected by the enemy -- and left with only 10 hours to carry out the mission. On DVD, Blu-ray, from Lionsgate ... Late one night, a knock on the door interrupts a husband and wife's evening, changing their lives forever in
"West of Redemption
"
(2010), starring Billy Zane, Kevin Alejandro, Mariana Klaveno and Charles Leggett. When Hank Keller (Zane) opens the door to a traveler (Alejandro) whose truck broke down, it opens a nightmare for everyone, unwinding a complicated web of mysteries that ends with a kidnapping, a dead body and several suspects. From IndiCan Pictures ... Starring the creators of "The Room," the cult film that inspired "The Disaster Artist,"
"Best Friends
Volume 1"
(2017) is a comedy-thriller featuring Tommy Wiseau as a mortician named Harvey and Greg Sestero as Jon, a drifter -- two unlikely friends/business associates whose partnership is > tested by creeping paranoia and issues of loyalty and trust.
In
"Best Friends Volume 2"
(2018) the laughs and thrills continue with Harvey out of the way and Jon and his girlfriend escaping to the Arizona desert ... but their quest to open a safe full of loot leads them into a gang of desperate, deadly characters, leaving Jon, fighting to survive, haunted by freakish memories of the long-lost Harvey. On Blu-ray, from Lionsgate ... In
"Here and Now
"
(2018), starring Sarah Jessica Parker, Simon Baker, Common, Taylor Kinney, Waleed "
Cobra Collector's Edition
" (1986), starring Sylvester Stallone, Brigitte Nielsen and Reni SantoniLt, police Lt. Marion Cobretti (Stallone) is a one-man assault team whose laser-mount submachine gun and pearl-handled Colt .45 spit pure crime-stopping venom. This thriller pits Cobretti against a merciless serial killer. The trail leads to not one murderer but also an army of psychos bent on slashing their way to a "New Order" -- and killing a witness along the way. Fortunately, her protector is Cobra, a man who delivers vigilante justice like no other. New 2K Scan of the original film elements. On Blu-ray from Scream Factory ... The cult classic movie based on the video game smash hit
"Double Dragon
(Collector's Edition)"
(1994), starring Robert Patrick, Scott Wolf, Mark Dacascos, Alyssa Milano and Julia Nickson, roars to life with amazing special effects, spectacular action sequences, and a knock-about sense of humor. It's
the year 2007, and what remains of LA is now "New Angeles," a city ravaged by earthquakes, tidal waves and vicious gangs. The evil tycoon Koga Shuko (Patrick) is obsessed with finding the two halves of a talisman known as the "Double Dragon," which will give him awesome mystical powers. Two teenaged brothers, Jimmy (Dacascos) and Billy Lee (Wolf) find themselves in possession of the amulet's missing half, thrusting them into the adventure of their lives. In a Blu-ray/DVD Combo from MVD Rewind Collection ... In
"10 to Midnight
"
(1983), starring Charles Bronson, Gene Davis, Lisa Eilbacher and Andrew Stevens, Bronson plays Leo Kessler, a cynical Los Angeles cop on the trail of Warren Stacy (Davis), a homicidal maniac who turns rejection from beautiful women into the ultimate revenge. When the legal system sets Stacy free, Kessler plants evidence to put him behind bars for good. But Kessler's plan backfires, leaving him with only one option: to hunt down Stacy on his own ... before the crazed killer can strike again. New 4k scan of the original camera negative. In a Blu-ray debut from Scream Factory.
FOREIGN FILMS:
"The Apparition
"
(2018 -- France), starring Vincent Lindon and Galatéa Bellugi, is a modern-day ecclesiastical thriller that follows a respected journalist whose belief system is profoundly shaken when he's recruited by the Vatican to investigate an apparition of the Virgin Mary, witnessed by a similarly beguiling young woman. Jacques Mayano, a writer with a large regional newspaper in France, is tapped by the Vatican to lead a committee to explore the legitimacy of saintly apparitions in a small French village. Traveling to the village for this canonical investigation, he meets the young and sensitive Anna, who claims to have witnessed a vision of the Virgin Mary. Though she has gained a captive audience following her declaration, Anna is torn between her faith and the many solicitations she receives. Confronted with opposing views from clergy members and skeptics, Jacques finds his own ideologies and values challenged as he works to uncover the hidden mysteries, motivations, and pressures surrounding Anna's vision. From Music Box Films ...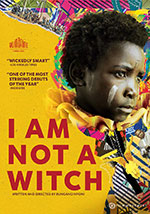 Filmmaker Rungano Nyoni captured a BAFTA for her provocative debut feature,
"I Am Not a Witch
"
(2017 -- Zambia), a striking satire about witchcraft in contemporary Zambia, and the U.K.'s official submission for Best Foreign Language Film. When 9-year-old Shula is accused of witchcraft, she is exiled to a witch camp run by Mr. Banda, a corrupt and inept government official. Tied to the ground by a white ribbon, Shula is told that she will turn into a goat if she tries to escape. As the only child witch, Shula quickly becomes a local star and the adults around her exploit her supposed powers for financial gain. Soon she is forced to make a difficult decision -- whether to resign herself to life in the camp, or take a risk for freedom. From Film Movement ... Deemed cursed by the local villagers, three-time widow Er Hao (Tian Tian) has her hands full with a rogue fireworks explosion, a tagalong teenager, and a veritable army of crazed local men who can't keep their hands off her in
"The Widowed Witch
"
(2017 -- China). Turned away when she seeks shelter from her neighbors and forced to take up residence in a cold camper van, Er Hao's future looks as bleak as the stark, snowy countryside. A series of fluke changes in fortune causes Er Hao to embrace the mystical identity her villagers have assigned to her. As a sort of modern shaman, she steers superstitions into small subversions, helping others who once shunned her and proving that to survive as a woman is a kind of magic. From Icarus Films.
SPECIAL INTEREST:
"The Wandering Muse
"
(2018): From ram's horn to beatbox, this documentary, filmed across the globe over seven years by award-winning director Tamás Wormser, explores the kaleidoscope of Jewish identities through the ever-changing music of
the diaspora. In constant motion, the film is a series of encounters with Jewish musicians from around the world. Taking their music beyond the concert hall, audiences are granted front row seats to the spontaneous magic of a creative process that transcends the struggles of the musicians' lives. In an alternative Argentinean bar, two friends play tango-infused klezmer. In rural Uganda, villagers chant Hebrew prayers in East African harmonies. At a Montreal party, an artist mixes hip-hop and jazz with cantorial singing in a multilingual tour de force. In a Berlin apartment, an American harmonizes with a Russian friend in a rendition of an anti-Zionist song from the 1920's. From IndiePix.
Check out other new DVD/Blu-ray releases, streaming films, and information and reviews at OnVideo.
Comments