By Chris Kavan - 01/20/19 at 08:22 PM CT
As expected, M. Night Shyamalan's Glass had no problem topping the box office for the extended MLK holiday period. But this Glass may not be quite half-full as it landed on the lower end of expectations. Meanwhile, I film I didn't even realize was releasing at all (let alone wide - my bad), Dragon Ball Super: Broly, didn't just please fans, but landed (presumably) a top three finish. Aquaman, Spider-Man and The Upside all had great holds leading to a great January weekend.

1) GLASS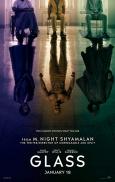 As a duel sequel to both Unbreakable and Split, M. Night Shyamalan brought together Bruce Willis, Samuel L. Jackson and James McAvoy for his take on the superhero genre. But reviews weren't as kind, and audience reaction was mixed, so this Glass was half-empty than half-full. That being said, a $40.58 million weekend (with an expected $48 million by Monday) is still damn good for a $20 million film - which is also expected to top $90 million worldwide by the holiday. Studio estimates had it pegged at no more than $50 million with some pre-weekend estimates even going so high as $70 million. That wasn't to be as critics only gave the film a 35% fresh rating while audiences awarded it a "B" Cinemascore, below the "B+" for Split. The crowd was slightly more male (54% compared to 52% for Split) and decidedly older (65% over 25 compared to just 48% for Split). But whereas Split played like a traditional horror film (the connection to Unbreakable was revealed at the very end), Glass is playing more like a typical sequel. But it doesn't really matter how front-loaded the film is at this point - it's going to make money. It also will have the fourth best January opening of all time and the third-best MLK weekend on record behind just Ride Along ($41 million) and American Sniper ($89 million). Even if expectations weren't met, Shyamalan is going to have another big hit on his hands. It will be interesting to see how this holds up, but should approach the $100 million domestic mark.
2)
THE UPSIDE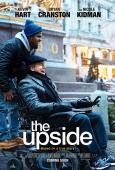 After over-performing in its debut weekend, The Upside had a terrific second-week hold with a light 23% drop to wind up in second place with $15.67 million and a new total of $43.9 million with an expected $48 million including the Monday holiday. That means it will shortly pass the $48.7 million of I Feel Pretty to become the third-best film for STX behind just A Bad Moms Christmas ($72 million) and Bad Moms ($113 million). It looks like The Upside will have enough left in the tank to pass at least Bad Moms Christmas, with the Kevin Hart/Bryan Cranston remake looking to top out at around the $85 million mark. Not bad at all for the $37.5 million budgeted film. This is the new destination for discerning adult audiences, and it should continue to hold steady through the rest of the month and likely most of February.
3)
DRAGON BALL SUPER: BROLY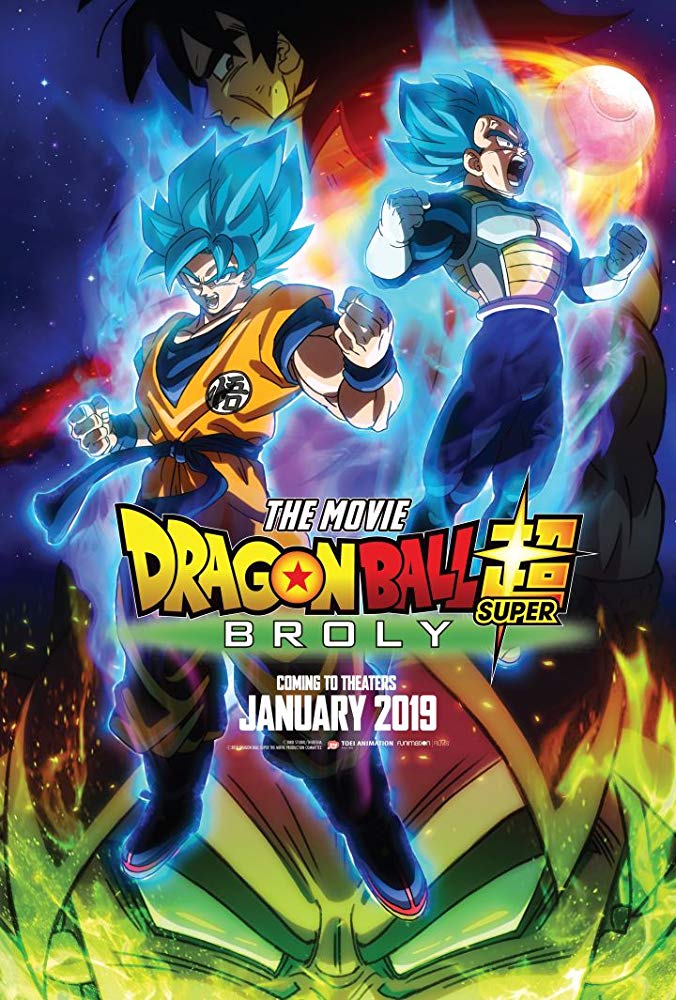 As I said, this wasn't anywhere on my radar before the weekend, hence my non-mention of it in the weekend preview. That being said, there are apparently a lot of Dragon Ball fans out there, as Broly (the first with the "Super" moniker) had a frankly awesome opening. It may change (as the numbers reported come from third-party sources with the studio not reporting yet), but Broly has a reported $10.65 million opening weekend ($21 million including its Wednesday opening of $7 million). If openings come in a bit lower, it may switch places with Aquaman, but a fourth-place finish would still be impressive for an anime that plays to fans only. But when those fans are passionate and show up in force, well, these results speak for themselves. That being said, this is also the type of film that doesn't look to have the best long-term prospects, but I have to say I'm quite impressed at how this one just kind of came out of nowhere.
4)
AQUAMAN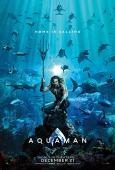 The super oceanic superhero continues to impress as the film crossed the $300 million domestic mark with a $10.33 million weekend and a new $304.33 million total. The film dipped 40.5% in its fifth weekend and while it is still only the fourth-best earner for the DCEU on the domestic front, it's about to pass the Dark Knight Rises as the highest-grossing DC title, period, on the worldwide front. It has earned $759.1 million overseas for a $1.06 billion global total. It is a scant $21 million away from taking the DC title and it will do so in a matter of days. In terms of where it will end up here, it will probably fall just short of Suicide Squad ($325 million) but should be able to top Thor: Ragnarok ($315 million). While some may lament that Aquaman should have had a better domestic showing - it's a moot point to me as the film is incredibly successful and it still make me much more interested in the future of this series than I was after Justice League.
5)
SPIDER-MAN: INTO THE SPIDER-VERSE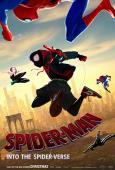 Rounding out the top five was another superhero, as Spider-Man: Into the Spider-Verse had the best hold out of any film in the top 10 with a mere 19.8% drop and a $7.25 million weekend with a new total of $158.25 million. It is expected to top the $160 million mark on Monday. That domestic total puts it ahead of Fantastic Beasts: The Crimes of Grindlewald ($155 million), X-Men: Apocalypse ($155 million) and Hotel Transylvania ($148 million) and its $322 million global total looks fantastic next to its $90 million budget. This is another film that makes me excited for future prospects, as I fully expect plenty more Spider-Verse films to appear shortly on the horizon. Plus, the film continues to add to its awards - with a recent PGA animated win and has to be considered the Oscar front-runner.
Outside the top five: Bohemian Rhapsody crossed the $200 million mark with a $2.25 million weekend and new $201.9 million total. It will soon also cross the $800 million mark worldwide.
On a more dubious note, Keanu Reeves entered the top 10 - but not a list you want to be associated with as Replicas suffered a massive 81% drop over its disappointing opening weekend. That represents the 9th biggest second-week drop of all time.
Next week brings us The Kid Who Would Be King and Serenity - and I have a feeling the box office won't be too shook up about them.
Comments
Hurricane2000 - wrote on 01/26/19 at 01:48 AM CT
I'm predicting Aquaman's final domestic gross will be anywhere from $325-$335 Million