By Chris Kavan - 12/17/18 at 02:01 AM CT
December is going to be a busy month for new releases and things got off to a swinging start as Spider-Man: Into the Spider-Verse opened to a record December opening (for an animated film). Clint Eastwood's latest actor/director two-fer The Mule got off to a solid start while the fantastical Mortal Engines stalled before it could even leave the starting line. Ahead of its domestic debut, Aquaman continued to do amazing business overseas while another hero, Deadpool, enjoyed a fine re-release in a more family-friendly version. It's the first salvo in an action-packed December that looks to keep going strong.

1) SPIDER-MAN: INTO THE SPIDER-VERSE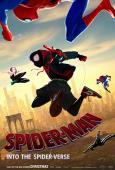 After a killer debut trailer and a ton of positive buzz, Spider-Man: Into the Spider-Verse opened to a grand $35.4 million opening topping Sing ($35.2 million) to take the record for largest December opening for an animated film. It also scored an exceptional "A+" Cinemascore among audiences - that audience was mostly male (63%) with 41% coming in 25 or older. Even with a lot of other family-friendly offerings on the way, this Spider-Man looks to have an a great run ahead of it - anywhere from $125 to $150 million. It also goes a long way to proving that more diverse super heroes can have a big impact. Black Panther was one and I think the upcoming Captain Marvel is going to continue. Spider-Verse has more than enough characters to continue and I think with a result like this, I would be more surprised if we didn't get another animated offering. Throw in that eye-catching animation and I think Sony has a winning combination here - and it will be interesting to see how it works out going forward.
2)
THE MULE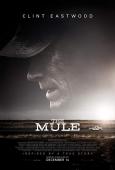 In second place, Clint Eastwood was in front of the camera for his first major role since 2012 and Trouble with the Curve, in a film he also directed. The Mule opened to $17.2 million, the third best opening for Eastwood (as an actor) behind Space Cowboys ($18 million) and Gran Torino ($29 million) - no accounting for inflation of course. It was also his fourth-biggest opening as a director. The R-rated offering following an absent family-man, war veteran and former horticulturist turned drug smuggler offers some nice counter-programming for adult audiences amidst a sea of more family-friendly fare. The audience was 54% male with a full 88% coming in over the age of 25. It was awarded an "A-" Cinemascore, which means it should have a decent run ahead of it. With a $50 million price tag, it will need to have some legs to ultimately be profitable, but if it can continue to attract that adult audience, it should wind up winning in the end.
3)
THE GRINCH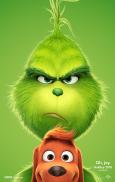 In its fifth week in theaters, The Grinch dropped a light 23% and came out on top of all holdovers with a $11.58 million weekend and a new $239.2 million total. It didn't exactly break the box office in China with a $2.9 million opening, but it has already grossed $372 million worldwide (topping Jim Carrey's Grinch with $345 million) on just a $75 million budget. That is also good enough to make it the biggest non-superhero movie of the year behind Jurassic World: Fallen Kingdom ($416 million). We'll see how high it can climb, but considering that Christmas is right around the corner, The Grinch should have enough left in the tank to near the $270 million mark - depending on how the other family-friendly films impact it.
4)
RALPH BREAKS THE INTERNET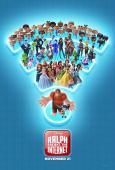 Falling just behind The Grinch, Ralph Breaks the Internet took a 41% hit and landed in fourth place with $9.58 million, giving the animated sequel a new total of $154.4 million, topping that $150 million mark in the process. While its week-to-week totals continue to be a bit higher than a typical Disney film, it is still near enough to Coco that a $200 million plus total is still looking likely at this point. It also has earned $285 million worldwide. While it's doing fine, it's looking like Disney is better off focusing on solid original releases and after Frozen 2, I'm not sure how many more traditional sequels we're going to get.
5)
MORTAL ENGINES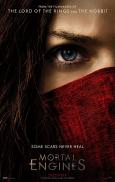 The flashy $100 million production of Mortal Engines has pretty much died before it could get started. With a mere $7.5 million opening, joining a long list of failed fantasy starters, and being one of the worst among them. Despite Peter Jackson and friends lending their considerable talents, and earning points for looking good, the story and characters ran hollow with critics and audiences were happy to agree - giving the film a lackluster "B-" Cinemascore. It has earned a just $25 million overseas so being bailed out by an international audience also looks out of the question. With considerable competition still on the way, Mortal Engines is not long for this world, though I'm still interested enough I will stream it, but franchise options are obviously out of the question at this point and it will be lucky to last in theaters into the new year.
Outside the top 10: Once Upon a Deadpool, the PG-13 re-release of the decidedly R-rated Deadpool 2, launched with $2.6 million (11th place) and $3.88 including early showings. With benefits going to F*@k Cancer, I was more than happy to give this one a shot and it really didn't miss much of a beat. Sure the language and oodles of blood were cleaned up, but it remained true to the original, added some hilarious new scenes and a touching tribute to Stan Lee. This one was always meant to be a limited offering, and we'll see if it can add enough to the original version to top the $327 million of It (currently at $322 million).
In milestone news, Creed II topped $100 million with a $5.39 million weekend (6th place) and a new $104.88 million total. Fantastic Beasts: The Crimes of Grindelwald added $3.65 million and crossed the $150 million mark with $151.65 million - and nearly hit the $600 million mark worldwide ($595.9 million).
The Favourite continues to do well before its nationwide expansion, with a $2.57 million weekend (12th place) while the winner of the per-theater average for the weekend was If Beale Street Could Talk with $219,174 in four theaters for a blistering $54,794 per-theater average.
Ahead of its domestic release, and following a huge opening in China, Aquaman continued its frankly amazing international rollout, adding $126.4 million ($54.2 million of that from China alone) for a total that now stands at $261.3 million. That bodes well for it on the domestic front and we'll see how much of that excitement transfers to the U.S.
Speaking of next week, it's another packed house with Mary Poppins Returns, Aquaman, Bumblebee, Second Act and Welcome to Marwen all opening and The Favourite finally going nationwide.
Comments