By Chris Kavan - 12/06/18 at 06:41 AM CT
Because the rest of December is going to be jam-packed, Hollywood must of wanted a bi-week. That is why we are getting no new wide release films in theaters. The only film getting any kind of wide release is the re-release of Steven Spielberg's powerful drama, Schindler's List, in celebration of the film's 25th Anniversary. Thus, I have a feeling that once again the box office is going to look very similar this weekend as it has for the past two weeks. Despite Schindler's List being arguably Spielberg's finest film, I don't see it drawing huge crowds.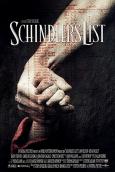 SCHINDLER'S LIST
Although the reason for the re-release of Schindler's List is to coincide with the film's 25th Anniversary, I can't think of a better time for this film to once again grace the big screen. I'm not going to get political or get into details, but let's just say with the current state of our nation, Schindler's List serves as a stark reminder about how things can turn out and Spielberg himself summed it up in a recent interview better than I ever could:
"Well, just that individual hate is a terrible thing. But when collective hate organizes and gets industrialized, then genocide follows."
Schindler's List, for those who haven't yet experienced the film first hand, follows Oskar Schindler (Liam Neeson), a German businessman-turned unlikely humanitarian when his factory becomes a haven for Jewish workers - even as the Nazi regime works to eradicate them all. The film features a lot of powerful performances, including Ben Kingsley as Itzhak Stern, a Jewish accountant who helps Schindler with his plan and Ralph Fiennes as Amon Goeth, a truly chilling performance. And there are so many other indelible moments from this film, from that girl in the red coat to John William's impeccable score - truly a film that everyone should watch. But therein lies the rub - for as important as this film is, it's also not one that is easy to watch again. It is that tough - the only other film I can think of that makes me this uncomfortable is the animated Grave of the Fireflies. By all means, though, it is worthy of all the praise it has been given and it will be interesting to see how it plays to today's audience.
That is all - we have a bunch of popular holdovers to contend with and I'm not sure how a movie this dramatic will stand up before a huge wave of new releases hits in the last remaining weeks in December. I'll return on Sunday with the results.
Comments