By Chris Kavan - 11/29/18 at 06:40 AM CT
Ralph wrecked the Thanksgiving weekend box office, and Creed II wasn't too far behind with a pretty good knockout punch of its own. This weekend, I have a feeling we're going to get some major deja vu as there is only a single new wide release coming out and a horror film at that. While I myself think the film looks pretty interesting, it's a weird time of year for horror and I have a feeling it's not exactly going to light up the box office. I think the bigger story will be to see how big of a drop (or lack of drop) last week's big winners are going to have.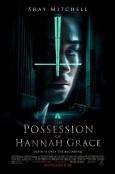 THE POSSESSION OF HANNAH GRACE
I applaud the effort of this film - as the trailers I have seen say right out there - this is not a story about a standard exorcism - rather, it's a story about what happens
after
said exorcism. It turns out, a poor cop who has to work the graveyard shift at the local morgue (played by Shay Mitchell) will find out what happens the hard way. In that the twisted remains of one Hannah Grace (Kirby Johnson) isn't quite done with being demonically evil. That's right, the entity is more than happy to terrorize our poor gal and it it looks like it has some creepy tricks up its sleeve. Horror in November isn't exactly a barn-burner, however, and I don't even know if this is going to crack the top five. Still, like most modern-day horror films the price tag on this is low ($10 million reported) so it won't have to break the box office to break even. This is definitely a streaming option for me in the future, as I really do think it's a smart take on your standard possession film and I'm interested to see if it offers more than just jump scares.
The post-Thanksgiving weekend is going to be a bit quiet, but we'll which film's build on their monster openings and if any fall flat.
Comments