By Chris Kavan - 11/25/18 at 08:27 PM CT
It was a massive Thanksgiving Weekend box office, and studios have a lot to be thankful for. Ralph Breaks the Internet nearly had a record opening while Creed II did break a record - for a live-action Thanksgiving opening. The Fantastic Beasts sequel narrowly won the five-day holiday but lost the weekend to The Grinch. Meanwhile, Robin Hood was one of the year's biggest bombs, landing outside the top five in seventh place. Green Book had a mediocre wide expansion while The Favourite set a new per-theater average for 2018.

1) RALPH BREAKS THE INTERNET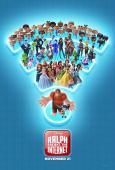 What is sequelitis again? Conventional wisdom (and modern history) tell us that sequels are by far inferior to the original in every aspect. But Ralph is here to blow that old chestnut right out of the water. With a massive $55.67 million weekend and $84.47 million Thanksgiving holiday debut, the Wreck-It Ralph sequel delivered the second-best Thanksgiving opening on record, behind just the $93.59 million opening for Frozen. It topped Moana's five day opening ($82 million) - a film that went on to gross over $250 million domestic. It also easily topped the $49 million opening of Wreck-It Ralph as well. The film was a hit with critics (85% on Rotten Tomatoes) and audiences (an "A-" Cinemascore) meaning the long-term prospects are good. The film drew an audience that was 44% under 25 (meaning families certainly turned out for this) with females making up 51% of the audience (compared to the 55% male audience of the first film). I'm guessing that much-marketed Disney Princess scene had something to do with that. And, thanks to a $41.5 million international total, the $125.9 million global total officially makes this the largest-grossing Disney sequel of all time. This does not include Pixar films, of course, and one must remember that a lot of Disney sequels are straight-to-DVD quality offerings. Disney is predicting Ralph Breaks the Internet will bring in three times as much as the first film on the international market. We'll see how big this gets with the biggest competition to the this Disney film coming from... Disney - when Mary Poppins Returns drops in mid December.
2)
CREED II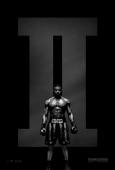 It wasn't just good news for animated films, as Michael B. Jordon's return to the ring as Adonis Johnson delivered a live-action knockout in the form of a $35.29 million weekend and $55.8 million Thanksgiving opening. That result is the seventh-best Thanksgiving opening on record, and the outright best for a live-action film. It also represents a $16 million improvement over the first Creed. It also was the best (unadjusted) opening for a sports drama and boxing film - meaning it is also officially the best opening for any Rocky film. Like the original, Creed II earned an "A" Cinemascore from audiences (57% male with 64% coming in 25 or older). While the film was a bit more front-loaded than the original, it should have no problem surpassing the $110 million total of the first film, with a total likely around $120 million with plenty of room to go higher depending on audience support. If it can get to $127 million, it will top Rocky IV to become the largest-grossing Rocky film of all time (unadjusted once again). The film essentially combined the nostalgia for previous Rocky films with the talent of Jordan and Tessa Thompson (among others) and it will be interesting to see where they take the next film.
3)
FANTASTIC BEASTS: THE CRIMES OF GRINDELWALD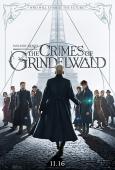 With $42.9 million for the five day holiday, Crimes of Grindelwald narrowly edged out The Grinch - even if it technically came in fourth for the weekend with $29.6 million (compared to over $30 million for The Grinch). That gives the sequel a new $117.1 million total. But the most worrying number for the film is its 52.3% drop - much worse than the 38% drop for the first Fantastic Beasts film in its second weekend - and the closest comparison is too "shudder" Justice League, which dipped 56% in its second weekend. That is not the comparison you want your film to have, but Crimes of Grindelwald is shaping up to for a best-case scenario of $175 million domestic which, let's face it, would be frankly a big disappointment. I wasn't a huge fan of the too-busy sequel and I think much of the audience felt the same way. But there is one thing Fantastic Beasts has going for it - it earned $83.7 international - the number one film globally two weeks in a row. With $439.7 million worldwide, you can't call the film a failure, as the $200 million production is shaping up to easily top $600 million worldwide - with a chance to go higher. Still, I think this film has tempered expectations (it certainly did for me, anyway) and I will be interested to see where this series winds up going forward.
4)
THE GRINCH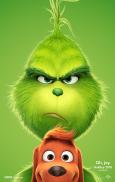 As stated, The Grinch came in just a hair under Crimes of Grindelwald for the holiday ($42 million) while just topping it for the weekend with a $30.2 million total. It easily crossed the $175 million mark in the process, with a new total of $180.44 million. That represents a minor drop of just 21.7%. Those kind of numbers point to a domestic total of $250 million - and it will certainly have no issue passing the $212 million of The Lorax. I mean, whatever the case, things look very good next to that $75 million budget and with Christmas upcoming, The Grinch should have no issue bringing in the seasonal family crowd (Ralph and Mary Poppins with likely have to share). It's international total provides a nice $35.3 million buffer, but won't likely to have much more of an impact on its bottom line.
5)
BOHEMIAN RHAPSODY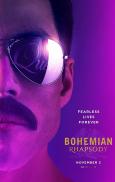 The Freddie Mercury/Queen biopic landed in the fifth place spot with a $13.85 million weekend and holiday total of $19.37 million, which was enough for the film to cross the $150 million mark with a new $152 million total. It is doing gangbusters overseas as well - $38 million for the weekend for a shockingly-good $472 million global total. It will soon earn 10x its $52 million budget on that global scale and, quibbles about authenticity aside, looks to become the gold standard for these kinds films going forward.
Outside the top five: Robin Hood is following in the footsteps of King Arthur - and not in a good way. Much like the failure of Arthur: Legend of the Sword - this rebooted, gritty Robin Hood was a major disaster. Landing all the way in seventh place, Robin Hood could only muster a $9.12 million weekend and a mere $14.2 million over the holiday. It also earned just $8.7 million international - meaning this reportedly $100 million budgeted film a major bomb. I don't know if it will qualify for biggest bomb of the year, but it will be right up there and just goes to show Hollywood still hasn't figured out how to make this hero work for audiences. It will be lucky to top $30 million domestic at this point.
The expansion of Green Book led to a $5.44 million weekend - jumping from 22nd to 9th place, and giving the film a Thanksgiving treat of $7.4 million and a new overall total of $7.8 million. The film earned an "A+" Cinemascore, but it may struggle a bit to reach its $25 million budget even with the glowing reviews and such.
In better news, The Favourite - which follows the life of an ailing Queen Anne, her devoted friend Sarah Churchill and plots of new servant Abigail - starring Olivia Colman, Rachel Weisz and Emma Stone had the best per-theater opening of 2018 - $420,000 from four theaters for a blistering $105,000 per-theater average. It was also good enough to jump into the top 25 among limited-release openings. This one is certainly going to expand and we'll see how this plays for a more general audience and whether it amounts to any awards-season attention.
It's good news for the Spider-Verse as well - after a stunning trailer for the upcoming Spider-Man: Into the Spider-Verse dropped, Venom proved to be one of the best super-"hero" origin films of all time with a $822 million (and counting) global total including $211 million domestic and $242 million out of China and it will also wind up as one of the biggest films of 2018 - likely topping Fantastic Beasts. I still say it will be really interesting to see where this leaves Spider-Man in Marvel's version vs. this brave new Spider-Verse world.
After pigging out over the box office, next week delivers just a single new wide release - horror film The Possession of Hannah Grace which actually looks like an interesting take on the whole possession genre, but isn't likely to make any big waves.
Comments