By Harley Lond - 11/13/18 at 09:44 PM CT
FROM THE BIG SCREEN:

"Alpha": A wonderful adventure set in the last Ice Age that tells a fascinating, visually stunning story that shines light on the origins of man's best friend. While on his first bison hunt with his Cro-Magnon tribe's most elite group, a young man is injured and must learn to survive alone in the wilderness. Reluctantly taming a lone wolf abandoned by its pack, the pair learn to rely on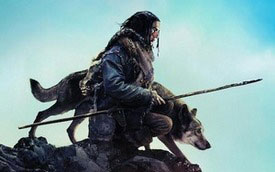 each other and become unlikely allies, enduring countless dangers and overwhelming odds in order to find their way home before winter arrives. A terrific change of pace for director Albert Hughes ("The Book of Eli," "American Pimp," "Dead Presidents," "Menace II Society"). Stars Kodi Smit-McPhee, Jóhannes Hakur Jóhannesson and Leonor Varela. Extras include two featurettes: "The Wolf Behind Alpha
" and "Boy & Wolf." The Blu-ray adds two additional featurettes: "Building the World" and "A Hero's Journey"; director's cut; alternate opening and ending; deleted scenes. From Sony.

"The Meg
": This variation on "Jaws" and other monsters-from-the-deep horror outings has the good luck of having the always reliable action star Jason Statham and the solid directing hand of Jon Turteltaub, but the plot lacks any real genre thrills and chills in its predictability. The story: Five years ago, expert sea diver and Naval Captain Jonas Taylor (Statham) encountered an unknown danger in the unexplored recesses of the Mariana Trench that forced him to abort his mission and abandon half his crew. Though the tragic incident earned him a dishonorable discharge, what ultimately cost him his career, his marriage and any semblance of honor was his unsupported and incredulous claims of what caused it - an attack on his vessel by a mammoth, 70-foot sea creature, believed to be extinct for more than a million years. But when a submersible lies sunk and disabled at the bottom of the ocean - carrying his ex-wife among the team onboard - he is the one who gets the call. Could the Carcharodon Megalodon - the largest marine predator that ever existed - still be alive ... and on the hunt? Co-stars Bingbing Li, Rainn Wilson, Cliff Curtis and Winston Chao. Extras include "Chomp on This: Making The Meg," "Creating the Beast," New Zealand Film Commission. From Warner.

"Mile 22
": In this tame action-thriller Mark Wahlberg plays James Silva, an operative of the CIA's most highly-prized and little-known unit. Aided by a top-secret tactical command team, Silva must transport an asset who has vital information to an airfield for extraction before the enemy closes in. Disappointing outing for Wahlberg and director Peter Berg ("Friday Night Lights"). Co-stars: Lauren Cohan, Iko Uwais, Ronda Rousey and John Malkovich. Extras include "Overwatch" featurette about "Overwatch", the para-military division in the film; "Introducing Iko" spotlight on world-renowned action star Iko Uwais; "Iko Fight" interview with Iko Uwais; "Bad Ass Women" behind-the-scenes with stars Lauren Cohan and Ronda Rousey; "BTS Stunts"; "Modern Combat" featurette; "Colombia" tour Bogota, Colombia with the cast and filmmakers; trailers. From Universal.


THIS WEEK'S HIGHLIGHTS:
"Ernie Kovacs: The Centennial Edition:"
Celebrate the 100th birthday of television's original genius and his groundbreaking, rule-breaking, surreal and charmingly silly comedy. Across nine discs and 22 Hours, home audiences will find a cornucopia of Ernie Kovacs' greatest and most memorable "hits," showcasing an utterly unique sensibility that has influenced such comedy institutions as Monty Python and "Saturday Night Live" including episodes from his local and national morning shows, episodes from his NBC prime-time show, his five ABC-TV specials,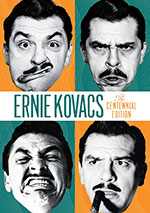 the rare color version of his legendary silent show, "Eugene", three complete episodes of his offbeat game show "Take a Good Look", "A Pony for Chris", Kovacs' rarely-seen pilot for "Medicine Man" co-starring Buster Keaton, the only existing filmed solo interview with Kovacs himself, his award-winning commercials for Dutch Masters Cigars, a collection of short films, tributes rarities and much more. While best known as "Television's Original Genius", Kovacs' groundbreaking work in the early days of television has been his legacy, though he also starred in movies, recorded LPs, hosted radio shows, wrote novels, and worked as a columnist for his hometown paper, "The Trentonian". Many of his fans, however, may not know that the creative giant was also an artist, never without a pen and paper -- and the chronic insomniac often worked well into the night. Early in his career, one of Kovacs' favorite TV segments was his "Illustrated Profuselies." And during this "visual improv" set to music, the viewing audience got to watch his fertile mind at work, as he quickly sketched doodles. Frequently drawn in pencil and sometimes using colors, these abstract, sometimes surrealistic images soon took shape and were eventually revealed on camera. From Shout! Factory ...
"Gas Food Lodging
:"
(1992), starring Brooke Adams, Ione Skye and Fairuza Balk. Adapted from the novel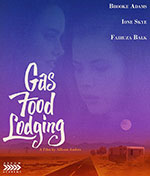 "Don't Look and It Won't Hurt" by Richard Peck, Allison Anders whipped up a storm at the 42nd Berlin International Film Festival with her masterfully crafted tale of a young woman trying to find love while struggling to bring up her two daughters. Abandoned by her husband, Nora (Adams) waitresses to keep her head above water while raising two teenagers in a small New Mexico town trailer park. Beautiful and rebellious, Trudi (Skye) quits school to work alongside her mother, while her sister Shade (Balk) whittles away her time watching old movie matinees. Their life is turned on its head when Trudi finds that she has fallen pregnant after a string of promiscuous relationships and the girls' absent father returns with hopes of mending the relationships he broke when he left. A wonderfully engaging story of the woes of teenagers reaching adulthood, "Gas Food Lodging" is a distinctly American portrayal of a mother trying to raise two wayward teens with growing pains, who are learning about love, life and each other. This director-approved restoration finally affords this 90s modern classic the home video treatment it rightly deserves. On Blu-ray from Arrow Video/MVD Entertainment ...
"The Last Movie
"
(1971): Directed by Dennis Hopper and starring Hopper, Stella Garcia, Don Gordon, Tomas Milian, Daniel Ades, Julie Adams, Samuel Fuller and Peter Fonda. New 4K restoration. Dennis Hopper's radical, much-mythologized lost masterpiece -- widely unseen for nearly 50 years. Consciously self-reflexive and co-written by Hopper and "Rebel Without a Cause" screenwriter Stewart Stern, "The Last Movie" follows a Hollywood movie crew in the midst of making a western in a remote Peruvian village. When production wraps, Hopper, as the baleful stuntman Kansas, remains, attempting to find redemption in the isolation of Peru and the arms of a former prostitute. Meanwhile, the local Indians have taken over the abandoned set and begun to stage a ritualistic re-enactment of the production -- with Kansas as their sacrificial lamb. Among the most storied productions of the New Hollywood Era, Hopper was given carte blanche by Universal for his next directorial feature after the tremendous commercial success of "Easy Rider", and writer-director-star took the money and ran – literally – staging "The Last Movie" in Peru at farthest remove from the Hollywood machine, with an on-screen entourage in tow that included Kris Kristofferson, Julie Adams, Stella Garcia, Peter Fonda, Dean Stockwell, Toni Basil, Russ Tamblyn, Michelle Phillips and director Samuel Fuller. Although it won a special award at the Venice Film Festival, the film would effectively end Hopper's career for many years -- the Hollywood establishment gleefully writing him off as a self-indulgent madman. Yet the movie remains thrillingly innovative and remarkably contemporary – influenced greatly by the work of Bruce Conner and the French New Wave, as well as the Pop and Abstract artists Hopper revered. On DVD, Blu-ray from Arbelos Films ...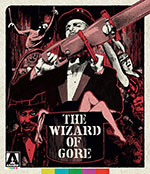 "The Wizard of Gore
:"
(1970), starring Ray Sager, Judy Cler and Wayne Ratay. From the crazed madman of the macabre, late splatter movie pioneer Herschell Gordon Lewis ("Blood Feast," "Two Thousand Maniacs!"), comes his most fiendish feat of terrifying onscreen trickery yet -- behold, The Wizard of Gore! You've all seen the trick in which the magician saws his glamorous assistant in half -- but what about the spike through the brain gag? Or the good old smashing punch-press? Montag the Magnificent's blood-curdling onstage performances shock and dazzle his audiences in equal measure. But when his participants start winding up dead, local TV talk show hostess Sherry Carson suspects his gruesome "act" may be more sinister than it first seems. Featuring some of the most notorious gory setpieces in all of director H.G. Lewis' blood-soaked career, this is a stomach-churning, Grand Guignol production that's less sleight of hand and more slice of hand. On Blu-ray from Arrow Video/MVD Entertainment.
And four Blu-ray debuts this week:
"Dances With Wolves
"
(1990): Kevin Costner stars in and directs the triumphant cinematic masterpiece. Winner of seven Academy Awards, including Best Director and Best Picture, this modern classic tells the story of Lt. Dunbar (Costner), a Civil War hero who befriends a tribe of Native Americans while stationed at a desolate outpost on the frontier. What follows is a series of unforgettable moments -- from Dunbar's tender scenes with Stands With A Fist (Mary McDonnell), to the thrilling, action-packed buffalo hunt. Based on the novel by Michael Blake. The three-disc Steelbook Collector's Edition includes the original theatrical cut for the first time on Blu-ray, an extended cut of the film (both with commentary) and an entire disc of bonus features. From Shout! Factory ...
"School Daze
"
(1988): Directed by Spike Lee and starring Laurence Fishburne, Giancarlo Esposito, Tisha Campbell-Martin, Kadeem Hardison and Jasmine Guy. Celebrate 30 years of iconic filmmaker Spike Lee's music-filled, offbeat comedy that takes an unforgettable look at black college life. Amidst gala coronations, football, fraternities, parades and parties, the students of Mission College find themselves caught up in romance and relationships, rituals and rivalries during one outrageous homecoming weekend. With dynamic music, including EU's hit "Da Butt," and dance numbers choreographed by Otis Sallid ("Fame"), Lee successfully challenges viewpoints about self-identity and self-esteem in this original and unforgettable musical comedy. From Sony ...
"Single White Female
"
(1992): Directed by Barbet Schroeder and starring Bridget Fonda, Jennifer Jason Leigh, Steven Weber and Peter Friedman. The perfect roommate or a perfect nightmare? An innocent wanted ad –- "SWF seeks female to share apt in West 70s; Non-smkr, professional preferred" -- opens the door to murderous, psychotic terror. After an unfaithful fiancé leaves her suddenly single, Allison Jones (Fonda) advertises for a roommate to share her spacious apartment. But when the introverted Hedra (Leigh) moves in, she doesn't just take over Allie's spare bedroom. She takes over her clothes, her boyfriend ... and her identity. From Scream Factory ... and
"Topper Returns
"
(1941): The third and final entry in Hal Roach's famed "Topper" trilogy may very well be the best of the lot. Returning for their third portrayal of Mr. and Mrs. Cosmo Topper, Roland Young and Billie Burke are consistently upstaged by a sparkling new addition to the "Topper" troupe, Jack Benny's famed manservant, the lovable and irascible Eddie "Rochester" Anderson. This time around there is a "new" ghostly presence in the shapely form of Joan Blondell, who is unceremoniously dispatched by a cloaked knife murderer in a case of mistaken identity. Naturally, Joan floats over to the Topper's quiet abode and nags Cosmo into investigating her death. From VCI Entertainment/MVD Visual.
BUZZIN' THE 'B'S:
In
"Puzzle
"
(2018), starring Kelly Macdonald, Irrfan Khan and David Denman, after years of concerning herself exclusively with the needs and wants of her husband and sons, Agnes has found something that she wants to do: puzzling. Stepping out of her domestic bubble to pursue her new hobby, Agnes meets Robert, a wealthy, reclusive inventor who recruits her as his partner for an upcoming world jigsaw tournament. Each day she spends out in the world, takes Agnes further along on the road to a new understanding of herself and an assertiveness that finds her pushing back against the assumptions and routines that have until now defined her role in her family. From Sony ... In
"The Children Act
"
(2017), starring Emma Thompson, Stanley Tucci and Fionn Whitehead, a British High Court judge (Thompson) who, in the midst of a crisis with her husband (Tucci), must rule on a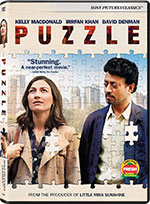 case concerning a teenage boy whose religious convictions prevent him from accepting the blood transfusion that would save his life. Directed by Richard Eyre ("Iris") and based on the novel by Ian McEwan. From Lionsgate ...
"Dating Game Killer
"
(2018), starring Guillermo Diaz, Carrie Preston and Alma Martinez, is a scripted film based on the true crime story following the investigation and eventual capture of serial killer Rodney Alcala, who appeared on "The Dating Game" amid a string of grisly murders in the 1970s. From Lionsgate ... In
"Juliet, Naked
"
(2018), starring Rose Byrne, Ethan Hawke and Chris O'Dowd, Annie (Byrne), the long-suffering girlfriend of Duncan (O'Dowd), develops an unlikely transatlantic romance with the once-admired, now washed-up singer-songwriter Tucker Crowe, who also happens to be the subject of Duncan's musical obsession. Based on the novel by best-selling author Nick Hornby. On DVD, Blu-ray/DVD Combo,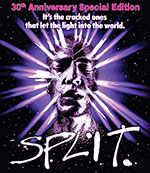 from Lionsgate ...
"Split
"
(1989), starring Timothy Dwight, Joan Bechtel and John Flynn, is a Sci-fi story about a man in a society of complacent people who can see the stifling control exerted on humankind by beings from another dimension. Living on garbage and in ever-changing disguise, Starker bounces from one person to another, trying to wake the world from its slavery. But as his ideas start to gain traction, he becomes the singular target of the Agency Director, a formidable dictator. Starker must race against advanced surveillance technology and evade countless agents to get his message out to the masses before he is neutralized by the forces of order. New 2K restoration from the original negatives. On Blu-ray from Verboden Video ... After deadly terrorists abduct his niece at a soccer match, an ex-soldier with lethal fighting skills (Dave Bautista) wages a one-man war to save her and prevent mass destruction in
"Final Score
"
(2017). Co-stars Ray Stevenson, Pierce Brosnan and Amit Shah. On DVD, Blu-ray, from Lionsgate ... In
"The Marine 6: Close Quarters
"
(2018), starring WWE Superstars Mike "The Miz" Mizanin, Shawn Michaels and Becky Lynch, Jack Carter (Mizanin) and another former Marine, Luke Trapper (Michaels), join forces to rescue a kidnapped girl (Louisa Connolly-Burnham) from a gang of international criminals headed up by Maddy Hayes (Lynch). On DVD, Blu-ray, from Sony.
FOREIGN FILMS:
In the compelling, slow-burning thriller
"The Third Murder
"
(2017 -- Japan), high-powered attorney Shigemori (Masaharu Fukuyama) takes on the defense of murder-robbery suspect Misumi (Koji Yakusho), though he does so with reluctance, knowing that the man already provided a full confession and had been previously convicted of murder 30 years earlier. But as Shigemori digs deeper into the evidence and hears Misumi's own conflicting testimony, the once-confident lawyer begins to doubt whether his client could be the murderer after all. A gripping and morally complex crime procedural that incisively explores the meaning of truth and innocence. On DVD, Blu-ray, from Film Movement.
SPECIAL INTEREST:
"The Owl's Legacy
"
(1989): Long unavailable, Chris Marker's "The Owl's Legacy" has been recently restored by the Cinematheque Francaise. Each episode of the 13-part series takes as its starting point a different word that originated in ancient Greece -- including "symposium," "democracy" and "nostalgia" -— inspiring a wide-ranging exploration of that concept in contemporary culture. Interviewees include Elia Kazan, Theo Angelopoulos, Laurence Braunberger, Cornelius Castoriadis, Arielle Dombasle, Angelique Ionatos, Michel Jobert, Michel Serres, Guilia Sissa, and George Steiner among others, while the free play of ideas and the marvelous, mercurial motion of the work is totally, unmistakably Marker. "The Owl's Legacy" was shot in Paris, Athens, Berkeley, Tbilisi and Tokyo. Includes a 24-page booklet, with essay by film historian Jean-Michel Frodon. From Icarus Films.
FROM TV TO DISC:
"The Crown: Season Two"
(2017) is a four-disc set with all 10 episodes. Claire Foy, Matt Smith, Vanessa Kirby, Victoria Hamilton, Matthew Goode. Season Two sees an end of the age of deference, and ushers in the revolutionary era of the 1960s, following Queen Elizabeth II from 1956 to 1964 as she continues to navigate her changing role on the global stage, from the Suez Canal crisis to the resignation of British Prime Minister Harold Macmillan under scandal, and the assassination of President John F. Kennedy.On DVD, Blu-ray, from Sony ...
"Hidden"
(2018) is a three-disc set with all eight episodes. A compelling blend of police procedural, serial-killer thriller, and dark mystery set in the beautiful but foreboding mountains of northern Wales. After years away from her isolated hometown, DI Cadi John (Sian Reese-Williams) returns to help her sisters care for their ailing father. Paired with the capable but overloaded DS Owen Vaughan, she soon begins investigating a young woman's suspicious drowning. With bruises on the victim indicating that she was shackled before her death, Cadi realizes that someone is abducting women and holding them captive. When another girl goes missing, the detectives rush to apprehend the culprit before she becomes his next casualty.From Acorn Media ...
"Star Trek: Discovery: Season One"
(2018) is a four-disc set with all 15 episodes. Follows the voyages of Starfleet on their missions to discover new worlds and new life forms, and one Starfleet officer who must learn that to truly understand all things alien, you must first understand yourself. The series features a new ship and new characters while embracing the same ideology and hope for the future that inspired a generation of dreamers and doers. On DVD, Blu-ray, from CBS/Paramount.
Check out other new DVD/Blu-ray releases, streaming films, and information and reviews at OnVideo.
Comments